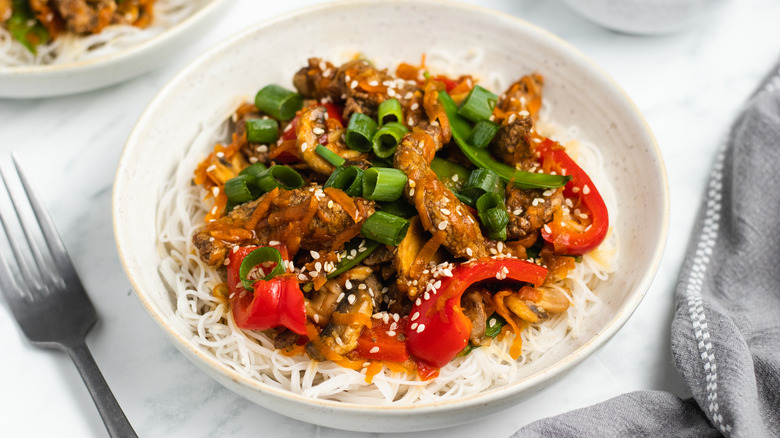 You don't need to order takeout to get a little taste of delicious stir fry in the comfort of your own home. This 5-spice pork stir fry recipe is incredibly flavorful thanks to the 5-spice powder — a common aromatic spice blend in Chinese cooking — and a soy sauce-based sauce that goes on top. If you add a bed of rice noodles and a few veggies, this is a complete meal. Whether you're craving a takeout-style meal with the family at home or are entertaining friends, this stir fry pleases a crowd. We also must mention that the method of stir-frying a dish adds a lot more flavor and zip to the dish, thanks to a fast-cooking wok.
Recipe developer Catherine Brookes of Blue Sky Eating came up with this top-notch stir fry recipe. "Pork is such a versatile meat and work perfectly in this tasty stir fry," she explains, adding, "there's plenty of colorful crunchy veg, and the easy sauce has a great balance of sweet and sourness. Since it's super quick to prepare, I love to make this as an easy weeknight meal."
Gather the ingredients for this 5-spice pork stir fry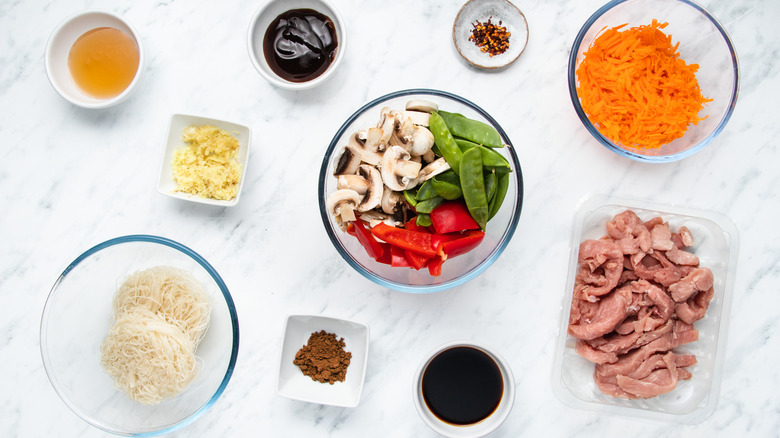 For this recipe, you'll need pork loin cut into strips, Chinese 5-spice powder, soy sauce, oyster sauce, honey, red pepper flakes, grated ginger, garlic cloves, red bell pepper, snow peas, button mushrooms, a large carrot, and dry rice noodles.
Can't find 5-spice powder? You can make your own with ground cinnamon, fennel, star anise, clove, and Sichuan peppercorns. This mix isn't super spicy, but adds a nice, warm flavor and a subtle, numbing heat.
Lastly, if you'd like, you can top your final product with sesame seeds and sliced scallions.
Season the pork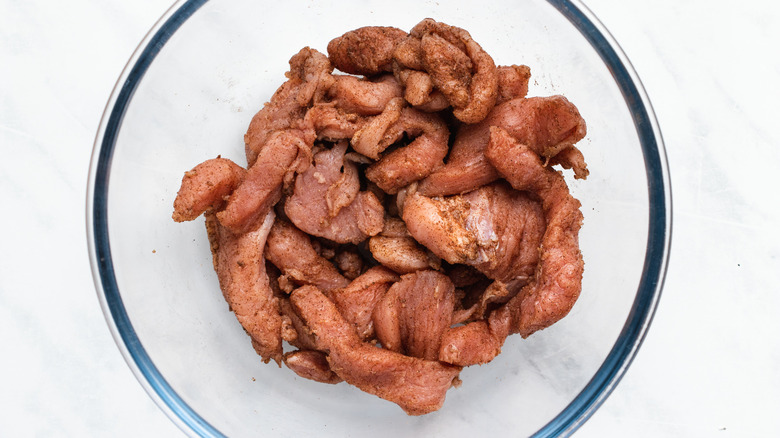 Take out a bowl that is large enough to hold all of your sliced pork. Toss in the meat and sprinkle in a little of the 5-spice. Mix well to coat each piece of pork with plenty of spice and then set the bowl aside.
Mix the sauce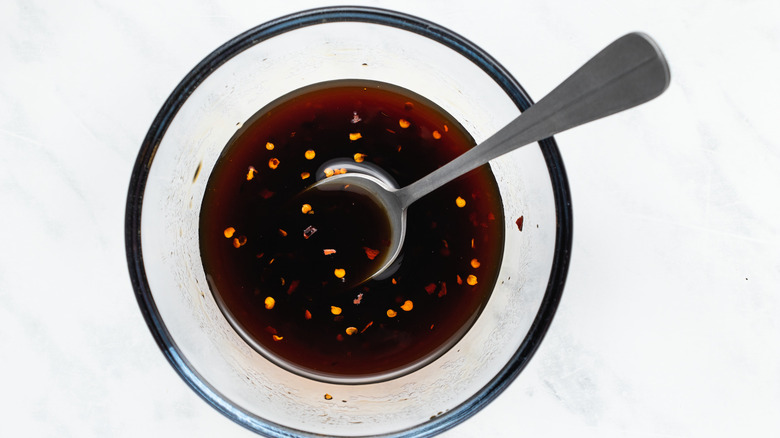 In a separate bowl, add the elements of your sauce: the soy sauce, oyster sauce, honey, and red pepper flakes. "You can adjust the red pepper flakes to taste depending on how spicy you'd like the dish to be," Brookes notes.
Heat a wok and cook the pork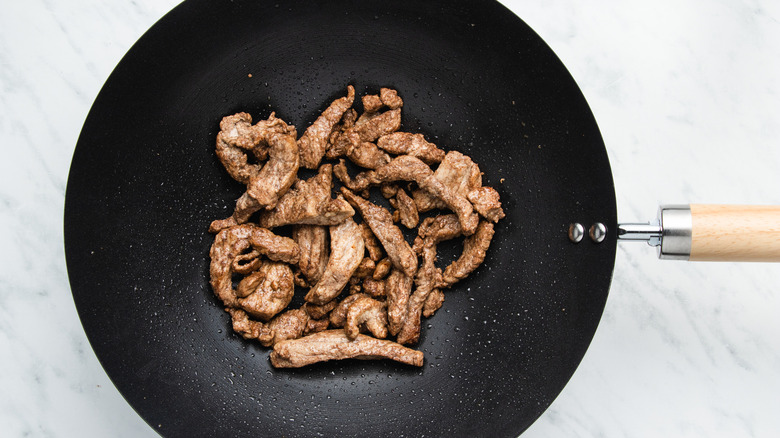 Now, it's time to get cooking. Grab a wok and place it on your burner. Crank the heat up to medium-high and spray a little cooking oil in the wok to prevent anything from sticking. Toss in the pork and fry for about 5 minutes.
Toss in more aromatics and veggies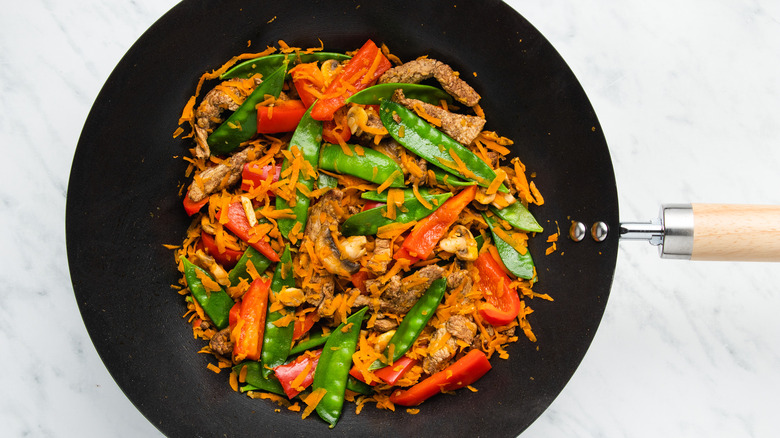 At this time, you can add the ginger and garlic and cook everything together for another minute. Be sure to stir constantly as you cook so you don't burn the garlic. Then, you can add the remaining items to the mix: the red pepper, snow peas, mushrooms, and carrot. Cook for a few more minutes, making sure to stir frequently until the veggies are slightly softened.
Cook the noodles and add to bowls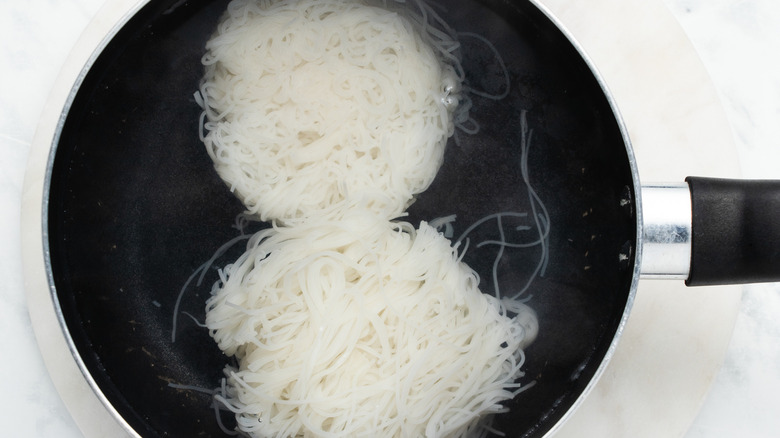 Grab the noodles and check the back of the box or bag for cooking instructions. Every brand and variety differs, so it's best to follow their specific directions. Once you cook the noodles, remove them from heat and drain. Add them to your serving bowls.
Serve and enjoy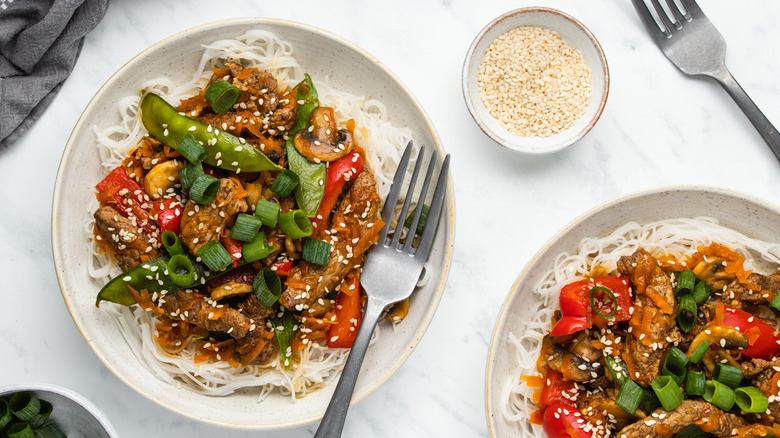 Add the stir fry to the top of the noodles, and enjoy! If you'd like, you can top with sesame seeds and sliced scallions. This is plenty filling on its own, but Brookes provides a few additional serving suggestions that you may want to try. "You could also serve with rice, crusty bread, spring rolls, or dumplings," she suggests.
Be sure to keep any extras. "Leftovers will keep well for up to 2 days covered in the fridge," Brookes notes.
10 ounces pork loin, cut into strips
1 teaspoon Chinese 5-spice powder
3 tablespoons soy sauce
3 tablespoons oyster sauce
2 tablespoons honey
¼ teaspoon red pepper flakes (or more, to taste)
1-inch knob of ginger, grated
2 cloves garlic, crushed
1 red bell pepper, chopped
4 ounces snow peas
4 ounces button mushrooms, chopped
1 large carrot, peeled and grated
5 ounces dry rice noodles
sesame seeds, for serving
spring onions, for serving
Add the pork strips to a bowl and sprinkle over the Chinese 5-spice. Mix well to coat the pork and set aside.
Mix together the soy sauce, oyster sauce, honey, and red pepper flakes in a mixing bowl.
Heat a wok on a medium-high temperature and spray with a little cooking spray. Fry the pork until cooked through, about 5 minutes.
Add the ginger and garlic and cook for another minute, stirring constantly.
Add the red pepper, snow peas, mushrooms, and carrot. Cook for another few minutes, stirring frequently until slightly softened.
Pour over the sauce and cook for a final couple of minutes.
Meanwhile, cook the noodles as per the packet instructions and distribute between your serving bowls.
Top noodles with the stir fry.
If desired, sprinkle with a few sesame seeds and chopped spring onion to serve.