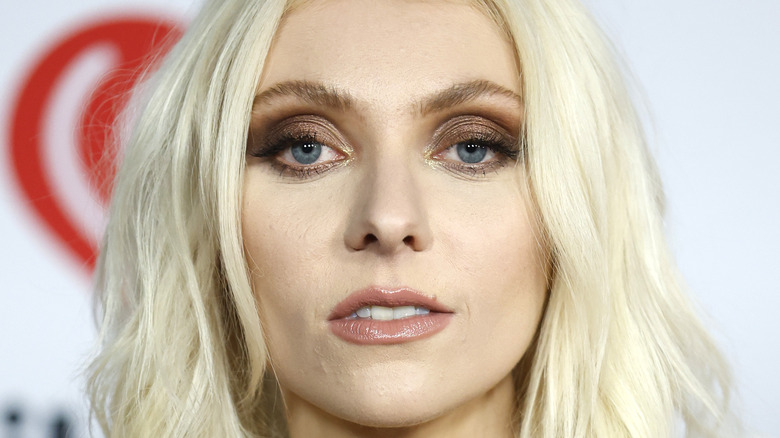 The following article mentions suicide and substance abuse.
It's pretty clear that Taylor Momsen has come a long way from her days as Cindy Lou Who in "How The Grinch Stole Christmas" to the edgy rockstar she is today. But that transition didn't come easily, and she had to overcome a lot of obstacles when it came to her music career.
Momsen found success in Hollywood at a young age. Casting director Lisa London confirmed on TikTok in August 2022 that the actor was in the top three for Disney Channel's "Hannah Montana," but it was Miley Cyrus who donned the cowgirl boots instead. As a teen, Momsen kept rising to fame on the popular TV drama "Gossip Girl." Fans have watched her top the rock charts with her band The Pretty Reckless. However, music was more to Momsen than a means for success. She explained to People, "It connects you in a way that nothing else in the world can, and it is the only thing that fills me up when I'm running on empty."
As Momsen approaches a new decade in her life, her 30s, she has wisdom to share with a weary world: "I want people to know that there is a light at the end of the tunnel, and there is a reason to keep moving forward," she said. So how did the "Make Me Wanna Die" singer get there? We're breaking down the transformation of Taylor Momsen from childhood to age 29.
Taylor Momsen began working as a toddler
Taylor Momsen has been in show business for a long time. The "Just Tonight" songstress started modeling at age two after her parents enlisted her in an agency. By age three, Momsen had branched out into acting and was adorable in a commercial for Shake-n Bake. From there, the work kept coming. The actor made appearances in the TV show "Cosby" and the film "The Prophet's Game" before age seven.
Momsen appeared happy to be working in Hollywood, telling E! while promoting her breakthrough role, "I would like to keep acting. I like all the imagination. … I love just meeting new people…and just acting out the scene." However, once she was a teenager, she revealed that she felt differently. "No two-year-old wants to be working, but I had no choice. My whole life, I was in and out of school. I didn't have friends — I was working constantly and I didn't have a real life," the star reportedly told Revolver magazine when she was their covergirl in 2010 (via Us Weekly).
Momsen continued to wrestle with the complexities of a career her parents chose for her. She also indicated that her previous words might have been misconstrued. Speaking with Kerrang! (via Us Weekly), Momsen explained: "I love my mom and dad. … Maybe it wasn't a conventional [childhood], but… I like where I am now, so it's okay. I think my parents have learned by this point that none of [what they read] is probably true, and words can be put in your mouth."
Taylor Momsen's breakthrough role at 7
Taylor Momsen landed an iconic part in the classic live-action holiday movie "How The Grinch Stole Christmas." The Missouri native had beat out thousands of girls for the starring role of Cindy Lou Who, opposite Jim Carrey's Grinch. When the film came out in 2000, seven-year-old Momsen gushed to E!, "We did a lot of auditions and it was really fun to try all the costumes on and the makeup. … I feel really privileged that I got chosen."
The youngster was particularly happy that the role involved singing, and she worked in a recording studio for the first time. As an adult looking back on "Where Are You, Christmas?" 20 years later, Momsen told "Today," "That was such an impactful moment in my life because it made me go, 'I wanna make music for the rest of my life.'" She also shared how special it was to work with director Ron Howard and actor Jim Carrey. "I just remember him being so kind, so concerned, but so methodical with what he was doing," Momsen said of her co-star.
The rocker looks back on "The Grinch" fondly and is proud of her work. "It has such a good message that no matter what age, I think, touches your heart. I think that that's an amazing thing to be a part of," she told "Today." In an Instagram video promoting her 2022 European tour, Momsen appeared with her white-blonde hair in a bun on top of her head, cutely ending in a freeze-frame next to a photo of herself as Cindy Lou Who.
Gossip Girl made Taylor Momsen famous at 14
While Taylor Momsen made a name for herself in "How The Grinch Stole Christmas," you could say that it was the hit show "Gossip Girl" that really launched her into fame in 2007 after she landed the role of Jenny Humphrey at age 14. Speaking about her notoriety, Momsen dished to The Guardian, "It just kind of happens overnight. No one prepares you for that." She continued, "On 'Gossip Girl,' I was just going to work, doing what I've always done, and then all of a sudden you're like, 'Woah!'"
Momsen appeared to enjoy her part on "Gossip Girl," at least for the first few seasons. She even told CW11 in late 2007, "Jenny's so great. She's so different from the other characters." The actor added, "It's a really great vibe on set. Everyone is like a big family already." At the time, Momsen had a lot going on, moving to New York City while attending a performing arts high school as a TV star. Yet she told Cosmo Girl that among her skilled classmates, "It's cool. I'm just Taylor there."
To this day, "Gossip Girl" still has a cult following despite it ending in 2012. Momsen told WWD in 2021, "I know that the show, looking back on it now, had such a cultural impact that I don't think I was really aware of at the time. I was in the middle of it, so I didn't see it from an outside perspective."
At 16, Taylor Momsen formed The Pretty Reckless
At age 16, Taylor Momsen decided to pursue music and formed a rock band, The Pretty Reckless, in 2009. Despite her success as an actor, Momsen had apparently always planned on being a rock musician. She dished to Interview, "I wrote my first song at age five," adding that she learned both piano and guitar while she was young. Yet it took some time for her to find the right people to work with. Momsen explained, "I was experimenting with various producers, to see who shared the same vision as me."
The Pretty Reckless released their debut album in 2010 and even went on tour, which Momsen loved and felt very comfortable with. However, she also felt that most people didn't take her music seriously at first because of her fame. The star explained to People, "It really worked against me and the band because I think I had to work harder than if I had just been a chick in a band from the get-go; people had a lot of misconceptions and a lot of doubts."
While Momsen eventually proved she had what it took to make it as a rockstar, she admitted to Nylon in 2020, "I understand, especially coming from an acting background and being on a very popular television show at the time that was very tabloid-based, that it seemed ridiculous."
Taylor Momsen left Gossip Girl at age 18
Around the time that Taylor Momsen was 18, she made the decision to leave "Gossip Girl" to focus on music. The "My Medicine" singer explained to The Daily Beast, "When I got to a place where I realized I was in control of my own life, and had found the right band, and everything was coming to fruition, it wasn't even a question: I was going to quit my day job."
At the time, though, there were rumors that Momsen had been fired from the show for being difficult. After guest-starring on "Gossip Girl," Tim Gunn claimed to E! News, "She couldn't remember her lines… I thought to myself, 'Why are we all being held hostage by this brat?'" Momsen suggested that there actually wasn't any bad blood, saying to The Daily Beast, "I'm very lucky that the producers were nice enough to write me out, allow me to tour, and pursue my passion." She added, "They very easily could have told me to go f*** myself and keep me on the show."
For Momsen, there was never a doubt that she was supposed to be a musician over an actor. "One was a job that I did when I was a child, and one is something that is my whole identity," she told WWD. Yet people continued to associate her with "Gossip Girl." She told People her time on the show was equivalent to her junior high school experience – "It's such a past life that it's a strange question to continue to get asked."
By 23, Taylor Momsen was a chart-topping rockstar
When Taylor Momsen reached 23, her music career was thriving. Not only had her band toured with Evanescence and Guns N' Roses, but they released several albums and broke music records. In fact, The Pretty Reckless became the first female-led band with consecutive number-one songs. When it came to those achievements, Momsen told WWD, "Commercial success is fantastic…but it's never really my goal." She added, "I'm simply making it for myself because it's the one place that I can really be me."
Momsen spent her adolescence establishing her musical identity, and she learned a lot along the way. The artist gushed to Cryptic Rock, "You can't beat experience. Just touring the world and having been a band for almost 10 years now, every experience adds to your knowledge of your life."
Live music would especially inspire Momsen, who looked forward to new, energizing crowds night after night. She shared her unique songwriting process with Cryptic Rock, too: "I read a lot, I write, I paint, I sculpt, I watch television, I people watch, I isolate myself from the world to try to get inside my own head, because you never know where an idea is going to come from."
Taylor Momsen suffered two tragic losses at age 24
It appears that age 24 was an extremely hard year for Taylor Momsen because she suffered two tragic losses in 2017. The first was her friend and Soundgarden frontman, Chris Cornell, who committed suicide. Momsen had been on tour with Cornell at the time and struggled to cope with his death. She recalled to Metro, "I woke up to the most — I don't even have words — devastating news that Chris had passed. And it crushed me in a way that I can't explain and I was not prepared for as a person."
Following Cornell's death, Momsen canceled the rest of that tour and grieved. "I wasn't in a good place mentally to be public," she said. Understandably, processing her friend's passing was a seemingly impossible task.
Things only got worse for Momsen. Sadly, just months later, her friend and producer Kato Khandwala was killed in a motorcycle crash. "That was really kind of the nail in the coffin for me. I spiraled very quickly downward, very quickly into this very dark hole of just depression, substance abuse, and everything that comes along with grief, trauma, and loss," she told WWD. Momsen had withdrawn, and she wasn't even sure about continuing on with her band.
If you or anyone you know is having suicidal thoughts, please call the National Suicide Prevention Lifeline​ by dialing 988 or by calling 1-800-273-TALK (8255)​.
If you or someone you know needs help with mental health, please contact the Crisis Text Line by texting HOME to 741741, call the National Alliance on Mental Illness helpline at 1-800-950-NAMI (6264), or visit the National Institute of Mental Health website.

27-year-old Taylor Momsen healed through music
After taking a few years to herself, Taylor Momsen stepped back into the spotlight in 2021 when she was 27 years old, releasing a new album, "Death By Rock And Roll." She credited the record and her band, The Pretty Reckless, for pulling her out of the dark place she was in after the death of two friends. She told People, "I'd given up on life, but then I turned to music. It saved me." She reiterated that to Nylon, even saying, "I really do credit the writing and the making of this album as the reason that I'm still around."
It was when she let herself pick up her guitar and write songs again that Momsen's healing finally began. She explained to WWD, "This record kind of just flowed out of me almost stream of consciousness style. That really was the beginning steps of me starting to put the pieces of my life back together. I call this album a rebirth…"
By that point, Momsen had found her way back to what she loves, which is making music. The rocker is incredibly grateful that she works as a singer-songwriter everyday, and she wants her songs to reach fans who have gone through similar hardships. "I think that music has such a healing quality… I hope that people can find some solace in this record," Momsen told People.
If you or anyone you know is having suicidal thoughts, please call the National Suicide Prevention Lifeline​ by dialing 988 or by calling 1-800-273-TALK (8255)​.
Taylor Momsen isn't ruling out acting at 29
In 2022, a 29-year-old Taylor Momsen made it clear that she was ready to be back in the limelight when she made her first red carpet appearance in five years at the iHeartRadio Music Awards. Momsen wasn't only nominated twice with her band The Pretty Reckless, but they also performed. She told E! News, "I'm just looking forward to getting back on the stage and doing what I love in front of people."
While Momsen may have been there for the music, she made a pretty big revelation on the red carpet when asked if she'd ever act again. "I never say never anymore in life, especially now with all the curveballs the world is throwing everyone," she said. Although Momsen added that she has no acting projects on the table, she did once hint that she was interested in HBO's 2021 "Gossip Girl" reboot. The artist told Metro, "I think it's very cool that they're rebooting it and I'm very curious to see what it turns into."
However, from the looks of Momsen's Instagram, she's mostly still into playing music for fans out on tour. So while it's no secret that Momsen has physically transformed a lot over the years, she's appeared to have been on a journey to become her true self, a rockstar.