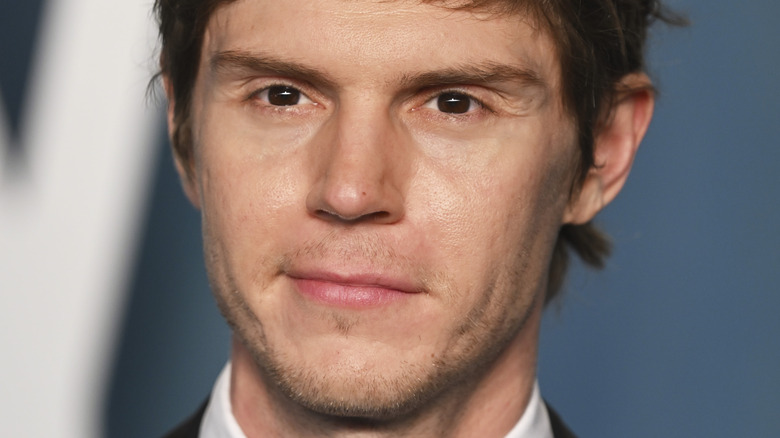 If it seems as if Evan Peters has been around for a long time, that's because it's true. He moved from St. Louis to L.A. when he was just 15 to launch an acting career as a teen. The first of his many screen credits was the title role in the 2004 indie film "Clipping Adam." As he revealed in an interview with W Magazine, that movie was only the second thing he ever auditioned for.
Since then, Peters has built up an impressive and eclectic roster of roles, most notably in the "X-Men" film franchise and such TV series as "Pose," "WandaVision," and "Mare of Easttown." However, his most famous project has been "American Horror Story," in which he's played numerous roles over the years, ranging from a psychotic ghost with a latex fetish to a deranged and homicidal hotel architect. In fall 2022, Peters demonstrated even more versatility when he starred as one of the world's most notorious serial killers in the Netflix series "Dahmer – Monster: The Jeffrey Dahmer Story."
For someone who's been so visible on screen, Peters has consistently taken a low-key approach regarding his personal life. As such, there's likely much you don't know about him.
He came to Hollywood because he wanted to meet the Olsen twins
When 15-year-old Evan Peters convinced his parents to move from St. Louis to Los Angeles to further his goal of becoming an actor, he kind of hit the ground running. As he told W Magazine, in addition to his role in "Clipping Adam," he also appeared in TV commercials for Sour Patch Kids and Sony Playstation. An admirer of Shia LaBeouf for his role in the Disney Channel hit "Even Stevens," Peters was anxious to get onto a Disney Channel show himself. "Obviously, movies would be incredible, but that seemed further down the line," he said of his acting ambitions as a time.
The impetus to move to Los Angeles, he said, was initially fuelled by the longtime crush he'd had on "Full House" twins Ashley and Mary-Kate Olsen. "Yeah, they kind of got me out to L.A. in a way, because I was like, 'I gotta meet 'em!'" he divulged. He also insisted he had no problem telling the two apart. "Well, they're fraternal, you know," he said. "They're not identical."
He fulfilled his dream — or at least half of it — when he wound up encountering one of the twins. "I met Ashley," he told the magazine. "She's sweet. I was a little nervous, but she was cool," he recalled, admitting, "By that time, my crush had changed and moved on."
He accidentally flashed Jessica Lange
Evan Peters has worked with Oscar-winning co-star Jessica Lange on several seasons of "American Horror Story." After all those years, the actors have come to know each other quite well. However, Peters shared an anecdote from the set of the second season, subtitled "Asylum," in which Lange inadvertently came to know Peters a bit better than either had anticipated.
In the "Asylum" season, Lange played Sister Jude, a nun with a colorful past who's in charge of the Briarcliff Manor psychiatric asylum. Peters played Kit Walker, a patient in the asylum who's been wrongfully accused of murdering his wife. Because Peters' character is a patient, his costume was a flimsy hospital gown, under which he wore nothing but a skin-colored pouch designed to hide male genitals, colloquially known as a "c**k sock."
"Wow, this is terrible," Peters admitted during an appearance on "Conan," explaining how he accidentally came to flash Lange. "I basically am leaned over Jessica Lange's desk in a hospital gown, bare-a** … so I put a c**k sock on … and we did the scene, and afterward, Sarah [Paulson] comes up to me, kisses me on the cheek, and is like, 'Oh, sweetheart, it's okay,'" Peters told host Conan O'Brien. "And I was like, 'What, was I that bad?' And then I look over and Ms. Lange is telling the PA that apparently my balls were in her face the whole shot."
He needed to step away from American Horror Story
As loyal viewers of "American Story" can attest, Evan Peters has appeared in nine of the 10 "American Horror Story" seasons (he also won't be appearing in the 11th, premiering in October 2022).
Over the course of those seasons, he's portrayed some undeniably disturbing characters, particularly homicidal teenager Tate Langdon in the first season (aka "Murder House"), and cult leader Kai Anderson in the "Cult" season; in the latter, in fact, he also portrayed a who's who of historical cult leaders, including Marshall Applewhite, David Koresh, Jim Jones, and Charles Manson — a run that has put him on the top of the heap for portraying more characters than any other actor on "American Horror Story."
Peters' decision to sit out the "1984" season, and the 2022 "NYC" season, wasn't taken lightly. In a 2018 interview with GQ, the actor candidly explained why he felt it best for his mental health to step away from the show, at least temporarily. "It's just exhausting. It's really mentally draining, and you don't want to go to those places ever in your life," he admitted. "And so you have to go there for the scenes, and it ends up integrating it somehow into your life. You're in traffic and you find yourself screaming and you're like, What the hell? This isn't who I am."
He did his own stunts for his 'X-Men' role — mostly
In 2013, Evan Peters was cast in a key role in the wildly popular "X-Men" franchise, playing Pietro Maximoff (aka mutant superhero Quicksilver) in the big-screen sequel "X-Men: Days of Future Past" (via Variety). Peters reprised the role for the next film, "X-Men: Apocalypse," and again for the followup, "X-Men: Dark Phoenix." Peters stepped into the role again (albeit in a somewhat dark and twisted manner) for the Disney+ Marvel series "WandaVision."
In an interview with Amber Doig-Thorne promoting "Dark Phoenix," Peters was asked to hone in on what he enjoyed most about the role. "Probably the special effects sequences," he revealed. "Being on wires, everybody frozen."
In fact, a two-minute action sequence in "X-Men Apocalypse" required Peters to spend more time on a single stunt than any of the other actors. As he told Entertainment Weekly, the scene required him to be on wires while running on a treadmill as a wind machine blasted him. "Some of it [we shot] on a green treadmill," he explained. "Some of it is me running around and people frozen in mannequin poses." Maneuvers he was unable to accomplish, he added, were performed by his Cirque du Soleil-trained stunt double, Colin Follenweider. "He's an incredible acrobat," said Peters, explaining, "They bring him in for the intense stuff. Then they bring me in there and I just try not to mess it up."
He finds love scenes 'embarrassing'
Like many attractive young actors, Evan Peters has had to simulate getting intimate on camera. Performing sex scenes for film or TV shows, however, is far from his favorite part of his vocation. That was particularly true of his various roles in "American Horror Story," which usually required some sort of provocative nudity. It was something, he admitted in an interview with GQ, that he'd come to take in stride — even if he didn't particularly enjoy it.
"Almost every role, there's been some sort of weird sex scene, and sex scenes are not easy to do," Peters admitted. "They're very embarrassing, especially when you're in your twenties and you're still awkward." One "American Horror" story scene that stood out for him was in the "Hotel" season, playing sociopathic hotel designer Mr. March, who is also a serial killer. "I was doing this butterfly razor cutting of this poor girl while I was having sex with her," he recalled. "It was just horrific and weird and sad."
After acting out so many twisted and deviant "American Horror Story" sex acts, Peters confessed he was ready to go in a whole other direction. "I would love to do a romantic comedy," Peters revealed." I've been watching so many of them. I love them."
He's dated plenty of famous women
Keeping a celebrity's private life out of the public eye becomes increasingly difficult when celeb dates one another. That's certainly been the case with Evan Peters, who has dated a bevy of famous women. In 2010, Peters was linked to Pixie Geldof, the daughter of Boomtown Rats frontman and Live Aid co-founder Bob Geldof. The two were spotted holding hands at Coachella that year, before breaking up in 2011.
Later that year, Peters appeared in the play "Living at Home," and began dating his co-star Alexia Quinn. After celebrating his birthday together in January 2012, they split later that year. While filming the movie "Adult World," he met Emma Roberts. At some point after the production of the film, the two began an on-again, off-again romance that lasted seven years. They got engaged in 2013 before breaking up and reconciling a few times. Sadly, they called it quits for good in March 2019 (via Us Weekly).
Six months later, Peters was spotted at a California amusement park alongside singer Halsey and, obviously, dating rumors were sparked. Those rumors were confirmed when Peters brought Halsey as his date to a Halloween-themed soiree celebrating the 100th episode of "American Horror Story," with the two costumed as Sonny and Cher. While there was never an official break-up announcement, in March of the following year she scrubbed her social media of any evidence that the two had ever inhabited the same planet (via People).
A blowout fight with girlfriend Emma Roberts ended with her arrest
Following Evan Peters' engagement to Emma Roberts in 2013, the couple wound up breaking off their engagement and then reconciling. As PopSugar reported, they repeated that pattern two more times before finally splitting for good in 2019.
Given all those breakups and makeups, it can be safely assumed that the relationship was volatile, bordering on tumultuous — something that came to an ugly head in 2013. As Us Weekly reported, in July of that year, the couple was in Montreal together when an argument turned physical. Police were called to their hotel room to investigate what was characterized at the time as a domestic violence situation. When officers arrived on the scene, they saw that Peters sported bite marks and a bloody nose, while Roberts appeared unscathed. She was placed under arrest but was eventually released after Peters declined to press charges.
"It was an unfortunate incident and misunderstanding," a rep for the couple said at the time. "Ms. Roberts was released after questioning and the couple are working together to move past it."
He had a hobby any grandmother would love
Many actors pursue exotic extracurricular pastimes, but when it comes to the most unlikely, Evan Peters may just take the cake. In an interview with Cosmopolitan, Peters revealed, "I have knitted before, but I gave that up." He explained that one of his most enjoyable pursuits since putting down his knitting needles has simply been talking with people. "There are so many people at work who are interesting to talk to and learn from, so I'm trying to do that a little bit more," he told Cosmo.
Watching movies is another one of his hobbies, he told Issue, describing "Forrest Gump" as being a particular favorite. Peters admitted that his choice of cinemas in L.A. is all over the map, but there is one accouterment he demands from his filmgoing experience: good popcorn — something that, for him, even supersedes the quality of the movie. "I'm a huge popcorn guy — I don't care where we are as long as the popcorn is up to snuff," he explained. "I could watch anything; I could watch the biggest pile of crap and still have a s**t-eating grin on my face the whole time as long as I'm eating that large popcorn."
He followed one important rule on the set of Dahmer
When Evan Peters agreed to portray notorious serial killer Jeffrey Dahmer in "Dahmer – Monster: The Jeffrey Dahmer Story," there was a built-in comfort level. That's because the Netflix series was produced by Ryan Murphy, with whom Peters had worked extensively on multiple seasons of "American Horror Story." When he agreed to take on the role, Peters insisted that the stories of Dahmer's victims be told in a way that is respectful to their memories and their families — a sentiment that was shared by Murphy.
"You know, we had one rule going into this, from Ryan, that it would never be told from Dahmer's point of view," Peters explained in an interview with Netflix. "As an audience, you're not really sympathizing with him, you're not really getting into his plight," he added. "You're more sort of watching it, from the outside." It's not just Dahmer's story being told in the series, Peters insisted. "It's the repercussions," said Peters. "It's how society and our system failed to stop him multiple times because of racism, homophobia." He continued, saying, "'The Jeffrey Dahmer Story' is so much bigger than just him."
Playing Jeffrey Dahmer was 'one of the hardest things' he's ever done
While Evan Peters had played his share of heinous, murderously creepy villains in "American Horror Story," portraying a real-life murderer in "Dahmer – Monster: The Jeffrey Dahmer Story," carried a lot more baggage. Taking on the role did not come without apprehension. "Honestly, I was very scared about all of the things that he did, and diving into that and trying to commit to that was absolutely going to be one of the hardest things I've ever had to do in my life because I wanted it to be very authentic," Peters told Netflix. "But in order to do that, I was going to have to go to really dark places and stay there for an extended period of time."
To gain insight into Dahmer, both in terms of his motivations and mannerisms, series creator Ryan Murphy encouraged Peters to watch NBC correspondent Stone Phillips' behind-bars interview with Dahmer. Peters recalled Murphy sharing his insights about Dahmer to aid the actor's portrayal. "You know, Dahmer is interesting in that he is almost regretful and has guilt, and sort of confusion about went on," Peters said, recalling what Murphy had told him.
Evan Peters has tried to model himself after a surprising array of iconic actors
Evan Peters' has already experienced a distinguished acting career, and can understandably expect to experience even more success in the years to come. In an interview with GQ, Peters named some of iconic actors who'd inspired him, sending him on his own journey, and there was a through line — he pinpointed actors who were as acclaimed for their dramatic work as they were for their comedies.
"My favorite actors are Jim Carrey and Chris Farley, Tom Hanks, Robin Williams," he said, singling out the latter. "Robin Williams is the best — to be able to do all that comedy but also be heartbreaking," he reflected.
Interestingly, Peters credited "American Horror Story" for allowing him to show different sides of himself, playing characters both cruel and comedic. "It's a dream come true to not be pigeonholed," he told Issue. "I've been playing these characters for seven years and each time I get to challenge myself and stretch myself. We didn't know when we signed on that it was going to be like that, and then it was just the best Christmas gift ever to have that opportunity. It's been awesome."