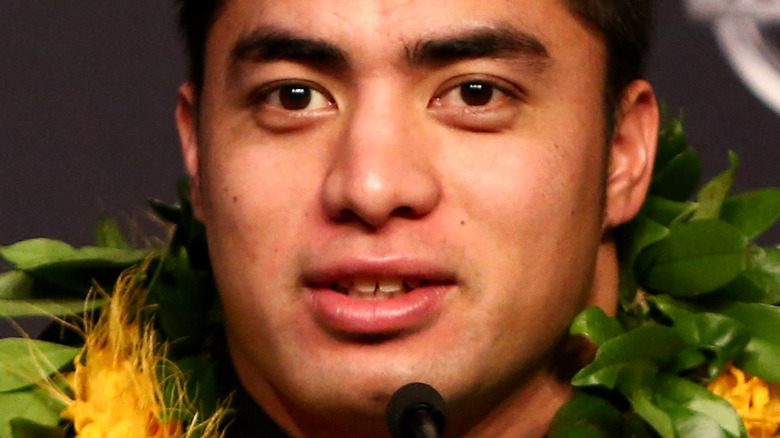 By now, you've probably heard the story of Manti Te'o. Before the 2013 NFL draft, the Heisman finalist was catfished into falling in love with a woman who did not exactly exist, before then being told she'd died in a car crash around the same time as his grandmother passed away. After the rising football star told the world what had happened, the person behind the fake dead girlfriend contacted him again and pretended to be alive. The truth eventually came out, shattering Te'o's world in the process while also opening the floodgates to plenty of critics who accused him of making the whole thing up. The tumultuous story was unpacked in great detail in the 2022 Netflix documentary series "Untold: The Girlfriend Who Didn't Exist," which firmly put the spotlight back on the football star.
But with so much attention on him once again, it's only natural for fans to wonder how much money Te'o actually made during his rise to football fame and the subsequent difficult time that followed. As we know, the sport is a huge money-maker, so it's probably no surprise to hear Te'o is reported to be a millionaire. His exact net worth? According to Celebrity Net Worth, it's a whopping $3.5 million. But how does he make and spend his money today? Let's take a deep dive into the financial goings-on of this Hawaiian-born star.
Manti Te'o's first big contract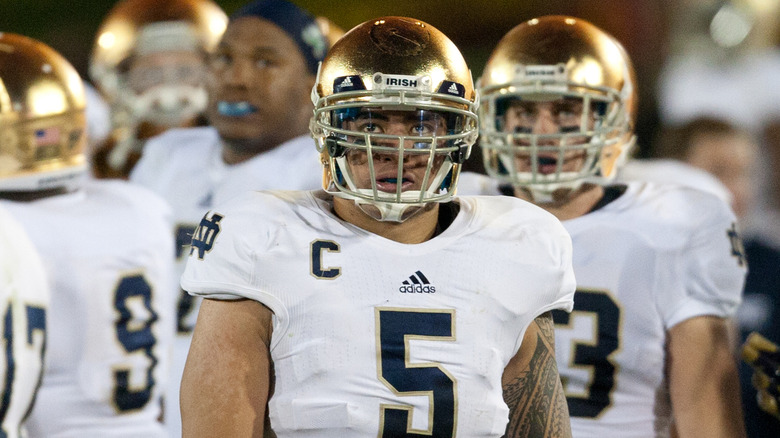 Before he even set foot on the field as a professional NFL player, Manti Te'o had millions to his name. As anyone who saw Netflix's "Untold: The Girlfriend Who Didn't Exist" documentary knows, Te'o was a thriving college football player at Notre Dame, which set him up for success when he graduated to the big time in 2013. A second-round draft pick, he nabbed a $5,000,000 four-year contract, per Spotrac, to play for what was then known as the San Diego Chargers (now the Los Angeles Chargers). That fee included a signing bonus of over $2 million. As CNBC noted at the time, before the aforementioned catfishing scandal hit and his not ideal Combine scores were released, he was believed to be a shoo-in for the first round; his actual draft position is thought to have cost him millions.
It took Te'o a while to finally play his first big NFL game after injuring his foot in the first preseason game. Per Sports Illustrated, he sprained his right foot and had to miss the first three games of the year before injury struck again in 2014. That time, Te'o broke his right foot, which saw him have to sit on the sidelines once again for several weeks. As he recounted on an episode of the New Orleans Saints' official podcast, "My last year with the Chargers I thought I was having a really good beginning of the season and then the third game I tore my achilles. It was just one of those things man."
Manti Te'o signed with two more teams
In 2017, Manti Te'o signed a two-year deal with the New Orleans Saints. According to Spotrac, he was set to bring in $2.5 million a year, with $600,000 guaranteed, but by 2019 that annual salary dropped down to $800,000. Looking back on his time on the Saints, he said on the team's podcast, "When I went to New Orleans everybody was supportive. … Those were the best times and I'm sorry I could go on and on about this."
That figure plummeted even further in 2020 when Te'o moved over to the Chicago Bears. He ended up signing on the dotted line for just $132,000, with that being his base salary and his capped salary while receiving no signing bonus. According to NBC Sports, he made just above $10 million over the course of his professional football career.
As of September 2022, Te'o is not signed to an NFL roster. While visiting his alma mater, Notre Dame, he shared he pretty much considers himself retired from the sport, per ND Insider. "I miss the game; I miss playing the game. I miss the Chess match that football is for me. I miss the plane rides. I miss the conversation with guys. I miss all of that," he said.
Manti Te'o put his family first
Since Manti Te'o's focus isn't solely on football anymore, how exactly does he spend his time and how does he make his money? Well, it seems like this athlete has taken his talents to the business world. In July 2022, Te'o shared on Instagram that he had joined the Transcend team, a telehealth company that mainly works with athletes. In a poignant post, Te'o shared that after he and wife Jovi Nicole Engbino welcomed their daughter, his priorities shifted significantly. "Today, my ultimate goal is to be the very best dad for my kids. To be their example of what hard work and dedication looks like. To be their number one fan. But in order to do all of that, I have to make sure that I am HERE to raise them," he shared. On a 2022 episode of the New Orleans Saints' official podcast, Te'o said, "With my career and all the injuries that I've had I wanted to make sure that my health was at its optimum."
Plenty took to the comments section of his IG post to share sweet messages for the star as he shared his new career trajectory. "You sir are an inspiration. Please know you are loved and we support you," one person wrote, while a second commented, "Absolute legend. Role Model. Inspiration. Strong and brave. Hold your head up high, brah. Aloha."
But working with Transcend is not all this former football star is up to these days.
From linebacker to entrepreneur
As well as using his years of fitness training to help others to stay healthy, Manti Te'o also appears to be an entrepreneur in the trucking business — and he's giving back at the same time. In October 2021, he shared on Instagram that he was looking for drivers for a company he's involved with. He posted a job application and told his followers that he would ideally like to find a parent/child duo who were interested in getting behind the wheel. He gave us another hint at what it is he does in February when he showed off a new vehicle joining his fleet in the social media site, a white truck he'd dubbed Optimus. "2020…made the vision clearer[,] 2021…gave us momentum[,] 2022…we separate," he captioned the video, adding, "Always humble. Forever grateful. Never satisfied. Let's go!"
But it's not just the NFL alum who's a business wiz in the Te'o household. Speaking to Fox News in September 2022, he shared that a potential return isn't exactly at the forefront of his mind right now. T'eo gave an insight into his life today while revealing his wife, Jovi Nicole Engbino, is also a successful businessperson. "Life is good, I had an eight-year career. Just being a dad, I have a beautiful daughter, a son on the way. I got my pup here. My wife is doing well with her businesses. I'm just a family man, man," he shared. #CoupleGoals.
Touchdown in influencer town
Manti Te'o has figured out a number of ways to bring in money now he's not on the field week after week playing in the NFL. Of course, Te'o has been in the public's consciousness for a while now thanks to his football career and notorious catfishing drama, and he's been able to build up quite a following on social media. One of his favorite platforms appears to be Instagram, where he's amassed 386,000 followers as of September 2022.
And it seems like Te'o is putting all that attention to good use, as the former footballer often posts what appear to be sponsored posts and his ads seem to cover a wide range of products. In September 2022, he advertised protein puddings, and plugged products for dogs eight months earlier. In February 2021, he shared a photo of a bottle of water from his home state, Hawaii, and has also shared posts showing off the likes of Breville and Beats By Dr Dre (while also getting his daughter in on all the Influencer action). While how much Te'o makes for his posts is at his own discretion, Inzpire.me calculated someone with a following like he has could potentially charge between $2,500 and $3,100 for a single Instagram upload.
But that's not all: Te'o is also making cash from personalized videos through Cameo (where his videos can cost around $100), while he can also be booked for appearances and videos via MN2S.
Real Estate came knocking on Manti Te'o's door
Touch down in escrow. Amongst the many other business ventures Manti Te'o has taken on since leaving football behind, he appears to make a good chunk of his money these days from real estate. All is revealed on Te'o's LinkedIn page (where his bio reads "Entrepreneur," "NFL," and "Real Estate"), as he lists himself as being the co-founder of Ohana Homes and Investing in San Diego. As for what the company actually does, he wrote in the description, "Ohana Homes and Investing is a real estate investing program. Our goal is to create a great team of real estate agents, contractors and investors to help each of us achieve our financial goals."
But that's not the only way Te'o has dipped his toes into the real estate market. He also lists himself as being CEO of HI 5 Homes, LLC, another San Diego real estate investment company. Notably, the athlete has left the end dates for his football career open-ended in his account, suggesting he may one day be anticipating a return to the game.
It sounds like Te'o is willing to share his wisdom when it comes to his big career change and big business successes, though. In April 2019, he sat down with WealthFit to share his story and how he overcame obstacles to become the entrepreneur he is today. "The way that you overcome adversity is by making it your friend," he said at the time.
Manti Te'o will shell out for toys
Now we know how Manti Te'o has earned his millions, how does he like to spend all that cash? Well, it seems like this former athlete has quite the passion for wheels, which he proudly shows off on his Instagram account. In March 2021, he gave his Instagram followers a look at a GMC truck he'd seemingly had customized as he gave a shout-out to the brands that made it happen, including a California company who provide vehicle wraps. Te'o snapped photos from every side of the car, teasing in the caption, "It's all in the details." Two years before that, he showed off his car love once again when he proudly filmed a chic looking white Cadillac with red trims that he got to drive.
But it's not just four wheels this star has an affinity for. He's also showed off his power bike on Instagram in May 2020 as he rode around the streets of Pacific Beach in San Diego. then followed up with an Instagram video of him riding it down the street wearing a face covering. And yes, he seems to be having a wheel good time.
Manti Te'o and his family love a good vacation
It seems like Manti Te'o also loves to splash out on a vacation — and, hey, who could blame him? When it comes to treating himself after earning his millions, it seems like a lavish trip away with his family is the way to go. The athlete has shared a look at a few of his trips on social media over the years, including sharing sweet Instagram photos and videos from a ski trip he took with his extended family to Aspen In 2020. And his wife, Jovie Nicole Engbino, has also given fans a look at their fun family vacations, including sharing an Instagram reel in August 2022 that showed all the mouth-watering food they tucked into while away for a while. In the post, she shared how to get that fitness motivation back after some time away (be honest, we've all been there).
Te'o's got a lot of irons in the fire, but he makes the time to take excursions with his nearest and dearest. As he said on a 2022 episode of the New Orleans Saints' official podcast, "My wife and I just got back from a little vacation back to San Diego last night. It was a good time to get away for a bit but it's definitely been busy and it's been a good type of busy. Everything has been a blessing for sure."
The true riches in life? If Manti Te'o's life is anything to go by, it's making memories with those we love.