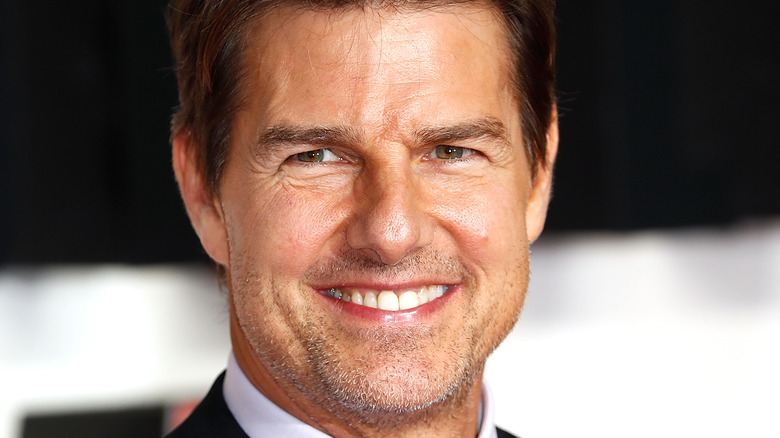 There's no end to news about Tom Cruise. Some of it's great, like the fact that "Top Gun: Maverick" was his first movie to gross over $100 million on its opening weekend. Nicely done. And some of the news is a little more exciting and sometimes bizarre. Some of the more disturbing things about Cruise's life have to do with his involvement in the Church of Scientology. He's also not a bit shy to take on studio executives if he feels he has a better way of doing things. For example, when Paramount proposed a release plan for "Maverick" that would bring it to a streaming platform after only 45 days in theaters, Cruise allegedly showed up with a lawyer and insisted on a three-month theater showing.
On a more badass level, Cruise can freak out his family and friends with his insistence on doing his own stunts, some of which are outright dangerous. In 2021, when Cruise was filming "Mission: Impossible 8," fans got footage of him strapped to a 1941 Boeing B75N1 Stearman biplane, The Sun reports, and the plane flipped and nosedived while Cruise was on the wing. Clearly, there are no stuntmen required for these projects!
But perhaps most exciting of all is Cruise's relationship history and, as far as we know, no stuntmen were hired for these gigs either. He's certainly made an impression because all of his exes had things to say about time spent dating him. But of all of these exes, Katie Holmes might have the most to say.
The strange selection process for Tom Cruise's girlfriends
Before Katie Holmes came onto the scene, Tom Cruise had an unusual way of finding love. As Maureen Orth reported for Vanity Fair in 2012, the Church of Scientology had a way of vetting women to fill the role of Cruise's girlfriend. Apparently, Cruise's adherence to the church was a source of tension in two of his previous relationships with Mimi Rogers and Nicole Kidman. "There were allegations and counter-allegations about fidelity, but the central problem was Nicole did not want to deal with Scientology," a source told Vanity Fair.
Allegedly, A-listers like Sofia Vergara had been scouted but turned down the offer. Brendan Tighe, a former Scientologist, said on "Megyn Kelly Today" that Scarlet Johansson had apparently tried out for the role, a comment that garnered a response from the actor herself.
"The very idea of any person auditioning to be in a relationship is so demeaning," Johansson said in a statement, per a later publication by Vanity Fair. "I refuse for anyone to spread the idea that I lack the integrity to choose my own relationships. Only a man, a.k.a. Brendan Tighe, would come up with a crazy story like that." Orth reported on the experience of actor and activist Nazanin Boniadi as she was scouted and molded by Scientology, which included the encumbrances of being constantly accompanied by handlers. Boniadi was also never allowed to criticize the church. It didn't last, but it sure gave a heads up for what Katie Holmes was in for.
How an article for Seventeen changed everything
Of all things, it was an interview that set things in motion between Katie Holmes and Tom Cruise. In 2004, Holmes was bright-eyed and bushy-tailed, after playing Joey Potter on "Dawson's Creek" and engaged to actor Chris Klein, per HuffPost. She was interviewed by Deb Baer for "Seventeen" magazine and was, naturally, being asked about upcoming wedding plans. Holmes quite innocently said, "I think every little girl dreams about (her wedding). I used to think I was going to marry Tom Cruise," (via The Hollywood Reporter).
The behind-the-scenes workings of the Church of Scientology are unknown, but sure enough, six months after the article hit the press, Holmes and Klein broke off their engagement. Shortly after, Homes was introduced to Cruise on the pretext that there might be a part for her in "Mission: Impossible 3." However it happened, Holmes' admission of her childhood crush on that fateful day set the wheels in motion.
Baer later lamented her interview with Holmes in an op-ed for HuffPost, where she admitted that Holmes struck her as overly trusting and far too idealistic to see a relationship with Cruise for what it really was. "She was ridiculously easy prey," Baer wrote, noting that Holmes was young enough that she was still easily "starstruck" and lonely. "Once Katie was firmly in Tom's clutches, sometimes I'd lay awake at night, tossing and turning realizing that the quote I'd gotten from her at the first interview probably ruined the poor girl's life," Baer ominously wrote.