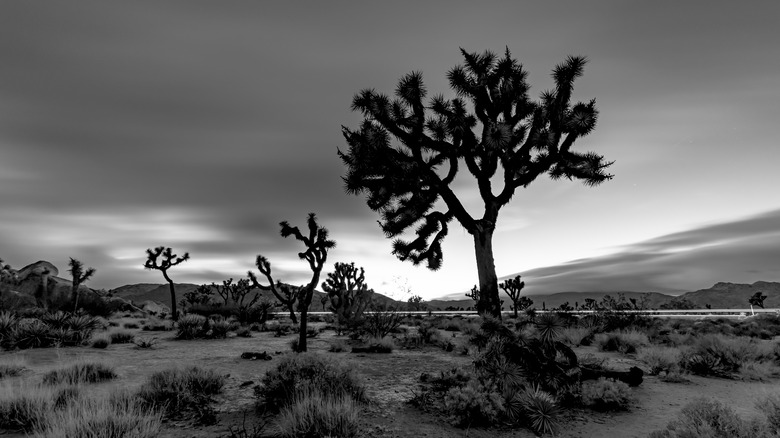 On the evening of December 24, 1931, Edward and Julie Stewart were driving through the Arizona desert on their way to Phoenix. The couple was approximately 10 miles outside the town of Superior when one of their tires went flat. As reported by Arizona Capitol Times, Edward stopped the car along the side of the road and proceeded to change the tire. In the meantime, Julie was walking around the vehicle when she heard an unusual noise in the distance.
Julie told Edward about the noise, which, in her opinion, sounded like an infant crying. The couple followed the noises approximately 100 feet into the desert, where they were stunned to discover they were coming from a hatbox. Arizona Capitol Times reports the hatbox, which was made of black pasteboard, was pinned shut. When the Stewarts opened the box, they were horrified to find a tiny baby girl inside. Although the baby was crying, she did not appear to have any injuries and was dressed in a pair of pajamas with a flower pattern.
Nobody came forward to claim the Hatbox Baby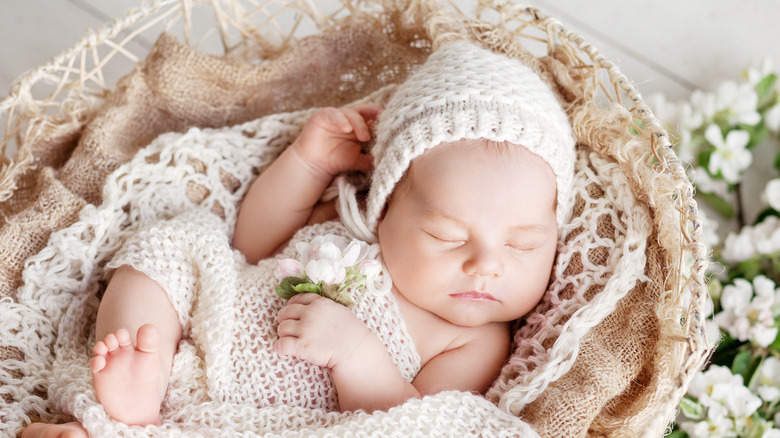 As reported by Arizona Capitol Times, Edward and Julie Stewart took the baby girl to a local police constable, who called a local midwife named Helen "Ma" Dana. Dana agreed to take care of the baby while authorities attempted to locate one or both of her parents. Dana, who started calling the baby "Marian," contacted a doctor to more thoroughly examine the infant. The doctor confirmed the baby was approximately six days old and did not have any injuries or health concerns.
As the baby was found in the middle of the desert, authorities were concerned that her mother might be in danger. However, Arizona Capitol Times reports they were unable to find any evidence as to the identity of the infant or her parents. Beginning the day after the infant was found, several newspapers began running stories about the so-called "Hatbox Baby." However, nobody came forward with any information about the tiny blue-eyed, red-haired girl or who her parents may have been.
Faith and Henry Steig adopted the baby and named her Sharon
Although the entire country was in the midst of the Great Depression, the Mesa, Arizona community came together to help provide for the infant. Fewer than two months after the baby was found, 17 couples came forward offering to adopt her. As reported by Arizona Capitol Times, the infant was ultimately adopted by Faith and Henry Steig, who named their new daughter Sharon and settled in Phoenix.
Faith and Henry eventually divorced, and Faith retained custody of Sharon. Arizona Capitol Times reports Faith ultimately remarried, and she and her new husband raised Sharon as their own. In fact, Sharon was not aware she had been adopted until she was 55 years old. While she was on her deathbed, Faith told Sharon that she was adopted and also revealed she was the famous "Hatbox Baby." Following Faith's death, Sharon was determined to find her biological parents in an effort to understand why she was abandoned in the middle of the desert.
The Hatbox Baby mystery was featured on Unsolved Mysteries
As reported by History Records, Sharon contacted local media about her quest to find her birth parents. The intriguing story soon gained national attention and was eventually featured on the popular television series "Unsolved Mysteries." Although the "Hatbox Baby" episode was one of the series' most popular, it did not produce any viable leads. Instead, it sparked rumors that Edward and Julie Stewart's story may have been fabricated. Arizona Capitol News reports several people did come forward claiming to be Sharon's parents or relatives. However, authorities were unable to verify if anyone was actually related to Sharon.
Law enforcement officials hoped DNA would help them find a blood relative. Unfortunately, in 1988, DNA technology was relatively new, and there were no major databases. Sharon submitted her DNA to be compared with any existing samples, but there were no matches, and her true identity would remain a mystery for nearly three more decades.
Genealogical DNA helped identify Sharon's biological parents
Sharon turned 86 on December 17, 2017. Just days later, DNA genealogist Bonnie Belza, who had been working on the "Hatbox Baby" case, announced she had identified Sharon's biological parents. As reported by AZCentral, the "Hatbox Baby" was born to Freda Strackbein and Walter Kautz Roth, who spent the vast majority of their lives in Iowa.
Although Sharon was conceived before Freda and Walter were married, the couple did marry four and a half months before she was born. According to AZCentral, Freda died in 1991, and Walter died in 2005. However, Sharon had a surviving brother, James, who was born in 1933. AZCentral writer John D'Anna — who spent years researching and writing about the mystery surrounding Sharon's biological parents and her eventual abandonment — ultimately found several people who remembered Freda Strackbein, Walter Kautz Roth, and their son James. However, nobody seemed to remember Freda being pregnant with another child or any mention of ever having a daughter.
Sharon died without knowing how or why she was abandoned
As reported by AZCentral, John D'Anna did find one piece of compelling evidence proving Freda Strackbein and Walter Kautz Roth had another child together — it was actually stated on their son James' birth certificate. According to the birth certificate, the couple had a child prior to James' birth that was "born alive but now dead."
John D'Anna remained in close contact with Sharon and let her know the identities of her birth parents and her brother James. However, after so many years of disappointment, she did not seem to have much more than a passing interest in the information he had gathered — and she refused to submit a fresh sample of her DNA for any further testing. Essentially, Sharon knew her biological family's secrets had been buried for decades, and she did not feel comfortable exposing them.
AZCentral reports D'Anna shared photos of Freda, Walter, James, and their families with Sharon and told her about some of her surviving biological relatives. He also shared some of her family history. However, Sharon was dismissive and suggested her disinterest could have something to do with the fact that she was abandoned.
Sharon died in 2018 at the age of 87. As her family could not afford a funeral, D'Anna, DNA genealogist Bonnie Belza, and another investigator who worked on Sharon's case all contributed toward the cost of her cremation, urn, and memorial service.