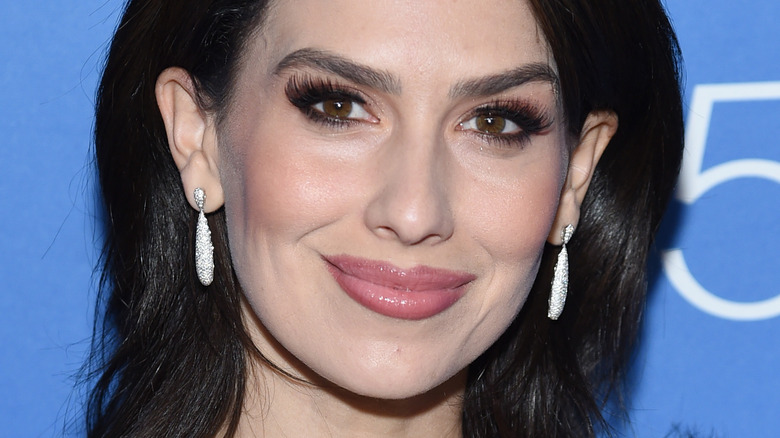 Although everyone knows Hilaria Baldwin as Alec Baldwin's wife, she had a life and a career before marrying the famous actor — though she was very much not in the public eye. Understandably, being married to an A-list star took some getting used to. "Unless you took my yoga class, you didn't know who I was. Then, all of a sudden [I] step into the spotlight… That was very traumatic for me at the beginning," she said on Refinery29's "UnStyled" podcast. "It was very, very, very, very, very upsetting."
Hilaria eventually eased into her life as a public figure, and has since gotten comfortable sharing the ups and downs of her personal world on social media. Her life is one that contains multitudes: a mother of seven, a celebrity's other half, a yoga instructor, a business owner, a former ballroom dancer, and, yes, a controversial figure. Without further ado, this is the transformation of Hilaria Baldwin.
Hilaria Baldwin was born in Boston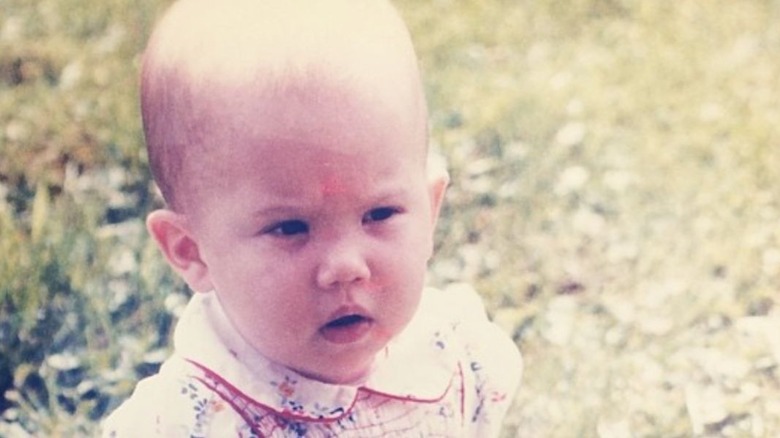 Hilaria Baldwin was born in 1984. While there have been some misconceptions regarding her birthplace over the years, Hilaria set the record straight in a December 2020 The New York Times interview. "I was born in Boston," she stated. "I spent time in Boston and in Spain. My family now lives in Spain. I moved to New York when I was 19 years old and I have lived here ever since."
Now, before a certain Twitter thread made waves in December 2020 (more on that later), the general assumption was that Hilaria was actually born in Spain. And that assumption wasn't unfounded. For starters, Alec Baldwin once told David Letterman, "My wife is from Spain." In the aforementioned New York Times interview, Hilaria insisted her husband knew that she's originally from the capital of Massachusetts, and that her story has always been that: a girl from Boston who has spent a significant amount of time in Spain.
She was born Hillary Hayward-Thomas, but she felt more connected to the name Hilaria. As she said in a since-deleted Instagram video (via NBC News), "When I was growing up in this country, I would use the name Hillary, and in Spain I would use the name Hilaria, and my family, like my parents, call me Hilaria, my whole family call me Hilaria."
Dance was a big part of her life
From an early age, Hilaria Baldwin was cutting a rug. As she told LA Yoga, "I danced my entire life and I practiced gymnastics." And thanks to her passion, dance became more than just a hobby. "By my early teens, I fell headlong into the world of competitive Latin ballroom dance," she wrote in her book "The Living Clearly Method." "My years on the competitive dance circuit gave me some incredible life skills, like focus and self-reliance." As one Twitter user shared, photos of Hilaria dancing were featured in her high school yearbook.
Hilaria's dance career didn't end after high school. As she said on the "Cat & Nat Unfiltered" podcast, she moved to the Big Apple to attend New York University, and while she was there, she was reportedly a member of the NYU ballroom team. (At the time, she went by Hillary Hayward-Thomas.) According to the New York Post, she reportedly studied dance and art history at the esteemed institution.
There has been some speculation on Reddit about whether or not she graduated from NYU, but when her wedding to Alec Baldwin was announced in 2012, The New York Times reported she did indeed earn a degree.
Hilaria Baldwin launched a yoga career
As her Instagram followers know all too well, Hilaria Baldwin is a diehard fan of yoga. As Cosmopolitan noted, she's even gone viral for doing different yoga poses whenever and wherever the mood struck — and we do mean wherever.
Baldwin's love of yoga began in 2005, and it all started by chance. As she wrote in "The Living Clearly Method," "The owner of the studio saw potential in me and encouraged me to apprentice there and take the teacher training program. I threw myself into my studies and quickly began teaching some of the studio's large group classes."
Taking classes and teaching eventually wasn't enough, so in 2009, Baldwin joined Mike Patton and founded Yoga Vida. But, as she told Yoga Journal in 2014, she eventually decided to relinquish ownership of the studio. "I love the idea, but realized my passion is teaching, not managing people," she explained.
Hilaria Hayward-Thomas became Mrs. Baldwin
Most people always wonder how non-famous individuals end up marrying celebrities. Where do they meet? How does it happen? Hilaria Baldwin was one of those non-famous people who was with the right people, in the right place, and at the right time. "The moment before I saw him, I said to my girlfriends, 'Universe, I have an announcement to make. I'm ready to meet someone and fall in love,'" Hilaria Baldwin recalled to The Daily Beast. She and Alec Baldwin happened to be dining at the same restaurant in 2011, and the rest was history.
After exchanging phone numbers, the couple played phone tag for a stretch. "So my friend dialed the number, but he didn't pick up, and when he called back, I missed the call," she said in The New York Times. Years later, the missed calls seem to have worked perfectly fine in their favor.
On June 30, 2012, the pair wed at St. Patrick's Old Cathedral. While some might've raised their eyebrows at how quickly the two decided to go all in on their relationship, Hilaria divulged to The New York Times that she chose to live by something her mom said: "She told me, 'Either it's too fast or it's just right.'"
In 2013, Hilaria Baldwin became a mom
Hilaria Baldwin's marriage to Alec Baldwin has always been in the spotlight, and that didn't change when she began having kids with the actor. Even so, she's tried to find some boundaries, hard as that may be. As she once said in the Daily Beast, "I'm just so careful about my personal life because of how invasive it can feel."
In October 2013, Hilaria became a mother for the first time when daughter Carmen was born. Carmen wouldn't stay the baby for long, as Hilaria and Alec would go on to welcome Rafael, Leonardo, Romeo, Eduardo, and María Lucía Victoria into the world. Regarding what it's like raising a large family, Hilaria said on "Cat & Nat Unfiltered," "I tried to be grateful even when they're driving me crazy … There's gonna be a time when they don't want to leave with me and they're not driving me nuts … I think that's one of the reasons why I had so many."
The growth doesn't stop there. Amidst the "Rust" controversy, the Baldwins revealed a huge surprise on Instagram: Ilaria Catalina Irena, Hilaria's seventh child and Alec's eighth, was born.
Hilaria Baldwin put out a prenatal yoga DVD
After not only practicing yoga for nearly a decade, but owning her own yoga studio, Hilaria Baldwin decided to create a yoga workout video of her very own. In October 2013, she released "@Home with Hilaria Baldwin Fit Mommy-to-Be Prenatal Yoga," a workout that, as the title makes clear, is geared toward expectant mothers. The goal was to stay feeling good while pregnant.
This won't come as any surprise, but Hilaria practices what she preaches. "I did yoga in both of my labors," she told The Cut in 2016. "It's painful, but it helps you, you're supposed to stay active and move around."
The workouts featured in the video help obtain relief from back pain, open up the hips, and de-stress. There's also a segment that includes the pregnant person's partner. In her case, she did it with Alec Baldwin to demonstrate partner stretches. Though seeing Alec assist his wife through moves might've caught some off guard, it does go to show how involved he's always been in Hilaria's pregnancies.
Her dedication to wellness was recognized
In 2016, Hilaria Baldwin released her first book, "The Living Clearly Method." In it, she explores fitness, exercise, body positivity, and feeling good from the inside out. As she explained to Katie Couric on "Today," "[The title] means being present … being in the moment, opening your eyes, and making choices that serve you."
Clearly, health and wellness are top priorities for the Yoga Vida owner. And that passion was recognized in a major way in 2017 when the Wellness Foundation made her the recipient of the Illumination Award. According to Hamptons.com, Vice-President and Executive Director of Education and Programs Jennifer Taylor said of Baldwin, "We love the way she is raising her children to be healthy, kind and compassionate."
"This award is one of the best things that has ever happened to me. I believe taking care of ourselves and our families is the most important investment we can make. If we don't have our health and the health of our loved ones, we don't have anything," Hilaria Baldwin said while accepting her award, according to Dan's Papers.
Hilaria Bladwin launched a podcast
Clearly, motherhood is an important part of Hilaria Baldwin's life, so it made perfect sense when she joined Daphne Oz for a podcast made for moms called "Mom Brain." The podcast's description says it all: "Being a mom is full-on and full-time. Equal parts FUN and WTF. Our kids don't come with instructions, and it's ok if we don't have all the answers. We'll figure it out together. The best advice comes from our favorite experts and doctors, trusted mom friends, and learning on the job."
Through their episodes, they have created a community for mothers who may feel lost, alone, or unsure as they navigate motherhood, a comfortable and comforting space to discuss the high highs and low lows that come with being a parent. Basically, it's all about remembering you're still human while raising little humans. On an episode of "The Rachael Ray Show," Baldwin shared, "This is why we created the podcast. Just talking about it can be therapeutic."
When the podcast launched in 2018, Baldwin told Refinery29 that the goal was to "normalize these conversations and feelings that we all have."
She spoke at the United Nations
In 2019, Hilaria and Alec Baldwin went to the United Nations' UN News studio to talk about sustainability, food production, and how to make a difference. The couple noted that the planet needs all the help it can get on a macro level, but can also benefit from more conscientious practices on a personal level. "At home we eat very healthy … we believe that leading by example and creating really good habits while they are young is very important, not just for their bodies but as we spoke about today the environment and their future," Hilaria shared.
That same year, the Baldwins were also part of a UN conference for the EAT-Lancet Commission on Food, Health and Planet initiative, where a panel discussed the impact of a mindful diet. When it was her time to speak, Hilaria got into why she and Alec make it a priority to teach their kids about nutrition. "A lot of the talk today is about changing adults' behavior, and this is very important obviously, but it's also important to make it the norm for our children," she said.
Hilaria Baldwin's backstory sparked controversy
In December 2020, Hilaria Baldwin's identity was called into question in a major way. As previously noted, it was long believed that she was born in Spain and of Spanish descent. However, that all was cleared up when Twitter user @lenibriscoe posted (via HuffPost), "You have to admire Hilaria Baldwin's commitment to her decade long grift where she impersonates a Spanish person." This was followed by a series of tweets that included videos of her speaking and speculation about her accent.
Unsurprisingly, this Twitter thread caused a stir, and Baldwin eventually took to Instagram to address the controversy and cultural appropriation accusations. In one of her since-deleted posts (via Refinery29), she said, "I spent a lot of my childhood in Spain. My nuclear family lives in Spain and has lived there for a long time." In another, she stated, "I've never said that my mother was Spanish." She also explained that her accent changes depending on which language she's most recently been speaking, and admitted she was struggling not to be offended by the backlash. Per Boston.com, Baldwin told her followers, "I want to take it seriously, but I also don't want it to be all of a sudden I'm apologizing for who I am."
The following February, Baldwin apologized for any misconceptions about her background. "The way I've spoken about myself and my deep connection to two cultures could have been better explained – I should have been more clear and I'm sorry," she wrote on Instagram.