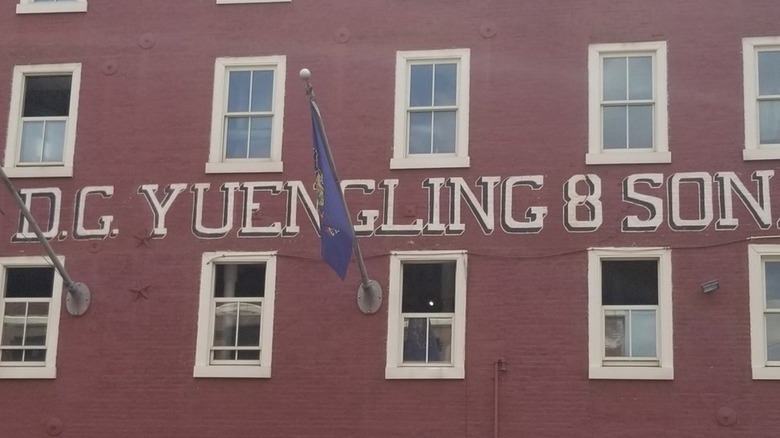 The title of America's oldest brewery is an illustrious and distinguished honor, but only one company can actually claim that crown: Yuengling. There's no dispute regarding the elder statesman of U.S. beer. All you have to do is look at the craft brewery's label, which proudly informs consumers of a legacy stretching back to 1829 — when it first opened under the name Eagle Brewery (via Yuengling).
Just as no one doubts the veracity of Yuengling's famed slogan, no one can deny the Pottsville, Pennsylvania-based brewery – which is still owned entirely by the Yuengling family as of 2022 — has become an American institution. With nearly two centuries of success behind it, the officially named D.G. Yuengling & Son Inc. isn't just entrenched in the U.S. craft beer landscape: It's a bonafide titan of the industry.
Of course, anyone who's ever lived in or around Pennsylvania knows it's tough to top a Yuengling Traditional Lager or its classic Black & Tan beer (made from a combination of dark and light brews). But as you might expect from a company that's been in business since Andrew Jackson's first year as president, there's more to Yuengling than delicious, dependable beer. We decided to take a deeper look at some of the uniquely intriguing facts surrounding the brewery and examine the untold truth of Yuengling.
Its Pottsville brewery is on the National Register of Historic Places
When you consider more than 95,000 different U.S. properties have been listed on the National Register of Historic Places since its founding in 1966 (via National Park Service), it's hard to envision a scenario where a brewery built in the 1830s wouldn't be included. Lo and behold, Yuengling's brewery in Pottsville, Pennsylvania, is, indeed, listed on the National Register of Historic Places.
The brewery was described as "a fine example of a late 19th and early 20th-century small-scale brewery" by Dr. Larry E. Tise, who announced the location's newly upgraded landmark status in 1985 (via The Morning Call). Contrary to popular belief, though, the landmark Pottsville brewery isn't the first Yuengling brewery operated by the company — it was actually the second brewery built by founder D.G. Yuengling, according to the company's website.
After a fire destroyed the original Eagle Brewery location in 1831, a new brewery was built at the company's current location. While the company eventually changed its name to the more well-known moniker of D.G. Yuengling and Son in 1873, the main headquarters for the craft brewery's operations has remained in the same place ever since — on Mahantongo Street in Pottsville.
It's been the best-selling U.S. craft brewery for seven years running as of 2022
For beer fans, it isn't exactly news to say the craft-brewing business has been booming in the U.S. over the past decade. After all, there were more than four times as many craft breweries operating in the U.S. in 2021 as there were in 2011. The exponential increase in available craft beers has naturally led to a congested and competitive market, but only one can top the charts. And, according to the Brewers Association, the best-selling craft brewery in 2021, and current reigning champion of the industry, is also America's oldest: Yuengling.
Actually, Yuengling's ascendance to the top of the craft-brewing scene isn't a recent phenomenon. In fact, it not only bested Boston Beer Company for the top spot on the Brewers Association rankings in 2020, too, but has also been the No. 1 best-selling craft brewery in the nation since 2015 (via PhillyVoice).
With seven consecutive years atop the craft-brewing industry, it's fair to wonder when (and if) Yuengling will finally forfeit its crown. Only time will tell, of course, but with just under 200 years of experience on its side, well … let's just say we don't plan on betting against Yuengling any time soon.