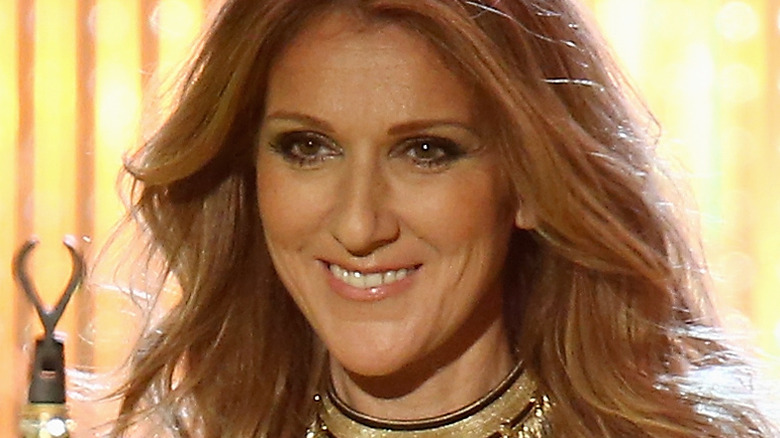 Celine Dion's voice has dominated the music industry for decades. Her unique skill and technique in voice control, pitch, and harmony has long set her apart from peers in her industry, crowning her as one of the top-selling artists of all time. The French Canadian singer had been exercising her talent from a young age, with nine French albums and multiple awards under her name at just the tender age of 18. She would go on to dominate the English-language charts with notable hits such as "The Power of Love," "Because You Loved Me," and "My Heart Will Go On," with long-time manager and husband René Angélil always at her side.
Her career skyrocketed to new heights with the debut of her years-long Las Vegas residencies. It wouldn't be until years later that we'd find René Angélil's health was in a steep and swift decline, and shortly after, he'd pass away. Though she took some time off to grieve, Dion was back on stage that very same year, but health issues were far from affecting her life, as her own declining health became evident.
With long-time fans supporting her and sending well-wishes, Celine Dion is currently on a performing hiatus as she directs her focus to her health. We'll be taking a look at what we know about her ongoing health battles.
Celine Dion had been working to near-exhaustion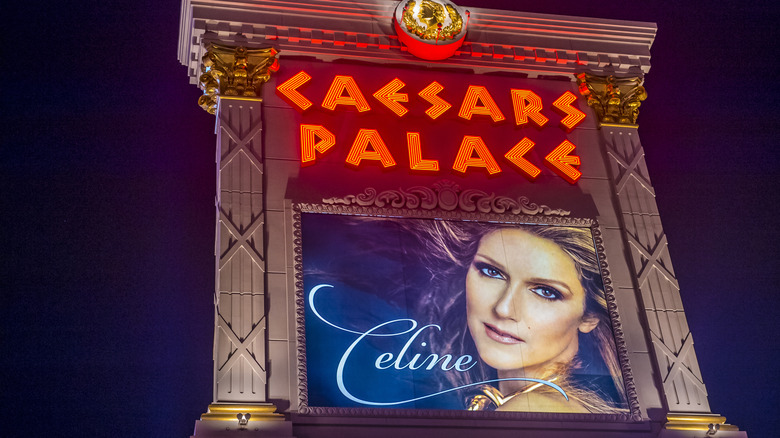 Celine Dion's first Las Vegas residency, titled "A New Day," went on from 2003 to 2007, with a total of 714 shows pulling in revenue of over $385 million for over two million tickets, according to The Hollywood Reporter. Her second Las Vegas residency, titled "Celine," went on from 2011 to 2019. This second residency was more spaced out, with 427 shows. This allowed Dion to tour internationally during the pockets of time when she wasn't performing in Vegas. This back-to-back scheduling resulted in Dion canceling a few shows in 2016, as she was reportedly exhausted and losing her voice due to a throat infection.
"She just reached the point of total exhaustion. Celine toured this summer in Europe and Canada and released a French-language album. She returned to Las Vegas without taking a break, and it's all caught up with her now," a member of her team shared in 2016, per ABC News Radio. "You can't sing if you can't talk, and you can't get back to normal health if you're shuttling between home and work when you should be resting in bed."
Her health decline worsened after the death of her husband
Celine Dion's initial reporting of her sickness came with the news of her postponing her Las Vegas shows. As her husband René Angélil's health rapidly declined, it was also reported that Dion herself was recovering from inflammation of her throat muscles, which may occur when over-exerting vocal cords. These health concerns, along with the concerns of her husband, led her to taking a few shows off, as well as cancelling her tour in Asia so she could focus on their well-being at home.
After the death of Angélil, her personal health concerns appeared to grow more prominent. Further shows were either postponed or cancelled due to her ongoing throat issues. Her team issued a press release, stating, "We are sorry to report that Celine is experiencing a throat virus, and must postpone four performances of her Courage World Tour." There would be more cancellations to follow.
Her new Las Vegas residency was delayed due to muscle spasms
After the global pandemic forced Celine Dion and her team to halt productions of her shows, Dion was more than happy to announce her new Las Vegas residency at Resorts World in November 2021, via YouTube. Speaking excitedly to multiple press outlets, including Entertainment Tonight, it was clear that Dion was eager to return back to the stage. "It's something that I'm looking to present and to perform … and to see the fans again," she said.
However, shortly after this announcement, she shared with the world that her health wasn't in the right state for her to move forward with the new production, as she suffered from "severe and persistent muscle spasms. "I'm heartbroken by this. My team and I have been working on our new show for the past eight months, and to not be able to open this November saddens me beyond words," Dion shared on her Instagram, adding, "Now, I have to focus on getting better … I want to get through this as soon as I can."
Her sister has been vocal about support
Speaking with a French television outlet, Celine Dion's sister, Claudette Dion, was asked if Celine's latest health issues revolved around her voice, via "Good Morning America:" "I don't believe so, no … she shared with me that the stage had a steep incline when she was performing, that would cause problems to her muscles, legs, and feet."
Dion had previously shared her muscle issues with her sister Claudette, who spoke to Quebec television channel TVA Nouvellas in 2021: "I think she's pushed a little hard and her muscles are talking to her. Celine wants to give more than the machine allows her … This isn't the first time this has happened to her. She should take a little vacation, learn to listen to herself."
Speaking with another French outlet, Voici, Claudette gave reassurance that things weren't as bad as they seem. "What's happening to her is sad. But it's not serious … Celine always confides in me and asks for advice when something is wrong. I know she's in good spirits" (via Hello! Magazine).
Her North American tour was cancelled as health concerns persisted
Celine Dion's North American leg of her world tour, titled "Courage," was originally postponed and then rescheduled due to the global pandemic. However, in January 2022, Dion announced that she yet again had to make the difficult decision of cancelling her shows due to her ongoing health concerns. A press release on her official website shared the news. "Celine Dion today announced that as her recovery from a recent health issue continues, she unfortunately must cancel the remaining shows of the North American leg of her Courage World Tour," the website stated, adding, "her recovery is taking longer than she hoped. Her medical team continues to evaluate and treat the condition."
Dion additionally shared some words for her fans: "I was really hoping that I'd be good to go by now, but I suppose I just have to be more patient and follow the regimen that my doctors are prescribing … I'll be so glad to get back to full health … I can't wait to be back on stage again."
She faced further weight loss concerns
Amidst Celine Dion's ongoing battle with muscle spasms and throat concerns, the media has taken a notice of Dion's dramatic weight loss. Fans also caught on to her recent physical appearance, which raised some cause for concern. However, Dion has been vocal about that there's nothing of concern. "It's true that I'm a little thinner. Everything's fine, nothing's wrong," she shared with ABC News in 2019. "I have discovered a new passion … dancing!" she added. She shared similar sentiments to People. "Dancing has been in my DNA all of my life. … It's a dream. And so hard!" Regarding her critics, she added, "People say, 'She's a lot thinner' but I'm working hard. I like to move and weight loss comes with it."
This hasn't been the first time her weight has come under scrutiny. Speaking with The Guardian in 2007, she said, "I'm not anorexic. It pisses people off that I am thin and I don't make any effort … I have been thin all my life. Nobody in my family is overweight."
Celine Dion's European Courage tour was cancelled
After the postponing of the North American leg of her "Courage" world tour, Celine Dion regrettably announced the cancellation of her European tour. She shared this news with her fans through her YouTube channel, in a heartfelt video. "Well, here we are again, and I'm so sorry we have to change our tour plans for Europe one more time," she starts in the video. "First we had to move the shows, because of the pandemic, now this is my health issues that is causing us to postpone some shows, and unfortunately we have to cancel some, too."
Regarding her recovery, she shared, "It's going very slow, and it's very frustrating for me. I'm getting treatment from my doctors, taking medication, but I'm still experiencing some spasms, and it's taking a lot longer for me to recover than I had hoped." She closed the video with an apology to her fans: "I wanted you to know that I'm sorry for this news … All I can say is that I'm doing my very best to get back to the level that I need to be so that I can give 100% at my shows, 'cause that's what you deserve."
Celine Dion continues to remain transparent throughout her journey
Throughout the years of Celine Dion's ongoing health concerns, she's remained honest and transparent with her fans. With each postponement, cancellation, and unforeseeable circumstance, Dion and her social media team have worked hard to make sure there's honesty and transparency with what's going on with the singer. She additionally recognizes her strong fan base from her home country, with her latest cancellation video posted on her social media twice, once in English and once in French. In both versions of the video, her emotional vulnerability is visible and heartfelt.
On the business end, per "Good Morning America," her Las Vegas residency venue has promised that previous ticket holders would be the first to be accommodated once her new show dates are announced. Regarding ticket refunds, her official website states, "Tickets purchased with a credit card through authorized ticketing outlets will be refunded automatically to the credit card used for purchase."
Fans and celebs share their support
The outpouring of love from Celine Dion's fanbase is a testament to how well-loved she is. As she continues to share her journey back to health, fans across the world are quick to offer words of encouragement and understanding for her. "The important thing is that you take care of your health, we'll wait patiently," one user wrote on her Instagram post regarding her tour cancellation. Another fan shared, "That's life, it throws us back sometimes. But I hope you remember that you will always have our support … Health always comes first … wishing you a well recovery," while another fan shared, "We're praying for your fast recovery. We can't wait for your comeback Queen," per Good Housekeeping.
Meanwhile, well-known names such as Katy Perry offer their well-wishes. "Sending you love and healing vibes," Perry wrote, per Yahoo, while comedian Chelsea Handler shared, "Sending you lots of love, Céline. We all know that you are stronger than a horse!"
Through her grief, she finds strength
Shortly after losing her husband and in the midst of attending to her own health concerns, Celine Dion found strength to perform at the Billboard Music Awards in 2016. Performing a cover of Queen's "The Show Must Go On," Dion displayed great courage and strength as she returned to the stage for the first time. Later that year, she'd share with Page Six, "I have to stand tall and strong because this is my way of living: Stand tall, be positive, pick your battles, do the best you can and to live for today, not for tomorrow … and know nothing is perfect, not everything you want will happen."
She would later on go on to release a single called "Courage," which inspired her worldwide tour. "Everybody's losing people and everybody's going through sickness … and things they can't even figure out, and it can be overwhelming. You have to find within yourself courage among your family, your friends and you first, I believe," she shared with iHeartRadio. "Everything that I've been doing since René has passed … I feel extremely strong because he has given me so much through all the years."