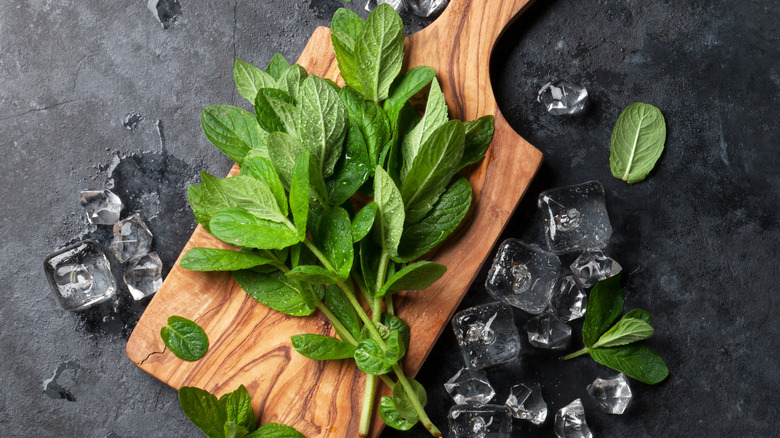 If you love mint, you're in good company. It was a favorite herb of the pharaohs of Egypt and of the ancient Greeks, who told stories of a jealous Persephone turning a beautiful nymph named Minthe into a plant to keep her away from Hades. Well, the joke's on Persephone, because now everyone loves mint. Our round-up of recipes for mint lovers includes drinks, sweets, and savory dishes.
Chocolate and mint are one of the best pairings ever, and there are several ways to enjoy it, such as in chocolate peppermint cupcakes and copycat York peppermint patties. And when the holidays roll around, you can do more with those candy canes than just hang them on the tree. Use them to make a candy cane layer cake or peppermint bark. Mint adds a cool, refreshing note to drinks such as classic mojitos and gin-based Pimm's Cup Cocktails.
Mint adds so much flavor to lunch and dinner recipes, too: Greek meatballs, traditional tabbouleh, and as part of the garnish plate for pho. Try fresh mint leaves in salads or rolled up with tender shrimp in spring rolls. Grab some mint leaves from your garden and mint extract from the grocery store — then dig into our best mint recipes.
1. Mint Julep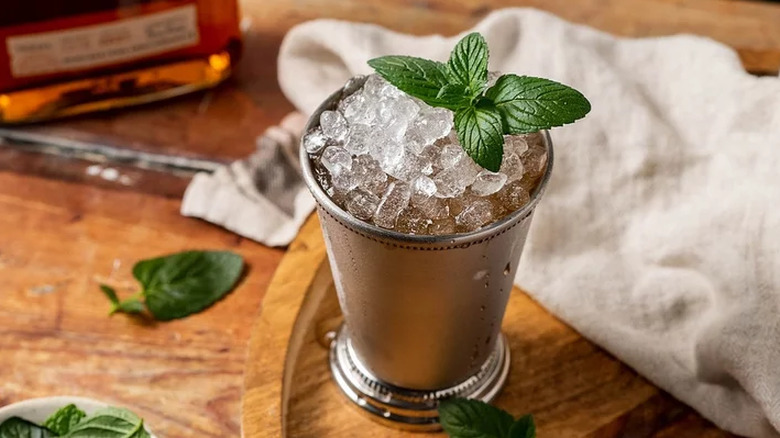 This classic cocktail is the official drink of the annual Kentucky Derby, but it's way too good to enjoy only once a year. It's a refreshing choice for the hottest days of summer, and the minty flavor makes it perfect for the holiday season, too. All you need are fresh mint leaves, ice, and your favorite brand of bourbon. (Bitters can be added too, if you'd like.) The drink is so easy to make that you can set up a DIY cocktail bar with the ingredients at your next party.
2. Copycat York Peppermint Patties
"When I bite into a York Peppermint Pattie…" The old TV commercials for this classic candy perfectly captured the flavor of cool, creamy mint encased in dark chocolate. They're a mint lover's dream. And you won't believe how easy it is to make homemade peppermint patties. Just a few ingredients come together to create a mint and sugar dough that gets dipped in melted chocolate. Make them for gifts or just for fun — it's a great recipe to make with kids, too.
3. Tabbouleh
The salad made of couscous, mint leaves, parsley, bulgur, and tomatoes originated in Lebanon, where it's enjoyed as a light lunch or appetizer. It has a fresh and vibrant flavor, and the whole grain bulgur makes it healthy dish, too. The salad takes only 20 minutes to prepare. And because the flavor gets even better with time, it can be made in advance. Serve tabbouleh with pita bread as a side dish with grilled meats and fish.
4. Copycat McDonald's Shamrock Shake
McDonald's will only bring out this emerald-green shake once a year for St. Patrick's Day. But for fans of mint milkshakes, that's just not enough. Thank goodness we have this copycat recipe to make Shamrock Shakes whenever we desire. Just gather some vanilla ice cream, milk, a little mint extract, and of course, some green food coloring. The shakes are ready in only two minutes. Top them with whipped cream and a cherry; to make a boozy version, add a dash of crème de menthe liqueur to the shakes.
5. Pho
In Tara Rylie's recipe for the Vietnamese soup pho, bone broth is slowly simmered with spices, fish sauce, and sugar to develop a deep flavor. Rice noodles and thin slices of cooked chicken added to the broth make it into a hearty and satisfying meal. A pho garnish plate is typically served with the soup, and here it includes leaves of fresh cilantro, basil, and mint, along with bean sprouts and lime wedges. The recipe makes four servings, perfect for lunch or a light dinner.
Recipe: Pho
6. Chocolate Peppermint Cupcakes
These cupcakes are so pretty — they'll be the star of the party, whether for a birthday or to celebrate the holidays. Plus, they have a classic combination of mint and chocolate that everyone will love. The recipe shows you how to easily make from-scratch, chocolate cupcakes that bake up moist and tender. A simple peppermint buttercream is piped or spread over the top, and a little food coloring gives the frosting a red swirl. Garnish the cupcakes with crushed peppermint candies or candy canes.
Recipe: Chocolate Peppermint Cupcakes
7. Greek Meatballs
Use your fresh mint leaves in these versatile meatballs made with beef and lamb. Other aromatics in the meat blend include garlic, onion, parsley, and oregano, and from start to finish they take only a half hour to complete. Serve the meatballs with rice or a fresh salad for an easy dinner. Or, set them out with toothpicks and tzatziki sauce as an appetizer. The meatballs can also be folded into a pita with sauce and vegetables, gyro-style.
8. Chocolate Peppermint Martini
While you can make these drinks any time of the year — the ingredients from the liqueurs to chocolate syrup to peppermint candies are easy to find — there's no denying their holiday appeal. If you're hosting a party or cookie exchange, these sweet and creamy martinis are the perfect, festive choice. The recipe makes two drinks (double or triple it for more people) and features rims dipped in chocolate and crushed candies.
9. Mint Chocolate Chip Cookies
Do you have a friend who hoards all the Andes mints at the end of every Olive Garden meal? (Or maybe you're the one who does that.) Here is the perfect cookie to make for them, featuring a dark, rich cookie made with cocoa and brown sugar. Instead of the usual chocolate chips, stir in a bunch of chopped Andes Creme de Menthe thins. They bake through in only 12 minutes, and the recipe makes 20 good-sized cookies — plenty to share.
10. Mojito
The origins of the mint, lime, and rum mojito are disputed, but what isn't in dispute is how delicious and refreshing the cocktail is. While it's a cooling choice on a hot day, the flavor and the beautiful color of the drink can be enjoyed any time of the year. Use homemade or store-bought simple syrup, along with white rum, fresh mint leaves, and club soda. This recipe makes one drink, and you can scale it up to make enough for everyone.
11. Shrimp Spring Rolls
Spring rolls are lovely to look at and packed with so much fresh flavor and texture. Though there is some prep work involved to slice up the veggies and quick-cook the rice noodles, the rolls themselves come together pretty fast. In this recipe, tender shrimp are rolled up with carrot, cucumber, lettuce, noodles, and fresh herbs. We'll show you just how to layer the filings and roll up the thin rice wrappers. Serve the rolls with a homemade peanut butter-hoisin sauce or other dip.
12. White Chocolate Peppermint Cake
Show off your love of sweet peppermint candies with a gorgeous cake that looks like a giant peppermint candy. Recipe developer Autumn LeAnn shows you how to bake up two cake layers that are studded with sweet, white chocolate chips. Add a layer of peppermint candy buttercream between the cakes and over the outside. Then, use red-tinted frosting to create the final touch: red candy stripes. The cake serves up to 10 people and is a beautiful showstopper for any party.
13. Shaved Fennel Salad
If fresh fennel has only ever had a supporting role in your salads, it's time to let the crisp texture and unique, anise-like flavor be the star of the show. Combine shaved fennel with chopped romaine, and a few other ingredients that you may not have realized pair so well with the vegetable: grapefruit sections, fresh mint leaves, and sliced avocado. The recipe makes enough for four good-sized salads; the easy, lime-sesame-soy sauce dressing provides the finishing touch.
14. Moussaka
At first glance, you might think this dish is lasagna, but it's actually another type of layered casserole that's packed with flavor: moussaka. The dish, with origins in the Middle East and Greece, combines ground beef and lamb with a sauce of tomatoes, paprika, and mint. The sauce is layered with sliced eggplant, then topped with a blend of feta and ricotta cheeses. The baked moussaka feeds up to 10 people; try it for your next, big Sunday dinner or bring it to share at a party. Leftovers can be reheated and enjoyed for days.
15. Candy Cane Cupcakes
This holiday season, make a fun treat for your family, your kids' classroom, or to bring to a friend's holiday party. These pretty cupcakes come together quickly thanks to boxed white cake mix, and the recipe shows you how to turn that cake batter into red and white swirls. Top the cupcakes with a simple peppermint buttercream and a miniature candy cane. The recipe makes 24 cupcakes; that's plenty to share with others while keeping a few for yourself.
16. Copycat Starbucks Medicine Ball
While this drink is listed on the official Starbucks menu as a Honey Citrus Mint Tea, fans of the drink like to call it a Medicine Ball or Cold Buster — when you're feeling run down with the sniffles, this hot beverage can help make you feel so much better. Making it at home means you can stay snugly wrapped in your blanket and not have to venture out to the drive through. Look for citrus-mint and peach teas and combine them with soothing honey and lemonade.
17. Mint Baked Alaska
This dessert is a favorite to order at restaurants, but it's possible to make a Baked Alaska at home. The base of the dessert is a no-bake, Oreo cookie crust; over this spread a thick layer of mint chocolate chip ice cream. The shell of the Baked Alaska is meringue, made by beating egg whites and sugar until stiff. Once the dessert is covered in meringue and chilled, you can brown it in the oven or use a kitchen blow torch. Your guests will be so impressed.
18. Pomegranate Couscous
Two of the ingredients in this amazing dish are right there in the title: Sweet pomegranate seeds and tender couscous. What's also there are vibrant mint and cilantro leaves, pine nuts, and olive oil. Once this salad is ready, you can serve it as a light lunch or add diced, cooked chicken or tofu to make it more filling. Pomegranate couscous can also be served as a side dish with roast chicken and braised meats, or set it out with other summer side dishes at a cookout. You'll love the blend of fresh flavors.
19. 3-Ingredient Peppermint Bark
Peppermint bark is one of the best holiday candies. And because it's so easy to make, it's a great choice for food gifts and stocking stuffers. Molly Allen's recipe shows you how to create the bark using just three ingredients: chocolate, white chocolate, and crushed candy canes or peppermint candies. After a couple of hours to firm up, you can break the chocolate into pieces and dig in. You can add other decor along with the candy canes, such as sprinkles, dragées, or edible glitter.
20. Corn Salad
It's no mistake that so many refreshing salads include fresh mint leaves. The cool and vibrant flavor of the herb pairs beautifully with other fresh ingredients such as chopped cucumber, red bell pepper, and tender corn. Serve the salad as a dip with salty tortilla chips, or as a side dish with grilled and roasted meats. With a simple vinaigrette dressing, it's pretty enough to bring to a party or just to enjoy at home.
21. Alcohol-Free Mojito
The experience of sipping a mojito on a hot day, with its fresh mint leaves and citrusy lime juice, is so pleasant that everyone should be able to try it. And that's why we love this recipe from Mark Beahm for an alcohol-free mojito. A little sugar or simple syrup brings sweetness to the drink without any rum at all, and sparkling water makes it especially refreshing. Set out all the ingredients for nonalcoholic mojitos at your next party so guests can make their drinks themselves.
22. Ramen
Though the ingredients list looks long, this ramen recipe isn't hard to prepare. Most of the time needed is just letting the broth simmer with aromatics such as star anise, garlic, ginger, and Thai chilies. Once the stock is infused with loads of flavor, add cooked ramen noodles, hard-cooked eggs, and your choice of garnishes. (We like adding fresh mint, cilantro, bean sprouts, and crushed peanuts.) The recipe makes two generous servings, and you can add cooked, shredded chicken to make a hearty meal.
23. No-Bake Peppermint Pie
How about a peppermint-y holiday treat that you can put together in only 20 minutes and have waiting in the fridge to treat your family and friends? This pie has a no-bake, cheesecake-like filling that's full of candy cane flavor and color. Make an easy crust from Oreo cookies, 'Nilla wafers, or pick up a store-bought cookie crust to save even more time. With mounds of whipped cream and a few candy canes on top, it's festive and fun.
24. Pimm's Cup Cocktail
The original Pimm's Cup cocktail, made with mint, fruit, gin, and medicinal herbs, was invented way back in the early 1800s and was rumored to help digestion. Now it's the official drink of Wimbledon and a favorite way to enjoy fresh, seasonal flavors in a drink. In this recipe from Christina Musgrave, sliced strawberries, cucumbers, ad mint leaves are combined with Pimm's No. 1 Cup gin and lemonade. Perfect for summertime or whenever you want to recreate a summertime vibe.
25. Bobby Flay's Tuna Steak
Our twist on Bobby Flay's simple and flavorful grilled tuna includes a relish with fresh mango, mint, and parsley. The relish comes together in only 15 minutes, and the whole meal is ready in a flash. Choose a large, 1-inch thick tuna steak that will grill through quickly on each side. The recipe makes enough to serve four, or can be portioned out for a week's worth of make-ahead lunches.
26. Candy Cane Cake
This is a gorgeous cake that's easy to make and can be the centerpiece of a holiday get-together or birthday party. Our recipe shows you how to make two yellow cake rounds that are light and soft. A simple, peppermint-flavored buttercream goes between the layers and over the whole cake. Finish it with crushed candy canes and powdered sugar. Add more holiday decor if you wish, such as mini evergreen trees and little gingerbread men.
27. Asian Cucumber Salad
Choose the freshest cucumbers you can find for this amazing salad that's perfect for barbecues or as part of a light lunch. Flavor in the salad comes from sliced red onion, scallions, cilantro, and fresh mint leaves. A simple dressing of lime juice, olive oil, and maple syrup is tangy but light enough not to overwhelm the other flavors. If you like a little heat in your dishes, add a sprinkle of pepper flakes to the plated salad.
28. Jingle Juice
This party punch is like the holiday spirit in a bowl. The warming drink is made with a blend of vodka, rosé wine, sparkling cider, and juice. Have all the components chilled in advance so you can serve the punch as soon as it's mixed. Whole cranberries and orange slices float across the top, and fresh mint leaves add flavor and a festive green touch. Twelve servings means there's enough for everyone at the party to raise a glass and toast the season.
29. Apple Jicama Slaw
Sliced apples and jicama combined with coleslaw mix make a wonderfully crunchy salad that's so refreshing and flavorful. It has herbal notes too, from fresh mint and cilantro leaves. A tangy dressing of cider vinegar and lime juice brings the salad together while letting all the fresh flavors shine through. The slaw is delicious served with grilled meats or as a side to deli sandwiches. Look for light brown bulbs of jicama in grocery store produce aisles.
30. Cherry Bomb
If you always loved Shirley Temples as a kid, here's a way to transform the drink into a grown-up, lightly boozy cocktail. Our Cherry Bomb has sweetness from white rum and grenadine, and has a bubbly, citrusy side from lime soda. Add maraschino cherries and mint leaves to the glasses for even more flavor and color. The drink is delicious in summertime, but with the vibrant red and green color it's also perfect for holiday parties.
31. Herby Skirt Steak
You may not have thought about serving your steak with mint, but in this herb sauce it's a wonderful complement to the marinated, grilled meat. It's similar to an Argentinian chimichurri sauce, with mint and basil blended into the sauce along with parsley. Use some of the herb sauce to marinate the skirt steak — have it waiting in the fridge to grill up when you get home from work. Serve the sliced steak with the rest of the sauce, and sides such as new potatoes or steak fries.
32. Raw Cauliflower Tabbouleh
Get the fresh and vibrant flavors of traditional tabbouleh, but in a grain-free version that replaces bulgur wheat with riced cauliflower. It's an uncooked salad that comes together so fast. Use your food processor to chop the cauliflower florets, then combine them with sliced cherry tomatoes, diced cucumber, fresh parsley, and fresh mint. The finishing touches are a light dressing of apple cider vinegar and olive oil, plus a pinch of salt.