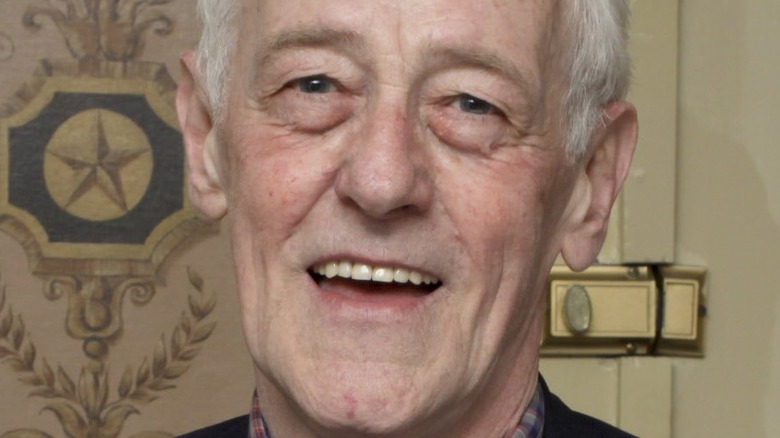 Acting is not an easy business. Apparently, just 2% of actors make a living, according to mathematicians at Queen Mary University, who studied 2.5 million screen actors dating back to the 1880s (via Yahoo). Other bleak findings included that 90% of actors are unemployed at any one time. Also, 70% of actors' careers will last no longer than a year.
With all of that in mind, the term "one-hit wonder" doesn't sound like such a backhanded compliment. The actors in this list did not enjoy the multi-faceted stardom of actors such as Al Pacino, Sylvester Stallone, or Harrison Ford, who made their mark with multiple iconic characters in "The Godfather," "Scarface," "Rocky," "Rambo," "Star Wars," and "Indiana Jones." However, those actors are all superstar status: All it takes is one big hit to enter the annals of popular culture.
Here are the one-hit wonder actors you didn't know passed away.
Heather O'Rourke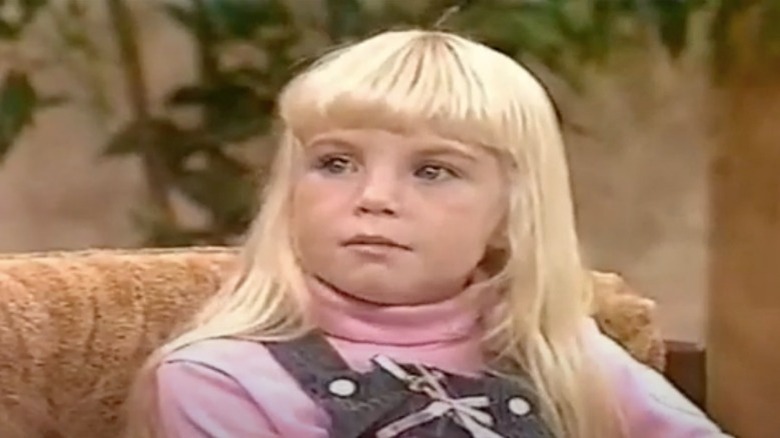 Poor Heather O'Rourke had her life and career cut terribly short. After starring as Carol Anne Freeling in the "Poltergeist" franchise, O'Rourke died from a "distinctly unusual" bowel defect, according to AP. She was just 12 years old.
Defined by her oft-repeated "They're here" line, O'Rourke was described by her colleague Oliver Robins as a "precocious and a very intelligent girl for someone who was only five years old" (via Mama Mia). O'Rourke's manager Mike Meyer remembered how the young actress could memorize a 60-page script in an hour. Heather's special talents allowed her family to move from their trailer park to a house in leafy Big Bear, California.
O'Rourke's ill health began in 1987, which was attributed to the giardia parasite. Later, the actress was diagnosed with Crohn's disease, which was treated with cortisone, a steroid that's used to reduce inflammation, according to Everyday Health. However, what appeared to be Crohn's disease was actually a birth defect in her bowel. On February 1, 1988, O'Rourke's condition deteriorated rapidly, affecting her ability to swallow and breathe. As her digits turned blue from septic shock, O'Rourke entered cardiac arrest and suffered brain damage. That afternoon, young Heather was pronounced dead.
Jim Varney
Jim Varney was best known for his role of Ernest P. Worrell, a dim-witted good ol' boy who appeared in many commercials and TV shows. He also appeared in films such as "Ernest Goes to Camp," "Ernest Scared Stupid," "Ernest Goes to Jail," and "Ernest Goes to Africa," which put our klutzy protagonist in all manner of silly situations.
Varney did have other work, such as an appearance in "The Beverly Hillbillies" and lending his voice to Slinky Dog in the first two "Toy Story" films (via Biography). However, Ernest P. Worrell was by far his biggest character.
Varney's last Ernest film was "Ernest in the Army," which was released in 1998, the year of the actor's lung cancer diagnosis. Varney's treatment included the removal of half his right lung and a course of radiation therapy. He continued to work through this intensely difficult period, appearing in projects such as "Daddy and Them," a well-reviewed comedy directed by Billy Bob Thornton. Sadly, Jim Varney succumbed to the disease on February 10, 2000. He was 50 years old (via AP).
John Mahoney
Born in Blackpool, England, John Mahoney had a lengthy career in film and television. However, he'll always be known for his character of Martin Crane in "Frasier," one of the 1990's biggest sitcoms. Martin is the blue-collar father of Frasier and Giles Crane, two endearingly pompous brothers who obsess over their various anxieties.
Mahoney fell in love with the United States following a visit in 1951, which took him to Illinois, where his sister lived with her American husband. He returned to the country and state soon after, studying at the Western Illinois University, earning a master's degree in English. Years later, in 1979, Mahoney indulged his flair for acting and joined the Steppenwolf company, which was run by John Malkovich and Gary Sinise. Over the next decade or so, Mahoney appeared in films such as "Tin Men," "Say Anything," and "Barton Fink."
After enjoying 11 seasons of "Frasier," Mahoney appeared in a handful of shows including "In Treatment" and "Hot in Cleveland." On February 8, 2018, The Guardian reported that Mahoney had died from throat cancer. Kelsey Grammer made an emotional comment on Mahoney's passing, "He was my father … I loved him" (via People).
Kevin Smith
The New Zealand actor Kevin Smith was known for playing Ares in "Xena: Warrior Princess." Sadly, he died in 2002, on set in China shortly before starting production for "Tears of the Sun," his first Hollywood film. Smith fell three stories from the "castle-like" film set, suffering severe head injuries. He was 38 (via NZ on Screen).
Once described as a "hulking tumescent mass of smoldering lips, piercing eyes, and sweaty pectorals," Smith turned his hand to several vocations. He attended university, played rugby, trained as a police officer, performed in a rock band, and even took to the stage as a stand-up comedian. Despite his looks and energy, Smith was a proud "Kiwi bloke" who spoke of enjoying the simple things in life, "I'm a 34-year-old guy with three kids and a barbeque in the burbs, my life isn't lived in hot tubs drinking champagne."
Lucy Lawless, who starred as the titular Xena, was reported to be "very upset" by Smith's death. According to an Entertainment Tonight report, Smith was survived by his wife of 16 years and their three sons.
R. Lee Ermey
After a career in the military, R. Lee Ermey appeared in "Seven" and "Mississippi Burning." However, those were cameos compared to his performance as Gunnery Sergeant Hartman in "Full Metal Jacket." Louis Gossett Jr. won an Oscar for his turn as Sgt. Emil Foley, a fierce drill instructor with strong words and stronger fists. However, Ermey brought a whole new level of vicious intensity to his performance, which Empire magazine described as "staggering."
Stationed at Parris Island, a U.S. Marine Corps training camp in South Carolina, Ermey's character taunts and berates his men without mercy, preying on weakness. He explains his methods to the men, "Because I am hard you will not like me, but the more you hate me the more you will learn, I am hard but I am fair." The grunt who endures the bulk of Hartman's cruelty is Private "Gomer Pyle" (Vincent D'Onofrio), whose mental health is reduced to tragic psychosis. When asked if his portrayal was realistic, Ermey said, "Yes it was, you have to kinda understand Val that we're sending these kids to Vietnam. I'm afraid that there was the occasional individual that would take it upon himself to use a little physical force that was not condoned by the United States Marine Corps."
After his roles in "Full Metal Jacket" and the aforementioned films, Ermey voiced Sarge in three "Toy Story" films and "Lock 'N Load," a documentary series about firearms. On April 15, 2018, Ermey died in Santa Monica. He was 74 (via New York Times).
Tom McBride
Tom McBride was an actor and model known for his character Mark in "Friday the 13th: Part II." McBride's character in "Friday the 13th: Part II" occupies a special place among fans because of how remorseless his death is. This list from Flickering Myth rates his character's death as the second best in the franchise's long and bloody history. ScreenRant agreed, lauding how cruel and memorable it is.
Outside of the screen, many described McBride as an "A-List gay" according to the documentary "Life and Death on the A-List," which documented his tragic death from AIDS in the mid-1990s. McBride presents himself with the same energy and enthusiasm that caused him to be so popular in his wide social circle.
Sadly, the symptoms eventually took their toll, inflicting seizures, rashes, and paralysis. In his final days, McBride could do little more than lie in his bed, blank and uncommunicative. He died on September 24, 1995, aged just 42 (via Life and Death on the A-List).
Ron Palillo
Ron Palillo is best known for his character Arnold Horshack in the sitcom "Welcome Back, Kotter," which ran for four seasons during 1975-1979 and launched the career of John Travolta.
Outside of his defining role, Palillo appeared in everything from "Ellen" to "Friday the 13th Part VI: Jason Lives." However, no turn matched his performance in "Welcome Back, Kotter," so much so that Palillo lamented the success of that character, "Everybody thought of me as Arnold Horshack. I resented Horshack for so many years" (via Big News Network).
Later in life, Palillo moved to Palm Beach Gardens, Florida to be near his mother. Sadly, Ron Palillo died in that locale on August 14, 2012, aged 63 (via CNN). His agent Scott Stander described him as, "upbeat, fun, a great friend who loved theater, loved the fans and had a great sense of humor." Speaking with ABC News, former co-star John Travolta said, "Ron was a wonderful person and talent and helped catapult 'Welcome Back, Kotter' to great success. We will miss him."
Dana Plato
Dana Plato was cast as Kimberly Drummond in "Diff'rent Strokes," appearing in 144 episodes from 1978 to 1986. Sadly, she would be another child star who struggled with her youthful fame. After years of substance abuse, Plato died in Moore, Oklahoma on May 8, 1999 (via Las Vegas Sun). Sergeant Scott Singer said the death was "an accidental overdose. We don't suspect suicide."
Plato had been on a destructive path for some time. In February 1991, the actress was detained for robbing a Las Vegas video store clerk, taking $160. She was given five years' probation and appeared contrite, but Plato was arrested again in 1992 for using forged Valium prescriptions. Plato commented on the supposed good fortune of these arrests, "If I hadn't gotten caught, it could have been the worst thing that happened to me because I could have died of a drug overdose."
Sadly, a drug overdose occurred regardless, leaving behind a fiancé and 14-year-old son. Plato was just 34 years old.
If you or anyone you know is struggling with addiction issues, help is available. Visit the Substance Abuse and Mental Health Services Administration website or contact SAMHSA's National Helpline at 1-800-662-HELP (4357).
Erin Moran
Erin Moran is best known for her performance as Joanie Cunningham, Richie's plucky sister in "Happy Days," which ran for over 10 years from January 1974 to September 1984. After the short-lived spin-off show "Joanie Loves Chachi," Moran had sadly enjoyed the peak of her career (via Today). After three decades of small and irregular roles, Moran moved to a trailer park in 2010 with her second husband Steven Fleischmann. However, she would be ejected from the park because of drunken conduct, according to a Guardian obituary. Around this time, Moran was said to be working on a memoir called "Happy Days, Depressing Nights." A Page Six story found that several former child actors attempted to help Moran, but they were unsuccessful.
Moran died from cancer on April 24, 2017. She was just 56 years old. Her "Happy Days" co-star Ron Howard tweeted, "RIP Erin. I'll always choose to remember you on our show making scenes better, getting laughs and lighting up tv screens."
If you or anyone you know is struggling with addiction issues, help is available. Visit the Substance Abuse and Mental Health Services Administration website or contact SAMHSA's National Helpline at 1-800-662-HELP (4357).
Lisa Robin Kelly
Lisa Robin Kelly was best known for her role in "That '70s Show," which ran for 200 episodes from 1998 to 2006. Kelly appeared in over 40 episodes as Laurie Foreman, the sister of lead character Eric Foreman, played by Topher Grace, who went on to roles in "Spider-Man 3," "Interstellar," and "BlackKklansman."
Sadly, after "That '70s Show," Lisa Robin Kelly would be better known for her personal life rather than her acting career. Kelly left the show in Season 3 following a miscarriage, which caused her to start drinking heavily. She returned for Season 5, but her personal demons overwhelmed the actress once again, according to CBR. She was arrested a handful of times for DUIs and domestic abuse (via HuffPost).
Sadly, on August 15, 2013, Kelly died from multiple drug intoxication at a rehab center in Los Angeles (via BBC/USA Today). She was 43.
If you or anyone you know is struggling with addiction issues, help is available. Visit the Substance Abuse and Mental Health Services Administration website or contact SAMHSA's National Helpline at 1-800-662-HELP (4357).
Dominique Dunne
Dominique Dunne's career was gaining big traction in 1982 because of her performance as Donna Freeling in "Poltergeist." Tragically, this would be her last big role, because her ex-boyfriend John Thomas Sweeney murdered her on November 4, 1982. Dunne was only 22 years old (via New York Times).
Sweeney received a six-and-a-half-year prison sentence, but served just three years and seven months, according to Biography. Griffin Dunne, Dominique's brother and fellow actor, said, "This guy gets to be reinstated as the head chef in a restaurant as if nothing ever happened … I don't want people to think, 'Hey, he killed someone but I'll have this steak anyway,'" (via Los Angeles Times).
This terrible turn of events is said to be part of the "Poltergeist" curse, which refers to the deaths of Dunne and fellow cast members Heather O'Rourke, Julian Beck, and Will Sampson.
If you or someone you know is dealing with domestic abuse, you can call the National Domestic Violence Hotline at 1−800−799−7233. You can also find more information, resources, and support at their website.
Andy Hallett
Andy Hallett starred as Lorne in "Angel," the popular "Buffy the Vampire Slayer" spin off. Starring David Boreanaz in the titular role, "Angel" ran for 111 episodes from 1999-2004.
Hallett's character Lorne was described by the BBC as, "[A] friendly demon with the power to read minds and sing like an angel." Apparently, Joss Whedon created the character after seeing Hallett perform at a blues show, evidently impressing the show creator. Hallett's acting gig wasn't a sure thing, though, as he still had to audition. After winning the role, Hallett became a fan favorite (via Legacy). The Mary Sue wrote, "Andy Hallett's fast-talking, aura-reading, green-skinned demon Lorne has stood the test of time and emerged as one of Angel's most unlikely standouts with his infectious energy and quick wit."
At the end of his popular run on the show, Hallett was diagnosed with a heart condition, which began a 5-year stretch of hospital visits. Sadly, on March 29, 2009, Hallett died from congestive heart failure. He was just 33 years old (via BBC).
Andy Whitfield
Andy Whitfield played the lead role in "Spartacus: Blood and Sand," which premiered in January 2010 and ran for three seasons, logging 33 episodes. However, the Welsh actor was diagnosed with cancer before the second season. After intense treatment and temporary remission, the cancer returned and proved to be terminal. Whitfield died in September 2011, aged just 39 (via Legacy).
Whitfield suffered from non-Hodgkin lymphoma, which afflicted him for 18 months before the actor tragically succumbed. This struggle was documented in "Be Here Now," directed by Oscar-nominated filmmaker Lilibet Foster, who liaised with the Leukemia and Lymphoma Society, Stand Up To Cancer, and The Cancer Support Community (via ABC News).
Whitfield's death was announced by his wife Vashti, "On a beautiful sunny Sydney spring morning, surrounded by his family, in the arms of his loving wife, our beautiful young warrior Andy Whitfield lost his 18 month battle with lymphoma cancer."