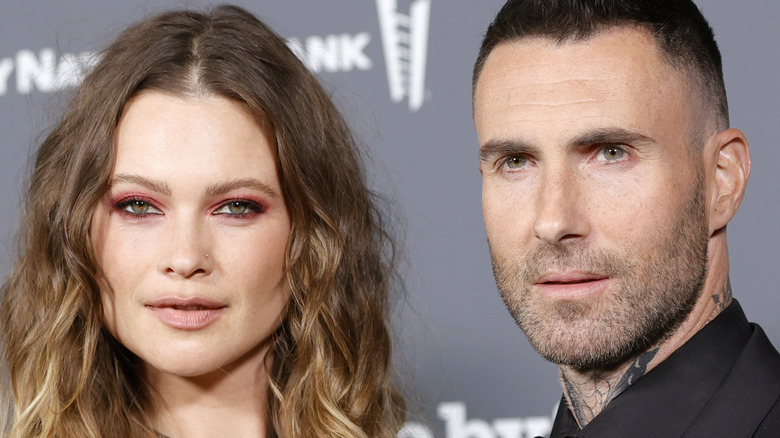 Married couple Adam Levine and Behati Prinsloo have dealt with their ups and downs, like any other couple. Except he's a pop sensation and she's a Victoria's Secret supermodel. And together, they make a dynamic power couple, capturing the attention of fans and tabloids everywhere.
As they've grown their family (per People) and ventured into the tequila making business (via Travel + Leisure), these two have remained Hollywood's "it" couple. That is, until cheating allegations surfaced in 2022, accusing the Maroon 5 frontman of cheating on his wife, pregnant with their third child. The cheating allegations surfaced after model Sumner Stroh claimed in a TikTok video to have had an affair with Levine. The pop star responded to the accusation with an Instagram story (via People) denying the affair, though he admitted he "crossed the line."
"I used poor judgment in speaking with anyone other than my wife in ANY kind of flirtatious manner," he wrote in the story.
You wouldn't think anything was wrong before the cheating allegations came to light. In April 2022, Prinsloo gushed about her hubby with The Zoe Report, saying, "We're best friends and we have such similar interests." Here's the untold truth of Adam Levine and Behati Prinsloo's relationship.
They 'fell in love' over email
Adam Levine was looking for a model to star in his next music video, and Behati Prinsloo answered. A mutual friend recommended Prinsloo for the role. Levine connected with her over email in 2012. "I ended up not doing [the video], but we kept emailing each other. It was such a natural correspondence that we kind of fell in love over email," Prinsloo told Porter about the beginnings of their modern romance.
Prinsloo and Levine wouldn't meet until a month later, as she told the outlet. She traveled to Los Angeles for a job, and that opportunity led to their meet cute. After officially meeting, they went out for dinner and "talked for hours," Prinsloo recalled. "It was love at first sight, it was crazy," she added.
It wouldn't be long until the world caught wind of their whirlwind romance. In July 2012, cameras caught the couple holding hands while on a dinner date in New York City. People described her in an article as a "gal pal" with a photo of the two in New York. She wouldn't be a "gal pal" for long.
They broke things off early in their relationship
Though the two appeared like a match made in Hollywood heaven, things would take a turn for the worst in 2013 — but it would only last a short while. They split up for two months, according to Behati Prinsloo. She didn't share why they broke up while interviewing with Porter in 2019, but she did say they decided to get back together after realizing "it was the worst decision."
In those two months, it seemed like Adam Levine had moved on. A source told People he was dating model Nina Agdal. Levine kept mum about the rumor. When the outlet asked him about his love life and what he looked for in a woman, he said, "Hands, eyes, ears, hair."
Not only did Levine and Prinsloo get back together, but they also got engaged, a rep for Levine told Us Weekly back in 2013. "He realized he really does love her and she was the one," the source said, adding, "They are in love." It turns out fairytales do exist in the real world.
Adam Levine got down on two knees to propose to Behati Prinsloo
Adam Levine took his proposal up a notch to supermodel Behati Prinsloo. Though it's typical to get down on one knee to propose to the love of your life, Levine got down on two. He shared on "Live With Kelly & Ryan" in 2014 that although he's a confident man, he lost some of his charm during the proposal.
"… I got on that knee and everything changed immediately. I lost my equilibrium," he shared with the audience. He went on to say that during the proposal, he had to get on the other knee, too. He recalled telling Prinsloo, "Look, I got on both knees," and confessed he wasn't sure why he said that. Nerves, perhaps? According to People, Levine proposed to Prinsloo in Los Angeles shortly after reuniting with her in 2013. In another People article, the pop star shared that his engagement to former Victoria's Secret model felt "natural."
"I definitely feel like I'm sitting in the chair I'm supposed to be sitting in right now," he told the mag. The two would tie the knot in a beautiful ceremony the following year.
They tied the knot in a star-studded destination wedding
Adam Levine and Behati Prinsloo tied the knot in a destination wedding in July 2014. The music video-worthy destination was Flora Farms in Los Cabos, Mexico. They wed in front of 275 friends and family (via People). Famous attendees included actor Robert Downey Jr. and members of the band Sublime, and of course Levine's own Maroon 5 bandmates. Also there was singer Stevie Nicks, who sang a duet with Levine. Actor Jonah Hill ("Superbad") officiated the wedding.
A source who attended the wedding told People that guests danced late into the night. "Everyone was having so much fun," the source told the outlet, adding, "Adam and Behati didn't stop smiling the entire night." The menu featured organic pork chops, fresh fish, and beet salad. For dessert, there were alcohol-infused popsicles and organic ice cream. The wedding weekend included a beachside celebration at El Dorado Golf & Beach Club prior to the wedding day.
According to the outlet, the couple enjoyed a honeymoon post-wedding. And while it wasn't confirmed where they spent it, reports pointed to South Africa. These two certainly know how to celebrate.
They've supported each other's careers
Adam Levine and Behati Prinsloo are each other's number one fans. They've supported one another's careers on and off the screen.
During Prinsloo's appearance at Victoria's Secret Fashion Show in 2013, Levine was in the front row and gave his lady a standing ovation (per E! News). Prinsloo appeared in her beau's "Animals" music video in 2014. Prinsloo has also attended a number of Maroon 5 shows throughout the years, including in 2022. According to multiple reports, she watched from the side of the stage as Levine and his band performed at the MGM Grand Hotel in Las Vegas in October (per Us Weekly).
In an Instagram post for Prinsloo's 30th birthday in 2018, Levine posted a photo of his wife. He gushed about her in the caption, writing, "She's a legend. She's THE baddest. In just a few years we have laughed and loved harder than most." It seems like these two can't get enough of each other.
They're growing their family
It's a full house for Behati Prinsloo and Adam Levine. The parents of three welcomed their first child, a daughter named Dusty Rose, in 2016 (via E! News), and their second baby girl, Gio Grace, in 2018, as reported by the outlet. "We want a big family, who knows, we're leaving it up to fate and just what happens. What will happen, will happen. So there's no limits to it," Prinsloo told E! News in 2021, before the announcement of their third baby via People in September 2022.
Levine is on board. In 2017, following the birth of Dusty Rose, Levine shared on "The Ellen DeGeneres Show" (via E! News) that they want a lot of children. "I want a lot. I thrive in chaos," Levine said, adding, "I really genuinely enjoy it." Since his wife was an only child, Levine confessed she wants "like 100 babies," so to speak.
Prinsloo shared with Porter in 2019 that she loves being a working mom. While it's challenging sometimes, she admitted they're lucky to have a big support system in Los Angeles. "It's really amazing to know that when I leave the kids for a day or two, they are surrounded with so much family," she told the outlet. It looks like they're well on their way.
Adam Levine helped Behati Prinsloo overcome postpartum depression
Behati Prinsloo makes pregnancy appear easy with her chic Instagram pics. But pregnancy hasn't always been easy for the supermodel. In a 2019 interview with "Today," Prinsloo opened up about suffering from postpartum depression following the birth of her first child, Dusty Rose, in 2016. In the interview, she mentioned that her hubby Adam Levine was instrumental in helping her pull through.
"… My husband was so incredibly supportive and always got me out of it. I think it's very normal, though, as a young mom and a new mom to feel helpless and to feel over emotional, you know," she shared. She said she was fortunate not to have dealt with an extreme case and shared a message for women suffering from the condition post-birth. "So no matter how small your feelings and stress, or whatever it is about being a new mom, there's always help out there and support from family and friends and I think nobody judges anyone," she told the outlet.
In an interview with Porter in 2019, she shared that her second pregnancy with daughter Gio was easier.
They put family first
Singer Adam Levine and model Behati Prinsloo work hard, and parent even harder. Prinsloo shared with "Today" in 2019 that she sometimes take her daughters on tour with daddy and pop star Adam Levine. "I think the older they get, the easier and more fun it would be," she told the outlet.
And there are times they prioritize parenting over their careers. After eight years as a coach on NBC's "The Voice," Levine left his rotating chair in 2019. He bid farewell to the show and thanked his fellow coaches in an Instagram post. Why did he leave the singing competition? In the caption, he wrote: "For me, it was time to move on." Prinsloo didn't hide her excitement about the news, telling "Today" it was "good news" for her and their daughters, who get more quality time with Levine at home.
These two seem to know how to balance careers and family time.
Their L.A. pad embodies their family
There's no need for a rock star mansion when you're working parents. A modern, one-story ranch house in the Pacific Palisades will do for Adam Levine, Behati Prinsloo, and their family. They opened up their stylish family home to Architectural Digest in 2021. "We didn't want a palatial McMansion. That's just not who we are," Levine told the outlet about their Los Angeles pad, adding, "We were attracted to this place because it felt homey. You could tell that kids had lived here before."
Levine described their neighborhood as quiet and more laid-back than their previous Beverly Hills community.
The house itself features a movie theater, perfect for kid and adult friends, Prinsloo shared as video cameras followed them on a house tour. Prinsloo and Levine both enjoy their own walk-in closets. Prinsloo said her walk-in is where she goes for alone time. "It's a dream come true," she told the outlet about her personal space, noting that sometimes she lays down in the daybed in the middle of the room to have some quiet time for herself.
The couple loves collecting art and there are pieces hung throughout the house. "Behati and I have an emotional attachment to everything we collect," Levine shared. With a house like that, it's a wonder they ever leave!
They're business partners and best friends
Adam Levine and Behati Prinsloo mixed business with pleasure when they launched their tequila brand, Calirosa, in 2021. They got the inspiration for their pink-hued tequila after many romantic trips to Mexico. "In Mexico, we relax and drink tequila. I've always loved good tequila and there's no shortage of it when you're in Mexico. When we were first introduced to rosa tequila, the coloration immediately stood out and we loved the distinct taste," Levine told Travel + Leisure in a joint interview with his wife. When they learned about the "unique red wine barrel aging process," Levine said, they wanted to share it with the world.
When asked about their favorite part of working together, Prinsloo gushed about her hubby. "Adam's my best friend and we both love tequila so much, so it's been a really cool adventure to do this as a couple together," she told the outlet, adding that Levine is the creative mind and she's the salesperson.
The couple knows how to work the camera and often promote their tequila on Instagram. It seems Levine, Prinsloo, and tequila make for a winning combination.