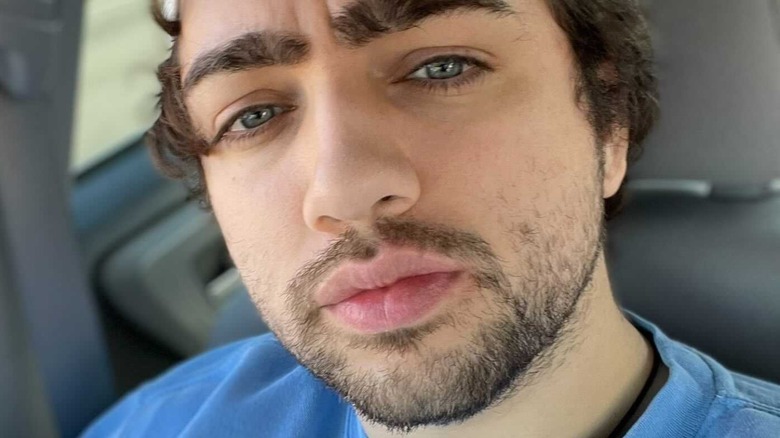 Mizkif's life has been a whirlwind of activity in recent years. Now in his mid-twenties, Mizkif – whose real name is Matt Rinaudo – grew up in Montclaire, New Jersey (via Upcomer). As a kid, Mizkif always wanted to be famous, but his opportunity came from an unexpected place. After a brief stint working as a cameraman for the controversial streamer Ice Poseidon, Mizkif decided to step in front of the camera and make his own path.
He went on to build a following of millions of fans on Twitch and YouTube with his gaming content. Then he took another leap in his career by founding OTK, a full-fledged media organization, with some of his closest friends. Mizkif and his org have grown steadily, eventually winning recognition at the 2022 Streamer Awards. But just as Mizkif reached the best point of his career, a flurry of events embroiled him in a controversy that could cost him his fanbase and organization.
He grew up wanting to be famous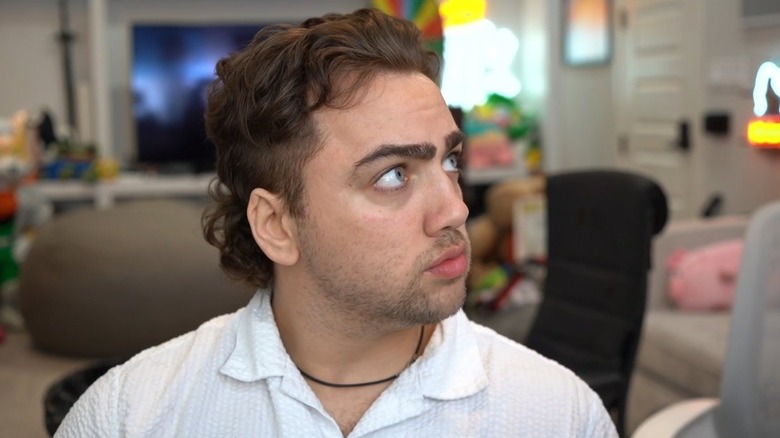 The roots of Mizkif's streaming career go back to when he was barely even a teenager. Even then, it seems Mizkif already had the mindset that would put him on the path to Twitch fame.
On YouTube, Mizkif got real with his fans about how much of the drive behind his career comes from an almost unhealthy craving for attention that goes back to his childhood. "When I was twelve or thirteen years old, I don't really remember when, I looked up 'what is the point of life if you're not famous?'" he said. Back then, Mizkif acted like the class clown, always interrupting teachers and telling jokes to get the attention of his peers. He even admitted to lying to his friends just to get attention from outrageous stories.
It's been more than a decade since Mizkif's fascination with fame began, and in that time he's found new ways to focus his energy. The same behaviors that used to cause problems in the classroom are exactly what have kept his fans returning to his Twitch channel stream after stream, and getting to pour all that energy into Twitch lets Mizkif relax and keep to himself when he's away from the camera's eye.
Ice Poseidon helped launch his career
The way in which people rise to fame oftens seem arbitrary, and that's especially true of internet stars. By being at the right place at the right time, someone can suddenly find themselves amassing a huge following that helps them become a multiplatform star. That's more or less what happened to Mizkif.
Talking to Upcomer, Mizkif told a simplified version of the story: "I was a cameraman for this guy, and people thought I was really funny. I thought I could use that to become a streamer." The guy Mizkif worked for was Ice Poseidon, who was once the largest streamer on Twitch by far. Ice Poseidon was known for pushing the envelope on what a person could do on Twitch and for attracting an overwhelmingly toxic viewer base. Mizkif has clarified that he worked with Ice Poseidon for just a couple of weeks, but they were some of the most informative weeks of his life.
Mizkif said that what he really learned from working with Ice Poseidon was how to focus on the long term goals of his career and to prioritize his own mental health over entertaining an audience. He learned how to avoid some of the most dangerous parts of streaming, but he also gained some traction from working with one of the biggest streamers at the time.
He's been banned from Twitch before
Mizkif's drive to attract fans' attention has been a huge benefit to his Twitch career, but it's also caused him to take some things too far. Once it even led to Mizkif and his friend Esfand getting banned from Twitch.
On May 1, 2019, Esfand made a Twitlonger post explaining why Mizkif and he had received 7 day suspensions. According to Esfand, the two of them had been streaming live from PAX East earlier that year when they ran into a cosplayer and fellow streamer. She and Mizkif started making sexual jokes at each other, which Esfand helped to escalate. When they went their separate ways, Esfand said, "We didn't think anything of it, we thought she was great on stream and were even hoping to get to stream with her again." After PAX ended, the cosplayer DM'ed Esfand and explained that she'd actually been uncomfortable with the entire situation. About a month later, her team got in contact with Twitch, which then issued the bans.
On the same day Esfand posted, Mizkif released his own statement on Twitlonger. He wrote, "It was not just what Esfand said … I said WAY more than just that. I was completely out of line and for the love of god please do not take it out on anyone. It was my fault." Mizkif didn't get into the details of the situation, but he mentioned that the chat had gotten very rowdy during the interaction. He also took full responsibility for his actions and urged his fans to leave the issue alone. When their Twitch suspensions finished, he and Esfand went back to streaming normally.
He made over five grand just by sleeping
People tend to assume that streaming is an easy job, and some streamers push back on that narrative by pointing out the exhausting hours they endure, the endless need to connect with their audience on multiple platforms, and the risks they take on by having so much of their personal information out in the open. The argument that streaming really is a difficult job is compelling, but it might lose some steam when streamers earn cash for sleeping.
As explained by Wired, sleep streams briefly became a trend on Twitch. For reasons that no one will ever fully understand, viewers tuned in and even gave money to their favorite streamers as they took a nap. Never one to miss out on a good opportunity, Mizkif decided to do one sleep stream himself. He let viewers pay money to have a video clip play in the top of his stream and woke up from his nap with an extra $5,600 in his account.
Mizkif isn't the only person in his friend group to stream while sleeping, either. In 2019 Asmongold decided to do a sleep stream because the "World of Warcraft Classic" servers were so backed up that he couldn't log in to play. Maybe that means there's a group sleep stream in OTK's future.
He's encouraged fans to work on their mental health
Thanks to livestream chats, streamers often have a very close and interactive relationship with their fans. Most streamers cultivate a community of people who love their content, sometimes even taking the lead in organizing the community around certain issues and caring for its members.
One way that Mizkif has tried to take care of fans has been bringing mental health to the center of their attention. That's partly due to Mizkif's own struggles with ADHD, which he's frequently been willing to discuss on camera. "I will never be proud of myself, honestly," he said in one YouTube video. He added, "I'm never truly happy, and I always strive for more. It's one of my best things … but it's also a never ending thing where I will never reach that finish line." He went on to talk about how his ADHD makes it difficult for him to manage his closest relationships and maintain strong friendships.
Mizkif hasn't just been open about the existence of mental health issues like ADHD, he's also encouraged his fans to seek help for themselves through things like therapy. To demonstrate this, Mizkif met up with fellow streamer Dr. K for a therapy session in early 2020, which his fans could watch.
He had a rare heart condition
ADHD isn't the only diagnosis that Mizkif has had to deal with in his life. Years ago, he told his fans about how he discovered that he had a rare heart condition (via Dexerto). Mizkif said that one day near the start of his streaming career, "I passed out on the floor … I couldn't wake up. I don't know what was wrong with me." Mizkif went to the doctor to find out why he kept feeling completely drained, and after a series of tests he was diagnosed with viral myocarditis, a condition that can sometimes last a lifetime.
The inflammation in Mizkif's heart affected the flow of blood throughout his body. Though the condition wasn't immediately life threatening, it became a constant presence in Mizkif's life. Some days, his condition would leave Mizkif so drained that he had to cancel his stream so he could rest up and recover.
Mizkif told his fans that the condition would be with him for the rest of his life, but then something incredible happened. In March 2022, Mizkif announced on Twitter that after getting another ultrasound on his heart, his doctor told him that the inflammation was gone, and his heart was finally back to normal.
He helped create OTK with his friends
Anyone who wasn't already a Mizkif fan probably found themselves watching more of his content when his streaming organization OTK announced itself to the world in October 2020. Mizkif was a founding member of OTK, also known as One True King, and he helped lay the groundwork for everything that the org has become in its short lifespan.
In addition to planning many of OTK's big moves Mizkif has gotten himself personally invested in the org's success. He built a house in late 2020 that became a place where OTK members could gather. When it came to having OTK collaborate with brands and game developers for certain events — including charities and product launches — Mizkif often put his face front and center.
However, Mizkif's relationship with OTK isn't as solid as it once was. The org put him on leave in September of 2022, for reasons we'll cover a little later.
He fell off a building for charity
Like many other streamers and YouTubers, Mizkif hasn't been satisfied with keeping every ounce of his success to himself. He's found a way to pair content creation with giving back, not just to his fans but also to larger charitable organizations. His push for giving back has even informed how OTK goes about raising money for charity with different events.
Mizkif could simply give away some of his own money to different charities, but he's still a content creator at heart. With that in mind, when he gives anything away, it usually coincides with something that works well on camera. Far and away the wildest thing Mizkif has done for charity is fall off a building. In 2021, he took part in an event hosted by the Make-A-Wish Foundation that saw big influencers rappelling down the side of a 32-story building to encourage viewers to donate.
That's not to say Mizkif doesn't give money away in more laid back ways, though. In early 2022, he played a 1-v-1 game of "League of Legends" against MrBeast, who decided to push for a $10,000 donation to charity from the loser. The two ended up playing multiple games together — and by the end, Mizkif lost $20,000.
He and Maya Higa were in a long term relationship
Fans often get deeply invested in the personal lives of their favorite streamers. That investment only gets more intense when two streamers are in a public relationship, and Mizkif had to learn that firsthand. For a couple of years, he dated fellow streamer and YouTuber Maya Higa, and fans care so much about their relationship that they even made compilation videos featuring moments when the couple showed up on each other's streams.
Mizkif's fans were understandably devastated when he announced in September 2021 that he and Maya had broken up. In his post, Mizkif wrote, "We both want to be very clear that there was no event, no cheating, no drama that led to this decision … We both care about each other so much and are still friends." He also thanked the fans for supporting them both and said the two of them would take a few weeks off from streaming while things settled.
In a video about the breakup, Mizkif was open with his fans about his feelings, but he also drew a line when it came to them trying to influence his life. "What I don't need is for you guys to tell me to get back together with her," he said. The relationship and the breakup really show the mix of pros and cons that come with fans treating a streamer's personal life as a form of entertainment, as well as the downside to the parasocial relationships fans can develop with their favorite creators.
He could relocate to L.A.
For decades Los Angeles has been an entertainment hub where actors, directors, producers, and studios all gather. The world of streamers and YouTubers is more diversified than "traditional" entertainment, but the allure of L.A. is still there for plenty of people, and Mizkif just might be one of them.
For a while now, Mizkif has been using the prospect of moving to L.A. to create hook-worthy titles for some of his YouTube videos. Fans naturally started speculating if Mizkif would really uproot himself from Texas to go live amongst the stars, and he decided to address the issue head on. In a video titled "My New Life in LA," Mizkif laid out his plans for a potential move — but not the move fans expected. "I would love for OTK to be able to buy a house," he said. The house would serve as a gathering point for OTK members and any other streamers who lived in the city, and the org's ownership of the place would let Mizkif himself hold onto his own house in Austin.
Whether or not OTK gets itself a house in L.A., it's safe to assume that Mizkif won't be leaving Texas behind anytime soon. He once turned down a $10 million deal because taking the money would have meant leaving Austin and moving to Canada. If that kind of money won't move him, nothing will.
He has become a controversial figure
Mizkif has always been someone who will speak their mind, but when he stepped into a brewing controversy surrounding gambling on Twitch, he bit off more than he could chew. In a now-deleted tweet, Mizkif made his stance on gambling crystal clear and took particular aim at Twitch streamer Trainwrecks. Wasting no time, Trainwrecks fired back, accusing Mizkif and Maya of covering up sexual assaults.
It seemed that Trainwrecks was referring to a Twitlonger post that fellow streamer Adrianah Lee made in July 2021. She said that while she was sleeping in a room at Mizkif's OTK house, streamer Crazyslick came in and inappropriately touched her. In the wake of the renewed attention on Adrianah's post, Mizkif released a statement saying CrazySlick had been asked to move out of the house they shared. Mizkif apologized for how he initially handled the incident, saying, "I chose my words poorly and my response came off as downplaying what should never be downplayed."
Mizkif's post also addressed a second controversy that flared up in the wake of Trainwrecks' tweet, when Ice Poseidon shared screenshots of messages from Mizkif that contained racial slurs and homophobic remarks. Mizkif wrote, "I was a dumb, edgy guy who said a lot of stupid things to my friends to try and come off as funny and cool. I can't change what I've said, but I can change who I am and how I conduct myself." OTK placed Mizkif on leave while a third party investigated his behavior.
If you or anyone you know has been a victim of sexual assault, help is available. Visit the Rape, Abuse & Incest National Network website or contact RAINN's National Helpline at 1-800-656-HOPE (4673).