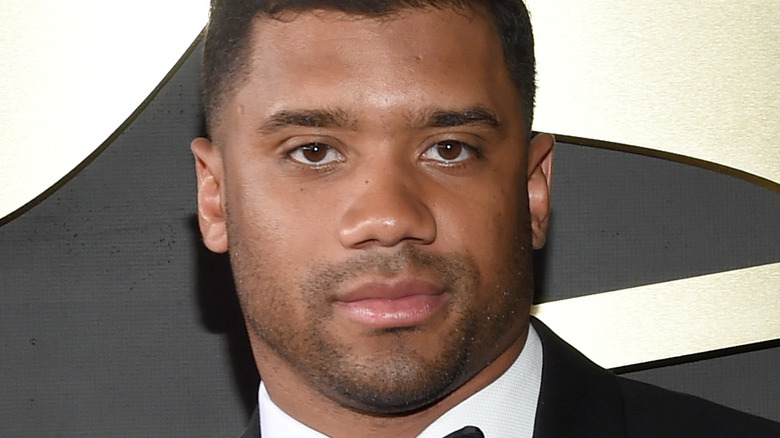 Russell Wilson is one of the most famous names in the NFL, and thanks to his impressive career, which includes a Super Bowl win, he's no stranger to being the topic of discussion. His high-profile relationship with Ciara has also kept his name in the headlines and, whether intentional or not, he's also become the poster child for living in your "square" truth.
Off the field, Wilson has not only been growing his family, he's been growing his brand as a businessman. He teamed up with none other than his wife to launch The House of LR&C, to launch a fashion house.
Outside of business, the quarterback is never too shy to discuss personal things like his marriage, religious beliefs, and his experiences in fatherhood. Other than being Ciara's plus one and the brainchild behind the "Let's Ride" meme, there are still a few things you don't know about Wilson. Here's his untold truth.
Russell Wilson was previously married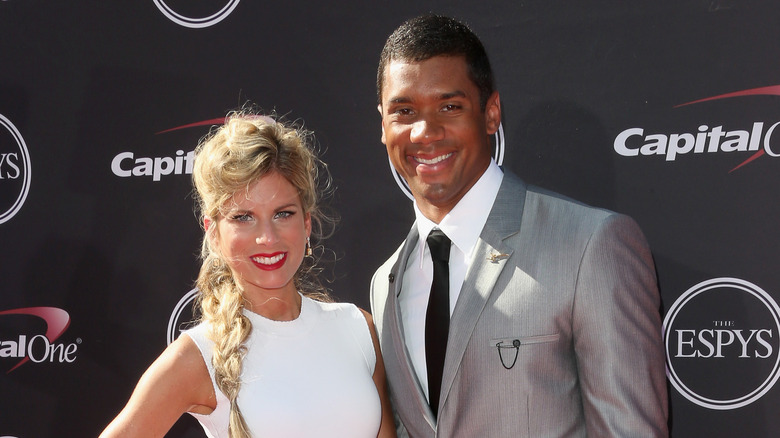 Long before his 2016 fairytale wedding to singer Ciara, Russell Wilson married and divorced someone else. The same year Wilson was drafted into the NFL, he wed singer and model Ashton Meem. The couple was married for two years before announcing their divorce in 2014, amid speculations of cheating and betrayal.
In a statement to The Seattle Times, Wilson said, "Ashton and I respectfully ask for prayers, understanding, and privacy during this difficult time. Moving forward, I will have no further comment on this personal matter." Though the statement seemed amicable, rumors began to spread that there was trouble brewing in the Seattle Seahawks locker room.
Teammate Golden Tate was accused of having an affair with Meem, something he vehemently denied. When Tate later left the Seahawks, it only fueled the fire. Wilson never commented on the tittle-tattle, which only seemed to anger Tate. "[The infidelity rumors] are a bunch of bulls**t, and it's sad that [Wilson] is letting this go on," Tate told TMZ. Meem also has not publicly addressed the rumors, and as of this writing, has not remarried.
His dad died before his career really took off
After winning the 2021 NFL Man of The Year award, Russell Wilson's speech included an emotional dedication to his late father, Harry Wilson. As noted in the New York Post, the football star's dad died in 2010, hours after Russell told him he'd been drafted by the MLB.
In his acceptance speech, Russell spoke directly to his father and thanked him for the lessons he taught him as a child. "Dad, I wish you were here for this award, this moment," he said. "I could remember you telling me in the car one day, 'Son, love changes things', dad you were right. I wish you were here to tell the world that." Russell went on to thank his wife and children and wished his father had gotten a chance to be in their lives.
On the ten-year anniversary of his father's passing, Russell paid tribute to him with an emotional post on Instagram. He shared a throwback picture of the two of them and wrote, "If I could have one wish in the world, it would simply be to able to go on a ride with you again and jam out to Earth, Wind, & Fire 'Devotion' again. Love you! See you again one day."
His former team threw shade at him
When Russell Wilson was traded to the Denver Broncos in 2021, he evidently didn't leave the Seattle Seahawks on the best of terms. Members of the organization have publicly slammed their former quarterback in the press, and ESPN detailed the rift between the player and the team leading up to the trade. The front office lost trust in Wilson's athletic ability, and Wilson grew frustrated with the team's lack of success. "I just felt like he's a descending player," one front-office source told the outlet. They also claimed that they'd tried to trade him before. Oh, and there was Pete Carroll's vague comment on how Seahawks fans should react when their team plays their former QB. "It's game time, and we are going for it, so however [fans] take it, I will follow their lead on that," the coach said, per The Seattle Times. "I'll leave it up to the 12s."
Wilson took the insults from his former franchise in stride. "I don't worry about all that stuff," he said. "Everybody has their own right to think what they want to think. I know how the whole thing went and how it transpired and just the whole situation."
When Wilson's new team faced the Seattle Seahawks during the 2022 NFL season, things got a little messy. When the Seahawks pulled off an upset against their former quarterback, many of their current players didn't miss an opportunity to throw shade at him on Twitter.
He took the high road against Future
When Ciara and Russell Wilson went public with their relationship, rapper Future stirred up some mess. Future, who is the father of Ciara's first child, wasn't too happy that his ex-fiancé moved on; the couple broke off their engagement just months after their son was born, and the two became estranged.
"I'm cool with him being around him but certain situations, we all in the public eye, you can't move around with my son a certain kind of way, you know what I'm saying?" Future said in XXL Magazine in 2015. "I feel like a lot of moves are just made out of just being evil, basically." The rapper later took to Twitter to air his grievances about their arrangement regarding their son. ""This b***h got control problems," he wrote (via E! News).
A custody battle ensued and the singer even filed a $15 million defamation lawsuit against him, which was later dropped. In an interview with GQ, Wilson made it clear that he was unfazed by Ciara's ex's remarks, and that their relationship was doing just fine in the wake of the drama. "I don't think anybody made it hard," he said. "I think it was easy for us. I think it was about us. It wasn't about anything else."
He reflected on past bully behavior
Russell Wilson is one professional athlete who is known as a "good guy." Despite criticism about his play, his personal character has never been called into question — unless you count people calling him "corny," that is.
In 2014, Wilson penned a letter for The Players' Tribune that showed him in a different light. The quarterback opened up about his childhood and confessed to being a not-so-nice kid in his younger years. "I was a bully growing up," he wrote. "In elementary and middle school, I threw kids against the wall. I rubbed their heads in the dirt at recess. I bit them. I even knocked teeth out." Wilson described his past anger issues and how his faith led him to change. He wanted to use his self-reflection to start a bigger conversation in football: the issue of domestic violence. In the letter, he urged fans and players to increase awareness and used his own foundation, "Why Not You Foundation," to raise funds with the "Pass the Peace" initiative.
A racist interaction following his Super Bowl win
Becoming a Super Bowl champion is supposed to be the happiest moment of a football player's career. For Russell Wilson, he walked away from the 2014 Super Bowl as a champion with mixed emotions. In 2020, Wilson spoke with reporters about racism in America and players using their platform to create awareness. He talked about growing up a Black kid in America, as well as being a Black celebrity in America.
He recounted an experience he had with a fan following his Super Bowl win. As he was purchasing breakfast at a restaurant counter, he heard a white person behind him say, "That's not for you." A startled Wilson thought the man was joking at first before realizing the comment was intentional. "That was a heavy moment for me right there. I was like, 'Man, this is really still real, and I'm on the West Coast. This is really real right now.' That really pained my heart," Wilson told reporters.
Following the tragic death of George Floyd, the state of the world weighed heavily on Wilson. "I think about my stepson, I think about my daughter, I think about our new baby boy on the way, and it's staggering to watch these things happen right in front of our faces, so I have a heavy heart right now." In June 2020, the athlete posted an open letter on Instagram pledging support for Black Lives Matter movement.
His close friend and coach died
As a quarterback, Russell Wilson is considered the leader of his team. When his team wins, he gets all the glory; when they lose, all the blame falls in his lap. With expectations that high, it's no surprise that he needed someone in his corner to talk to. Trevor Moawad was Wilson's mental health coach and one of his closest friends. In 2021, Moawad passed away from cancer at 48 years old and Wilson stood in front of reporters and emotionally paid tribute to his late friend.
"We spent so much time together through the highest, highest, highest of the highest moments to some of the lowest moments," Wilson told reporters. "To the moments of winning the Super Bowl, to the moment of not winning it, unfortunately. He's always been there for me. He's a guy who always gave me perspective and gave me knowledge and insight." Following a brutal Super Bowl loss to the New England Patriots, Moawad moved in with Wilson to help him cope with the loss and inspire him to move forward.
Wilson and Moawad also launched a coaching consultancy together called "Limitless Minds," in hopes to provide corporations with the same winning strategies. Days following his death, Wilson tweeted a compilation video of his past moments with Moawad writing, "Even though it hurts… I'm gunna stay Neutral…Till we meet again my friend…Heaven just got better."
Russell Wilson is cool with being square
In 2016, Russell Wilson and Ciara tied the knot, and they've lived happily ever after since, plastering adorable photos and videos of their life together all over Instagram. Former NFL player Channing Crowder, on the other hand, is not as charmed by their relationship.
On "The Pivot" podcast, Crowder publicly mocked Wilson's relationship with Ciara. "You don't leave Future and get with Russell Wilson," Crowder said, referencing Ciara's past relationship. "It's a type. Everybody has a type. … And I love him on the field, but he's a square. He's a f**king square." Crowder even accused Ciara of not wanting to be with Wilson if he didn't have money.
After his comments went viral, Crowder explained his opinion on "The Breakfast Club." "Have y'all seen his videos? Have you seen 'Mr. Unlimited'?! And, this goofy s**t he does? … I don't know why so many people were mad at my opinion of Russell Wilson is a square and a lame," he argued. A few days later Wilson responded to the shade, and posted a loving video to his Instagram of him surprising his wife with flowers. "Stay squared up my friends," he wrote in the caption. Square or not, Wilson continues to show his wife that he's a real level up.
He says being a stepfather taught him about love
When he and Ciara made it official, Russell Wilson became the stepfather to the son she shares with ex-fiancé rapper Future. And clearly, Future Zahir Wilburn wasted no time in becoming a major part of Wilson's life. Per E! News, when Ciara posted about her son's second birthday on Instagram, the quarterback commented, "Watching him grow over the past year and a half has been the most fulfilling and special things I've ever been around."
When Wilson and Ciara announced in 2017 that they were expecting a child, Future Jr. appeared in the maternity shoot, which caused some controversy. Despite that, Wilson has never shied away from his love for his stepson or his role as a stepfather. In an interview with "Good Morning America," the athlete opened up about being a parent to Future Jr. "Being a stepdad has taught me, really, what love is like, what life is really like, [and] how God intends us to love," Wilson said. "One of the greatest gifts in the world is children."
Wilson and Ciara are now a family of five, and the QB is open to the idea of continuing to grow. Of their blended family, Wilson told BuzzFeed, "It's easy to love somebody that's blood and everything else, but when you can love somebody just like it's your own child and everything else, that's what real love is like."
He abstained from sex before marrying Ciara
Before Russell Wilson tied the knot with Ciara, the couple spoke publicly about their decision to abstain from sex. While dating, Ciara said in an interview with Meredith Vieira that they hoped their abstinence would bring them closer as friends while also strengthening their faith.
In 2015, while speaking at The Rock Church with Pastor Miles, Wilson opened up about his relationship with the singer. "I told somebody that that's the girl I wanted to be with before I ever met her," he declared. Wilson described the moment he decided that the two should practice celibacy while dating. "God spoke to me and said 'I want you and need you to lead her,' Wilson explained. "I told her right then and there. I said, 'What would you do if we took all that extra stuff off the table and just do it Jesus' way.'… Yeah, we're talking about sex."
The couple got married a year later in 2016, and they've been going strong ever since. Though their faith was strong, Ciara once joked to InStyle (via ET), "[Remaining abstinent] took a lot of prayer."
His net worth is beyond impressive
Russell Wilson is no stranger to winning. In 2022, he scored a deal with the Denver Broncos that made him the second highest-paid quarterback in the NFL. The five-year $245 million deal comes with $165 million guaranteed money. As NBCSports noted in September 2022, Wilson's pro football career has already raked in a staggering $181.3 million. Per Celebrity Net Worth, he is currently worth over $145 million.
Outside of signing record-breaking NFL contracts, Wilson is making plenty of off-the-field moves to secure his children's future and add to his growing net worth. In 2019, Wilson and his wife Ciara became minority owners of Seattle's Major League Soccer franchise, the Sounders. Outside of his own endorsement deals with Wheaties and Microsoft, Wilson and his wife launched a duo fragrance called R&C The Fragrance Duo in 2022.
The athlete also scored a long-term deal with Nike for an undisclosed amount back in 2016 and has his own signature shoe retailing for $200. All in all, there's a whole lot of winning in the Wilson household.