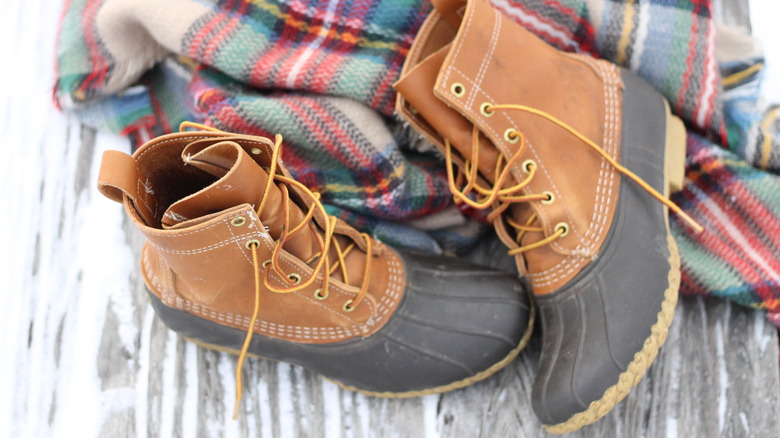 When it comes to L.L. Bean, the first things that probably come to mind include warm flannel shirts, sturdy canvas tote bags, and of course the instantly recognizable "Bean boots" (shown above). The signature footwear features tan tops and laces; dark brown, waterproof lower halves; and soles made of a sticky thermoplastic rubber compound designed for walking on slippery surfaces, with signature chain-tread bottoms that further prevent slipping on snowy and icy terrain. Per Esquire, the chain-treads have been part of the boot's design since 1936.
The L.L. Bean company goes back even further than that. It was the need for well-made, water resistant shoes for outdoor use that inspired Leon Leonwood Bean to go into business and build one of the most iconic American brands of all time. According to the official L.L. Bean company website, Bean was inspired to create what he called the Maine Hunting Shoe in 1911 after returning from a hunting trip in his home state of Maine with sore feet thanks to leaky, stiff leather boots. He wrote, "I took a pair of shoe rubbers from the stock on the shelves and had a shoe maker cut out a pair of 7 1/2 inch tops. The local cobbler stitched the whole thing together."
A love of hunting led to innovative footwear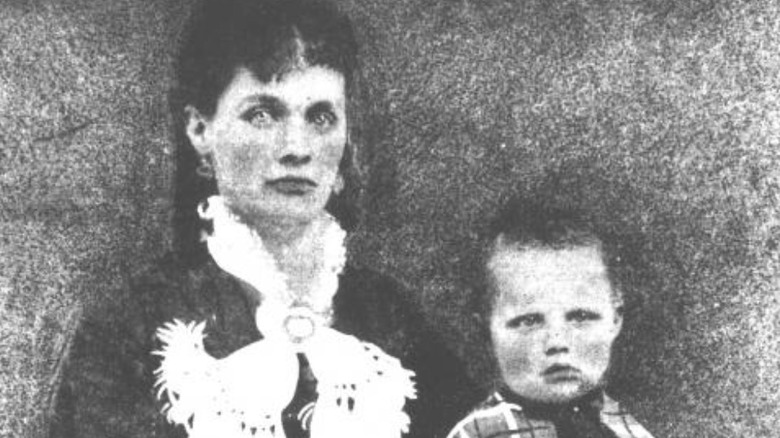 Leon Leonwood Bean was born October 13, 1872, in Greenwood, Maine, to farmer and horse trader Benjamin Warren Bean and Sarah Swett Bean, shown above with a very young L.L., per the New England Historical Society. The couple died within four days of each other when L.L. was 12 years old; he and his five siblings went to live with relatives in South Paris, Maine where he developed a passion for hunting, fishing, and other outdoor activities.
According to Entrepreneur, he was working in his brother's store when he took the fated hunting trip that inspired him to create the Maine Hunting Shoe. The first models of the shoe were duds, and 90 of the 100 original pairs were returned. Kicking off the money-back guarantee that the L.L. Bean Company still honors to this day, Bean refunded unhappy customers' money and took the opportunity to improve his product's design. He asked U.S. Rubber to formulate a heavier sole that would hold stitching and replaced the 90 returned boots, impressing customers with his honesty and exemplary service.
A master marketer and entrepreneur
Entrepreneur notes that in addition to Bean's devotion to quality and customer satisfaction, he was also a master marketer, realizing that Maine was a popular destination for tourists who were interested in hunting and fishing but weren't necessarily knowledgeable about the kind of gear and equipment needed for outdoor activities. Using the basement of his brother's store, he put together a mailing list of people who held nonresident Maine hunting licenses and sent out a flyer advertising his newly improved boots.
Bean's flyer read, in part, "Outside of your gun, nothing is so important to your outfit as your footwear. You cannot expect success hunting deer or moose if your feet are not properly dressed." He also mentioned his 18 years of experience as a Maine hunter and emphasized the boots' lightness combined with durability. The New England Historical Society points out that at this same point in history, the U.S. Post Office began offering parcel post services, making selling and shopping via mail order all the more convenient.
L.L. Bean reached out to customers personally
L.L. Bean embraced catalog marketing in addition to a brick and mortar storefront. Per the L.L. Bean company website, he once said, "A customer is the most important person ever in this office — in person or by mail." He also did his own copywriting within the catalog and directly answered letters addressed to the company, allowing him to communicate directly with customers and provide them with expert advice from someone who genuinely enjoyed the outdoors and had high-quality products available for purchase.
Entrepreneur quotes an article from Sports Illustrated in which the author praised Bean's authenticity and the comfort it brought to his customers, writing, "It's as if Bean were family, some sort of mildly eccentric but amiable uncle who lives up in Maine and sends us packages." As the customer base grew, Bean added more classic products to L.L. Bean's stock, including Hudson Bay "point" blankets, duffel bags, and chamois shirts.
Maine's second-most popular tourist attraction
Maine: An Encyclopedia reports that by 1917 his sales had outgrown his brother's store and decided to open the first freestanding L.L. Bean store. By 1925, the store had a staff of 25 and grossed $130,000 annually. By 1942 L.L. Bean contracted with the U.S. government to provide boots and other items to military personnel. Per the New England Historical Society, in 1944, Bean started producing its famously sturdy "Ice Carrier" canvas tote intended for, yes, carrying ice. It was later renamed the Boat and Tote bag and it continues to be a best-seller to this day, as well as a popular accessory throughout the United States.
In 1951, Bean opened the Freeport branch of his store, which exists to this day as the company's flagship (above.) The store is famously open 24 hours a day, a tradition that came to be after Bean got sick of hunters waking him up and asking him to come sell them products on their way to their hunting or fishing expeditions (via Entrepreneur.) There are no keys to the store and it is open every day of the year. It remains Maine's second-most popular tourist attraction, with over 3.5 million visitors annually.
L.L. Bean's lifetime of outdoor recreation
According to Entrepreneur, by 1937 L.L. Bean had sold over $1 million in products. Stories spread regarding L.L. Bean's money back guarantee, which went so far as to repair items like fishing rods and compasses that had broken during use. Presumably the sales that resulted via word of mouth from satisfied customers were greater than the losses that came from replacing products with no questions asked. Many famous people counted themselves fans of the store, including Eleanor Roosevelt, John Wayne, and Walter Cronkite. The company sells over $1 billion in products per year and has over 4.5 million customers from around the world. Awards given to Bean include the 1975 Coty Award for innovation in fashion, recognizing the Maine Hunting Shoe. The Wall Street Journal also named him one of the top ten entrepreneurs of the 20th century (via the L.L. Bean website.)
Per the New England Historical Society, Leon Leonwood Bean kept running the company right up until the week before he died on February 5, 1967 at the age of 94; he personally checked the galleys of the last catalog published during his lifetime. L.L. Bean headquarters received over 50,000 letters of condolence. The official L.L. Bean website quotes their founder as having said, "One thing I learned throughout my lifetime is the fact that outdoor recreation, such as hunting, fishing and camping, has added years to my life span."