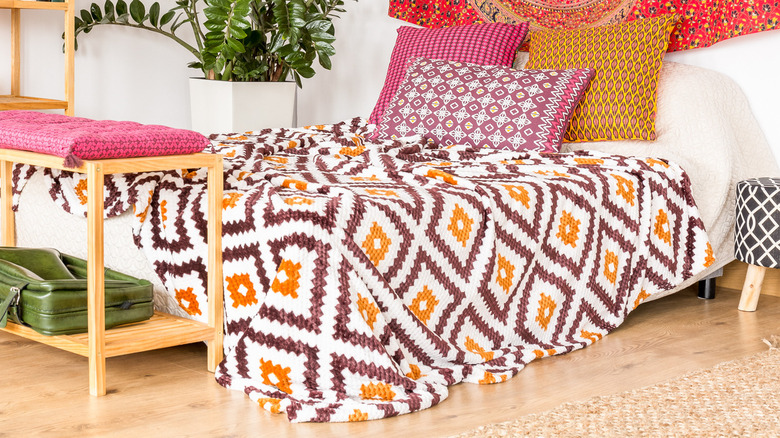 If you're interested in turning your home into a bohemian haven, then you'll want to be aware of what it takes to create a space that boasts the fabulously free-spirited aesthetic. First and foremost, when it comes to defining a bohemian style, Beverly Solomon of Beverly Solomon Design (via Vevano Home), explains, "The Bohemian life is centered around art, music, literature, and political discourse. Furniture is selected for comfort and interest. Objects are collected only as they represent memories, friends, beliefs, etc. Nothing is selected to impress others, only to reflect one's life story and values."
Beyond that, the experts at Vevano Home note that achieving a bohemian look in your residence involves opting for an easygoing attitude toward décor. That's why you can have fun while feeling confident as you indulge your love of textures, colors, and patterns. When it comes to the latter, bohemian patterns tend to fully reflect the nature of the style thanks to the often bold shades that are used along with charming designs. While some are classic and traditional, others are chic and contemporary but all are visually intriguing and wonderfully pleasing in their own way.
For instance, check out the following bohemian patterns that'll help to add a touch of cozy and eye-catching style to your space.
1. Colorful patchwork pattern
Opting for a bohemian vibe in your home doesn't mean that you have to stick to one pattern. Far from it! Instead, you can opt for as many patterns as you like. In fact, some bohemian patterns embrace a range of designs to create an overall effect such as the colorful patchwork used for these curtains.
2. Contemporary plant pattern
Many bohemian spaces are filled with plants and you can enhance that vibe by using a pattern in your room that features images of greenery. For instance, this contemporary wallpaper boasts a pattern that's made up of paintings of pretty palms. The slightly faded effect gives the pattern an attractive aged look that suits the boho style.
3. Retro floral pattern
Look to the past for your boho inspiration and add a vintage look to your bohemian space with a retro pattern. This old-school floral version is not only beautifully bright thanks to the fact that it's made up of yellow, orange, green, and brown tones, but the natural shades are also perfect for a bohemian space.
4. Black and white artisanal patterns
Although a strong bohemian style often embraces a wide range of colors, you can instead opt for an artisanal pattern in black and white. The contrasting shades will allow the pattern to stand out while the straightforward tones won't be too overwhelming. You could also opt to mix and match various black and white patterns.
5. Boho diamond pattern
Along with bold colors, striking shapes can be a key element to bohemian patterns. Just take a peek at this diamond design with both a dark maroon shade as well as an almost mustard yellow. Used for a blanket in this boho room, the tiny patches that make up the overall pattern add another level of interest.
6. Zig-zag pattern
A zig-zag pattern is a fabulous addition to any stylish space while one that's slightly blurred, extra jagged, or otherwise unique will enhance a bohemian vibe. While you could choose to use a zig-zag pattern in any combination of colors, this blanket that zigs and zags in cloud white and sky teal is certainly a gorgeous option.
7. Leaf pattern
A bohemian style likes to take inspiration from the beauty in nature and displays that in creative ways. You can clearly see that in the pattern on these pillows featuring an artistic leaf design. However, instead of simply sticking with an expected green shade, this pattern also uses an almost teal green and deep red.
8. Arrow pattern
Another stylish option if you're looking for something with a traditional touch, arrow patterns can make a big impact on your bohemian space. This design uses lines of arrows in a two-toned pattern that would not only look incredible in a black and white room, but can also be paired with bright colors.
9. Artistically lined pattern
If you prefer a bohemian style that leans toward calm and comfy, then you might prefer a pattern that has the same feel. The design on this pillow is eye-catching without being overwhelming thanks to the fact that it uses simple lines instead of intricate shapes. Beyond that, it sticks with toned-down natural shades.
10. 3D geometric pattern
Shapes can be used in seemingly countless ways when it comes to bohemian patterns. For this particularly sleek boho-chic room, a 3D geometric pattern has been created using cubes with thin gold lines on a black background. This works perfectly for a comfortable ambience that includes luxurious touches such as the gold palm leaf, frame, and clock.
11. Southwestern pattern
If you adore designs that feature vibrant colors, then there's a good chance that you love traditional Southwestern patterns, which happen to look incredible in a bohemian space. You'll surely appreciate the stripes of stunning shades — such as reds and purples as well as oranges, greens, and more — that are interspersed with distinctive bands of geometric designs.
12. Paisley pattern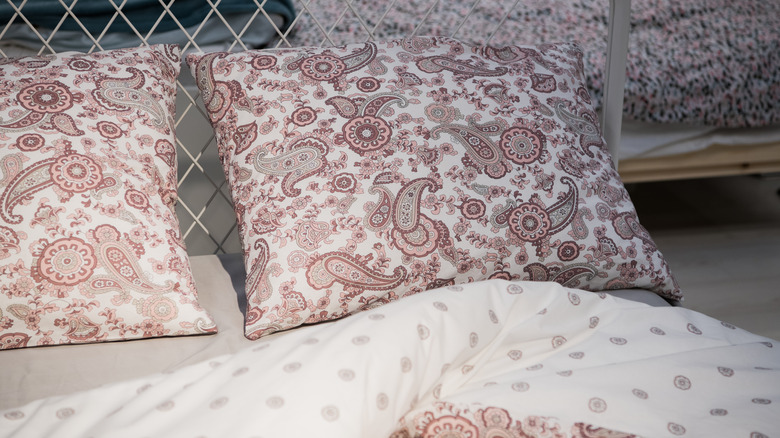 Paisley is a pattern that has historical connections to bohemianism, according to the BBC, which is why it will undoubtedly suit your boho space. While paisley may have a specific look, you can track down plenty of different kinds of this popular design. While some offer brighter colors and intricate arrangements, other paisley patterns are much more subtle.
13. Spiral pattern
Create a supremely serene ambiance for your boho-styled room with the help of an almost mesmerizing spiral pattern. While it's a design that can offer the area a creative look, it can also help to center the space if used on a rug like it has been in this modern bohemian home.
14. Moroccan-inspired pattern
Moroccan patterns can be filled with all kinds of stunning curves, enticing angles, and delightful details that you might absolutely fall in love with. Created in pretty much whatever colors you might have in mind for your home, keep in mind that Moroccan-inspired patterns look incredible when used on tiles in a bohemian kitchen or boho bathroom.
15. Animal print pattern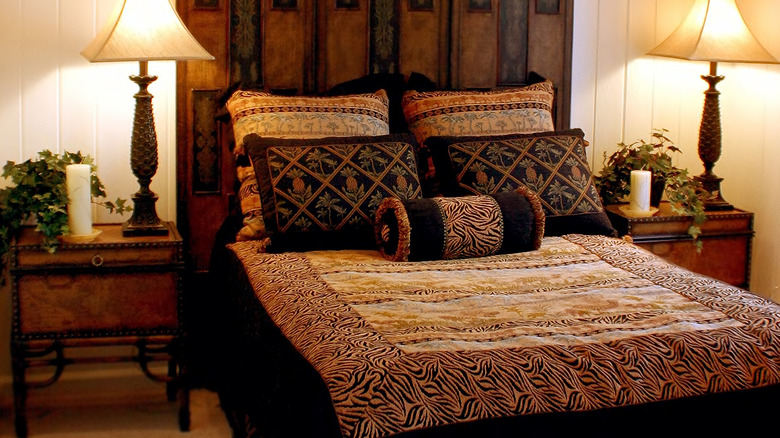 Take your love of a bohemian style to the wild side by picking out animal print patterns for your abode. An ideal option for a space that might need a few natural hints to fulfill the boho look, you could choose anything from a tiger and leopard print to zebra, giraffe, or even snakeskin.