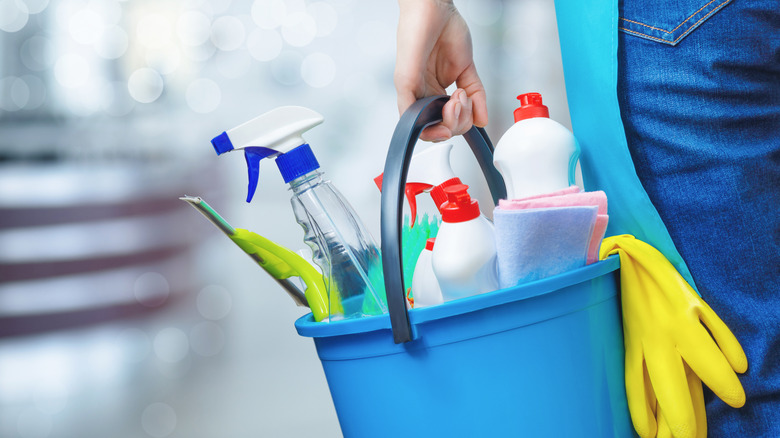 According to The Cleaning Collective, coming home to a clean and tidy house at the end of a long day can help improve your mood and focus, improve your relationship with your partner, allow you to get a better night's sleep, and even improve your physical health. Knowing this, why do so many people still deal with messy, cluttered homes? For many people, the issue is lack of time.
When you live a busy lifestyle, it can be nearly impossible to find time to maintain the cleanliness of your house. After a long day of work, running errands, or chauffeuring your kids to and from soccer practice, the last thing you want to do is come home and tidy up a messy house. Even with all the benefits of maintaining a clean living space, many people admit that their house is far from tidy. In fact, according to Study Finds, a recent survey found that four out of five people say they have at least one room in their house that is always a mess.
If you are someone who struggles with finding the time to clean, hiring a housekeeper can be a worthy investment. And while the idea of welcoming a stranger into your home can be unnerving, particularly if you have never had one before, asking the right questions and considering all the necessary factors before opening your door to someone new can make all the difference.
Determine the cost
The first and most obvious factor to consider is whether or not you can afford to comfortably work a housekeeper into your budget. As appealing as the idea of having someone else to do the cleaning may be, the reality is that hiring a housekeeper is an investment, and should be looked at as such. You are paying for someone's services and time and should expect to pay them accordingly.
According to data provided by U.S. News, the average person can expect to pay anywhere from $100 to $175 per cleaning based on an analysis of popular sites like Angi.com, HomeAdvisor.com, Care.com, and RedBeacon.com, which all help match you with housekeeping professionals. And while this is an average price range, it is important to note that specifics in terms of which rooms, how many rooms, frequency of visit, and the level of work required to leave it feeling spotless will all affect the overall price you will pay for a housekeeper.
Dan DiClerico from Home Advisor adds via Washington Post that self-employed housekeepers tend to cost a little less, though he notes that lower-priced housekeepers don't mean that they perform poorly and more expensive ones don't automatically mean they will do excellent work, so it's important to not let cost be the only deciding factor when it comes to choosing a housekeeper.
Figure out if they are independently employed
Discerning whether your potential housekeeper is independently employed or employed by a larger company is important for multiple other reasons in addition to cost. Because there is always a risk of your housekeeper accidentally injuring themselves on the job or accidentally breaking something valuable while dusting around it, it's a good idea to consider insurance to protect yourself and your assets in the event an accident takes place in your house.
Care.com notes that housekeepers employed by larger companies are usually covered and insured by their employer; however, if you decide to hire someone employed independently, you should look into your homeowners or renters insurance policy to ensure it covers any accidents that your housekeeper may have while on the job.
Weighing hiring an independently employed housekeeper versus hiring a housekeeping company also requires you to consider your scheduling needs. Angi notes that while independent housekeepers often come with the benefit of charging less for their services, there is the potential to run into last-minute issues if they need to take a sick day, as an independent employee doesn't have the added benefit of a full staff behind them to fill in.
Check references and run a background check
Because you are welcoming someone new into your home and personal life, it is important to be sure they can be trusted. While it's good to give someone the benefit of the doubt, when opening your door to a stranger, it's better to be safe than sorry. Checking references and running a background check on any potential housekeepers is always a good idea, as doing so can give you an additional level of insight into their lives and help you ensure that what they are telling you about themselves and their previous experience is true.
Polo and Tweed recommends requesting contact information for each of the housekeeper's references, as actually speaking to previous employers can help you gain a better understanding of their specific skills and work experience in addition to their personality, as opposed to simply just verifying their previous employment.
Some professional cleaning companies run background checks on their employees before hiring them. Angi recommends requesting to see a copy of the background checks of any employee that they will be sending to your home. If the company did not perform background checks, if you are hiring an independently employed housekeeper, or if you simply want added peace of mind, Angi also adds that you can pay a fee to have your state or local police run an employee background check. There are also several online services available that can run them for a fee as well.
Have a plan for your pets
Prior to hiring a housekeeper, it is important to ensure they are comfortable with pets if you have them. If they are not an animal lover, are allergic, or if your dog is territorial and simply not a fan of strangers, you should consider alternate accommodations to ensure both your housekeeper and your furry friend are safe and comfortable.
Having an open dialogue with your potential housekeeper about what to expect regarding your pets and their daily habits and routines can help them warm up to each other. If your pet is crated or kenneled throughout the day, let your housekeeper know that they are there. On the other hand, if your easygoing pet has free range of the house while you are gone, Green and Clean Housekeeping suggests writing down their daily routine, quirks, and instructions on how to best interact with them for your housekeeper to reference. As comfortable as you want your housekeeper to feel in their new work environment, it's also important to ensure that your pets are equally comfortable having them there, which is why Green and Clean Housekeeping also says to make sure your housekeeper knows your pet's name and suggests leaving out your pet's treats for your housekeeper to give them throughout the day to help them create a bond and sense of trust.
Consider a trial period
The only way to truly know if a housekeeper or a housekeeping company is a good fit for you is to witness them in action, which can be difficult to do prior to hiring them. That is why considering a trial period for your housekeeper is a good idea, as it can help you get a firsthand look at the work they do and ensure they meet your expectations, while also getting to know them a little more and ensuring your personalities are a good fit for one another.
According to Next Day Cleaning, a typical trial period usually lasts anywhere from two to four weeks, during which you should consider whether or not your observed standard of their work is worth the financial investment of hiring them.
Angi notes that even though a housekeeper may not yet be hired on an indefinite basis, you should expect to pay them their full rate during the trial period, regardless of whether or not you decide to proceed with officially hiring them afterward. You should discuss terms of payment prior to having a potential housekeeper do any work for you, and it's also in the best interest of both you and the housekeeper to put your agreed-upon terms in writing beforehand.