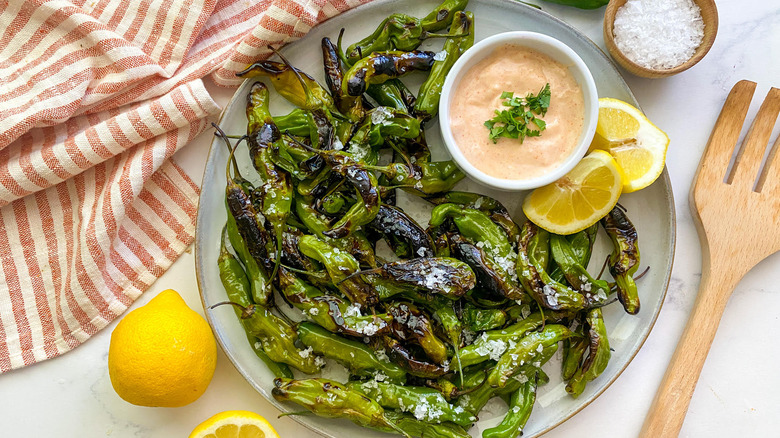 While chips and dips have their place, serving this snacking duo up on every occasion can feel a little lackluster. Are you looking for a casual appetizer that packs a little more pizzazz? This recipe is unique, healthy, and can appeal to a wide variety of eaters.
Recipe developer and health coach, Miriam Hahn, brings us this recipe for blistered shishito peppers. Hahn notes, "I love to serve these as an appetizer when people are over or for a fun game day appetizer."
If you don't like spice, don't fret. While they are technically part of the pepper family, shishitos are not spicy. Hahn adds "Shishito peppers are very mild. I would compare them more to a subtle green bell pepper. They are not hot at all like jalapeños." However, every so often one of the shishito peppers will be a bit hot. Don't worry — it's rare! Follow our step-by-step guide to make these peppers at home.
Gather the ingredients for the blistered shishito peppers recipe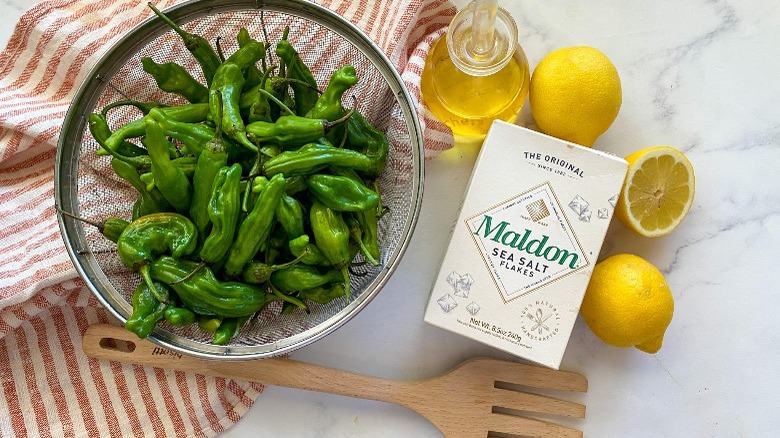 To make these blistered shishito peppers, you can start by gathering your ingredients. For this recipe, you will need avocado oil, shishito peppers, lemon, and salt. Hahn recommends using "flaky salt like Maldon. This, with the lemon really makes them unbelievably good!"
Heat shishito peppers covered and undisturbed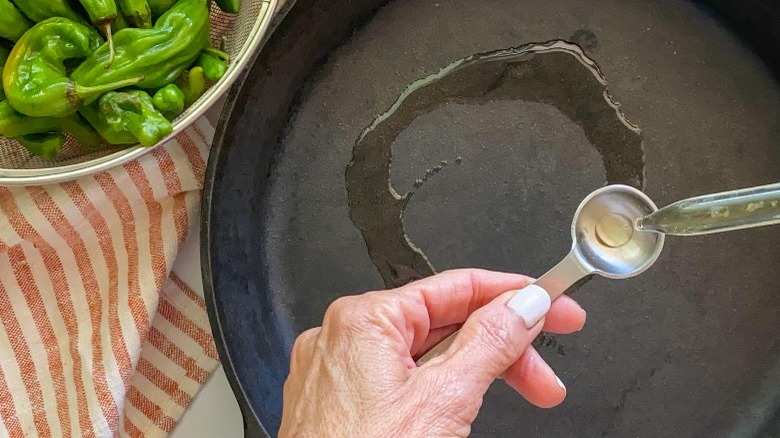 In a large cast iron skillet, add the oil. Once the oil is hot, add in the shishito peppers. Cover the pan and let the peppers get charred, which should take about 5 minutes. Hahn swears by the use of a cast iron skillet as opposed to other skillets here. She says, "It contains the heat so well and really helps the peppers blister and blacken."
Stir and cook again covered and undisturbed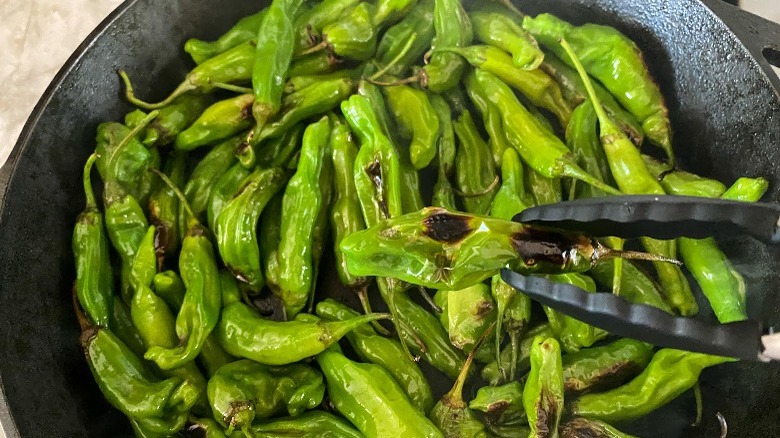 Once it has been about 5 minutes, remove the lid and stir the peppers. Then, cover the lid once more to allow to cook again for 5 minutes undisturbed. By allowing the peppers to cook without moving them around the pan constantly, you can ensure they will get nice and blackened.
Dress with lemon juice and salt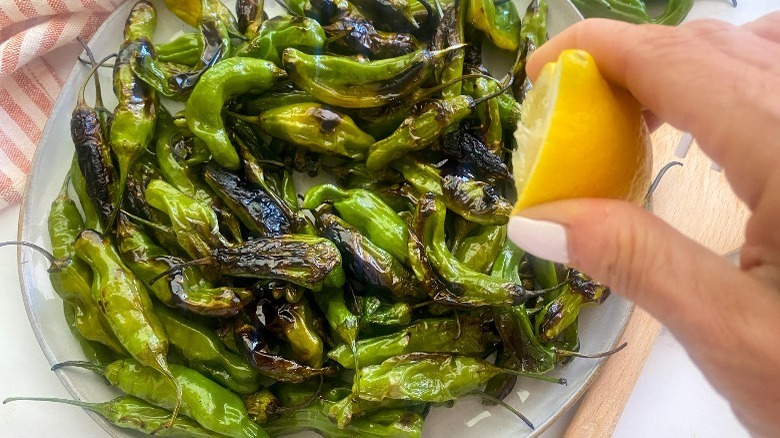 Then, remove them from the heat and add them to a large bowl. Dress the blistered peppers with lemon juice and flaky salt. These are best served hot, but leftovers keep well and are easy to reheat. Hahn says, "They keep well in a container in the fridge for a few days … You can throw them back in the cast iron skillet to heat up or use an air fryer."
These peppers are ideal for dipping. Hahn recommends, "You can use a basic ranch or blue cheese dip but my favorite way to serve these is with a dip made of mayonnaise or veganaise, lemon juice, garlic, salt, and smoked paprika. Simple but amazing!"
2 teaspoons avocado oil
5 cups shishito peppers
1 lemon
½ teaspoon flaky sea salt
Add the oil to a large cast iron skillet and bring heat to medium high.
When the pan is hot, add the shishito peppers.
Cover the pan and let sit undisturbed for 5 minutes.
Stir well and cover again and cook for 5 minutes leaving the peppers undisturbed.
Using tongs, start moving any peppers that are blackened over to a serving plate and continue stirring the remaining peppers so they can also blacken and blister.
When all the peppers are done, squeeze some lemon juice on top and sprinkle on some flaky sea salt. Ready to serve.