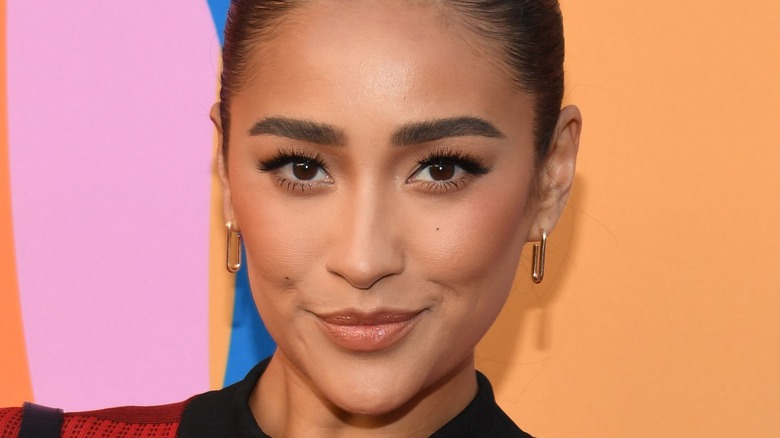 We all have a favorite celebrity whose style is so attractive we want to mimic it. For some of us, that celebrity is Shay Mitchell. She is a Canadian actress and model primarily known for her acting role in "Pretty Little Liars." Fans have also recently enjoyed her as Peach Salinger in the Netflix thriller "You" (via IMDb). She has a large following on Instagram of over 34 million and uses it to strut her immensely stylish wardrobe and fabulous lifestyle. Sometimes, if you're lucky, you'll catch a glimpse of her beautiful home.
Located in the West Side of Los Angeles, the residence was built in the 1920s, according to Architectural Digest. Her home was first designed by Mitchell herself, but after a few years, she requested the help of interior decorator Chad Wood. The star's lovely abode is now light and airy, with extraordinary contrasts that tie the whole design together. There is even a bit of Spanish influence seen throughout the layout. If this all sounds exciting to you, we will reveal exactly how to incorporate Mitchell's décor into your own home.
Unique light fixtures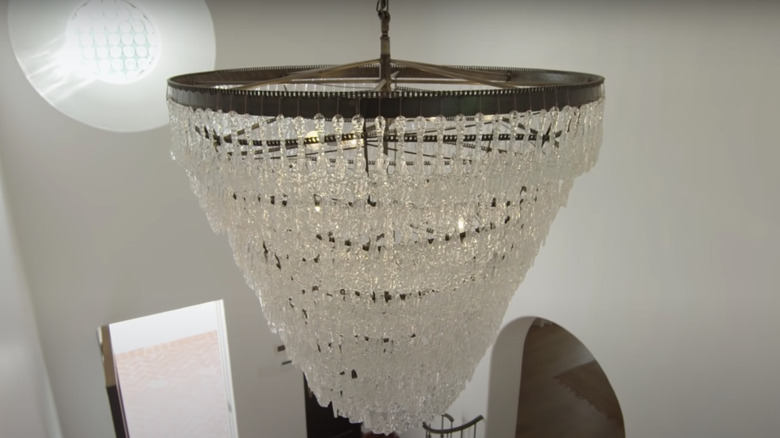 One consistent décor trend in Mitchell's large California home is her unique light fixtures, per YouTube. In the entryway hangs a 1,000-pound crystal chandelier Mitchell installed by adjusting the ceiling in order to hold the weight. This is an eye-catching piece, as the crystals beautifully layer over each other to create a cone-like shape. Obviously, you don't have to purchase a light fixture the size of a small horse, but this should give you some inspiration regarding the lighting in your entryway. If you have a simple, flush-mounted light, maybe introduce something with more pizazz.
There are many ways to go about this, such as complementing the shapes in the space, according to Lumens. If there is rectangular or square-shaped décor in your entryway, then installing a rectangular, geometric pendant can be a great way to create a harmonious yet interesting design. We're not saying you need to introduce a light fixture as big as Mitchell's, but large light fixtures do have an impact. As long as it fits and doesn't look too tight, we advise obtaining the biggest size you can comfortably get.
A beautiful transformation
Mitchell admitted to finishing a paint job on her tile fireplace only hours before her interview with Architectural Digest (via YouTube). Previously, the fireplace displayed a unique black-and-white pattern in the living area. However, Mitchell wanted to create a clean look. So Wood whitewashed the entire fireplace for only about $70. This may sound a little intimidating, but you can accomplish this clean, bright aesthetic too.
When painting tile white, you only need a few items, including white tile paint, painter's tape, and two paint brushes, according to Setting for Four Interiors. You'll first prime your tile by cleaning it with a mixture of warm water and dish soap. Wipe it down with a cotton cloth, then allow it to air dry. There is no need to sand down the tile if your paint is also a primer and sealer. You'll then tape around all the tile — including the hearth — and press it down to seal. It's then advised to use a flat paintbrush to apply the white paint — sometimes, it can take up to three coats. Once the paint is completely dry, you can remove the tape, and voila! You've created Michell's fireplace.
Vintage must-haves
As you follow Mitchell through her home, you'll notice her love for vintage décor (via YouTube). She also has a habit of purchasing décor while on vacation and finding a spot for it at home. While on a trip to Morocco, Mitchell purchased a delicate, golden hand, which paired perfectly with her other golden décor. One of her more unique items is a side table she has in-between two tufted lounge chairs. It looks exactly like a tree stump, and its simple, woodsy look brings so much charm and texture to the space. Her decorator, Wood, made her space feel even more unique by mixing new and vintage items together.
This is a simple task you can accomplish at home by figuring out what your favorite décor items are and what vintage items you believe will look best next to them. First things first, you should learn vintage terminology, according to Lauren Conrad. Figure out what time period your favorite vintage pieces are from, then find the correct terms for the items you're searching for, such as 19th-century apothecary cabinets. It's also advised to look local, as you might find the most beautiful pieces at a neighbor's garage sale.
Conjure up the elements
Wood brought crystal décor into Mitchell's casual sitting area, believing they increase energy, per YouTube. He believes they are also very chic and mainly used them as bookends or as part of her coffee table décor. He is also big on introducing elements into a space, such as fresh flowers, the flame of a candle, as well as stone and leather décor. In this room, there is also a forest green velvet sectional that pairs well with this elemental theme.
Bringing elements into a space can be as simple as placing a plant by the window. However, it's always a good idea to create a variety of textures. Just as Mitchell did, you can introduce stone décor and leather furniture to create a harmonious design with rhythm and flair. If you're looking for a way to create a calm space, Vintage MillWerks advises installing some sort of miniature waterfall in the entryway, as the sound will create a peaceful environment.
Dramatic impact
Mitchell's bar area is dramatic and beautiful, which is especially thanks to the floral wallpaper shown in her interview with YouTube. The wallpaper has a dark background color and a pattern of what looks like large, pink peonies. The color of the wallpaper is perfectly complemented by the gold bar counter and open shelves. Although it sounds like a lot is going on, the room feels bright and open thanks to the natural lighting and large, arched entryway.
If this is something you'd like to incorporate into your home, there are some rules you should follow. Avoid mixing too many patterns in one room, as it will create a crazy and overwhelming design, according to I Want Wallpaper. Instead, be sure to match these floral patterns with solid colors. Also, be sure to pick a modern floral pattern instead of an outdated style that may create a dull design.