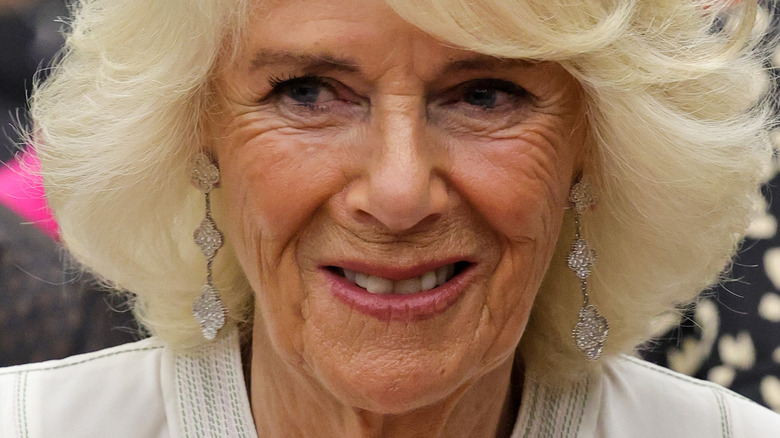 The royal family has had their fair share of scandals, controversies, and tense relationships in recent years. Camilla Parker Bowles, the wife of King Charles, found her way into the royal family following a highly publicized and scrutinized affair with the prince while he was married to Princess Diana in the 1980s and 1990s. The scandal, though over 30 years in the past, has affected many, including Diana's sons, Prince William and Prince Harry.
The disintegration of Charles and Diana's marriage wreaked havoc on Buckingham Palace and forced an already public family into a harsh, relentless spotlight. Between the divorce, Parker Bowles replacing Diana, and constant rumors perpetuated by the media, both William and Harry have had their own bumpy journey regarding their relationship with their stepmother.
While William and Parker Bowles remain a part of the royal family, Harry has since stepped away from his duties and Buckingham Palace as a whole, following his marriage to Meghan Markle, which added another layer of nuance to the already-strained relationship with the former Duchess of Cornwall. From an awkward first meeting with William to a tell-all memoir from Harry, here are all the details of the princes' relationship with Camilla Parker Bowles.
Camilla Parker Bowles' introduction to the royal family was rocky
A 20-something King Charles met Camilla Parker Bowles (then Camilla Shand) at a party back in 1972, according to People. The pair hit it off right away, but their playful relationship came to an end after Charles entered the Royal Navy that same year. Though the two were undoubtedly romantically interested in one another, the separation put strain on their connection, and by 1973, Shand was married to Andrew Parker Bowles, Harper's Bazaar reported.
When Charles returned from the Navy, his relationship with his old flame continued, even throughout his courtship and eventual marriage to Lady Diana Spencer, who became Princess Diana when she and the prince married in July 1981, per Insider. Even though he was married, Charles and Parker Bowles frequently saw one another and had a years-long affair, which Diana was often suspicious about. Following her separation from Charles in 1992, the princess famously said in a BBC interview in 1995: "Well, there were three of us in this marriage, so it was a bit crowded," (via Time).
The media frenzy caused by this love triangle was relentless. Even years after their divorce, the paparazzi followed every aspect of Diana's life, which unfortunately led to her tragic death in a car accident in 1997. Following her death, both Charles and Parker Bowles were destined to have their relationship formally accepted by the public, which began with an awkward first meeting involving a teenaged Prince William in 1998.
Her bumpy first meeting with Prince William
Just two months prior to Princess Diana's death, both Prince William and Prince Harry met their father's longtime mistress. As the boys were getting older and the divorce with Diana had already occurred, King Charles thought it would be appropriate to introduce his future spouse to her soon-to-be stepchildren. What could go wrong?
According to the Daily Mail, William did not have any desire to meet Camilla Parker Bowles. The then-15-year-old was always stuck in between his parents' volatile relationship, and when Charles revealed it was Parker Bowles whom he considered to be his long lost love, William was not receptive to it.
Despite this, the young prince met Parker Bowles on June 12, 1998 at St. James' Palace, per The Irish Times. The meeting allegedly did not go as smoothly as Charles would have wanted, and by the end of their 30-minute conversation, Parker Bowles reportedly exhaustingly said, "I really need a gin and tonic."
Prince Harry once spoke highly of his stepmother
Camilla Parker Bowles undoubtedly walked into a sticky situation when she started an affair with King Charles and became his public girlfriend, then wife. Her position in the life of Charles arguably led to his toxic relationship and subsequent split with Princess Diana in 1992, so it would be justified for Prince William and Prince Harry — the children caught in the fallout of the love triangle — to be cold and angry toward the woman who caused so much damage. However, Harry once took a different approach regarding his stepmother.
In a 2018 biography of the prince titled, "Harry: Conversations with the Prince," Harry revealed the nature of their relationship, and essentially rejected any previous notion that it may have been bumpy. According to Express, Harry explained, "She's not a wicked stepmother. Look at the position she's coming into. Don't feel sorry for me and William, feel sorry for her."
The Duke of Sussex additionally noted that he and William love Parker Bowles because she has made, and continues to make, their father happy. "To be honest, she's always been very close to me and William … William and I love her to bits," he shared (via The Mirror).
Her relationship with Meghan Markle
When Prince Harry and Meghan Markle said "I do" in 2018, Markle was allegedly close with Camilla Parker Bowles. While most of the royal family took a while to warm up to Markle (and some may argue certain members never did) Parker Bowles reportedly immediately took to the future queen consort. In a 2018 Vanity Fair interview, an inside source said (via Express), "They clearly really like each other. There is real warmth and support. Camilla has been very helpful to Meghan." The pair also spent time together when Markle was acclimating to royal life, with Parker Bowles often taking her to lunch and giving her advice.
The relationship between the two did not remain as it was for long. In 2020, Harry and Markle relinquished their royal duties and essentially stepped away from life in the spotlight. Making the decision to go public and air out their dirty laundry was definitely a controversial one, and prior to their departure, Parker Bowles tried to coach Markle through the harshness of being a royal. An insider told the Daily Mail, "She was very sensitive to Meghan and provided her with support, advising her to ride out the storm and that it would all pass — but ultimately Meghan didn't listen."
In March 2021, the couple's tell-all interview with Oprah Winfrey about the difficulties they experienced both in and out of the public eye with the royal family only stirred the royal pot even more, per CBS News.
Her ascent to the title of queen is a sore subject
The late Princess Diana is a figure and a person impossible to replace or replicate. Had she remained married to King Charles, she would have assumed the title of queen consort, cementing her legacy as not a princess, but a queen.
As Camilla Parker Bowles is now Charles' wife, she is technically in line to assume that role, which Queen Elizabeth herself confirmed in February 2022. "It is my sincere wish that, when that time comes, Camilla will be known as Queen Consort as she continues her own loyal service," the queen said in an official royal statement.
While Charles and Parker Bowles were undoubtedly thrilled with the decision, Prince William and Prince Harry were reportedly not as excited to learn of their stepmother's eventual new title. According to Express, neither brother formally congratulated Parker Bowles upon hearing the news and ultimately showed their disagreement with the decision. "The fact that neither William nor Harry seem to have sent effusive congratulations to that position does tend to make you feel that it is one of the few things that the two brothers agree on — that being that neither of them are overly enamored by Queen Camilla," royal biographer Andrew Morton explained to The Daily Mirror's "Pod save the Queen" podcast (via Express).
Camilla Parker Bowles will not be off limits in Prince Harry's memoir
Since leaving Buckingham Palace, Prince Harry has not been silent on his experiences or his opinions of the royal family. Over the years, the prince has been working on an autobiographical memoir, and many are fearful as to what he will reveal.
The book, set to release in October 2022, will be a comprehensive look at his life, including the ups and downs that have led him to where he is today. Many are anticipating that those life experiences will include his strained relationship with Camilla Parker Bowles. Tina Brown, a royal biographer, explained in her book, "Palace Papers," (via the Daily Mail), that Harry "will go after Charles and Camilla and maybe William" in his autobiography.
Additionally, Closer elaborated on Parker Bowles potentially being a subject of the Duke of Sussex's book, saying, "After the reports [the Duchess of Cornwall] was involved in his parents' marriage and then stepped into Diana's shoes as Charles' wife, I suspect Camilla will be in his sights."
The royal brothers have differing opinions about their stepmother
All siblings are at least a little different, and Prince William and Prince Harry are no exception. Among their many differences, the two share contrasting opinions about their stepmother, Camilla Parker Bowles.
According to the Daily Mail, William has kept his distance from Parker Bowles over the years, but nonetheless has been publicly supportive of her, especially after hearing the news of his stepmother becoming queen consort after his father's ascension to the throne. A palace source told the outlet in February 2022, not long after the queen's announcement: "He is not particularly close to his stepmother but they get on perfectly well and are quite the blended family now. He also respects his grandmother and her judgment more than anything in the world."
On the other hand, Harry is a bit more closed off to the notion of "Queen Camilla." Tina Brown, royal biographer and author of "Palace Papers," told The Telegraph, "Harry … can't stand Camilla, he doesn't want Camilla to be queen, he's very angry that it's happening. He has not made his peace with it and he probably never will." Only time will tell if the relationship between Parker Bowles and William and Harry will strengthen or worsen.
The death of Queen Elizabeth officially changed Camilla's title
After reigning for over 70 years, Queen Elizabeth II died at the age of 96 on September 8, 2022, per BBC News. For the greater portion of 2022, the Queen remained out of the spotlight and made limited public appearances, which made people curious as to how her son would eventually follow in her footsteps. The death of Queen Elizabeth made Charles, who was next in the line of succession, the United Kingdom's new monarch, and his wife, Camilla Parker Bowles, Queen Consort.
Following the Queen's death, King Charles issued a statement touching on the tragic loss of his mother, which read in part (via The Royal Family), "During this period of mourning and change, my family and I will be comforted and sustained by our knowledge of the respect and deep affection in which The Queen was so widely held."
Earlier that day, The Mirror reported that Prince William, Prince Andrew, Prince Edward, and Prince Harry were all en route to Balmoral Castle to visit the Queen during her final hours. On September 9, King Charles announced that Prince William and his wife, Kate Middleton, would become the new Prince and Princess of Wales, taking over his former title, per People.
As for Prince Harry, King Charles briefly mentioned his son and daughter-in-law, Meghan Markle, in an address, saying (via Fox News), "I want to also express my love for Harry and Meghan, as they continue to build their lives overseas."