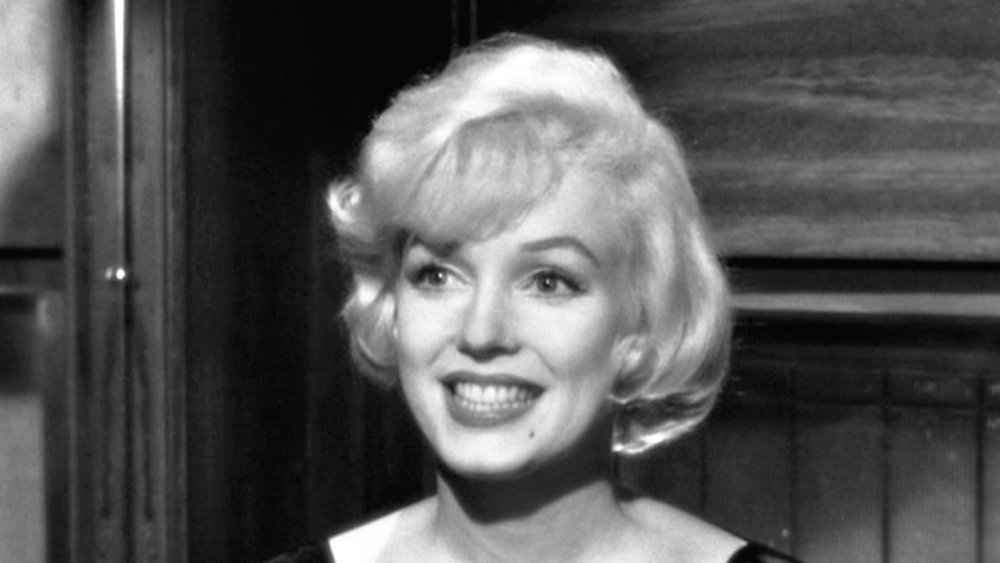 Nearly 60 years after her death, Marilyn Monroe still has one of the most recognizable faces in Hollywood, if not the world. The actress and model has been immortalized in artworks, song lyrics, iconic images, and more t-shirts than even the most dedicated collector could count. But the same sexy image that made her popular saw her being dismissed by the serious actors she wanted to impress. She struggled to find lasting love and experienced many other tragedies. She often self-medicated, and she struggled to find supportive people to guide her away from her demons.
Monroe was not just her tragedies. They were a part of her life, occasionally burning through her carefully manicured Hollywood persona. By understanding the tragic real-life story of Marilyn Monroe, we might understand her better as a person instead of a face.
Marilyn Monroe never knew her father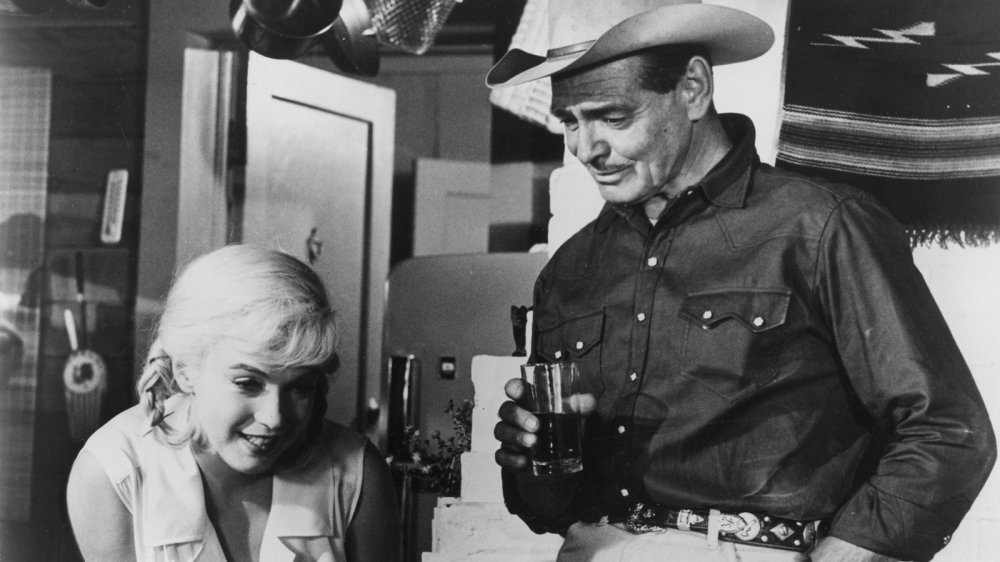 The woman the world recognizes as Marilyn Monroe was born Norma Jeane Mortenson, on June 1, 1926, and baptized Norma Jeane Baker. Baker and Mortenson were the surnames of her mother Gladys Baker's two ex-husbands. (Monroe created part of her stage name using Baker's surname at birth, Monroe.)
Monroe never knew who her father was. In her unfinished memoir My Story, she wrote that her mother had a picture of a man who looked like actor Clark Gable but wouldn't tell her daughter his name. Whenever Monroe thought of her father, she pictured Gable, whom she later starred opposite in her last movie, The Misfits.
In 1981, the New York Times reported that a recently deceased man called Martin Edward Mortenson had been in possession of a copy of Norma Jeane Mortenson's birth certificate, naming him as her father, along with marriage and divorce papers between himself and Baker. (This was especially interesting given that in 1962, the newspaper had reported that he'd died in 1929.)
However, Baker often claimed — and Monroe apparently believed — that her daughter's biological father was her former colleague at Consolidated Film Industries, Charles Stanley Gifford. When she grew up, Monroe tried to contact Gifford several times, but he refused to speak to her.
Marilyn Monroe's mother survived severe mental illness
According to the Hollywood Reporter, Monroe's mother Gladys Baker worked as a film cutter when she had her daughter. By the time Monroe was born, Baker already had two children, who had been taken away by her ex-husband Jack Baker. Within two weeks of Monroe's birth, Baker put her in the care of foster parents, Ida and Wayne Bolender.
Baker often visited her daughter, but like her own mother, she experienced extreme mental health problems. When Monroe was seven, Ida decided Baker was fit enough to look after her. For a while, Baker was able to maintain a home for them. But in the fall of 1933, she took a turn when she learned that her 13-year-old son had died. The following year, she was taken to the state mental hospital in Norwalk and diagnosed with paranoid schizophrenia. (Today she may have been called manic depressive.)
Baker went in and out of various institutions for the rest of her life. She remarried to a man named John Stewart Eley, who died shortly after. After a period of estrangement, Monroe and Baker reestablished a strained relationship. The LA Times reported that in her will, Monroe assigned $5,000 a year for her mother's care. Baker outlived her daughter by nearly 22 years, dying of heart failure on March 11, 1984.
Marilyn Monroe grew up in a series of foster homes
Without a father and her mother's mental health issues rendering her incapable of caring for her, Marilyn Monroe spent her childhood in various foster homes.
After Gladys Baker was taken to an institution for the first time, Monroe lived with her mother's former lodgers and then with neighbors, who offered to legally adopt her: Baker refused. She next went to live with Baker's best friend Grace McKee; but in 1935, McKee could no longer afford to care for her and took her to the Los Angeles Orphans Home Society. Monroe was miserable and lonely there.
Two years later, McKee — now married — took Monroe back to live with her and new husband Doc Goddard. Soon after, McKee put Monroe in foster care.
At the time, being a foster parent was seen more as a money-making scheme than an act of compassion. The New York Times reported that Monroe lived with 12 different families, many of whom were neglectful or abusive. Monroe later said she was sexually assaulted by a lodger in one of the homes and developed a stutter as a result of the trauma. Finally, McKee and her new husband took her back — but again, it wouldn't last.
Marilyn Monroe was married to a neighbor at 16
When the Goddards again could no longer afford to look after Marilyn Monroe, she went to live with Grace's aunt, Ana Lower, who provided her with the most loving and stable home she'd ever had. When Monroe was 15, Doc Goddard got a job in West Virginia, and the Goddards couldn't afford to take Monroe with them. With Lower getting older, they decided she could no longer take care of the now-teenager.
Instead, the Goddards arranged for Monroe to marry their neighbor, 21-year-old James Dougherty, when she turned 16. Dougherty later told the LA Times, "I thought she was awful young, but I took her to a dance … We talked and we got on pretty good." They married on June 19, 1942.
In late 1943, Dougherty joined the Merchant Marine and was deployed overseas in 1944. Monroe, who had dropped out of high school, got a job making $20 a week in a defense plant, according to the New York Times. It was there that a photographer discovered her, igniting Hollywood ambitions that didn't include being married at 18. She and Dougherty divorced in September 1946.
Dougherty and Monroe later characterized their relationship differently. Dougherty claimed they were in love, but Monroe wrote, "My relationship with him was basically insecure from the first night I spent alone with him." Dougherty remarried twice and died in 2005.
Hugh Hefner published photos of Marilyn Monroe without her permission
Marilyn Monroe's first show business job was modeling, which served as a stepping stone into the movies. She signed her first movie contract with Fox in 1946, was dropped in 1947, and signed with Columbia in 1948 but was dropped again later that year.
With her acting career unstable, Monroe struggled to pay her bills. In 1949 and still unknown, she agreed to pose naked for photographer Tom Kelley in exchange for $50, which she needed for a car payment. After Monroe's movie career took off the following year, the photos and the merchandise they were printed on became famous.
In 1953, aspiring publisher Hugh Hefner bought the rights to one of the photos and made it the first centerfold in his new magazine, Playboy. According to the Washington Post, Monroe later said, "I never even received a thank-you from all those who made millions off a nude Marilyn photograph." She admitted that despite Fox executives' nerves, her decision to be honest about taking the photos because she needed money ultimately boosted her career.
Hefner's obsession with Monroe continued after her death — and his. Although he never met her, in 1992 he purchased the crypt next to hers for $75,000.
Marilyn Monroe's marriage to Joe DiMaggio lasted less than a year amid abuse claims
In 1952, retired baseball superstar Joe DiMaggio asked a friend to set him up with Marilyn Monroe. Being the most famous athlete in the country, DiMaggio got his dinner. Monroe had low expectations, but she was pleasantly surprised to find that DiMaggio was reserved and respectful.
After a long-distance romance, on January 14, 1954, Monroe and DiMaggio married at San Francisco City Hall. Monroe later said they were drawn together by a need for stability: but in her mind, that didn't mean she was going to stop working just as she'd become a star. DiMaggio, however, wanted a housewife and disliked his wife's sex symbol status. These contrasting desires and DiMaggio's possessiveness created tension. Elia Kazan, with whom Monroe had an affair, wrote that she told him DiMaggio, "struck her often, and beat her up several times."
In September 1954, after DiMaggio watched Monroe shoot the famous subway grate scene for The Seven Year Itch, the couple had a fight that turned violent, according to The Guardian. Monroe filed for divorce, citing "mental cruelty." DiMaggio begged for forgiveness but she refused.
The couple reconnected as friends Christmas of 1961. DiMaggio tried to help with her addictions and mental health issues and blamed himself for her death. After arranging Monroe's funeral, he had roses delivered to her crypt three times a week for the next 20 years.
Marilyn Monroe was stereotyped as a dumb blonde
The widely accepted version of Marilyn Monroe's rags-to-riches story is that she took a few pretty photos and immediately became a movie star. But Monroe worked hard to go from parachute factory to Hollywood icon.
As a model, Monroe studied her photos and asked photographers for feedback. For five years, she took every job she was offered without complaint, starting as an extra and climbing to bit parts. At Fox, she deliberately befriended studio reporters, who were happy to give her a publicity boost. She also made an effort to improve her limited formal education, reading challenging classic literature in her car and on set.
Monroe resented being typecast as the dumb blonde or seductress and wanted to prove that she could bring more to a movie than sex appeal. She took many acting classes, first at the Actors Lab in LA and later, as Vanity Fair reports, with famous acting coach Lee Strasberg at the Actors Studio in New York, where classmates praised her performances.
In 1954, Monroe protested against the demeaning roles Fox kept sending her and its refusal to increase her salary even though she was the studio's biggest star. After walking out on her contract, Monroe became the second woman ever to found her own production studio, named after herself. The rebellion worked: Fox raised her salary and gave her creative control.
Marilyn Monroe experienced intense stage fright
Despite her hard work and determination to make it in Hollywood, Marilyn Monroe suffered from terrible stage fright. Don Murray, who starred opposite her in 1956's Bus Stop, told Closer Weekly that Monroe got so nervous before every scene that she'd break out in a rash. She struggled to learn lines and forgot technical requirements like hitting her mark, walking out of the light, or out of focus. These problems meant that editors often had to patchwork together many takes to form a usable scene. She was frequently also late to set. "I think it was a lack of confidence. For somebody who the camera loved, she was still terrified," Murray told the LA Times.
Other collaborators had the same problem. Jack Lemmon, who co-starred alongside Monroe in 1959's Some Like It Hot, recalled that it took her over 28 takes to finish one simple scene. But he also told an interviewer in 1998 that he never held this against her, and he knew that she could do scenes in one take because he'd seen her do it. "It was not that she was not capable … she would cut because she didn't feel right … an alarm clock went off in her brain and just said, 'No,' and she would stop," he said.
Marilyn Monroe's marriage to Arthur Miller proved disappointing for both
Marilyn Monroe told reporters that she met her third husband, Pulitzer Prize-winning playwright Arthur Miller, on a movie set in 1951. Although both felt an attraction, they didn't act on it until 1955. Monroe had divorced DiMaggio, but Miller was still married. In 1956, during his divorce, Miller was subpoenaed as part of the crazy true story of the Hollywood Blacklist. Monroe was advised to leave him for the sake of her career, but she refused. On June 29, 1956 — eight days after his testimony — they married.
There were happy times, but Monroe ultimately needed more emotional support than Miller could give, and the glamour faded for him. At one point, Monroe found a diary entry Miller had written saying he was "disappointed" and "embarrassed" by her.
Miller made his feelings on their relationship public in the screenplay of 1961's The Misfits, which he wrote to give Monroe the chance to show her dramatic skills, while also clearly basing her sweet but neurotic character, Roslyn, on her personality. The shoot was a disaster, and they divorced shortly after.
Miller didn't attend Monroe's funeral. In an unpublished essay started that day and reported in the Independent in 2018, he wrote that he didn't want to be around the "false" people he knew would be there. He told 60 Minutes in 1987, "She was a super-sensitive instrument, and that's exciting to be around until it starts to self-destruct."
Marilyn Monroe was never able to have the child she'd wanted
Despite her own dysfunctional upbringing, Marilyn Monroe longed to have a child once she married Miller in 1956. Unfortunately, she was never able to carry a pregnancy to term. During their marriage, she had two miscarriages and an ectopic pregnancy between September 1956 and December 1958.
Monroe worried that her alcohol and drug abuse could have caused the problems she experienced with pregnancy. However, according to CNBC, she also had endometriosis, an extremely painful condition in which the lining of the uterus spreads into other parts of the reproductive system. The BBC reports that some studies have found that endometriosis increases the risk of miscarriage.
That's not to say Monroe had always been willing to put having a family before work. It's rumored that Monroe chose to have several abortions throughout her life. This would have been illegal — and therefore unregulated and potentially unsafe — but it wasn't unusual. Hollywood studios had strict clauses about pregnancy and children (for their female stars.) As Vanity Fair reports, famous actresses including Jean Harlow, Bette Davis, Joan Crawford, and Ava Gardner chose to have abortions rather than lose their careers and income.
Marilyn Monroe had several high profile affairs
It would be physically impossible for Marilyn Monroe to have slept with everyone who's claimed an affair with her. However, she did have several famous and doomed affairs.
Arthur Miller was married when he and Monroe started seeing each other in 1955. While married to Miller, Monroe had a highly publicized affair with her co-star of the presciently titled Let's Make Love, Yves Montand. Miller knew and apparently didn't care, and Montand's wife, actress Simone Signoret — with whom Monroe had become friends — didn't seem surprised. Monroe reportedly also had an affair with Some Like It Hot co-star Tony Curtis — according to Curtis. However, Vanity Fair reports that she probably didn't spend a week with The Prince and the Showgirl crew member Colin Clark, as the film and his book My Week with Marilyn claims.
Monroe's most famous affair may be one of the false facts about JFK you always thought were true. It's believed that she and President John F. Kennedy did have an intimate encounter — but only once, in March 1962, according to TIME. Monroe may also have had an affair with Kennedy's brother and Attorney General, Robert "Bobby" Kennedy. At some point, the brothers' younger sister, Jean Kennedy Smith, wrote to Monroe: "Understand that you and Bobby are the new item!" Bobby had married Jean's former college roommate, Ethel Skakel, in 1950, who apparently knew about his many affairs.
Marilyn Monroe struggled with addiction and mental health issues
It's thought Marilyn Monroe was initially prescribed strong painkillers for her endometriosis and barbiturates and other sedatives for her insomnia. According to PBS, when she died, her bedside table was covered in bottles of medicines. She also drank heavily, especially champagne.
Some of the medication was for depression. Many have also tried to diagnose Monroe with a personality disorder, but if she was ever diagnosed with one to her face, she never made it public. It seems fair to say that Monroe's mental health had consistently been up and down, and she'd attempted suicide at least once in her life.
About a month after filing for divorce from Miller on January 21, 1961, Monroe signed herself into the Payne Whitney psychiatric ward in New York, suffering from insomnia and needing to rest. But according to Vanity Fair, she was locked in a padded room and prevented from leaving. Joe DiMaggio, with whom she'd recently reunited, eventually managed to force his way into the hospital and get her out.
We still don't know the circumstances behind Marilyn Monroe's death
Marilyn Monroe was found dead by her housekeeper Eunice Murray early in the morning of August 5, 1962. The coroner's report concluded that she had died of an overdose of barbiturates in a probable suicide.
However, many have refused to accept this as the truth about Monroe's death. As the Independent reports, there have been rumors that Monroe was murdered by the Kennedys, the Mafia, the Cuban government, the FBI, Murray and psychiatrist Dr. Ralph Greenson. Witness testimonies contradict each other. Some say Monroe was in good spirits leading up to her death: she'd been working hard to revamp her image after being fired from a movie and rehired to it. But other people, including Greenson (who some saw as controlling), said that she was agitated that day. At one point, Murray — whom Monroe had fired days earlier — claimed that Bobby Kennedy had visited Monroe the day she died, which the FBI investigated and dismissed.
Monroe was barely 36 when she died. The true tragedy of her life is that she was a complicated, fragile, determined person who found fame but never true love and stability.
If you or anyone you know is having suicidal thoughts, please call the National Suicide Prevention Lifeline​ at​ 1-800-273-TALK (8255)​.