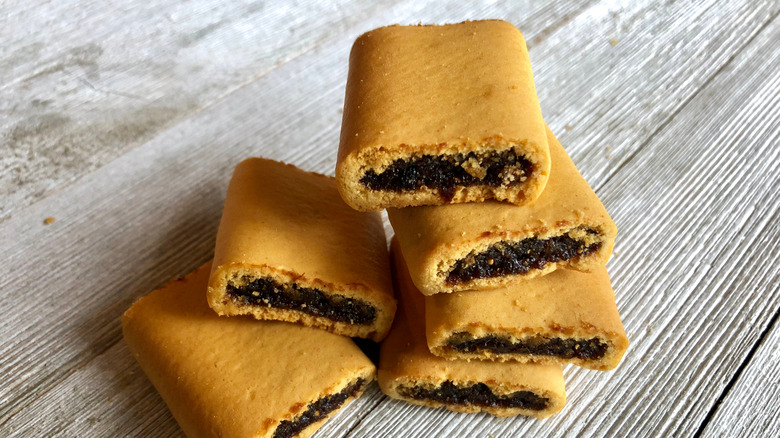 Fig Newtons have been gracing lunch boxes and afternoon snack plates for quite some time. Although they're a sweet treat, Newtons have always seemed a littler healthier or more grown-up than other cookie brands, showcasing fruity fillings front and center to stand out against chocolate cookies and creamy frosting. Back in the day, Fig Newtons came in a box. Now, they're lined up behind a peelable window, much like double-stuffed Oreos.
The Fig Newton is a somewhat mysterious cookie. What is a Newton anyway? The seed-studded fig paste peaking out from the light brown, soft cookie appears both uniform and rugged. They aren't round, nor are they perfectly square. The tops and edges are slightly curved and impeccably smooth. These cookies are over a century old, so a bit of mystery is expected. Some of the unknown will soon be revealed, however, as we uncover what these cookies are, where they come from, and why Fig Newtons remain deeply ingrained in America's collective consciousness. This is the untold truth of Fig Newtons.
Fig Newtons aren't named after Issac Newton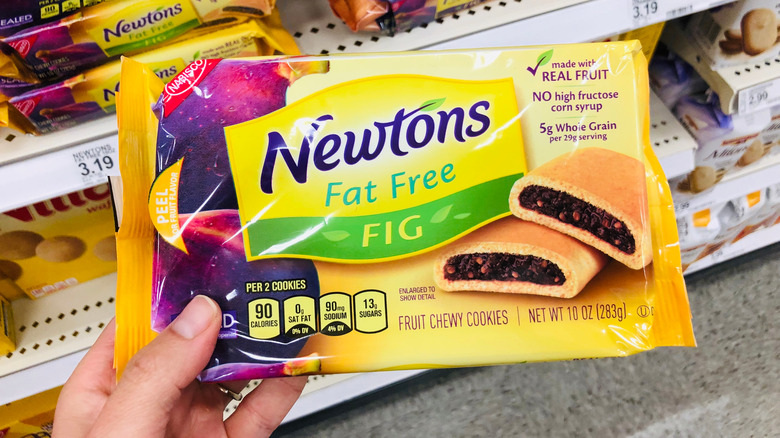 Fig Newtons are half known for their figgy filling and half recognized for the perplexing Newton name. Although this myth is commonly believed, Fig Newtons were not named after Sir Issac Newton. That wouldn't make much sense anyway; after all the famous physicist is associated with apples, not figs. Instead, per The Washington Post, the Fig Newton was named after the city of Newton, Massachusetts, a suburban town less than 25 minutes by car from downtown Boston.
Fig Newtons were invented in the Boston area over a century ago. The company that developed them in the 1890s was known as the Kennedy Biscuit Works. James Hazen, the company's plant manager, had a tradition of naming new baked products after Boston's suburban towns (via Straight Dope). Nabisco senior marketing communications manager John Barrows explained, "The Kennedy Biscuit Company named all their products after surrounding communities, including cookies and crackers called 'Shrewsbury,' 'Harvard,' 'Beacon Hill,' and so on." By that logic, Fig Newtons could just as easily have been called Fig Wellesleys or Fig Brooklines, though those names don't have the same ring to them. As we'll soon uncover, the Fig Newton legend lives on in the city of Newton, which is quite proud of being the cookie's namesake.
A cookie extrusion press made Fig Newtons possible
Producing Fig Newtons was never as simple as merging sweet dough with a jammy fig filling. A few contributing factors allowed the Fig Newton to spring into action — the first being a cookie extrusion press. Henry Mitchell — a Kennedy Biscuit Company employee and innovative cookie talent — invented the cookie extrusion press in 1891 (via The Washington Post). The machinery allowed two separate mixtures to be extruded around each other at the same time. In this case, the inner layer was fig paste and the outer layer was cookie dough.
The extrusion press was essential, but the Fig Newton wouldn't exist without a recipe. Some claim Philadelphia businessman Charles M. Roser was the one to invent and sell his fig roll recipe to the company (via Adweek). Others credit the recipe to Henry Mitchell, including William Cahn, the author of "Out of the Cracker Barrel: From Animal Crackers to ZuZus," who claimed there isn't proof to support the Roser theory (via Whats Cooking America). Either way, the fruit biscuit was patented by Henry Mitchell in 1892, per "Brave Tart: Iconic American Desserts." Seven years later, the Kennedy Biscuit Company was bought out by the New York Biscuit Company, and in 1890, the New York Biscuit Company merged with the American Biscuit Company to create the National Biscuit Company (via Funding Universe). The National Biscuit Company became Nabisco in 1941, and the cookie extrusion press and the original recipe tagged along through every merger.
The Fig Newton concept was introduced by British immigrants
The United States and the city of Newton are proud of the Fig Newton cookie. But while the U.S. can claim innovative cookie extrusion press technology, the Fig Newton's origins can be traced back to Britain (via The Spectator). If you follow the path of this fig dessert even farther back in time, you'll find the fig rolls that graced lavish Arab medieval tables, where they were touted as delicious health foods (via The Guardian).
In the U.K., fig rolls are sold in packages much like Fig Newtons (via Tesco). The curved pastry edges on packaged fig rolls are strikingly similar to the American version, but homemade fig rolls might give us even more insight into how this pastry got its start. Fig rolls were a popular home-cooked recipe in 19th-century Britain. Victorian Brits hoped that the fibrous fruity cookies would help with digestion issues (via The Spectator). Only after homemade fig rolls crossed the Atlantic was it possible for Mitchell (or Roser) to spread the word. However, America's Fig Newton claim to fame still holds firm. All other versions must accept a generic fig bar label, as Fig Newton is a Nabisco trademark, according to "From Altoids to Zima: The Surprising Stories Behind 125 Famous Brand Names."
Paul Hollywood hosted a homemade fig roll technical challenge
Before we venture back to the U.S., the Fig Newton's British cousin had a moment in the limelight when Paul Hollywood put the humble fig roll on television screens worldwide on "The Great British Bake Off." Evidently, British fig rolls are serious business, according to The Sun, which published a long spread detailing the biscuit week technical challenge. The bakers took to creaming butter and sugar for the soft biscuit dough and simmering figs in a sugar syrup before blending them into a paste. Then, without any extrusion press in sight, the contestants had to roll the dough into a long log, pipe the fig paste filling down the middle, and roll it up to seal in the paste.
When asked why he chose fig rolls for the biscuit week technical challenge, Hollywood said that they were one of his dad's favorite biscuits. So it seems that fig rolls and Fig Newtons have yet another commonality — they're both sources of nostalgic cookie memories.
Fig Newtons dropped the Fig in 2012
Kids of the '90s know Fig Newtons' yellow box and cookie-filled sleeves all too well. Years went by, '90s kids turned into 21st-century adults, and somewhere along the way, the Fig Newton got a significant face-lift. Those of us with childhood Fig Newton memories will never know any other name, but in 2012, Nabisco dropped the Fig from the name, leaving a simplified Newton cookie on grocery store shelves.
Why the drastic change of name? Well, per The New York Times, Nabisco had long produced other fruit Newtons, including strawberry, raspberry, blueberry, and cinnamon apple. Furthermore, 21st-century consumers didn't think figs were cool or hip, associating the fruit more with its fiber content than with any idea of deliciousness. Before the relaunch, sales were declining. So, Nabisco dropped the fig and adopted the generic Newtons name. When the new name launched in 2012, sales picked up, mainly due to Newton Fruit Thins — validation that the name change was necessary for Newtons to prosper in the new millennium.
The Fig Newton was considered a cake before it became a chewy cookie
Are Fig Newtons cookies or cakes? At face value, they seem to tick all the cookie boxes. They're small, handheld, and packed in parallel cookie sleeves. However, Fig Newtons started their journey in the cookie aisle as a cake. Granted, the rectangular cookie with a soft cake-like dough and fruit-filling interior can spark spirited debate. 1980s advertisements pushed the slogan, "A cookie is just a cookie, but Fig Newtons are fruit and cake" (via YouTube).
Per The New York Times, Fig Newtons were known as cakes from the moment they were born up until the 1980s. A vintage 1929 box reads "Fig Newtons: fig cake in its finest form." A few decades later, Fig Newton marketing changed, and Nabisco referred to the product as a chewy cookie.
In the U.K., the Fig Newton's ancestral stomping ground, the figgy snack debate also runs rampant. After "The Great British Bake Off" aired a fig roll technical challenge during biscuit week, fans took to Twitter to debate (via Radio Times). One fan claimed, "It's in the biscuit aisle in Asda … I rest my case." Another struck back, citing Wikipedia's classification of the treat as a cake. Editor for Olive Magazine Laura Rowe quieted the mayhem, declaring, "The fig roll is definitely a biscuit … It has a firm bite to it, more like pastry, if we're being pedantic." In the end, Nabisco and Paul Hollywood got it right.
Fig Newtons were once the third most popular cookie on the market
Fig Newtons are polarizing cookies. Fig Newton faithful can't get enough; others dismiss them for their fig filling (via The New York Times). Comedy podcast "Taste Buds," featuring "Impractical Jokers" star Sal Vulcano, showcased the Fig Newton in a hotly debated battle with fudge stripe cookies (via YouTube). But despite mixed feelings, in 1991 — 100 years after the first Fig Newton was released into the wild — they were the third most popular cookie produced by Nabisco (via AP News).
According to Funding Universe, Fig Newtons started its reign as the third best-selling cookie in America in 1992. Nabisco was still milking the energy from the 100th anniversary the previous year and released a fat-free version and a new marketing campaign. Fig Newtons fit well into the era's low-fat dieting trends and health-focused culture. By 1992, Fig Newtons fell behind just two of America's favorite cookies — Oreos and Chips Ahoy! It's not clear where Fig Newtons stand in the cookie rankings in 2022. However, per Statista, Mondelez International — Fig Newton's current owner — was number one in the cookie market with $3.9 billion in U.S. sales.
The mayor of Newton keeps Fig Newtons on hand
As we have mentioned, the Fig Newton moniker comes from the Boston suburb of the same name. The town of Newton, apparently, wears the Fig Newton badge of honor with pride and has for decades. According to AP News, Mayor Theodore Mann passed out Fig Newtons during his mayoral tenure from 1972 to 1994 (via The Washington Post). For Mann, the cookies were a source of local pride that gave the city an identity. As he put it, "You don't hear about Fig Philadelphias or Fig New Yorks. No, you hear about Fig Newtons." He shared his Fig Newton enthusiasm with all visitors to his office, giving the cookies away as gifts. The town's director of cultural affairs, Linda Plaut, said "It seems he has an endless supply."
It seems that the 1990s tradition of the Newton mayor passing out Fig Newtons to visitors has continued. As recently as 2020, per Historic Newton's Facebook page, current mayor Ruthanne Fuller keeps a Fig Newton stash in her office for visitors to share in the town's cookie joy.
Newton, Massachusetts celebrated the 100-year anniversary with a 100-inch Fig Newton
Newton city pride knew no bounds in 1991 when Fig Newtons turned 100 years old. A massive anniversary celebration with a price tag close to six figures was held in Newton, Massachusetts that year (via The Washington Post). The city-wide party included Fig Newtons paraphernalia, a performance by Grammy winner Juice Newton, and a fig-themed art contest. In addition, participants were fed a barbecue lunch, and California Fig Advisory Board representatives announced that 25 fig trees would be planted in the city.
The festivities didn't stop there. A live "Big Fig" character from the 1970s advertisements and a 100-inch Fig Newton cookie made a grand entrance during the celebration. At the same time, attendees feasted on unlimited cookies at City Hall. However, many of Newton's residents may not have joined in the figgy festivities. Per The Washington Post, by 1991, Newton was a wealthy bedroom community filled with high-powered professionals who may not have had the time to celebrate a humble cookie.
Figs made their first commercial appearance in Fig Newtons
Figs have been a popular food around the world for centuries, but there were no figs in American commercial products until 1892, when the jammy fruit dew drop made its first commercial appearance thanks to the Fig Newton cookie (via Valley Fig Growers).
Figs are far more complex than they let on. In fact, one-half cup of figs has the same amount of calcium that half a cup of milk has. Yet, few people are out there advocating for fig consumption. In the case of Fig Newtons, Nabisco sources fig paste from Valley Fig Growers, according to The Washington Post. Nabisco's blend is customized, but most fig bar paste from Valley Fig Growers consists of black mission, calimyrna, and Adriatic figs.
Carla Gambescia, the author of "La Dolce Vita University: An Unconventional Guide to Italian Culture from A to Z," alludes to America's historical lack of interest in fresh figs. The fresh fig has lived in Fig Newton's shadow for over a century, but as she points out, figs are gastronomical gems that can be used in a diverse array of sweet and savory applications.
The Toll House chocolate chip cookie beat out Fig Newtons for state cookie
The state of Massachusetts is a proud baking state. Boston cream pie, Parker House rolls, Fig Newtons, and Toll House chocolate chip cookies are all products of the state. So when the governor of Massachusetts found himself in the middle of a 1997 cookie conundrum, all eyes were on governor William F. Weld: Would he sign or veto a bill to make Toll House cookies the official state cookie (via AP News)? Yes, you heard that right. A third-grade class from Somerset, Massachusetts, proposed the bill, and Fig Newtons' place in history was on the line (via Secretary of the Commonwealth of Massachusetts).
Early on, Weld spoke to the media and said, "You got to stick with Fig Newtons. Everybody I knew grew up with Fig Newtons … they're delicious." But a few months later, the town of Whitman — the city where the Toll House Restaurant created the now-legendary Toll House cookie — was pitted against the town of Newton. Toll House cookies won out on July 9th, 1997. It's hard for any sweet treat to win a head-to-head battle against the beloved chocolate chip cookie. Still, Fig Newtons will live on in the hearts of the Massachusetts faithful for years to come.
1970s Fig Newton commercials featured a singing Big Fig character
In the 1970s, Nabisco debuted a Fig Newton character that would change the face of the cookie forever. Per The New York Times, these advertisement clips were all the rage in the disco decade, and James Harder was the star.
A Massachusetts native, Harder appeared in other television shows and movies, but the Big Fig role left behind a television legacy for the ages (via IMDb). A 1975 Fig Newton advertisement titled "The Fig Newton Dance" captures the character's happy-go-lucky attitude to a "T." Harder is dressed like a fig, complete with curly elf shoes and a hat that mimics the narrow stem of a fresh fig (via YouTube). He bites into a cookie, eyes wide, and goes on to sing and dance under light beams.
It might seem strange, or even a little gruesome, for an ad to feature a fig engaging in cannibalism, but the ads still have fans to this day. The comments section under the video features people saying things like "My childhood!" and "This is weird as heck and I love it." Evidently, the advertising strategy proved effective and still touches hearts today.