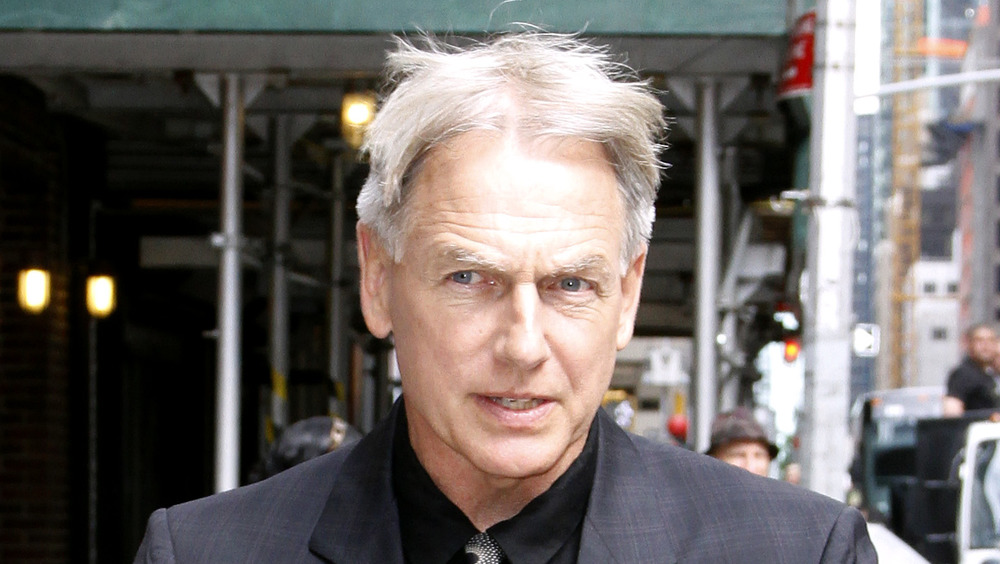 You can't make an omelette without breaking a few eggs—and you can't become the number one drama on television without generating at least a little bit of offscreen drama. That's certainly the case with "NCIS." The hit procedural might be beloved now, but it wasn't an easy path. How did it become one of the most popular shows on television? That's a question worthy of its own investigation—one we'll call the untold truth of "NCIS."
The department of redundancy department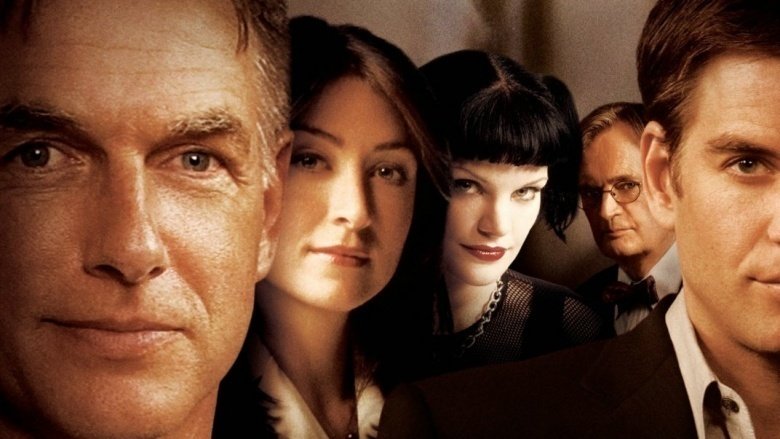 Few people remember it now, but when "NCIS" first spun off from parent show "JAG" in 2003, it was far from a guaranteed success. In fact, CBS was so worried that the show would be overshadowed by the network's runaway smash "CSI" that they actually called the show "Navy NCIS" for the first season in order to minimize confusion over the similar acronyms. Showrunner Donald Bellisario eventually convinced the network to drop the "Navy" part because it's totally redundant: the "N" in "NCIS" already stands for "Naval."
Mark Harmon got the show's creator fired
Showrunner and creator Donald Bellisario abruptly left "NCIS" in 2007 for a very unexpected reason: star Mark Harmon forced him out. Reportedly, the two tangled behind the scenes for months over Harmon's dissatisfaction with Bellisario's "chaotic management style." It led to a showdown, and the network decided they could live without Bellisario, but not Harmon. Bellisario was forced to resign and the show continued with a presumably happy Harmon sitting in the catbird seat.
The creation of NCIS: Los Angeles led to a major lawsuit
Given the huge success of "NCIS," it seems like a no-brainer that they would eventually have a spinoff. But the creation of "NCIS: Los Angeles" in 2009 actually led to a major lawsuit. That's because "NCIS" creator and former showrunner Donald Bellisario (that guy again!) had a clause in his contract giving him the right to create the first spinoff, but after he was forced off the show, CBS hired Shane Brennan to create it instead. After years of legal wrangling, they settled out of court for an undisclosed amount.
Pauley Perrette's Twitter blunder
In 2013, star Cote de Pablo, who played fan favorite "NCIS" agent Ziva David (a character with quite a backstory), abruptly announced her departure from the show. It was a surprise not only to fans, but to her co-stars. Around the same time, Perrette posted a tweet of herself wearing a shirt she'd received in 2007, which said "I love my job." It seems innocuous enough, but it set off a minor Twitter war against de Pablo's fans, who saw it as an attack. Allegedly, de Pablo called Perrette to ask that she stop tweeting about the situation. Perrette shut down her feed for less than a day. Drama not quite worthy of television.
Pauley Perrette's life of drama and advocacy
Pauley Perrette's feud with Cote de Pablo wasn't exactly a high point for either of them. But while Perrette has sometimes been the subject of real-world drama, she's done her best to turn lemons into lemonade by using those events as a platform for advocacy. In 2006, in an attempt to help women suffering from domestic abuse, she publicly revealed that her former husband Coyote Shivers had subjected her to years of physical and emotional abuse. And just last year, after she was randomly attacked by a mentally disturbed homeless man, she began championing the rights of the homeless.
There was supposed to be a spinoff called NCIS: Red
In 2013, the "NCIS" franchise was poised to add yet another series to its umbrella in the form of "NCIS: Red." Introduced in a two-episode arc on "NCIS: Los Angeles," "NCIS: Red" was going to star John Corbett as the leader of Red Team, an anti-terrorist unit within "NCIS." The network, however, decided they didn't really dig what they saw in the backdoor pilot and the series was canceled before it ever began, opening the door for "NCIS: New Orleans" instead.
Don Johnson almost played Mark Harmon's role
Mark Harmon has been the face of "NCIS" for well over a decade now, but viewers could have seen a very different face in the role of Agent Leroy Gibbs. That's because the role was actually offered to Don Johnson first—and he turned it down. He wasn't the only candidate, though; rumor has it that "NCIS: New Orleans" star Scott Bakula was also on the original shortlist for Agent Gibbs way back in the day. Sometimes these things have a way of working out.
NCIS movies are a hit on British television
Considering NCIS is about the U.S. military, you wouldn't expect the show to be a big hit overseas. But since 2013, no fewer than eight "NCIS" movies have been shown on British television. If you're wondering why you never heard of "NCIS" movies before, don't worry, you haven't actually missed anything—films like "NCIS: Judgment Day" and "NCIS: War on Terror" were cobbled together by splicing together multi-episode arcs from the TV shows into one continuous story. Binge-watching the old fashioned way!
Diane Neal lambasted NCIS: New Orleans for dangerous working conditions
In 2015, guest star Diane Neal launched an angry Twitter attack on "NCIS: New Orleans" over safety issues she encountered on set while filming, calling the conditions "dangerous and stupid." After being called out behind the scenes for saying incendiary stuff like "they just use me like a rented mule" and "these folks don't give a damn," Neal apologized and deleted the tweets. This being the internet, though, some sharp-eyed folks on Reddit captured the drama while it was happening and preserved it for posterity. Moral of the story: never tweet angry.
The First Lady is an NCIS alum
With three shows and more than 20 combined seasons, the "NCIS" franchise has had a lot of high-profile guest stars. But none of them can quite match the star power of First Lady Michelle Obama, who appeared as herself on the series earlier this year. The reason for her visit to the land of make-believe? To support "Joining Forces," a "nationwide initiative supporting service members, veterans, and their families."
How the show came up with that distinctive transitional sound
Just like the famous "Law and Order" "dun-dun!" sound used to transition between scenes, "NCIS" uses a similar sound effect, which sounds something like "foof." That sound was made by "NCIS" creator Donald Bellisario personally. When the show was entering production, he knew he wanted some kind of noise to guide the viewer from scene to scene, but he wasn't sure what, so he went into a recording studio and started messing around with a microphone. The one that ended up getting used is just Bellisario tapping on a mic with the palm of his hand.
Why Michael Weatherly left the show
Cote de Pablo left the show in season 11, which also ended the arc of the relationship between her character, Ziva, and Tony DiNozzo. That left Michael Weatherly, who played DiNozzo, with a lot less to do. He realized that while the show was very good to him, it was time for him to move on. Weatherly, who'd directed a pair of "NCIS" episodes, helmed the documentary "Jamaica Man," started a production company, and landed a starring role on "Bull," a fall 2016 CBS show loosely based on the life of Dr. Phil.
The show is loaded with in-jokes and callbacks
When Mark Harmon's character Jethro Gibbs is shown in flashbacks, the actor portraying young Gibbs is Sean Harmon, Mark's son. Gibbs' father, portrayed by Ralph Waite, is said to have been a fighter pilot in World War II—just like Harmon's father, Tom Harmon. The opening credits of some early seasons of the show contain footage of an aircraft carrier navigating the Golden Gate Bridge—which was shot for "The Presidio," a 1988 military drama starring Mark Harmon. In another episode, Gibbs remarks that when he was younger, Ducky looked like "Ilya Kuryakin." For viewers not familiar with classic '60s TV, Ilya Kuryakin is the name of a character played by Ducky's current portrayer, David McCallum, on "The Man from U.N.C.L.E."
Why Sasha Alexander left the series
Actress Sasha Alexander, who has since gone on to "Rizzoli & Isles" and a recurring role on "Shameless," was part of the original cast of "NCIS" when it hit the air as "Navy: NCIS" in 2003. Acting in a single-camera TV drama involves a lot of hard work and a lot of long hours, and by the end of the second season, Alexander was tired of the grind of portraying Special Agent Kate Todd. As then-showrunner Donald Bellisario was writing the second season finale, Alexander came to him in tears and asked to be let go; Bellisario complied, spoke on her behalf to persuade CBS executives to let her out of her contract…and then killed off her character. Alexander has since said she doesn't regret leaving, but wishes it had gotten more "press coverage" during her tenure.
Writing for Gibbs is tough
"NCIS" has always been an ensemble show, but there's no mistaking that the star is Mark Harmon, and for good reason—he's a commanding presence even with a character who's a man of few words. Leroy Jethro Gibbs doesn't talk any more than he has to, and Harmon can convey more with a glance or a nod than some actors manage with a monologue. In fact, it's hard for writers, especially new ones, to figure out how to write dialogue for the character. Sometimes, before a script is finalized, writers will do a "Gibbs pass" to determine what, if any, dialogue can be edited down…or edited out completely in favor of non-verbal actions.
What's really in Caf-Pow
The show's quirky/genius forensic scientist Abby Sciuto gets a lot of work done thanks in part to a steady stream of a potent, caffeine-rich energy drink called Caf-Pow. It's now a real, commercially available beverage, but it's not what actress Pauley Perrette chugs when she's portraying Abby. The red stuff she's actually drinking is tart and bitter unsweetened cranberry juice.
How many Gibbs' Rules are there?
Every few episodes, Gibbs rattles off yet another one of his "Gibbs' Rules"—succinct bits of advice he believes are the ideal parameters by which one ought to live one's life, both on and off the job. In one episode, he mentions he's come up with "about 50" of these rules, but so far he's only shared slightly less than 40 with his NCIS compatriots. Among Gibbs's sage wisdom:
"Never be unreachable."
"Always wear gloves at a crime scene."
"Always be specific when you lie."
"Never take anything for granted."
"Never go anywhere without a knife."
"It's better to ask forgiveness than ask permission."
The actress who plays Abby is a legitimate criminologist
Pauley Perrette is extremely well qualified to play a forensic scientist. A couple of decades ago, she considered becoming an FBI agent, and she has a Master's degree in criminal science from Valdosta State University in Georgia—she was even admitted into the John Jay School of Criminal Science in New York. She worked several jobs to pay her way through, including as a cook on a boat. Somebody who worked in the coat-check room told her about a director who was looking for commercial actors, and Perrette gave it a shot, landing roles in advertisements as well as guest spots on TV shows and giving up on a life of solving crime…at least in real life.
Several real-life Navy figures have guest-starred on the show
One of the perks of holding a high rank in the real-life Naval Criminal Investigative Service, or the U.S. Navy: the possibility of a cameo on "NCIS". In 2005, around the time that he retired from the post he'd held for eight years, NCIS director David Brant guest-starred on an episode as "NCIS Special Agent David Brant." His successor as director, Thomas Betro, succeeded him on TV as well, making a brief appearance on a 2007 "NCIS" episode as "Coffee Man." Ray Mabus served as Secretary of the Navy from May 2009 to early 2017, a tenure that included an appearance on a 2009 episode of "NCIS" as an agent named "Ray."
Mark Harmon helped launch NCIS: New Orleans
Mark Harmon not only headlines the "NCIS" flagship, he's also an executive producer for the show as well as its spinoff, "NCIS: New Orleans." And that credit isn't just a perk for having been with the franchise for so long—Harmon is a hands-on producer. He worked closely with fellow producer Gary Glasberg to develop the spinoff, participating in decisions regarding casting, shooting locations, and music selection.
Why Lauren Holly left NCIS
In Season 3, Thomas Morrow (Alan Dale) was out as "NCIS" director, and in came Jenny Shepard. The character shared some history with Gibbs, in that the two were once professional partners as well as a couple. That mirrors (at least work-wise) the relationship between the actors who portray Shepard and Gibbs — Lauren Holly and Mark Harmon, respectively. Years before "NCIS," the two were both cast members on the '90s CBS medical drama "Chicago Hope," and it's that connection that scored Holly the role of Shepard. "As I understood it, they were having some trouble casting the part," Holly told her official website (via MikeWeatherly.com), "and Mark thought I might fit the bill." He arranged a meeting for Holly with the show's creator, Donald Bellisario, and she landed the part, which was initially supposed to just be a six-episode arc before it turned into a three-season run. After about four dozen episodes, writers killed off Jenny Shepard because Holly wanted to leave the show — she'd grown "bored" with the character and wanted to move on to other things.
Why Pauley Perrette had to leave NCIS
Pauley Perrette was a standout in the "NCIS" ensemble cast since its beginnings in 2003, providing light moments as plucky, brilliant, Caf-Pow-fueled forensic scientist Abby Sciuto. It was both a major TV moment and a big career move for Perrette when she left the show in 2018 after more than 350 episodes. Just after her farewell episode aired, Perrette tweeted out the reason why she fled "NCIS;" she reportedly suffered "multiple physical assaults" at work. There was also some animosity and negativity stemming from an incident in 2016 when co-star Mark Harmon brought his pit bull, Dave, to the set.
According to sources that spoke with Radar Online, Dave reportedly bit a member of the crew with such violent intensity that the victim had to get 16 stitches. The source added that Harmon was "obviously horrified" and kept Dave at home after that, except for the one time when he couldn't find a dog sitter and allowed Dave to hang out in his on-set trailer all day. Perrette was reportedly "furious" that Harmon's demonstrably dangerous dog was back on the set and "started shouting" when Harmon tried to explain. Sources say Perrette even refused to shoot any scenes with Harmon, and wouldn't go near him or talk to him.
The show couldn't toy around with Bert the Farting Hippo
Most huge TV shows extend their cultural impact beyond just hundreds of episodes, offering hardcore fans merchandise. It's tough for an adult-oriented crime drama to sell ancillary items, but "NCIS" had cash registers ringing for a while, with CBS's website (according to The Wrap) offering for sale a version of the show's "Bert the Farting Hippo" novelty.
He's a cute hippopotamus puppet based on the one that Abby Sciuto (Pauley Perrette) kept at her work station, but which offered a little something extra in that it made fart sounds, just like the one seen on around a dozen episodes of "NCIS." In 2002, Folkmanis, a company which produces a wide line of stuffed animal-type puppets for toy stores and gift shops, introduced a hippo, which "NCIS" prop masters used on TV with little alteration other than dubbing in farting sounds in post-production. CBS eventually commissioned a more accurate, branded replica of Bert from Folkmanis, and the toymaker added a spiked collar and a soundbox. Then, according to a lawsuit filed in 2014, CBS's merchandiser went around Folkmanis and sought out a company in China to make Bert the Farting Hippo toys that the network could sell at a greater profit, and then ended its arrangement with Folkmanis. The puppet company wanted more than $700,000, and the suit was settled out of court in 2016.
Behind the Most Wanted wall
Like any real government agency office worth its mettle, the squad room in NCIS headquarters on "NCIS" features a "Most Wanted" wall, bearing the images of the worst of the worst criminals that pose a threat to the United States' safety and security whose pursuit and capture falls under naval jurisdiction. Over the years, it's featured all manner of criminals, murderers, and terrorists, some of whom are fictional — once the "NCIS" good guys eliminate them, they get eliminated from the wall. If they're killed, the Most Wanted individual gets a big red stripe across their portrait. That's how the Most Wanted wall noted the death of Osama Bin Laden in 2011. But not all the people on the wall are bad guys, or even real guys. For a good while, the face of one of the supposedly "at large" criminals belonged to Donald Bellisario, creator of "NCIS."
NCIS is part of a huge TV universe
Connected properties are all the rage in movies of course, what with the Marvel Cinematic Universe and the D.C. Extended Universe, among others, but it's a thing in TV, too. A number of the CW's superhero shows share a common fake reality, while "NCIS" is also the connecting point for a number of television shows, past and present. As it's been on the air for nearly 20 highly-watched years now, it's easy to forget that "NCIS" was a spinoff of another, less popular military drama also created by Donald P. Bellisario called "JAG," which aired from 1995 to 2005. "NCIS" itself spun off "NCIS: Los Angeles" and "NCIS: New Orleans," and Mark Harmon reprised his role of Jethro Leroy Gibbs on the latter, as well as on "JAG." Characters from "NCIS: Los Angeles" guest starred on CBS's "Hawaii Five-O," a remake of a 1968-1980 series which crossed over with CBS's "Magnum P.I." remake. That puts all of those shows in the same universe, where it also resides alongside "Family Guy." In the 2012 episode of the animated series, news anchor Tom Tucker becomes an actor and lands a gig on "NCIS;" Harmon plays himself playing Gibbs.
Harrison Ford almost played the show's most iconic character
Some parts seem so tailor-made to certain actors — or they portray the part for so long — that it's almost impossible to imagine anyone else in the role. Take Mark Harmon and Leroy Jethro Gibbs, for example. He's portrayed the taciturn naval investigator for nearly two decades, and it's the role for which he's most famous. And he almost didn't get the part, had producers landed another candidate, a guy who has few legendary roles of his own: Han Solo and Indiana Jones himself, Harrison Ford. According to Amazon (via Express), Ford, who was experiencing a bit of a fallow period in his otherwise stellar movie career when "NCIS" was being developed in the early 2000s, was one of the producers' most favored options to play Gibbs. Despite associates encouraging him to sign on for the role, he didn't have any interest in pursuing work on the episodic TV series, and Harmon got the gig.
NCIS is big in Japan
With about 400 episodes of reliable and satisfying television with high production values and star power filmed and ready to go, "NCIS" is an attractive option for worldwide TV syndicators. The show airs in Australia, France, and Japan, among other countries. It's a particular draw in the latter, where Fox Japan promoted the debut of the eleventh season's slate of episodes in January 2014 with a rerun marathon. This wasn't the typical all-day bundle of episodes typical of American cable networks. Instead, Fox Japan aired the first ten seasons of "NCIS" in their entirety and in order. It took a full 10 days to air all 234 episodes, a period which coincided with the New Year's holiday. The event also earned Fox Japan and "NCIS" a literal spot in the record books — the stunt was a shot at the Guinness World Record for "longest uninterrupted transmission of a TV series."
How much did Mark Harmon make on NCIS?
As the most famous actor on the cast of a broadcast network's high-profile, franchise-launching procedural series, Mark Harmon could command a pretty high salary when "NCIS" began its long run in 2003. As "NCIS" grew in popularity, CBS paid Harmon a lot, and his per-episode acting fee peaked at around $540,000, sources suggest. With "NCIS" producing around two dozen episodes per season, that gave its star an acting salary of $13 million, according to Forbes, easily ranking him among TV's most well-compensated performers.
As well as leading the series, Harmon was a revenue-earning producer on "NCIS," a show widely syndicated and streamed. He was also entitled to royalties, which added a few more million bucks to his bank account each year. All told, according to Celebrity Net Worth, Harmon was pulling in around $20 million a year during his latter seasons of "NCIS." His "NCIS" earnings account for the vast majority of his overall net worth, which is approximately $120 million.
It's staggeringly popular (at least with Nielsen families)
"NCIS" is objectively one of the most popular shows on TV right now, if not of all time. And as a spinoff of "JAG," it's one of the few spinoffs to outlive its predecessor (more than 440 episodes and counting, compared to a relatively scant 227 for "JAG"). Where most shows' popularity drops off over time, that's just not true for "NCIS." In its seventh season, it became the most-watched scripted show on broadcast television. In its tenth season, it surpassed the two reality-based shows in front of it — "Sunday Night Football" and "American Idol" — to become the number one show on network TV. In the 2021-2022 television season, Season 19 of "NCIS" was the third most-watched show overall and the most-watched scripted show on the air.
However, as much as viewers love it, "NCIS" hasn't won very many awards. Not surprisingly, the show has been nominated for nine People's Choice Awards, but it's never scooped any. And at the Emmy Awards, "NCIS" has been nominated just three times; twice for stunt performers and once for outstanding guest actor in a drama series (Charles Durning, for the 2004 episode "Call of Silence"). It didn't win any of those, either.
Gibbs' woodwork on NCIS is the real deal
On "NCIS," Leroy Jethro Gibbs puts almost as much time and interest into his woodworking hobby as he does investigating crimes. The character was often found in his basement, working on hand-building a portion of a boat. It's a trait and a pastime shared by the actor who portrayed Gibbs for 19 seasons. Mark Harmon is a lifelong enthusiast of making things out of wood. "I used to hang out in my dad's workshop on weekends," he told Sunset. "Later, when I was starting out as an actor, I became a roofer and a framer to make money."
Harmon is particularly fond of finish work (the process of sanding and staining the wood once the building part is done), enjoying the feeling of creating something that is made to last. "If you do it right, it will be around a lot longer than you are," he said. That attitude led him to completely rebuild the house he lived in before he was married, which was originally a tool shed erected in the 1930s. "It took about two years," he revealed. "If you give a house a chance to talk to you, you learn things."
Because Harmon is such a good carpenter, it just made sense to incorporate this into his "NCIS" character. In fact, what fans of the show may not know is that the boat Gibbs was always working on was a real-life project. "It's actually a real boat, with real plans," Harmon confirmed.
Sean Murray is the show creator's stepson
Sean Murray joined the world of "NCIS" early in its first season as field agent Timothy McGee. As of 2022, he's still on the show, and with the departure of longtime headliner Mark Harmon, he's now the top-billed actor in the opening credits. It's a little odd that he came late to the series (introduced as a guest star in Season 1 before becoming a full-time cast member in Season 2) when you consider his tight family connection to the show's creative brain trust.
In 1998 (per IMDb), Murray's mother, Vivienne Lee, married Donald P. Bellisario, who at the time was working as a writer and executive producer on the procedural drama he created, "JAG." In 2003, "JAG" launched a spinoff, "NCIS," meaning Bellisario's creation wound up starring his stepson. Other members of the family have also appeared on "NCIS." Murray's stepbrother Michael Bellisario guest-starred on four episodes as Charles "Chip" Sterling in 2005, and stepsister Troian Bellisario showed up on the series that same year as Sarah McGee, Timothy McGee's sister.
Abby has a hilarious middle name
A show about crime, death, and military operations needs a respite from the drama every so often, and on "NCIS," that quirk and comic relief came in the form of forensic scientist Abby Sciuto, a wisecracking, energy drink-chugging, goth-adjacent fan favorite portrayed in more than 350 episodes by Pauley Perrette. Abby certainly got plenty of screen time, allowing Perrette to build the character. However, she never once mentioned her middle name, which was only revealed via a prop in a Season 12 episode — and not noticed or disseminated for seven more years.
As pointed out by a Reddit user named serotonin0, the "NCIS" episode in question features a brief shot of a "Summary of Analysis" of an investigative subject's computer. Abby compiled it, taking credit with her full name of Abigail Beethoven Sciuto. That's right: Her parents named her in part after the legendary classical composer.
Why did Mark Harmon leave NCIS?
Mark Harmon was already a big TV star when he first signed on to play Special Agent Leroy Jethro Gibbs on "NCIS" in 2003. It became one of the most-watched shows on television, and Harmon was the designated face of the series and the interconnected "NCIS" franchise. As such, it was major news when the actor left "NCIS" in 2021. So synonymous was Harmon with the show that his name remained at the top of the opening credits for nearly a year after his final "NCIS" acting appearance.
In the universe of the show, Gibbs traveled to Alaska to work a case and decided to stay there, an ending that Harmon felt was natural and earned. "What has always drawn me here is the character I play and to keep it fresh and to keep it challenging," Harmon said on an "NCIS" Season 19 DVD featurette (via Entertainment Tonight). "Plot-wise, this character has taken the path that it did." He went on to say that Gibbs is "not retired," he's just "living in Alaska, as far as I know."
Many cast members contributed songs to the show
Along with shows like "Grey's Anatomy" and "Scrubs," "NCIS" helped usher in a now common TV archetype previously used mostly in movies: Original songs, or ones selected and curated by a soundtrack supervisor, to underscore and emphasize important plot or character moments.
Many episodes of "NCIS" over the years have featured a moody, introspective song to express what the characters on screen are feeling, and the show has spun off multiple soundtrack collections. Among the songs by the likes of Oasis and Bob Dylan on 2009's "NCIS: The Official TV Soundtrack" are "NCIS" star Cote de Pablo's rendition of Tom Waits' "Temptation," and "Fear," a song written by the show's Pauley Perrette and performed under her stage name Stop Making Friends.
The second and fourth volumes of the official "NCIS" soundtrack collected more in-show selections from cast members. Michael Weatherly's musical stylings can be heard on as many as nine "NCIS" episodes. He wrote and recorded "Bitter and Blue" just for the series, while his song "Under the Sun" makes an appearance on a soundtrack album alongside Pauley Perrette's composition "Somebody Saved You."
How NCIS: Hawaii breaks new ground
"NCIS" has proven very popular and profitable for CBS, with geographically different offshoots of the original version each running for years to high viewership figures, including "NCIS: Los Angeles" and "NCIS: New Orleans." The latest addition to the family is "NCIS: Hawaii," which is filmed on location and takes full advantage of the stunning scenery. Most of these spinoffs were launched via a so-called "backdoor pilot" episode of the "NCIS" flagship show, introducing the new characters and new situations but linking them to the same TV universe as the original series. "NCIS: Hawaii," which stars Vanessa Lachey as Special Agent Jane Tennant, wasn't presented in such a manner, instead debuting as a standalone series on CBS in the fall of 2021.
Only after it had established itself as a series did its characters interact with other members of the "NCIS" realm, with Jane popping up on two episodes of the original "NCIS" in the spring of 2022. The two shows then staged a crossover to kick off the fall 2022 season. Both crews team up to solve one crime, with the story being told over both shows during a single night of television. Lachey shines in the lead role on "NCIS: Hawaii," but fans have already fallen in love with the other characters, particularly Lucy Tara (Yasmine Al-Bustami) and Kate Whistler (Tori Anderson). The two women are romantically involved on the show, and their relationship has gone down very well with queer fans of the "NCIS" franchise.