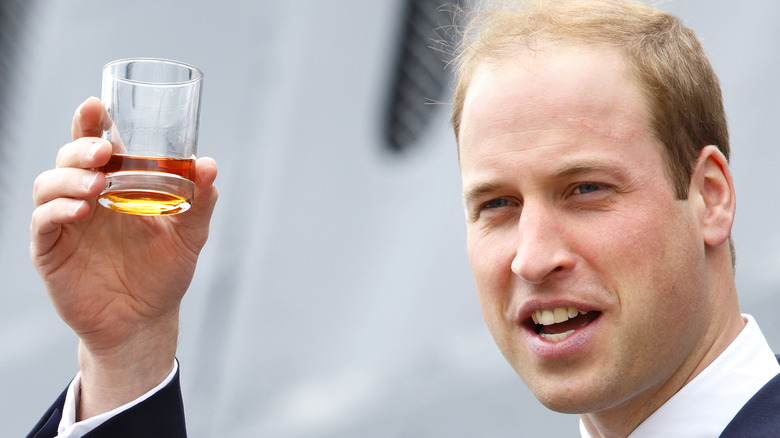 For some, the thought of being a part of the British royal family may sound like a dream come true. However, not everyone knows the truth behind the royal family's fairytale image. While life at Buckingham Palace can seem magical from afar, the reality is that members of the royal family are constantly working to maintain the pristine public façade that makes them seem picture perfect. And according to Marie Claire, royals follow upwards of 60 rules of etiquette just to maintain this image of elegance and refinery.
While these rules focus on a variety of subjects, ranging from politics to dating, many royal guidelines concern drinking. There even exists strict royal etiquette regarding properly sipping tea (via Insider). Per the outlet, royals must only add milk to their teacups after pouring their tea. Additionally, they should never stir their tea by moving their spoon in a circle; instead, they should mix the liquid by moving their spoon back and forth.
Tea, however, is not the royal family's only indulgence. Many members of the royal family are known to enjoy sipping something a little stronger (via Thrillist). When it comes to drinking alcohol, however, the royal family follows even more rules and restrictions.
The royal family is allowed to drink daily
While the British royal family has a lot of guidelines around food and drink, there is nothing prohibiting its members from enjoying alcoholic beverages — even on a daily basis. On the contrary, the family has a long history of indulging in wine, beer, and liquors. Although she passed away back in 2002, the Queen Mother's reputation for being a dedicated drinker lives on. In 2006, her former equerry, Major Colin Burgess, published the book titled "Behind Palace Doors," in which he described the Queen Mother's approach to alcohol (via The Guardian). According to his account, she would order her first cocktail of the day around noon. Her poison of choice was reportedly a cocktail that consisted of two parts Dubonnet and one part gin.
Interestingly, the Queen Mother was not afraid to be outspoken about her penchant for drinking. Burgess claimed that the late Queen Elizabeth's mother did not understand why anyone would choose to have an alcohol-free lunch. The author explained that guests who ordered water at lunchtime would be met with shock. "How can you not have wine with your meal," the Queen Mother would ask.
Royal family and etiquette expert William Hansen holds a similar understanding of the Queen Mother. As he related to Express, "The late Queen Mother liked to drink." However, there was nothing uncouth about her habits. In Hansen's own words, her alcoholic indulgences make for "a lovely story."
There is a correct way to drink wine
It's no secret that the British royal family has a wine aficionado or two in its ranks. Queen Elizabeth II's mother was famous for indulging in red wines, especially clarets, according to "Behind Palace Doors" by Colin Burgess (via Daily Mail). Meanwhile, Meghan, Duchess of Sussex, has revealed her passion for wine, even naming her old lifestyle blog "The Tig" in homage to her favorite vino, Tignanello. And in a 2017 speech given at the UK's Vineyard Association, Camilla, Queen Consort, admitted to a lifelong love affair with wine: "First of all I love wine, but secondly, my father was in the wine business, so I was brought up as a child drinking wine and water rather like the French" (via Hello! Magazine).
While members of the royal family are allowed to enjoy wine, none of them can simply grab a glass of Chardonnay and drink up. On the contrary, the royal family is subject to a special wine-drinking etiquette. As reported by House Beautiful, royals must always hold their wine glasses by the stem. This rule was not only adopted to project a sense of elegance but it was also implemented to stop one's hand from inadvertently warming the wine in the glass. Royals must also sip from only one spot on their glass, etiquette expert William Hanson told Marie Claire. This helps prevent lipstick stains from accumulating on the glass throughout the evening.
The royal family cannot drink at garden parties
There is arguably nothing more quintessentially British than one of the royal family's famous garden parties. Every summer during her reign, Queen Elizabeth II would invite important members of different British communities to enjoy an afternoon on the grounds of Buckingham Palace or the Palace of Holyroodhouse. According to the British royal family's official website, the late queen used to host up to 30,000 guests per year. And, per the event's rules, none of these guests were allowed to consume alcohol during the festivities (via Taste of Home).
Although it may seem odd not to serve alcoholic beverages at such a massive party, the reason possibly pertains to other aspects of royal etiquette. Although some royals have imbibed earlier in the day, they traditionally consider 6 p.m. to be the "magic hour" — or the earliest permissible time to indulge in something stronger, according to People. Interestingly, garden parties are held from 4 p.m. to 6 p.m., which means they end just as alcohol consumption becomes acceptable.
Despite the lack of booze, garden party guests are encouraged to enjoy other types of beverages. Tea is the most common drink to enjoy at a royal garden party, according to Hello! Magazine. And it seems the attendees have truly enjoyed the blends served at the royal palaces. The outlet revealed that guests have historically consumed an average of approximately 27,000 cups of tea per party.
Royals must learn how to drink abroad
Every culture has its own standards of etiquette, especially when it comes to eating and drinking. As a result, when the British royal family travels abroad, its members must learn how to eat and drink according to local "rules." British etiquette specialist Anne Chertoff told Express that the royal family changes their approach, depending on where they are in the world. "All members of the Royal Family eat using formal British Dining Etiquette while in the UK. If they travel to another country, they will likely adapt to the way of eating in that culture to show respect to the country they are in," Chertoff explained.
While it is important for British royals to learn foreign rules around food, knowing how to drink alcohol in another country is considered especially essential. This is because sampling local beverages is a typical part of the royal family's press conferences abroad. As Chertoff told Express, "It is not common for food to be served publicly, however, there are events that may include beverages."
Historically, these events have all but required the royal family to accomplish alcohol-related feats. So far, they have been largely successful. In 2017, Prince William used a mallet to open a keg of beer on a trip to Germany, as reported by Elle. Princess Catherine, on the other hand, made headlines for a perfect pour in Northern Ireland (per Harper's Bazaar).
They are sometimes prohibited from drinking local alcohol when traveling
Packing for a trip can often be a bit of a headache. However, for the British royal family, this can go beyond the typical issues of a missing t-shirt or a heavy carry-on. According to Express, one of the biggest challenges faced by the royal family while abroad is security. As journalist and royal family travel expert Gordon Rayner told The Telegraph (via Condé Nast Traveler), safety concerns play a huge role in determining royal travel plans. In practice, this means members of the royal family cannot just pop into a pub and casually order a drink. On some occasions, British royals are prohibited from drinking local booze at all due to safety concerns.
This is especially true for King Charles II and Camilla, Queen Consort, according to Rayner. Rayner told The Telegraph that Charles and Camilla occasionally have to pack their own alcohol when they travel — that way "there's no danger of their drinks being spiked." He went on to share that this special stash of alcohol is actively guarded by trained personnel: "Their police bodyguard will discreetly carry a bag of their drinks — gin and tonic for him and red wine for her."
The royal family does not accept drinks from strangers
Turning down alcoholic drinks from strange people might seem like common sense. However, for the British royal family, this rule is particularly important. Members of the royal family cannot accept any kind of complimentary food or drink from anyone they don't know (via Delish). The reason for this precaution is to prevent someone from poisoning a member of the royal family. Since the royal family has departed from its tradition of traveling with taste testers, its members cannot sample free drinks that haven't been previously approved for a sanctioned event.
This sense of caution about food and drinks is not a new issue for the royal family. Over the years, royals have been extremely careful about the origins of their meals and beverages, especially while traveling. As master chef Kevin Dundon revealed in an interview with People, he cooked for Queen Elizabeth on her 1992 trip to Calgary. According to the chef, he prepared salmon and a rack of lamb for the queen. However, she would not try the food until her taste tester took a bite. "I produced two plates: one for [the taste tester] and one for [the queen], and he tasted before it was served to her," Dundon told the outlet. The queen also reportedly preferred to eat and drink from her own private set of dishware. Dundon explained: "The Queen brought her own china [to Canada]."
The monarch can only drink with the chef on Christmas
Christmas is a special time of year for the British royal family. And, like other important royal events, the holiday is accompanied by a strict set of rules. When it comes to alcohol, however, one of these traditions actually involves a brief suspension of typical palace protocols.
As former royal chef Darren McGrady told Good Housekeeping, the royal family's Christmas celebrations involve a unique toast. "Right before the Christmas buffet," McGrady explained, "the senior chef on duty goes into the dining room and carves the rib roast or turkey or ham and once he's done, Her Majesty presents the chef with a glass of whiskey and they toast." According to the former royal chef, it certainly wasn't every day that he was allowed to share a drink with the queen. "That's the only time the chef goes into the dining room and has a glass of whiskey with the royal family," McGrady revealed. He continued, saying, "It's one of the chef's favorite traditions."
In a separate, tell-all piece published in the Daily Mail, McGrady wasn't afraid to share what the royal family likes to drink at their annual Noel celebration. In the morning, before lunch, Philip would drink beer while "everyone else will sip a glass of Veuve Clicquot," according to McGrady. For dessert, there is, "a lavish cheese course with bottles of port on the table."
The royal family doesn't espouse excessive drinking
Although many beloved members of the royal family are known to enjoy casual drinking, excessive drinking is not encouraged. In the Apple TV+ documentary series "The Me You Can't See," Prince Harry opened up to co-producer Oprah Winfrey about his struggle with alcohol misuse (per CNN). "I would probably drink a week's worth in one day on a Friday or a Saturday night," the prince revealed. This confession came more than two decades after Prince Harry earned himself the reputation as the royal family's troubled teen.
As BBC News reported, Prince Harry made plenty of headlines for issues that ranged from drug misuse to a brawl with paparazzi outside a nightclub. Throughout the prince's party days, the royal family attempted to help him seek addiction treatment. Indeed, the royal family does not support overindulgence in alcohol. As one 2002 BBC report revealed, King Charles II (then Prince Charles) sent the young prince to a drug rehabilitation center with Queen Elizabeth's support.
Luckily, in 2019, Harry committed to sobriety for the sake of his relationship with Meghan Markle, according to Express. Around the same time, Harry started going to therapy. As the prince shared in his docu-series (per NPR), "I quickly established that if this relationship was going to work, that I was going to have to deal with my past because there was anger there." The prince realized that therapy was the only way he would work through his childhood trauma.
If you or anyone you know is struggling with addiction issues, help is available. Visit the Substance Abuse and Mental Health Services Administration website or contact SAMHSA's National Helpline at 1-800-662-HELP (4357).
The crown comes before alcohol
The physical health of the British royal family is always of great concern to the nation. As a result, there have been cases where family members were encouraged to quit drinking to protect their bodily health. At the end of 2021, Vanity Fair reported that Queen Elizabeth's doctors advised her to give up alcoholic beverages. This represented a significant lifestyle change for the queen, who — like her mother — drank a daily dose of Dubonnet and gin, according to Food & Wine. Nonetheless, Queen Elizabeth took her doctor's advice. She chose to indulge in water and soft drinks, rather than cocktails.
However, despite the late queen's noble decision to cut back on her favorite drinks, not everyone agreed that going sober was such a necessary idea. One source reportedly told Vanity Fair, "It's not really a big deal for her, she is not a big drinker but it seems a trifle unfair that at this stage in her life she's having to give up one of very few pleasures." Indeed, the queen found so much enjoyment in drinking that, as reported by Food & Wine, she launched her own brand of gin.
Despite this project, Elizabeth understood that it was best to follow her doctor's advice. Per Express, the queen ultimately chose to forgo her daily cocktail so she could be healthy enough to fulfill her royal duties.