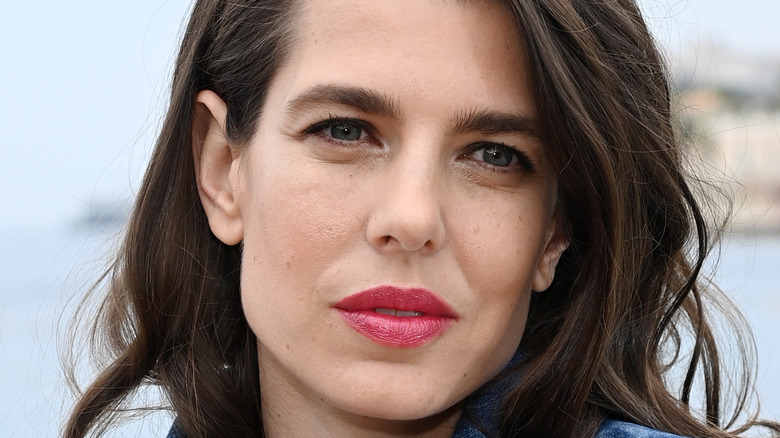 As the daughter of Princess Caroline of Monaco and the late Stefano Casiraghi — and the granddaughter of Hollywood legend Grace Kelly and Prince Rainier III — Charlotte Casiraghi was born into Monaco's royal family, the Grimaldi dynasty. Yet, unlike her mother and grandmother, she has no royal title and is not held to a life of duty, despite being 11th in line to the throne. This means, as Harper's Bazaar noted, she's been able to pursue her own passions, something she has taken every opportunity to do.
You may have heard that she's a model and brand ambassador for Chanel or that she's a talented equestrian who rode a horse onto the Chanel runway, per Page Six. In addition, she's an incredibly educated woman who's passionate about the literary arts — and has also filled the roles of author, entrepreneur, producer (via IMDb), and more. If one thing is for sure, it's that she's proven to be much more than just a notable someone's daughter and granddaughter. Keep reading to learn what you don't know about Monaco's Charlotte Casiraghi.
She comes from a long line of strong, independent women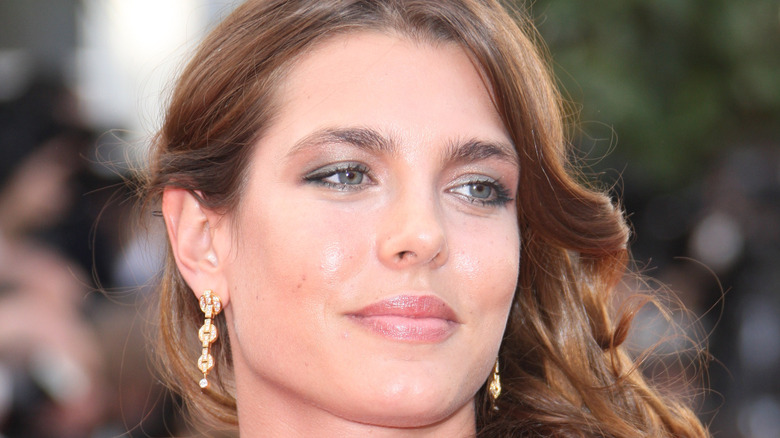 Having Princess Caroline for a mother and Princess Grace (aka Grace Kelly) for a grandmother, Charlotte Casiraghi grew up surrounded by female role models — strong and successful women who, despite the times, pursued interests and careers that were uncommon for women. Born to a model and competitive swimmer mother who became the first women's athletics director at the University of Pennsylvania (per The New York Times), Grace Kelly was known as one of Hollywood's highest-paid actresses in the 1950s (via Vanity Fair). And, at only 25 years old, Caroline had to take on many of her mother's leadership roles after Grace's tragic death in 1982 (per Hello Monaco).
Born on August 3, 1986, to Caroline and Stefano Casiraghi, Charlotte was named after her paternal great-grandmother, Princess Charlotte, Duchess of Valentinois, whom Caroline described to Madame Figaro in 2020 as "a very free woman and an original" (via Tatler).
According to Vanity Fair, Charlotte's mother, grandmother, and great-grandmother were far from the only independent women of the bunch. There was also Princess Alice, wife of Prince Albert I, known for bringing style and culture to Monaco. And, in the present day, there's Pauline Ducruet, Charlotte's cousin who launched a gender-neutral clothing brand. Charlotte described the women in her family to Harper's Bazaar as "extremely daring women who did not pursue the life that was expected from them."
Charlotte Casiraghi is no princess
It may not come as a shock to learn that Charlotte Casiraghi is not a princess; she has a last name like the rest of us, with no official royal title. Per People, her mother, Princess Caroline of Monaco, decided not to bestow her children with royal titles at birth. "I'm not a princess," Casiraghi told Vogue Paris (via Vanity Fair). "My mother is, not me. I am the niece of a head of state. And with this status, I have some representational duties, nothing very constraining or very exceptional."
This was a purposeful move on the part of Caroline, as she wanted to shield her sons, Andrea Casiraghi and Pierre Casiraghi, and her daughter from the judgment of the media so they could live as normal a life as possible. She made this happen by moving the family to a small village in France (per the South China Morning Post).
Her father died in a boating accident
Charlotte Casiraghi was only 4 years old when her father, Stefano Casiraghi, a successful businessman, heir, and speedboat racing enthusiast, died after his boat flipped over during an offshore racing championship in October 1990. His boating partner, however, survived the accident (per the Los Angeles Times). According to Anne Edwards, author of "The Grimaldis of Monaco," Princess Caroline was so distraught afterward that she couldn't tell her children about their father's accident and had their grandfather, Prince Rainier III, tell them instead (via Vanity Fair).
Charlotte has spoken publicly about her father's bravery. "When I think about him, I remember his courage," she said on Italian TV's "Le Parole della Settimana" (via Hola!). "Everything he did reminds me how brave he was. Losing someone, somehow, makes you take on that courage, to get over the anguish and fear that it provokes. I could say my dad gave me courage."
She is a talented equestrian
A longtime lover of horses and horseback riding, Charlotte Casiraghi is also a fan of competitive show jumping. She first learned show jumping while living with her family in the suburbs of Paris (per Luxury Launches). In June 2014, she won first place at the Longines Pro-Am Cup International Monte-Carlo show jumping competition along with her teammate, Edwina Tops-Alexander, according to Hello! Magazine. She's since served as honorary president of the show jumping competition. In 2022, she spoke at the event, saying, "I am also very proud that the Longines ProAm Cup celebrates its 12th edition this year. How many friendships between professionals and amateurs has it made? How many passions has it sparked?" (via Hello Monaco).
In a 2013 interview with Harper's Bazaar, Casiraghi opened up about her love for the animal. "They've had an important role in my life since childhood. They gave me the energy to move forward, the ability to fight, giving me rare confidence and invaluable strength. They taught me great humility, too," she said, adding that, for her, horseback riding is "one of the few Olympic sports where men and women are equal," as it relies "more on the mind and sensibility" than on physical strength.
The model is known for her work with Chanel and Gucci
We already know that Charlotte Casiraghi is a longtime lover of horseback riding and show jumping. She's also a model who combined her love of horses with fashion when she became the face of a Gucci campaign called "Forever Now" that featured her and her horse. "It just seemed natural," she told The New York Times of the campaign. "They support me as a rider, and Frida [Giannini, a Gucci designer who loves horseback riding] and I collaborated together."
In addition to her work with Gucci, Casiraghi was named Chanel's brand ambassador in 2020. The royal has long been a fan of the fashion house. In fact, she practically grew up with Chanel, thanks to her mother, Princess Caroline's, allegiance to the brand and her friendship with its former head designer, the late Karl Lagerfeld. "It's almost as if I was born with Chanel," Casiraghi said in a video shared to Chanel's Instagram page (via Town & Country). "I think of photos of my mom when she was pregnant with me. Wonderful photos by Karl Lagerfeld, with her wearing Chanel."
With this kind of childhood, we'd have to expect Casiraghi to be a fashionista — and she is, as Vogue attested to in a 2022 roundup of her top wardrobe choices.
Charlotte once rode a horse down the runway
While Charlotte Casiraghi is a model who's appeared in campaigns for some of the world's most exclusive fashion houses and is also a trained equestrian, it seems she's combined her love of fashion with her love of horses. First, she became the official face of Gucci's equestrian line (per The New York Times). And beyond that, Chanel's Spring-Summer 2022 Haute Couture fashion show in Paris made headlines when Casiraghi opened the show riding her 8-year-old Spanish bay horse down the runway, noted Vogue. "I like sport, and it's funny to think that the Chanel tailleur is something you can wear for playing golf or riding a horse," Xavier Veilhan, an artist responsible for the event's staging who collaborated with Virginie Viard on the collection, told Vogue.
However, not everyone was in favor of the stunt, with many taking to social media to voice their criticism and concern for the animal's welfare (via Page Six). "So tacky and unnecessary to use animals in parades!" voiced one follower of Chanel's Instagram page. Another had to say, "How unnecessary is it to have a horse walk a catwalk? Just for the [attendees'] entertainment? #animalabuse."
The beauty is also a brainiac
Charlotte Casiraghi is often seen with her nose in a book, engaging in various intellectual pursuits. Per Vanity Fair, she completed a degree in philosophy from Paris-Sorbonne University in 2007. In 2015, she took her love of philosophy further by collaborating with her former professor, Robert Maggiori, to launch Les Rencontres Philosophiques de Monaco, an organization promoting the study of the subject through lectures, events, and collaborations with Monaco schools. Of the project, she told Harper's Bazaar, "No one on this earth can say they're not interested in philosophical questions. I thought there had to be space to reflect on them and debate outside of universities."
Inspired by the women in her family "to pursue different passions," Casiraghi has developed a program with Chanel where creatives convene alongside Chanel Creative Director Virginie Viard to discuss noted female writers. "A great majority of women in the world still have absolutely no rights to be educated, to have financial support, or to achieve any sort of creative profession," she told Harper's Bazaar.
In 2021, Casiraghi was featured in Chanel's "In the Library of Charlotte Casiraghi," where she speaks of her love of books. "I want to buy everything, to take as many books as I can carry. And I can never decide … so I take more and more," she says. "I never feel guilty about it because I tell myself it's not so bad to be addicted to books."
Charlotte has made her mark in publishing and film
An avid reader, Charlotte Casiraghi has turned her intellectual pursuits to the literary world and the big screen. Per Harper's Bazaar, she released a book of essays in 2018 called "Archipel des Passions" with her former philosophy professor, Robert Maggiori, with whom she also collaborated on other projects. The book examines human emotions through a teacher and student's conversations about the meaning of life, a project she dedicated to her late father.
Casiraghi is also a journalist. She's been published in the magazines AnOther Magazine and the Sunday supplement to Britain's Independent, and she served as editor-at-large for Above Magazine in 2009. That same year, she co-founded Ever Manifesto, a magazine that examined fashion's impact on the environment. "It's only been recently that I've questioned the way I've been consuming. I haven't been as conscious as I should have been," she was quoted as saying (via Black Rabbit Special Edition). She further said the magazine would be published "when we have something to say or people to support."
In 2012, Casiraghi founded her film production company, Swoon Productions, focusing on short films, videos, and documentaries (per Forbes). As Harper's Bazaar noted, her 2019 film, "Our Lady of the Nile," was critically received, earning the Crystal Bear award at the Berlin International Film Festival in 2020. The film is about schoolgirls from Rwanda studying at a Catholic boarding school in Belgium.
She takes after her mother, Princess Caroline
It probably isn't surprising to learn that Charlotte Casiraghi greatly resembles her mother, Princess Caroline, in more ways than one (per Vanity Fair). She has inherited her mother's love of fashion and sense of style, regularly taking a front-row seat at fashion shows around the world, as did her mother. And it's been said that both she and Caroline were muses for the late Karl Lagerfeld, who led Chanel for many years. In a Vogue feature sharing some of the royal's best looks, it's clear that Charlotte shares her mother's love for tiered pink dresses, feathered gowns, and tweed suits.
Charlotte also follows in her mother's intellectual footsteps with her varied passions and endeavors. In an interview with both Caroline and Charlotte for Tatler, they spoke of the struggle for women to rise above the boundaries of society. Said Caroline, "I remember my mother telling me in good faith, 'You don't need to go to school.' I also remember a university professor who told me with incredible cruelty: 'You are taking the place of a deserving student.'" Added her daughter, "Being a woman and wanting to express your uniqueness is a struggle, whatever your position … We see less today the part of sacrifice that there is in being a woman."
Charlotte had two weddings in 2019
On June 1, 2019, Charlotte Casiraghi married film producer Dimitri Rassam, son of French model and actress Carole Bouquet (per People). As another People article noted, they had a civil wedding ceremony at the Palace in Monaco in front of family and friends, in which Casiraghi wore a stunning Yves St Laurent suit in gray adorned with three bows. For the reception that followed at the Mediterranean-facing Villa La Vigie, the bride changed into a strapless Chanel gown. Per People, the focal point of her outfit was her Cartier diamond necklace — the same one her grandmother, Grace Kelly, had received from Prince Rainier III on their wedding day in 1956.
At the end of June, the newlyweds celebrated again, this time with a religious wedding. Sources told People that the ceremony and reception took place in a surprise location: the Abbaye Sainte-Marie de Pierredon in the south of France just outside St. Remy de Provence. As a source close to Casiraghi told People, the location had a special meaning: It's where her mother, Princess Caroline, had taken her and her brothers to live after the sudden death of their father. "It is this particular love of Provence she wants to share with her family and friends," said the source.
This time, according to Town & Country, the bride chose a gown designed by Giambattista Valli that slightly resembled the one her mother wore for her 1978 wedding to Philippe Juno.
The multitalented heiress is a mom of two
Charlotte Casiraghi is also a mother of two boys. As Us Magazine noted, in 2013, the married royal welcomed her first child, son Raphaël Elmaleh, with French-Canadian comic Gad Elmaleh. Casiraghi and Elmaleh were together for four years prior to splitting in 2015.
In July 2018, per People, Casiraghi announced she was pregnant with her second child with her then-fiance, film producer Dimitri Rassam. Their son, Balthazar Rassam, was born later that year. According to Who.com.au, which had obtained exclusive photos of a pregnant Casiraghi, the two had gotten engaged during a ski trip in Austria, where they were joined by Casiraghi's mother, Princess Caroline.
The couple, who began dating in 2016 (per People), apparently share a lot in common: They both received a degree from Paris-Sorbonne University, and Rassam, like Casiraghi, has a child from a previous relationship, as he shares a daughter with his ex-wife.
Charlotte Casiraghi is an avid skier
Skiing is another of Charlotte Casiraghi's favorite pastimes, as evidenced by her many ski trips over the years. A love for the slopes is also something she shares with her mother, Princess Caroline. In March 2016, she was photographed skiing at Zurs Ski Center in Austria wearing the Moncler Puffer Jacket and matching Moncler Flared Ski Pants, as Star Style noted.
Per Hola!, in February 2020, the two Monaco royals shared some mother-daughter bonding time while skiing in Austria with family. Joining them were Casiraghi's older son, Raphaël Elmaleh; her brother, Pierre Casiraghi, his wife, Beatrice Borromeo; and their then-infant son, Francessco Casiraghi. Also in attendance were her younger sister, Princess Alexandra of Hanover, who brought her boyfriend, Ben Sylvester Strautmann.
Over Christmas 2021, Charlotte was spotted in Switzerland at the Gstaad Ski Center with Caroline; her husband, Dimitri Rassam; and her other brother, Andrea Casiraghi, for yet another family ski vacation, per Monaco News.
Charlotte has lived in some beautiful properties throughout France
In April 2018, Architectural Digest shared details about the fine places Charlotte Casiraghi has resided. At the time of publication, a newly engaged Casiraghi and Dimitri Rassam lived together with her son, Raphaël, in a Paris apartment in the Left Bank, where they were often seen together. According to the magazine, Casiraghi had moved to an "opulent" apartment in the area after her breakup with Raphaël's father, Gad Elmaleh.
When Casiraghi and Rassam want to get away, they have their country house in Barizon, France, a property she acquired in 2016. While the couple has never brought cameras into the house, its decor is said to consist of both new and vintage items, per the magazine.
Additionally, Casiraghi was raised at The Farm in Saint-Rémy-de-Provence, France, along with her brothers, Andrea and Pierre Casiraghi. Her mother, Princess Caroline, had moved the family to the secluded country estate in 1990 shortly after their father's death. Later, Caroline and her third husband, Prince Ernst August of Hanover, moved their brood to The Manor, a 7,500-square-foot historic property in Mée-Sur-Seine, France, which they bought from Caroline's close friend, Chanel's Karl Lagerfeld.
Architectural Digest also described Caroline's pink neo-classical home, Villa Clos Saint-Pierre, in Monaco-ville, the historic part of Monaco, near the Prince's Palace. While we don't know whether Charlotte ever lived there, it's likely she has spent a night or two.