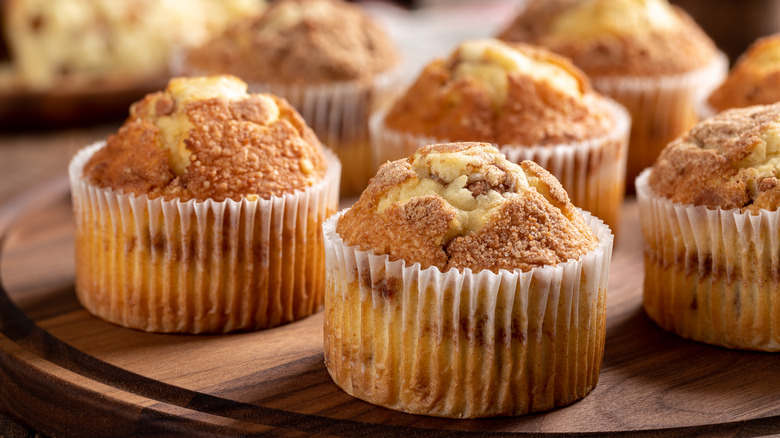 Whether regular, jumbo, or mini, filled with fruit, chocolate, or gluten-free, it's an undeniable fact that everyone loves muffins. Because someone took the time and care to bake up a pan from scratch, muffins — especially ones with extra-fluffy muffin tops — make meals feel extra special. And the best part for home cooks is that the process of assembling and baking muffins is fast and easy to do.
This Mashed round-up of muffin recipes has something for everyone. There are muffin ideas for at-home breakfasts, and muffin recipes for get-togethers with a crowd. Mini chocolate chip muffins are the perfect bite for tucking inside lunch boxes as a treat, and honey cornbread muffins are delicious for breakfast or as a side for dinner with your loved ones.
If you prefer your muffins to be filled with fruit, this round-up has plenty. Try apple cinnamon muffins, blueberry banana muffins, or toasty oatmeal raisin muffins. Make muffins to celebrate the season or holidays, like cranberry muffins for Christmas, pumpkin streusel muffins in the fall, and chocolate zucchini muffins at the end of summer. No matter which muffin recipe you choose, they will surely be a hit with all your hungry fans.
1. Blueberry Muffins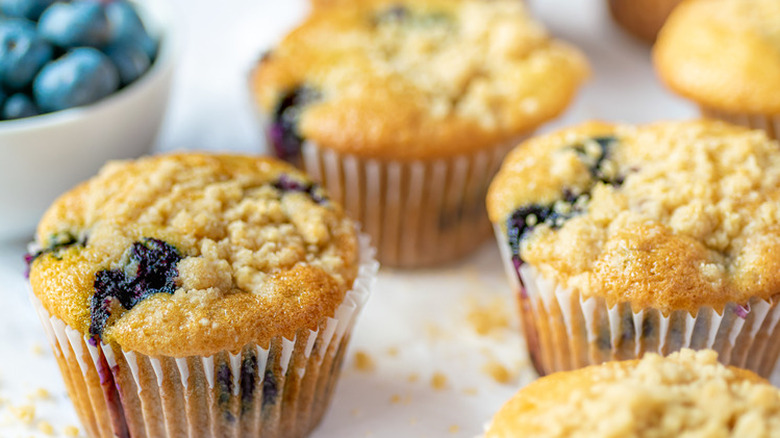 Let's kick things off with one of the best muffins ever: A classic blueberry muffin. Each sweet and tender bite is filled with juicy blueberries that leave lovely blue and purple streaks as they bake. Skip the boxed mixes, because making a batch of homemade muffins is easy, and uses ingredients that are probably already in your pantry. Scoop muffin batter (using an ice cream scoop, if you've got one) into paper liners so that they slide cleanly from the pan after baking. This recipe makes 12 golden muffins.
2. Pumpkin Chocolate Chip Muffins
Capture the flavors of fall in a batch of these homemade muffins. They're filled with nutmeg and cinnamon, have a lovely orange hue from pumpkin puree, and chocolate chips in every bite. It takes only ten minutes to mix the muffin batter, and they bake up in less than 20. Taste Of Home shares that muffins are easy to freeze and warm up later, which is a great way to have them on hand any time a craving strikes.
3. Copycat Costco Chocolate Muffins
To create a homemade version of the huge chocolate muffins found at the Costco bakery, bakers need to get the flavors and the size just right. Our copycat recipe includes cocoa powder, chocolate chips, and a dash of cinnamon, which yields a rich, chocolatey final product. To copy the extra-large size of the store's muffins, look for a jumbo muffin tin. You can also use a standard muffin pan: Even though they'll be smaller, the muffins will still be decadent, delicious, and full of chocolate.
4. Banana Nut Muffins
For all the reasons you love banana bread — super moist, sweet, easy to make — you'll love these Banana Nut Muffins just as much. Ripe bananas are the key ingredient here, a perfect way to use up those leftover brown bananas that no one will eat. The ripe bananas, along with Greek yogurt and oil, help create exceptionally moist muffins that get topped with a crunchy streusel of brown sugar and chopped walnuts. The recipe makes 12 delicious muffins.
5. Chocolate Chip Muffins
Chocolate lovers really appreciate any excuse to include chocolate in breakfast — like these soft and fluffy muffins. The simple batter includes sour cream to give the muffins an extra rich and tender texture. Although you could use regular-sized chocolate chips, choosing mini chocolate chips means you'll get even more bits of chocolate in every bite. Enjoy them for breakfast or any time of day as a snack: They're very good when eaten warm with butter, peanut butter, or a drizzle of maple syrup.
6. Apple Cinnamon Muffins
These muffins are full of autumn flavors like apple and cinnamon, but they're so delicious you should really be making them all year long. The from-scratch muffins include a blend of white and brown sugars and chopped apple. Baking apples like McIntosh and Rome will be softer after baking, while crisper varieties like Gala and Honeycrisp apples will have more of a bite. The muffins are topped with a streusel made from brown sugar and oats. Make them for a family breakfast, bring them to brunch, or treat your co-workers to some freshly-baked fall flavors.
7. Cornbread Muffins
The best thing about cornbread muffins is how versatile they are: You can serve them for breakfast with butter and raspberry jam, for lunch alongside fresh salad, or with dinner as a side for spicy chili, beefy stew, or roasted meats. Make some today, but skip the bland box mixes and make tender cornbread muffins from scratch. A bag of cornmeal will be enough for several batches and the other ingredients, like flour, eggs, and oil, are always on hand.
8. Spiced Bran Muffins
There are benefits to including more bran in your diet. According to Health.com, adding bran can help prevent heart disease and diabetes, and also promotes better digestion. These soft muffins are a fantastic, delicious, and versatile way to add some more bran into your meals. Look for wheat bran or a bran cereal like Kellogg's All-Bran and add it to the mixture along with a little sugar and warming spices. Enjoy the muffins for breakfast or as a midday snack.
9. Chocolate Chip Mini Muffins
The more, the merrier — this recipe for 30 little muffins is a great way to make enough to share at breakfast get-togethers, for kids to eat as an after-school snack, or to pack inside lunch bags for a little treat. Add mini chips to this easy batter for a taste of chocolate in every bite, and you can add other flavors too, like a dash of cinnamon or almond extract. If you don't have mini muffin pans and liners, look for them at craft stores and baking supply stores.
10. Cinnamon Muffins
These muffins will remind you of the boxed crumb cakes made by Entenmann's, with a tender, cakey bottom and crumbles of cinnamon streusel over the tops. The batch of 12 muffins are perfect for sharing with friends, bringing to brunch, or freezing to have on hand for future snacks and breakfasts. The recipe is easy to follow, including the streusel topping made with a blend of melted butter, brown sugar, and cinnamon. As a bonus, your kitchen will smell unbelievably good as they bake!
11. Copycat Panera Chocolate Chip Muffie
Remember "The Muffin Tops" episode of "Seinfeld" where a bakery owner had hundreds of unwanted muffin stumps leftover from his muffin tops business? Well, this copycat recipe for "Muffies" from Panera has a very easy solution to that problem. Just bake scoops of the batter, made with cinnamon and chocolate chips, on a cookie sheet and they'll bake up into fluffy mounds. No stumps — just soft and delicious Muffies for breakfast or a snack.
12. Cranberry Muffins
Look for frozen cranberries at the store, or throw a bag of fresh cranberries in your freezer the next time you find them in the produce aisle. Having them stashed away means you can bake a pan of tender cranberry muffins any time you wish. The batter is very simple and can be jazzed up with spices like cinnamon or ginger, or with add-ins like white chocolate chips. The muffins take only 25 minutes to bake. Make them for overnight guests or surprise your roommates with a batch.
13. Chocolate Zucchini Muffins
This recipe takes the familiar zucchini bread concept and turns it into chocolaty muffins. They're a great way to use up your bounty of garden zucchini, but it's also worth using store-bought zucchini, because the vegetables are what makes the muffins really moist and tender. The batter comes together in only 10 minutes, includes cocoa powder and chocolate chips, and finishes baking in 20. What a decadent breakfast option, and they're also tasty for after-school/after-work snacks or as a late-night treat.
14. Banana Muffins
Made with ripe bananas, Greek yogurt, and a pinch of cinnamon, this fruity muffin recipe is a lovely one to bookmark for lazy weekends or to treat guests staying over at your house. Since they bake in just 20 minutes, it's easy to serve them warm with butter or jam. Another nice thing about this banana muffin recipe is that it's very customizable: Try them with chocolate chunks, chopped walnuts, raisins, or sweetened, shredded coconut.
15. Copycat Costco Almond Poppy Seed Muffins
It's way too easy to be tempted by the best Costco bakery items. After all, pies, breads, and cakes are laid out in rows that stretch out as far as the eye can see. However, it's time to skip the Costco trip and make a batch of jumbo Almond Poppy Seed Muffins at home. The most important ingredients to recreate the flavor are poppy seeds and almond extract — look for both in the spice aisle at the grocery store. With the help of a jumbo muffin pan, eight large muffins will be yours in no time.
16. Gluten Free Chocolate Chip Muffins
It really is possible to make homemade muffins that are gluten-free, yet still fluffy and moist. This recipe is easy enough for beginning bakers, and from start to finish takes about 35 minutes. Ingredients like Greek yogurt and oil give the muffins their tender texture, while sugar and milk chocolate chips add sweetness. (You can also use dark or semisweet chips.) The only specialty ingredient is gluten-free, all-purpose flour — check your grocery store for options from flour brands like King Arthur Baking, Bob's Red Mill, and Krusteaz.
17. Pumpkin Muffins
Pumpkin spice cravings are most associated with fall, but in reality, they can strike anytime. What's not to love about a combination of real pumpkin, cinnamon, nutmeg, and ginger? Since all of the ingredients for these pumpkin muffins are available year-round at the store, home bakers are free to make a batch anytime. Look for canned pumpkin in the baking aisle (not to be confused with pumpkin pie mix.) The muffins bake through in only 20 minutes and can also be frozen for pumpkin-filled treats year-round.
18. Banana Blueberry Muffins
This recipe takes two homebaked favorites — blueberry muffins and banana bread — and mashes them into one wonderful muffin. Really ripe bananas are important, as they give sweetness and moisture in the muffins. According to The Pioneer Woman, you can use your oven or microwave to speed-ripen yellow bananas in 20 minutes or less. Fold fresh blueberries into the batter and portion it into paper liners in a muffin pan. Banana Blueberry Muffins are wonderful for breakfast, and make a unique dessert when served with ice cream and a drizzle of maple syrup or caramel.
19. Coffee Cake Muffins
Not a fan of coffee? Don't worry: There's no java in these delectable coffee cake muffins. They just get that name because they taste so good with a hot cup of joe — or tea, cold milk, cocoa, or any drink you wish! What the muffins do have is a tender crumb and lots of brown sugar-cinnamon streusel on top. And since they only take 30 minutes to make, you can easily make them any day of the week.
20. Honey Cornbread Muffins
Cornbread muffins are just as at home on the breakfast table as they are served with dinner entrees like meaty chilis, roast turkey, or meatloaf. This recipe makes them extra special with the addition of honey to the batter, which gives the muffins a moist texture and sweetness that nicely complements their corn flavor. If possible, use raw honey from local growers, which has a much more pure and complex flavor than regular store-bought honey. These muffins are the perfect way to let that flavor shine.
21. Oatmeal Raisin Muffin
Oats and raisins go together like peanut butter and jelly. The combination can be found in packets of instant oatmeal, cookies, trail mix, energy bars, and now, muffins. The recipe couldn't be easier — it uses old-fashioned oats, raisins, cinnamon, and other ingredients you probably have on hand right now. Best of all, they're ready in only 15 minutes. Enjoy them warm from the oven, or reheat them on busy mornings in the toaster oven or microwave.
22. Apple Cinnamon Streusel Muffins
Use fresh apples from your apple-picking day — or just a couple from the store — to make a pan full of cinnamony apple muffins. Along with chopped apples, the batter gets an extra dose of fruit in the form of cinnamon applesauce, an ingredient that also makes the muffins really tender. The final touch is a streusel topping of brown sugar and cinnamon. It's one of the best autumnal snacks or breakfasts around.
23. Pumpkin Streusel Muffins
It only takes six ingredients to make these flavor-packed muffins. The secret? Two, shelf-stable ingredients: Boxed spice cake mix and canned pumpkin puree. Mixed together with butter, pumpkin pie spice, and two other pantry ingredients, the prep time is only 10 minutes, with a bake time of just 18 minutes. The muffins are soft and fragrant, and delicious any time of year. (But especially in the fall and for the holidays.)