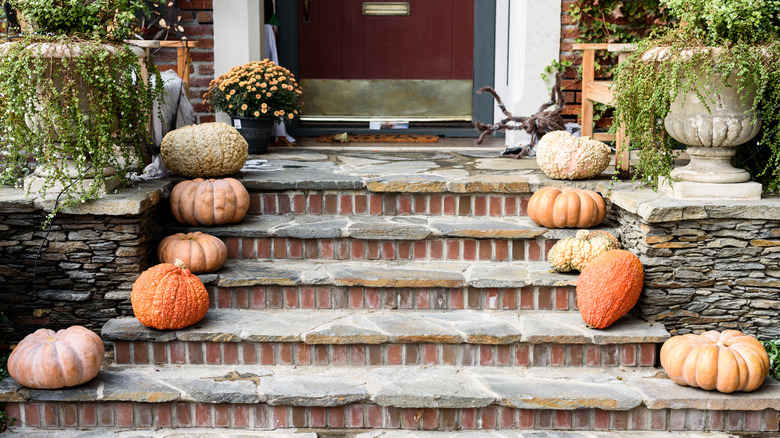 We may receive a commission on purchases made from links.
There's something so enjoyable about stepping outside on a fall morning and being greeted by chill air. The excitement that the cooler air brings is emphasized when you pause and consider what seasonal décor to add to your front porch. Fall weather brings to mind all the things that make this time of year special, such as fall festivals, hay rides, pumpkin-spiced lattes, and autumn leaves. Choosing a fall-themed doormat is a perfect way to lay the groundwork for your fall décor and begin celebrating the season.
It's helpful to consider a couple of questions before choosing a doormat. For instance, how much will the mat be exposed to the elements? Does the porch have a roof above the front door, or will the mat be fully exposed? Is your home in a moderate climate, or do you experience heavy snowfall yearly? Doormats can be simply decorative or provide stronger protection from the elements outside. They are made of different materials, ranging from soft cotton to non-skid rubber to sturdy coir. Although practical, doormats are also decorative and provide a first impression for visitors. Designer Joy Cho explains to The Washington Post that when choosing a doormat, it's important to imagine how and where it will be used. "It's nice to have a softer and thinner rug inside and a more bristly, durable one outside." Here are clever tips to consider for the perfect fall doormat for your home.
1. Checkered welcome
If the cool breezes of fall make you wish you were heading to a snowy farm in the country, then the charming scene on this doormat will take you there. Placing Briarwood Lane's Black Checkered Truck Fall Coir Doormat on your doorstep is the perfect way to welcome your guests to your modern farmhouse. It's harvest season, so of course, you'll carry a few pumpkins in the back of the truck. The vibrant colors and cheerful welcome are printed on sturdy coir material made from coconut husks. Coir is effective for brushing the snow and mud off boots and absorbing water that collects at the front door.
This mat has garnered many positive ratings, as reviewers love the traditional scene and bright colors. One customer contained a helpful suggestion to apply a waterproofing spray to the mat to preserve the design. Another mentioned that coir could shed as it's put to use underfoot, but the fibers can be swept away. This sturdy mat is best for outdoor use and will protect your home from the elements while welcoming guests inside.
2. Modern farmhouse
This Black and White Striped Front Porch Rug from BUAGETUP is versatile in many ways. It gives any porch a traditional farmhouse look with its clean-cut stripes and handsome appearance. It can also be layered with other fall décor, as the contrast of the black and white makes a beautiful backdrop for pumpkins or planters filled with flowers in autumn hues.
This floor covering can also be used as a layer under a heavier doormat, as this mat is not meant to withstand heavy winter weather on its own. A sturdy coir mat with a colorful fall image would be a practical and cheerful accompaniment to this rug. Customers note that the mat wears well, does not fray, and maintains its colors well when washed. One reviewer states that paying attention to the different sizes offered is essential to ensure the best fit for your front porch.
3. Extended welcome
Wider than a traditional doormat, this Pumpkin Welcome Decorative Doormat from Artoid Mode is perfect for a front doorstep that requires a larger "footprint." An entryway with double doors might make a smaller doormat look diminutive in comparison. This doormat is a generous width at 17 inches x 47 inches and can be combined with a layered runner underneath to increase its size even more. The small and large pumpkins are underscored by a cheerful "welcome" message, written in a whimsical script that seems to reflect the joy of the season of cooler weather.
The mat is reinforced with rubber underneath to prevent it from slipping. While it is sturdy and can handle traffic very well, it is not the kind of mat that will effectively remove loads of snow from boots or absorb a great deal of moisture. However, reviewers appreciate how pretty it is, how easy it is to clean, and how well it coordinates with their other fall decorations.
4. Autumn indoors
On particularly windy days, wiping your feet on a doormat outside may not offer enough protection to your home once you step through the door. Placing a decorative doormat inside the entryway is a great way to protect your floors and celebrate the fall season. The Autumn Leaf Foliage Low-Profile Carpet by ZFUNCING is a great way to do it. And unlike the coarse fibers used in an outdoor mat, this mat is made of microfiber that is soft on bare feet.
The mat is designed in various shades of burgundy, with images of fall foliage scattered throughout. It does not have a high pile, meaning it will stay in place in front of a door as it opens and closes. It comes in various sizes, so it's suitable for a small entryway or a larger space where layers of cold weather gear might accumulate. This handsome rug will complement your home's fall décor, and its absorbency and non-skid backing promise to keep your floors dry and safe for family and visitors.
5. Personalized and cheerful
This Personalized Pumpkin Patch Doormat by Let's Make Memories offers the chance to create a truly unique doormat. Take advantage of the personalization feature to insert your family name at the bottom of the mat for a customized look. The mat is available with or without the scrolled frame. On its own, the mat has a simpler, more rustic look, and adding the scrolled frame gives it a more detailed, formal look.
The mat is made of non-skid polyester and is easy to clean. However, it may not be suitable for heavy snow if the purpose is to scrape the ice off a pair of boots, for example. The scrolled frame is also non-skid and made of recycled rubber. The company claims that its line of seasonal doormats can fit inside the frame and be easily replaced. With so many options to choose from, each one of these doormats offers the chance to give your doorstep a truly original design.