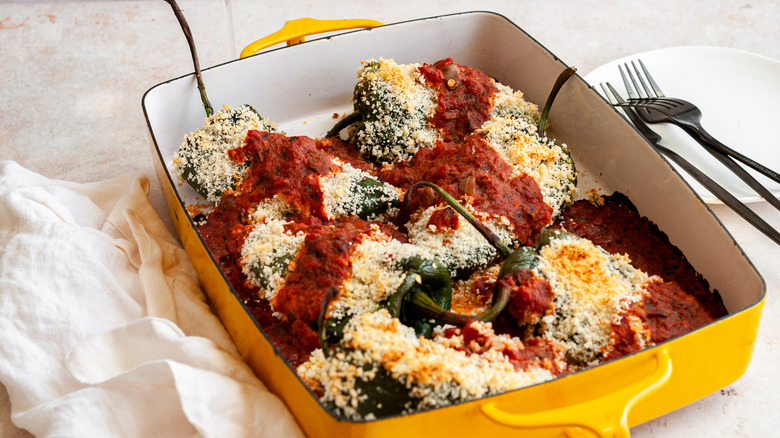 If you've been looking for one of those dishes that is so gorgeous and tasty it will impress even the most discerning of diners, well hey, those aren't hard to find! But if you also want that dish that also happens to be easy to prepare, then you're in luck with this baked chile relleno recipe from recipe developer Christina Musgrave of Tasting with Tina. While traditional chile relleno is fried (oh, and it's pronounced liked chile RAY-EY-NO, by the way), this one uses classic ingredients and an alternative cooking method: baking.
"The special method in this recipe is baking instead of frying," Musgrave explains. "It still has the breading and flavor of a traditional chile relleno but less fat!" And the prep/cooking is easier, which is just one more bonus. Of course, the real win comes when you and your guests dive into this dish, which makes a perfect side to pair with chicken or steak and rice at dinner, but can also go with eggs and potatoes in the morning.
Gather your ingredients for the chile relleno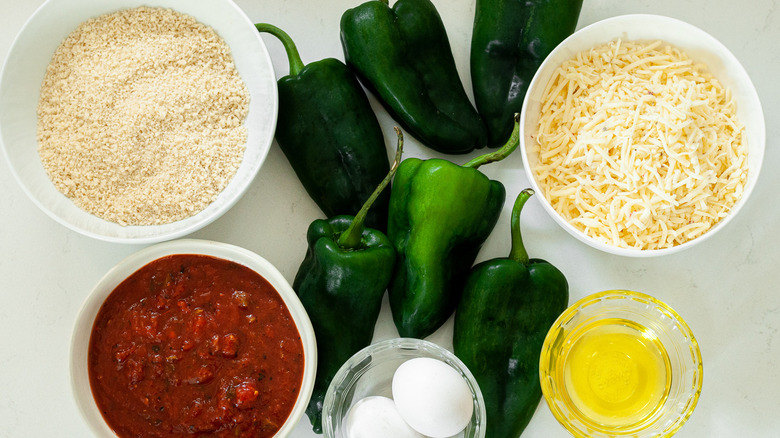 To prepare this tasty baked side, you'll need some poblano chiles, some olive oil, plenty of pepper jack cheese, eggs, panko breadcrumbs, and a large jar of Rioja salsa.
On the chiles, Musgrave says, "Some poblano peppers are naturally very spicy, but you can sub them out for an even more spicy pepper, or add hot sauce or use a spicy salsa in the recipe."
Sear then steam the chiles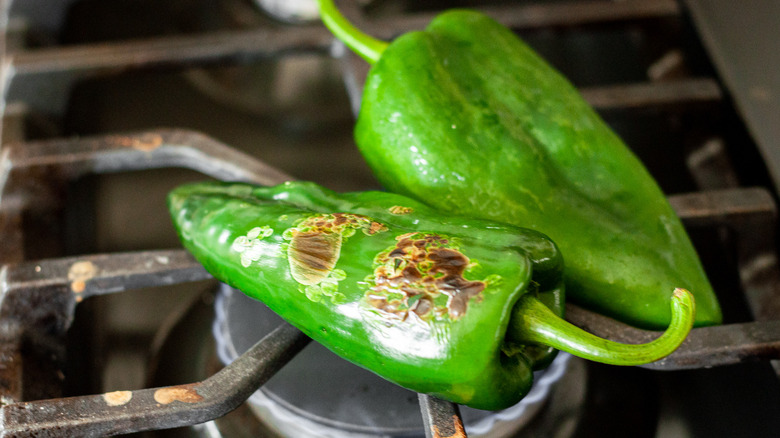 Go ahead and preheat your oven to 400 F, but it's not the first heat you'll be using here. First, using tongs for safety, heat the chiles directly over the flame of a gas stove, turning them at intervals such that they blacken on all sides. (You can do this searing using a grill, too, if that's needed or easier). As soon as the chiles are evenly blackened, quickly pop them into a plastic bag and seal it while they're still hot — this will make them steam themselves in the bag.
Give the chiles about 5 minutes steaming in the bag, then move on to the next step.
Peel and stuff the chiles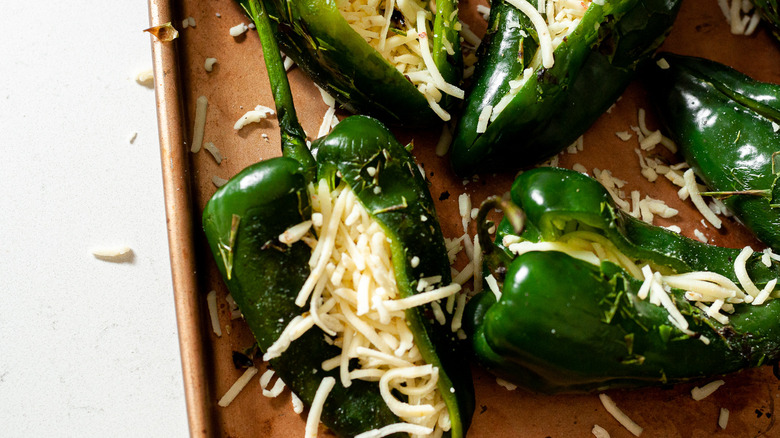 Remove the steamed chiles from the bag and carefully peel off their skins — these should slough off without much work, and you can use a knife to loosen any clinging pieces. Then, with a good sharp knife, make a slice down the length of each chile, cutting from the stem to the tip of each chile, and then removing their seeds. "Take your time with the peppers," Musgrave says. "Really allow the skins to be charred, and then wait until they are steamed to remove them [from the] peppers. Be careful removing the skin because the peppers can tear easily!"
Now stuff each pepper evenly with the pepper jack cheese.
Bread then bake the chiles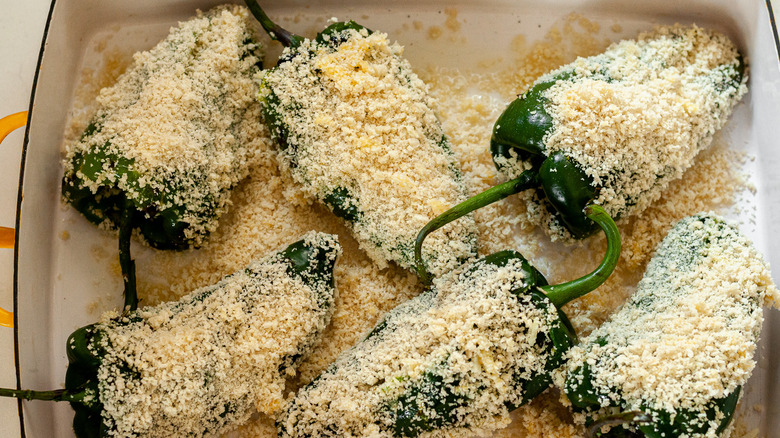 Once the peppers are stuffed, whisk both of the eggs in a bowl and spread out the bread crumbs in a shallow bowl. Next, dip each stuffed chile into the whisked eggs and them coat with breadcrumbs.
Next, pour the olive oil in a shallow baking dish and spread it out around the bottom of the pan. Now add the breaded chiles and top them with salsa. Bake the chiles for 20 minutes, until they are golden brown, and then enjoy! And one final note from Musgrave: "Leftovers keep well and I recommend reheating in the microwave or the oven."
6 poblano chiles
2 tablespoons olive oil
2 cups pepper jack cheese
2 eggs
2 cups panko breadcrumbs
1 (15-ounce) jar Rioja salsa
Preheat the oven to 400 F.
Using tongs, hold the chiles over high heat on a gas stove. Turn until all sides are blacked, then transfer the chiles to a plastic bag, seal it, and let them steam for 5 minutes.
Remove the chiles from the bag and carefully peel off the skins, then make a slit in each chile from the stem to the tip and remove seeds. Stuff chiles with pepper jack cheese.
Whisk eggs in a bowl, then dip each stuffed chile into the eggs and coat with breadcrumbs.
Pour olive oil in a shallow baking dish. Add chiles and top with salsa, then bake for 20 minutes, until golden brown.