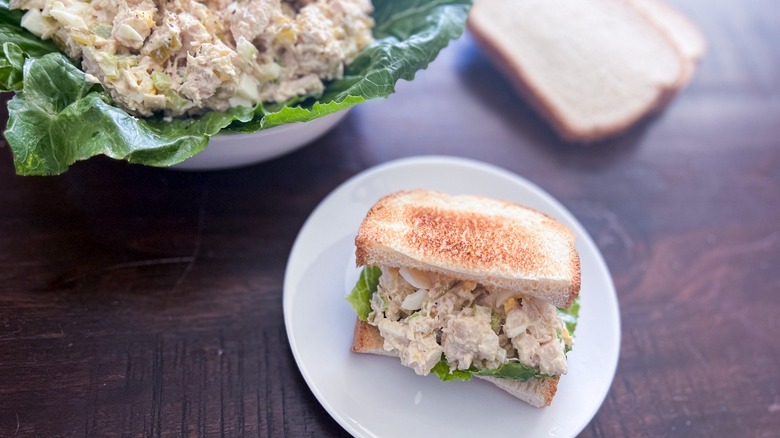 If you are looking for a quick meal to add to your meal prep line up, consider this chicken salad. No need to cook up chicken breasts from scratch here. This recipe calls for rotisserie chicken to really cut back on the time in the kitchen. "Chicken salad is a great meal prep food and works great as a sandwich, wrap, or on a salad," Johnson says. She adds, "I like to serve chicken salad on croissants for an easy lunch with a side of chips and a pickle!"
Gather your ingredients for a fast and easy Southern-style chicken salad sandwich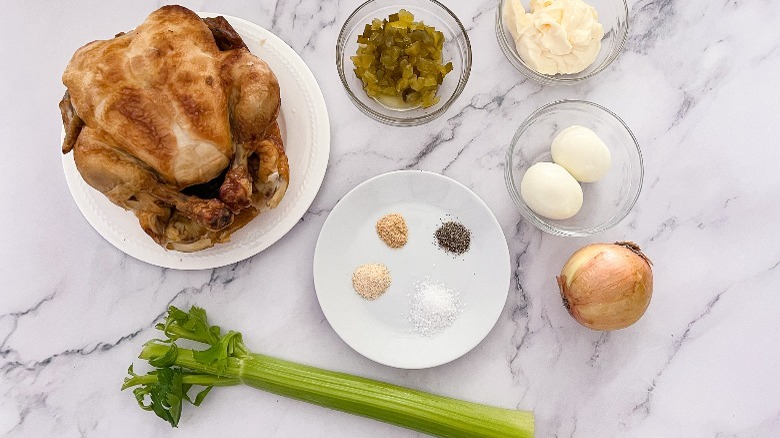 To make this fast and easy southern style chicken salad sandwich, you can start by gathering your ingredients. For this recipe, you will need duke's mayonnaise, onion, sweet relish, celery, salt, black pepper, garlic powder, onion powder, rotisserie chicken, and hard boiled eggs. "I love using a rotisserie chicken for chicken salad because it makes it fast and easy," Johnson says.
Mix the mayo, onion, relish, celery, and seasonings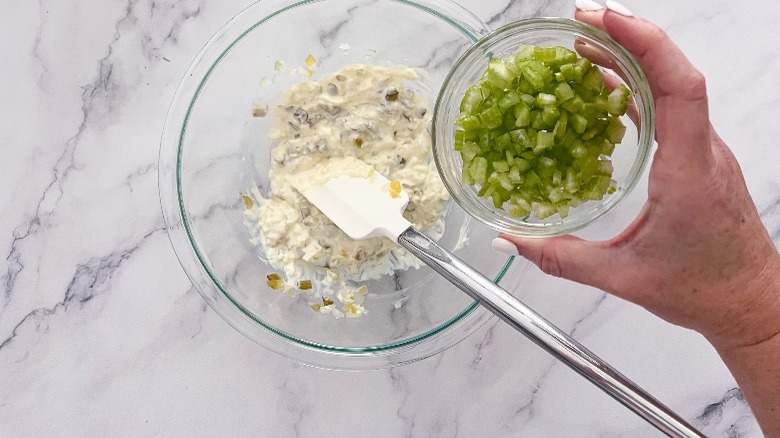 In a bowl, add the Duke's mayo, onion, relish, celery, salt, pepper, onion powder, and garlic powder. Use a spoon to mix the combination well. "Duke's Mayo is the go to Mayo in the South! It uses more yolks, apple cider vinegar instead of white, and no sugar," Johnson explains. "You can make this with regular mayonnaise if you can't find Duke's."
Add in the chicken and the eggs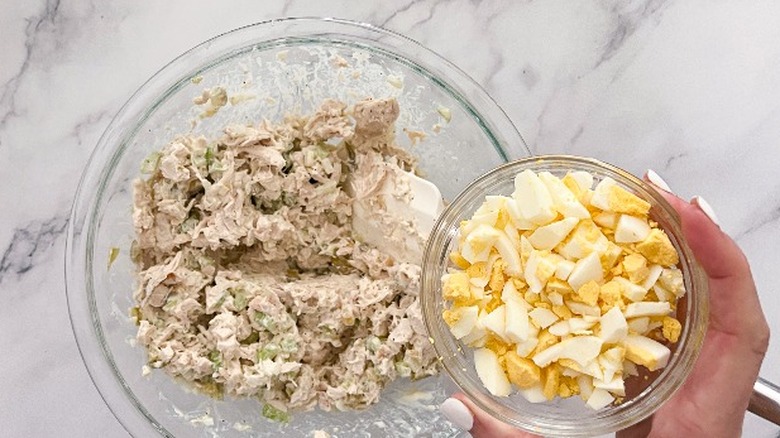 Next, add in the chopped rotisserie chicken as well as the chopped hard boiled eggs. Give this entire mixture a good stir, being careful not to break up the eggs. At this point, you can check the consistency. "When you're mixing the chicken salad up, if it seems dry to your preference, add a little more [mayo]," Johnson suggests. "The exact amount you need depends on a lot of factors including your own taste, so add the chicken first and then add more as needed or desired."
Chill for at least 30 minutes before serving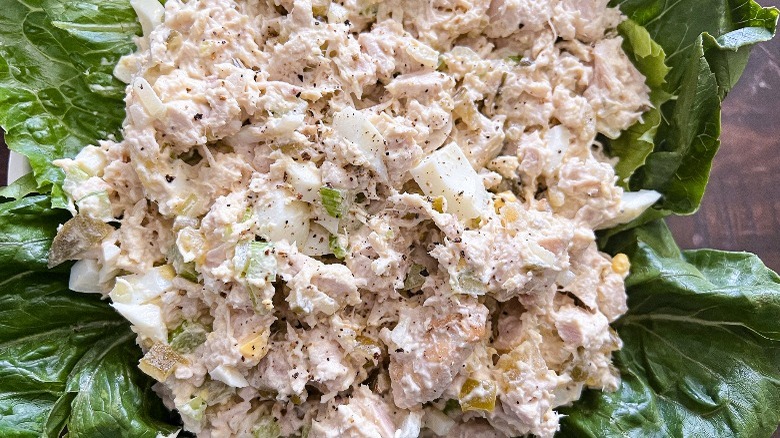 Johnson swears by this last step. Place the prepared chicken salad in an airtight container in the fridge. Make sure to chill this for at least 30 minutes before serving. Johnson reluctantly says, "If you're in a rush don't have to chill the chicken salad but it will taste best if you do."
If you do not eat this chicken salad up in the first serving, you can store it in the fridge for up to three days.
½ cup Duke's mayonnaise
⅓ cup onion, finely diced
⅓ cup sweet relish
1 stalk celery, finely diced
½ teaspoon salt
¼ teaspoon ground pepper
¼ teaspoon garlic powder
¼ teaspoon onion powder
4 cups rotisserie chicken, chopped
2 eggs, hard boiled and roughly chopped
Mix together the mayonnaise, onion, and relish.
Add the celery and seasonings.
Add the chicken to the mayonnaise mixture and stir.
Gently fold in the eggs.
Refrigerate for at least 30 minutes and then serve as a sandwich or on a bed of lettuce.