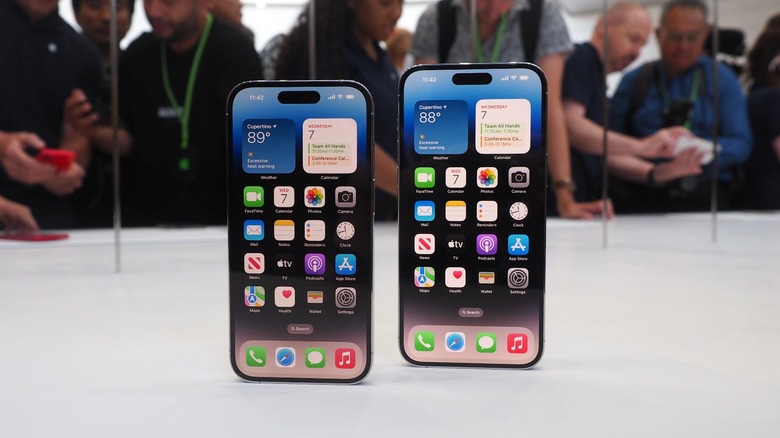 The worldwide smartphone market slowed down slightly in 2022, but that didn't stop some manufacturers from making a few fantastic flagship devices for those consumers looking for an upgrade. This year, most major manufacturers decided to polish the rough edges of last year's devices instead of making big waves.
That also partially caused the slowdown, as this year's new device reveals weren't nearly as surprising or dazzling as they have been in years past. Devices like the iPhone 14 Pro and Samsung's Galaxy S22 Ultra didn't appear to have changed drastically from their predecessors, focusing instead on bringing just a few key feature upgrades while maintaining familiar industrial designs.
Prices haven't changed much from last year either, with flagships regularly costing $1,000 or more. That's a large amount of cash, but manufacturers have focused on features like extended battery life and better cameras to make sure consumers feel that they've gotten what they've paid for.
The interesting thing this year is that ultra-premium, flagship-level devices are on the rise. Take China, where smartphones costing $400 or more at wholesale prices were up by 33% in Q2 of 2022. Foldable devices are now mainstream, with only a few significant manufacturers yet to join the fray. The notable standouts are Google's Pixel range and Apple's iPhone range, both of which are rumored to have foldables in development.
1. iPhone 14 Pro
This year, all eyes were on the $999 iPhone 14 Pro and $1,099 iPhone 14 Pro Max. The entire iPhone 14 range got safety upgrades in the form of SOS Emergency satellite connectivity and crash detection and some camera improvements. Still, the Pro models got more of everything.
An equally-divisive Dynamic Island replaced the still-divisive screen notch for the Pro range. This new system surrounds the hole-punch selfie camera and Face ID sensors and provides notifications, alerts, and shortcuts.
Only the iPhone 14 Pro and iPhone 14 Pro Max got this year's A16 Bionic chipset. The iPhone 14 and iPhone 14 Plus are powered by last year's A15 Bionic. Both chipsets are capable; the newer A16 Bionic will have more longevity if you're not a serial upgrader.
Apple put a new primary camera on all four models this year. The iPhone 14 and iPhone 14 Plus have an upgraded 12-megapixel wide camera with a larger sensor, f/1.5 aperture, and larger pixels for better low-light performance.
The iPhone 14 Pro and iPhone 14 Pro Max have an all-new primary camera with a 48-megapixel sensor. By default, this is set to combine data from groups of pixels into 12-megapixel images, but you can create 48-megapixel images if you want more details in ProRAW mode.
All four iPhone 14 models get Apple's Photonic Engine, giving the devices some top-tier computational photography tools. What none of them get is a physical SIM card slot — for the U.S. release of the iPhone 14 family, anyway. Apple decided to go all-in on eSIM this year, which might make upgrading frustrating.
2. Samsung Galaxy S22 Ultra
What yearly ranking would be complete without Samsung's flagship device, the Galaxy S22 Ultra. Depending on how you look at it, it's a Galaxy Note with better cameras or a Galaxy S range with an integrated S Pen stylus. Either way, it's a behemoth and well deserving of second place.
We leaned towards it being a "Note, less a Galaxy S." It has the same wide body with blunted, rounded edges as the most recent Note series. It has the same silo to stash the S Pen stylus, and all of the operating system tweaks Samsung has perfected over the years.
Those tweaks include an algorithm that predicts which way you're about to move the S Pen to make it feel more responsive. It's pretty impressive and makes the digital ink feel like it's flowing from a physical pen.
The 6.8-inch AMOLED screen with its 120Hz refresh rate that can dynamically drop to 1Hz is a work of wonder. It's silky-smooth, fast when it needs to be, and helps eke out every drop of battery life from the 5,000 mAh battery.
The Galaxy S range is known for its camera quality, and the Galaxy S22 Ultra doesn't disappoint. It has a 108-megapixel primary sensor with Dual Pixel AF, a 12-megapixel ultra-wide camera, and two 10-megapixel zoom sensors, one with a 3x lens and one with a 10x periscope lens.
A starting price of $1,200 with 128GB of storage means that, while the Galaxy S22 Ultra is impressive, this is one flagship for S Pen fans only.
3. Galaxy Z Fold 4
This year, Samsung continued its march toward the foldable future it envisions. The Galaxy Z Fold 4 was launched, and for the most part, it was an iterative upgrade over last year's Galaxy Z Fold 3.
What did change this year is that Samsung's efforts have more or less made foldables mainstream. It's the class leader, with nearly 90% of the worldwide market, according to ETNews. Most other smartphone manufacturers have either sprinted to release their own foldable or have one in development.
The screen size this year in the Galaxy Z Fold 4 was unchanged at 6.2-inches outside and 7.3-inches inside (unfolded), but the aspect ratio got tweaked, so it's a little bit wider when folded and unfolded. It's closer to any other flagship when folded, but the magic happens when you unfold it to its full size.
The smoother hinge is welcome, as is the less-obvious crease in the flexible AMOLED screen. Qualcomm's Snapdragon 8 Plus Gen 1 runs everything you can throw, along with 12GB of DRAM. Storage options include 256GB, 512GB, and 1TB if you want to pay for it.
The most significant improvement in this generation is found in the cameras. Now they're flagship quality, even if they lag behind the Galaxy S22 slightly. A 50-megapixel wide sensor with an f/1.8 lens handles images admirably, backed up by a 12-megapixel ultra-wide with a 123-degree field of vision and a 10-megapixel telephoto that offers 3x optical zoom.
The only real downside to the Galaxy Z Fold 4 is the starting price, which at $1,800 for the base 256GB storage option is almost twice any other flagship.
4. Galaxy Z Flip 4
Nobody said foldables can only fold in one direction. In an effort to take on all angles, Samsung stacked the deck in its favor with the classic clamshell design of the Galaxy Z Flip 4.
Instead of opening up to a mini tablet, the Galaxy Z Flip 4 folds on the horizontal, turning into a nearly-square and imminently pocketable tiny device. The compromise for this feat of engineering is that the battery life and the camera quality suffer somewhat.
Samsung managed to fit a 3,700 mAh battery into the Galaxy Z Flip 4. That's 300 more mAh than the previous Galaxy Flip 3, but it wasn't quite enough to get through a full day of usage in our review. Thankfully, you have wireless charging, so you can drop that folded square onto a charger whenever you get a chance.
The two back-facing cameras are 12-megapixel each. One is wide, the other ultra-wide, and both are slightly better in low light than the Galaxy Flip 3 due to the larger pixels on the sensor. The best part is that the small cover screen doubles as a selfie mirror, so you can use the larger, better cameras for just about everything.
Samsung's aimed to make this most of the mechanics of this device with a feature called Flex Mode. When half-opened, the Galaxy Z Flip 4's use of Flex Mode turns it into a tripod for taking pictures or videos. That's an unexpected benefit to the foldable form factor that offsets some compromises.
The price is also right, starting at $999, and you can now make 75 different color options from the Bespoke design service.
5. OPPO Find N
Flagship foldable phones were everywhere this year. OPPO's Find N joined the market, but only inside China. That's still a sizable market since nearly 19% of the world's population lives there.
OPPO did one thing that has been a challenge for every foldable device maker — they made it fold flat. They used a proprietary "Flexion Hinge" that bends the hinge area into a teardrop. That little bit of engineering genius means both halves of the screen can stay flat against one another when folded.
The other benefit to the hinge is that it reduces the creasing effect on the flexible OLED when it's folded out fully. It's there, but you have to look closely to see it in most conditions.
OPPO didn't hold back on flagship specs throughout the rest of the phone. It's powered by Qualcomm's Snapdragon 888, with 12GB of DRAM. The 4,500 mAh battery gives the device all-day battery life, and it can recharge in around 70 minutes as long as you're using the device's 33W SuperVOOC charger.
OPPO opted for an 18:9 ratio when the device is folded, with a 5.5-inch screen on its front. That's a normal ratio and size for non-foldable devices, while the larger 7.1-inch foldable display inside unfolds to a ratio that's nearly square at 8.4:9.
The 50-megapixel primary camera is impressive, and it also has a 16-megapixel ultra-wide and a 13-megapixel telephoto with a 2x optical zoom. All of this is included in a device that costs $1,200 (converted from 7,699 yuan).
The only bad marks against this foldable are the average sound quality from the two speakers and the lack of any water- or dust-proofing.
6. Vivo X Fold
Vivo's X Fold is another Chinese-exclusive foldable phone from a brand that doesn't have much name recognition in the west. That might not matter, as the X Fold has style, folds vertically to slim down, and comes with a flagship-level camera cluster.
The camera cluster has four lenses. One is a 50-megapixel wide sensor. One is a 48-megapixel ultra-wide sensor. Then there are two telephoto lenses, one that uses a periscope zoom to deliver 5x optical zoom.
Powering the X Fold is Qualcomm's Snapdragon 8 Gen 1 chipset. This was the flagship chipset when this device launched, and every device it's been put in has oodles of power. Vivo paired it with 12GB of DRAM and either 256GB or 512GB of internal storage.
The foldable LTPO AMOLED screen opens up to an 8.03-inch diagonal with a 1916 x 2160 resolution. The 6.53-inch cover display has a 1080 x 2520 resolution, with a 21:9 ratio.
This was the first foldable device to feature an under-screen fingerprint sensor. It also has a 4,600 mAh battery, with 66W fast charging to fully charge in 37 minutes. Vivo also included 50W fast wireless charging and 10W reverse charging for your other devices.
It sold for 8,999 RMB in China, which is roughly $1,400. Its only real drawback is no global availability, as it was a Chinese exclusive.
7. OnePlus 10 Pro 5G
OnePlus started as a scrappy underdog, with giant-killer, invite-only smartphones that promised flagship performance for a mid-range price. Now they've become a significant competitor in several regions around the world, beating Google in U.S. smartphone sales in 2021.
Last year, they merged with OPPO, another Chinese smartphone manufacturer, and fans worried that the OnePlus spark would get snuffed out. A year later, all that seems to have happened is that OnePlus has access to OPPO's supply chain and the ability to scale.
The OnePlus 10 Pro 5G is the "most advanced smartphone the brand has released thus far." It's a flagship with every high-end feature you could want, and while the $799 base purchase price is significant, it's cheaper than comparable devices from Samsung or Apple.
This device's camera cluster was developed in partnership with Hasselblad, part of a $150 million investment from OnePlus that will end in 2024. On the OnePlus 10 Pro 5G, the Hasselblad branding is prominently displayed on the camera cluster and inside the camera app as a Hasselblad-branded "Pro" mode which lets you manually control things like ISO, shutter, EV, focus, and white balance.
That app controls a 48-megapixel primary lens, a 50-megapixel ultra-wide, and an 8-megapixel telephoto. You can record 8K video at 24fps, 4K at 30/60/120fps, or super slow motion with 1080p at 240fps or 720p at 480fps.
The icing on the cake here is that the OnePlus 10 Pro 5G has 5G compatibility with each of the three major mobile data carriers in the United States: Verizon, AT&T, and T-Mobile.
8. Xiaomi 12S Ultra
Another one of the Chinese-market-only handsets on our list is also the only non-foldable in that group. The Xiaomi 12S Ultra starts at RMB 5,999 ($885), which gives you 8GB of DRAM and 256GB of internal storage.
Qualcomm's Snapdragon 8+ Gen 1 powers this device, and there is a 12GB DRAM version if you pay extra. The screen is a 6.73-inch 3200 by 1440 pixel AMOLED with a 120Hz refresh rate. You get Dolby Vision support, and Xiaomi's MIUI operating system has deep options for customization.
The back of the device has leather, surrounding a metal camera island that looks more like a DSLR than a smartphone. That circular camera cluster was developed in partnership with Leica, and it works with a 1-inch 50-megapixel Sony primary sensor with optical image stabilization (OIS). There's also a 48-megapixel wide-angle lens and another 48-megapixel lens with OIS and 5x optical zoom.
That primary sensor is the largest on any smartphone today, and it's been well-received by reviewers. The camera app has two Leica modes, which give you either "Vibrant" or "Authentic" color accuracy in your pictures. Xiaomi's CEO, Lei Jun, has said the "next iteration of Ultra will be available in our global markets!"
9. Google Pixel 6a
Google's midrange Pixel this year was the Pixel 6a. It's powered by the same flagship Tensor chipset as the Pixel 6 and Pixel 6 Pro and has a very similar design. For $449, you get most of Google's Pixel-exclusive features for a wallet-friendly price.
You get a debloated, vanilla Android experience with features like Magic Eraser, which lets you use AI to airbrush out unwanted elements in your photos.
Google also guarantees that the Pixel 6a will get Android version updates until 2025 and security updates until July 2027. That's three more major Android versions and five years of security fixes.
The Pixel 6a also has an impressive camera setup that's capable of producing high-quality photos with relative ease. It's not quite as good as the Pixel 6 and 6 Pro, but it's very, very close. Google is known for its computational photography, and a surprising percentage of the photos captured with this device's cameras are keepers.
You don't get the laser autofocus of the flagship Pixel devices. You also don't get the telephoto lens of the Pixel 6 Pro, but neither does the Pixel 6. What you do get is still near-magical at times.
Unlike the two flagships, the Pixel 6a only comes in one configuration. You get 6GB of DRAM and 128GB of internal storage. Dust/water resistance is lesser, rated at IP67 instead of IP68 on the flagships.
It's worth mentioning here that Google's Pixel 7 lineup was revealed in early October 2022, and will be hitting SlashGear's review bench soon. The Google Pixel 7 family might very well replace the Pixel 6a on this list or take a new spot on the list before the year is out!