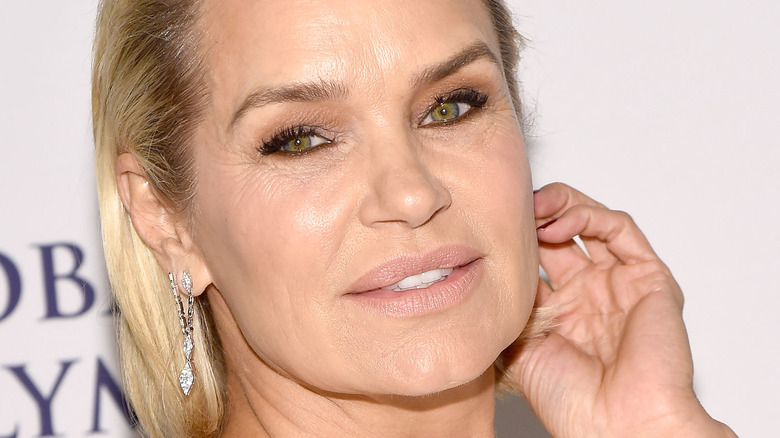 Yolanda Hadid became a subject of controversy in 2022 when clips of her parenting techniques towards daughters Gigi and Bella resurfaced online, but the Dutch-American former model has been in the limelight ever since she started appearing on "Real Housewives of Beverly Hills." The Hadids were series regulars from 2012 until 2016, although her kids later admitted that they used to hide from the cameras when they filmed in their family home.
"My mom wasn't on TV until I was a senior in high school, so I was just on my way out of the house. But it was weird for me," Gigi admitted to InStyle, reflecting on how invasive the camera crew felt. "I would come home from school and there would be production trucks outside. I would scale the staircase to my room so I wouldn't have to go say hi to my mom in the kitchen." Bella also told Vogue that it was strange to adjust to a reality TV show lifestyle. "My sister and I would hide upstairs every time they were filming," she recalled, adding that she had never seen an episode of the show.
Keep reading to find out more about how Yolanda raised her daughters under these unusual circumstances — and why some critics have called her out over the years.
She shamed Gigi Hadid for playing 'masculine' sports
As Gigi Hadid told InStyle, she was very passionate about playing sports as a kid. "When I think of my childhood, I think of the crazy, ecstatic volleyball player," she fondly recalled, adding that she still feels drawn towards the competitive joy of throwing a ball around. "I loved sports, I loved being on a team … That's what comes naturally to me."
Hadid also joked about her enthusiasm for the game on "The Tonight Show Starring Jimmy Fallon," telling him that her intensity on the court was too intimidating for the boys at her school. This passion led Hadid to a tricky decision when she had to choose between being a student athlete or modeling in New York. "If I had decided to play volleyball, I probably would have gone to a UC in California or somewhere with a Division I volleyball team, but in New York, sports aren't big at universities so I had to give that up," she told W magazine.
But her mother wasn't a fan of this side of her and tried to persuade her away from sports. Yolanda Hadid told her daughter on "Real Housewives of Beverly Hills" that volleyball was a "masculine" sport, quipping that she had assumed Gigi was a lesbian when she was younger. "Their bodies are big and bulky," Yolanda complained to the cameras, explaining why she thought volleyball players weren't feminine enough. "And they eat like men."
She commented about Gigi's eyes looking 'Chinese'
Although Yolanda Hadid's advice to her daughters might have been helpful for the modeling world, fans of the Hadids have slammed the way she scrutinized their appearances over the years — especially when it came to a racist comment on "Real Housewives of Beverly Hills."
"Would you round Gigi's eyes a little bit on the sides? Because of her high eyebrows, because it makes her look Chinese really quick," she told a makeup artist during one of Gigi Hadid's early photo shoots, implying that her daughter's features would be unattractive if they looked East Asian. "I've given her tips, saying, you know, if you're with a makeup artist, tell her to keep your eyes always round and big so they pop," Yolanda added in a talking head. "Not the Chinese-looking… you know, because that's not good for her face."
TikTok users have pointed out other moments from the show where Yolanda seemed ignorant, like when she told a crew of men working on her house that they needed to learn English. "You're in America. They speak English here," she insisted.
She controlled Gigi Hadid's eating
Yolanda Hadid has a strict diet and exercise regime for herself, so it makes sense that she would pass that obsession down to her daughters. Viewers of "Real Housewives of Beverly Hills" thought that her control over Gigi's eating went too far, however, especially after her older daughter started taking modeling seriously.
In one moment from the show, Yolanda stops Gigi from eating a proper slice of her own birthday cake and makes her take a tiny piece instead. "Gigi's in charge of her own diet, but to be on your best weight, you've got to make the right choices," the reality star explained to the camera, justifying her controlling attitude towards her daughter's food. Another clip showed Gigi calling her mother and telling her that she felt faint with hunger after only eating half an almond. "Have a couple of almonds and chew them really well," Yolanda advised.
She also warned Gigi about the modeling industry's attitude towards weight, telling her that dieting was a necessary part of the job. "You can have one night of being bad. Then you've got to get back on your diet, though," Yolanda insisted. "Because you know, in Paris and Milan they like girls just a tad on the skinny side."
If you need help with an eating disorder, or know someone who is, help is available. Visit the National Eating Disorders Association website or contact NEDA's Live Helpline at 1-800-931-2237. You can also receive 24/7 Crisis Support via text (send NEDA to 741-741).
She's been blamed for Bella Hadid's body dysmorphia
In an emotional interview with Vogue, Bella Hadid admitted that she had a nose job at age 14 and struggled with anorexia in high school. "I was on this calorie-counting app, which was like the devil to me," she remembered, adding that being prescribed Adderall pushed her into suppressing her appetite. "I'd pack my little lunch with my three raspberries, my celery stick. I was just trying, I realize now, to feel in control of myself when I felt so out of control of everything else." Although she's not in high school anymore, Bella confessed that her traumatic experience with body dysmorphia lingers. "I can barely look in the mirror to this day because of that period in my life," the model added.
As Page Six reported, her fans were quick to question why Yolanda Hadid let her daughter have rhinoplasty surgery when she was only 14 and still growing into her natural features. Bella also seemed to regret the choice: "I wish I had kept the nose of my ancestors," she candidly told Vogue. "I think I would have grown into it." Yolanda, on the other hand, had previously denied that her children had gone through any procedures at all. "None of my children have never done fillers or Botox or put anything foreign in their bodies," the reality show star wrote on Instagram, per Vanity Fair. "They know better after seeing what I went through."
If you need help with an eating disorder, or know someone who is, help is available. Visit the National Eating Disorders Association website or contact NEDA's Live Helpline at 1-800-931-2237. You can also receive 24/7 Crisis Support via text (send NEDA to 741-741).
Yolanda Hadid passed on advice about being a model
Before Yolanda Hadid was a mother and a reality star on "Real Housewives of Beverly Hills," she spent 15 years as a professional model working around the world. So when her daughters Gigi and Bella Hadid expressed an interest in modeling, she saw an opportunity to pass on her experience. "When my girls started, I sat them down and I said, 'Listen, there are a million girls out there who are as beautiful as you and deserve success as much as you do. You have to be the hardest working girl and show people you care about everybody,'" Yolanda told People, insisting that their personalities were the most important factor.
Yolanda wasn't afraid to compare her daughters and their modeling careers on the reality show, adding that sisters so close in age would always be competitive. "If they're looking for an all-American girl, they're not going to hire Bella," she bluntly told the cameras. "It's just a big competitive business. If it's meant for them, they're going to survive in it and they're going to be successful."
Gigi also shared her mother's tough advice in an interview with W magazine. "I think my favorite thing that she says is, 'When you start working, you better be the most hardworking, nicest person in the room because if you're not, then there's always going to be someone prettier, nicer, and more hardworking,'" the model reminisced, commenting that those words always stuck with her.
Yolanda and Bella Hadid have the same disease
Throughout her time on "Real Housewives of Beverly Hills," Yolanda Hadid insisted that she was suffering from chronic Lyme disease, a claim which was questioned by the medical community. "There is no consensus over whether chronic Lyme actually exists," one doctor told the BBC in 2015 after Hadid wrote a blog post insisting that she had "lost the ability to read, write, or even watch TV, because I can't process information or any stimulation for that matter." She also wrote a book about her medical struggles, "Believe Me: My Battle With the Invisible Disability of Lyme Disease."
As it turns out, Bella Hadid and her brother Anwar were supposedly diagnosed with the same condition. Their chronic illness also affected Gigi Hadid, as she told Elle. "Growing up, having three of my family members sick made me very independent," the model recalled, adding that Yolanda sometimes wasn't capable of driving Anwar to school or making lunch, so she would have to take over as the older sister. "But I also felt a lot of guilt for being the one person in the family who didn't understand what they were going through," Gigi added. "It's hard when your whole family is in pain and you don't know what to do."
She posted her granddaughter's face without permission
Yolanda Hadid's relationship with her daughter Gigi's partner, Zayn Malik, took a dramatic downturn after her granddaughter Khai was born. Malik, who has been in the public eye since he entered the reality show "The X Factor" at age 17, is reportedly very concerned about keeping his child out of the limelight. Whenever Gigi posts her daughter on Instagram, for example, she's always careful to crop Khai's face out or cover it with an emoji. So when Yolanda posted an image of Khai on social media in 2021, Malik wasn't happy.
"Back in January, Yolanda accidentally posted a photo of Khai where you could see her face and Zayn went crazy — he's so protective of his daughter's privacy, he was so mad," one inside source told The Sun, explaining that although Yolanda took the picture down right away, the situation was still awkward. "Yolanda doesn't see what the issue is, but Zayn — and Gigi — are very against their child being photographed and it's been a huge cause of tension between them." Malik later spoke out about his concerns about raising a child as a celebrity, insisting that he didn't want family disputes to become a headline for other people to discuss. "As you all know I am a private person and I very much want to create a safe and private place for my daughter to grow up in," the musician tweeted.
She had a physical fight with Gigi's partner Zayn Malik
The relationship between Yolanda Hadid and her daughter's ex-partner Zayn Malik made headlines in 2021 after allegations emerged that the musician had physically shoved Hadid into a dresser during an argument. According to court documents published by People, Malik had "[caused] mental anguish and physical pain," by grabbing her and shouting that Hadid should "stay away from [his] f***ing daughter."
"I adamantly deny striking Yolanda Hadid and for the sake of my daughter I decline to give any further details," Malik told TMZ after the news broke. "I hope that Yolanda will reconsider her false allegations and move towards healing these family issues in private." He later pled no contest to the charges and was sentenced to 360 days of probation, as well as an anger management course and domestic violence program.
Gigi didn't publicly support her mother or her ex-boyfriend in the aftermath of the incident. "Gigi is solely focused on the best for Khai," her representation stated, per People. "She asks for privacy during this time."
If you or someone you know is dealing with domestic abuse, you can call the National Domestic Violence Hotline at 1−800−799−7233. You can also find more information, resources, and support at their website.
She's 'over the moon' about Gigi Hadid and Leonardo DiCaprio
After Yolanda Hadid's clash with Zayn Malik, she might have been wary about her daughter Gigi Hadid dating again. But according to one source, Yolanda couldn't be happier about the rumors swirling around the supermodel and Leonardo DiCaprio. "She has not and will not forgive Zayn for getting into an altercation with her," the insider told InTouch, adding that Yolanda was "over the moon" about the idea of her daughter dating the "Titanic" star.
Gigi has been spotted out with DiCaprio several times since his split from Camila Morrone. "They have known each other for several years. They're super attracted to each other," one source insisted, claiming that Gigi was the kind of girl that DiCaprio always went for. "It's casual and not a constant thing. But they have lots of mutual friends."
E! News also reported that DiCaprio had flown over to France in order to support the model during Paris Fashion Week, although neither of them has confirmed the relationship publicly. "They have been trying to stay low-key and private," another source revealed. "Gigi is grateful he came into her life during this time and has said it's exactly what she needed."
She clapped back on TikTok
In 2022, Yolanda Hadid became the target of different TikTok accounts who gained hundreds of thousands of likes by reposting clips from "Real Housewives of Beverly Hills" and pointing out her attitude towards her daughters. "Was their success worth all the toxic and horrible things she did to them?" one pop culture account asked.
A former reality TV personality like Hadid wasn't going to let that go, so she hit back with her own TikTok. In a viral clip, Hadid posed with a bowl of almonds while lounging next to the fire, walking outside, riding a golf cart, and feeding her horse and goats. She also called herself the "worst mom ever" in her caption, adding "#almonds," in a reference to her telling Gigi Hadid she was only allowed to snack on a handful of almonds. The online reaction ranged from supportive to perhaps slightly sarcastic: "Best marketing/social media/pr team in the game," one viewer wrote, while another comment begged Yolanda to "adopt me so I can be skinny."