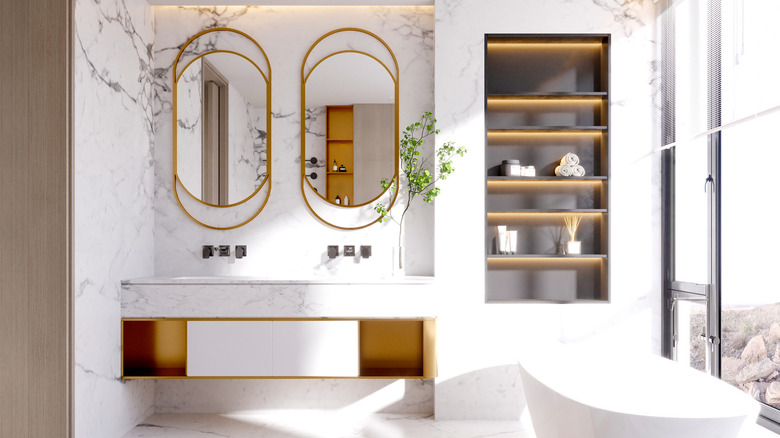 Mid-century is one of the most timeless and withstanding design styles. The term refers to a modern movement in home décor and design in the middle of the 20th century, roughly starting in the 1940s and lasting until the 1970s; the style has continued to evolve and develop since then, per La Résidence by Léon and George.
Some of the most recognizable aspects of the mid-century aesthetic include lots of geometric shapes and silhouettes, contrasting textures and patterns, and very distinctive color palettes. There isn't any one-color palette, but a few easily identifiable ones exist. For example, there are the pastels of the 1950s, the retro vibrant hues of the 1960s, and the groovy oranges and browns of the 1970s. Bathrooms specifically had a significant role to play in mid-century home design, according to Design Build. If you want to add mid-century inspirations to your bathroom, keep reading for some tile ideas.
1. Dark green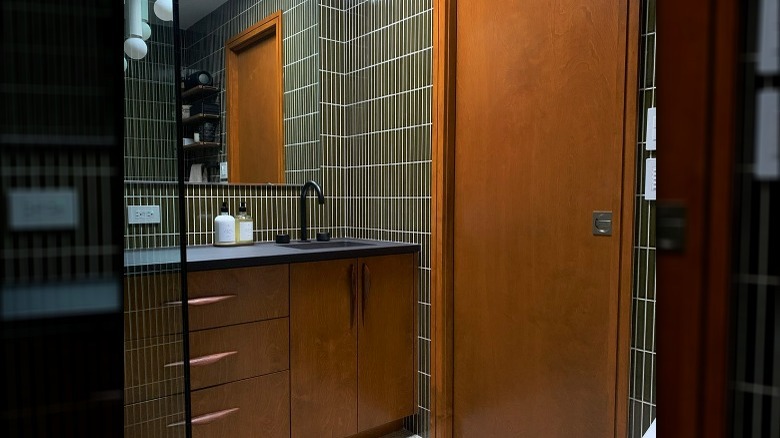 Warm wood tones are incredibly popular in mid-century design. Pair with a deep and rich green tile to contrast and highlight the orange wood tones.
2. Vintage pink
For a more 1950s-inspired mid-century bathroom, opt for pastel or bubblegum pink tiles. Pair with lighter creams and ivories to keep from overwhelming the room.
3. Simple and classic checkered
If you want more of a classic, vintage mid-century look, consider tiling your floor with a simple black and white checkered pattern. Add traditional subway tiles to the wall, and have fun with mid-century décor instead of design.
4. Seafoam green
Another tile option to bring in some late 1940s or early 1950s vibes is seafoam green. Add some pink and other warm colors to balance out the bold shade.
5. Yellow accent wall
Yellow is one of the most classic mid-century colors, especially in gold or mustard tones. Keep it on the modern side by choosing a fun tile pattern and tiling an accent wall in your bathroom.
6. Blue on blue
If you're not afraid to lean heavily into the retro vibes, consider going for a full-on blue bathroom — blue floor tiles, wall tiles, paint, plumbing, etc. Contrast with a bright, sunshine yellow accent color.
7. Wood paneling
If traditional tiles aren't your thing, consider swapping them out for wood paneling. They'll give the effect of tiles, but they're much easier to repaint as needed and add a retro, mid-century texture to your bathroom.
8. Wood chevron
Wood is a major aspect of mid-century design — modernize it by using it sparingly to tile your bathroom. Add some interest by incorporating a chevron pattern.
9. Bright and airy
If you don't want to commit to the mid-century aesthetic, but want aspects of it, add a retro-colored tile backsplash to your bathroom, keeping the rest bright and white.
10. Fun patterns
Modern interpretations of mid-century design tend to implement tastefully busy patterns. Tile your bathroom floors with a fun and eye-catching pattern, pairing your walls and plumbing with the design's colors.
11. Subway tile galore
Subway tiles expand through multiple design movements but have a significant place in mid-century design. Keep it simple with a basic white tile with black grouting, or get creative with colorful tile and grout combinations.
12. Mid-century glam
Add a touch of glamor and sparkle to your mid-century bathroom by swapping out your hardware for gold. Pair with a rich retro shade tile like emerald or avocado green.
13. Reflective luxury
Mid-century design is a great way to reflect a sense of luxury in your home, especially your bathroom. Opt for a shiny and reflective tile for your walls to mirror the luxurious features of your bathroom.
14. Floral patterns
Floral patterns are another staple of mid-century design, especially in the '60s and going into the '70s. Tile an accent wall with a floral patterned tile for some retro inspirations.
15. Classic marble
Modernize mid-century silhouettes and wood tones with some marble tile in your bathroom. Keep it simple by tiling the floor or walls, or go all out by tiling both.