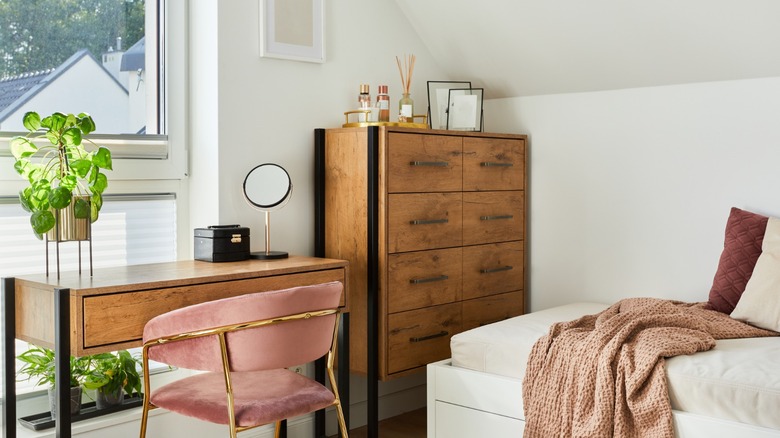 Velvet brings the va-va-voom. Whether a chic sofa, accent chair, or luxe headboard, the fabric contributes a certain glamor that's making its way back into our spaces. According to Forbes, which consulted industry experts for their décor forecasting, designer Dakota Jackson predicts a return of color, sophistication, and what he calls bold statements. Designer Roxy Owens told the outlet that traditional interiors with warmth and tactility are on the rise. "The design world is seeing a resurgence of texture," she noted. "More and more people will be dressing up their homes and trimming their furnishings." Velvet can be a strong complement to both daring and cozy interiors; the pile imparts the ability to convey saturated color and a rich appearance, as well as softness of hand.
Nate Berkus and Jeremiah Brent feel it's an ideal addition this season, per Camille Styles. "Velvet is a great go-to fabric for fall," the designer couple shared. "Luxuriously plush and all-around irresistible, it's the perfect way to bring in texture and add an element of coziness." Yet, it's not solely for colder climates as some heavy and heat-trapping textiles can be, particularly in breathable silk or linen. Instead, the lifestyle blog describes velvet as an exceedingly versatile material harmonious with different fabrics. From just a touch to statement luxe, we showcase five tempting places to use it throughout your home.
1. Sofa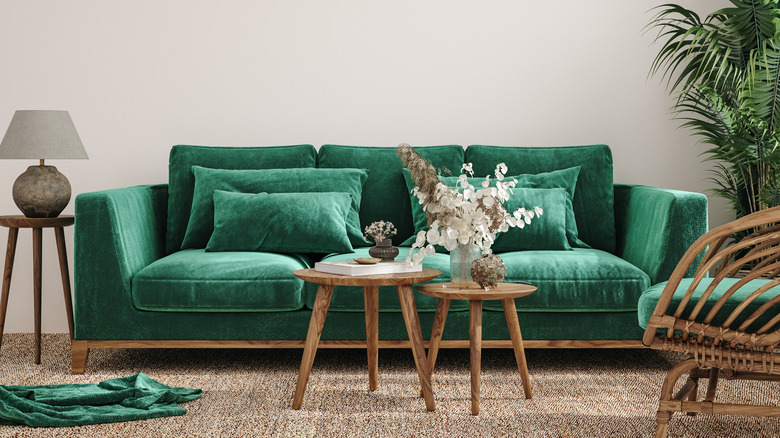 A velvet sofa offers refined romance, yet it's a classic choice with a legacy of history and styles. Therefore, the seemingly lavish piece is a worthwhile investment. Northshore Magazine explains that velvet is a material composed of various fibers, including silk, wool, mohair, linen, and synthetics, such as polyester. The fiber affects the wear, feel (or hand), and spring of the cloth, as well as the price. The innovation of performance velvets, like Crypton, introduces greater durability. However, according to The Stated Home, while they provide resistance to fading, crushing, and staining, their quality of texture and nuance deepness is lessened compared to their natural counterparts.
Northshore Magazine recommends timeless navy and neutral grays as excellent subdued sofa options. For drama, they suggest choosing a bolder shade and allowing velvet to do one of the things it does best. The inherent play of matte and sheen gives this upholstery a subtle and interesting appearance; the magazine explains that the same color could come off as too overpowering or flat in almost any other fabric. Additionally, finding coordinating décor is simpler, as different values within the nap can be highlighted; this has the added benefit of resulting in a more layered space than one in which exact shades are duplicated throughout. Finally, painting the walls a few tints lighter than the sofa is one way to create a calming color scheme that possesses dimension, Slow Living Ldn explains.
2. Headboard
An upholstered velvet headboard creates a chic resort style in the bedroom. The glow and softness of the fabric introduce warmth, while the padding provides ultimate comfort. Creative Director of Kelling Designs, Emma Deterding, told Homes & Gardens that "a rich and luxurious velvet in a bold shade will be the perfect splash of color" for a muted take. Deterding added, "You can then layer this with crisp white bed linen and accessories in muted but complementary tones to create the perfect haven." During cold weather, play up velvet's characteristics with sumptuous bedding; in warmer seasons, opt for linen sheets and lighter colors.
The Headboard Workshop notes that the significantly-sized, flat surface is the ideal way to feature a printed fabric and suggests that the headboard's shape and the pattern's placement can further personalize the piece. On the other hand, marbled, crushed, and basic velvet options are great for a room with printed wallpaper. However, the maximalist can have fun mixing headboard, bedding, wall, and drapery patterns to excess.
Laura Kelway-Bamber, head stylist for the furnishings retailer, relayed to Homes & Gardens that it's essential to think about the headboard's height. She adds, "Too low and your pillows will cover and distort how much of the headboard is seen, so, for the full effect, go as tall as you can without overpowering the space, taking inspiration from luxury hotels for a designer feel." Finally, headboards should be constructed with stain-resistant, washable, and fire-retardant fabrics.
3. Desk and dining chairs
Upholstery visually softens the edges and hard components of a dining room. Further, velvet upholstery's conspicuous presence adds eclectic spice to the décor, and performance fabrics will help put the host at ease regarding spills and staining. However, per Kathy Kuo Home, spills can be managed on untreated velvets as well with quick attention. For more stubborn stains, they recommend an application of lemon juice and baking soda, yet caution to gently press and not rub the fabric. To restore the sheen, use a steamer and soft brush.
There are many options for mixing dining seating. For example, velvet armchairs can anchor the ends of the table and additional wood or metal side chairs, or use the fabric for the entirety of the set. Upholstered chairs not only offer comfort but provide a place for color and pattern. In the example above, alternating hues of teal and mushroom level up the palette in the sophisticated space. Curated Interior suggests topping a bench with a plush cushion for a more casual or boho style.
The home office is another room in the home that contains plenty of wood, metal, and right angles and can do with a bit of femininity or lushness. Why not elevate a utilitarian environment to one that encourages comfort, enjoyment, and productivity? One simple velvet desk chair is all it takes to get the job done — introduce a pop of color and texture, and absorb sound too.
4. Accent chair
According to Crypton, velvet is a wonderful medium for furniture because its reflectivity and shadowing emphasize shaping and silhouettes. Design details such as button-tufting, channeling, or piping are brought to attention. Yet, a soft hand makes the smart-looking pieces a deceivingly comfortable and cozy option.
The material is an appropriate fabric for any style, from mid-century modern to opulent traditional, and will complement existing textiles and textures throughout the space. Therefore, a velvet accent chair (or a pair of them) is an effortless addition to a living room. Although the alluring seating fits any space, including a primary or guest bedroom, a library, and even an entryway, welcoming visitors to take off their shoes and coats and stay a while.
Per Kathy Kuo Home, velvet is sometimes perceived as a problematic fabric to use on chairs because of the pile's crushing (or bruising) caused by repeated use. However, they contend that it should be thought of as a material that gets better with wear, like leather. The fabric allows character and patina to develop, and as a result, pieces become a living element of the décor. By the same token, Fresh Design Blog says that because of its tight, low weave, velvet is a durable material less likely to snag or pull than many other fabrics. And as a plus, these same traits make pet hair and loose dirt easy to remove from the furniture.
5. Accessories
Now back to velvet's versatility — according to Fresh Design Blog, the fabric has numerous uses and is appropriate for all sizes and forms, from upholstered furniture to drapery to small décor accessories. Once an exclusive and ephemeral fabric, you can count on it to convey luxury, as well as rich color and texture. However, you can achieve different aesthetics depending on the fiber and hue of the material featured. For example, a high-movement crushed metallic will be brilliant and glamorous, while a smoldering, deeply colored wool will appear warm and sophisticated. In addition, per Northshore Magazine, velvet is a fantastic contrast to rustic elements like grainy wood and aged leather, while the lustrous, dimensional color is set off beautifully against neutral furniture.
If a velvet sofa or chair seems too rash, rely on the material for safer and more affordable accent items like ottomans, stools, bench cushions, and pillows. They're the perfect, changeable way to complement existing décor or add a new color to the design scheme. And if you love layering on cozy textiles around your home as the temperatures dip, there's nothing better than a velvet throw for the sofa or duvet at the foot of the bed.