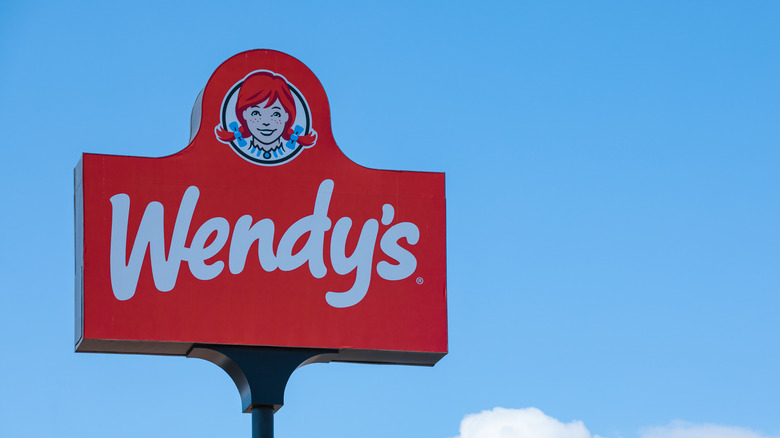 Wendy's has been around since Dave Thomas founded the restaurant in Ohio in 1969, and in that time we've seen some amazing options when it comes to fast food fare. From the beloved Frosty and the fresh-never-frozen square burgers that have been on the menu since day one, to chili and baked potatoes that'll warm you up on a cold day, there's tons to love about the Wendy's menu.
But times change and not every item on the menu is able to stand the test of time. There have even been some customer favorites that have hit the chopping block in recent years. Sometimes menu items are retired for a time only to return in a moment of glory for a limited time offer. Unfortunately, though, most items that go the way of the Dodo stay that way. These are just some of the beloved Wendy's menu items you'll sadly never get to eat again. Probably.
The Superbar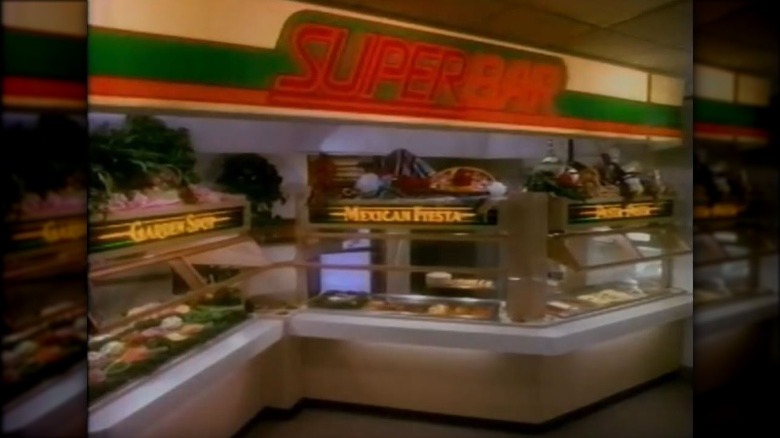 Today you may think of Wendy's as just another drive-thru fast food restaurant, but there was a period in the '80s and '90s when it certainly made more sense to go inside and stay awhile. That's because it was during that same period that Wendy's had their Superbar, which believe it or not was an all-you-can-eat buffet.
It offered far more than the typical Wendy's fare of burgers and fries, too. One commercial from the '80s shows tacos and pasta alongside your typical cold bar offerings like salad and fruit. Plus, after 4 p.m., you could come in for an all-you-can-eat dinner at the Superbar for just $2.99 and the kids' Superbar included a drink and a prize! At one point, it even included pizza. And let's not forget the chocolate and vanilla pudding as a dessert offering.
Even without the beloved Frosty, that's a pretty sweet deal. Too bad it didn't last. Let's all have a moment of silence for the fallen Superbar.
Chicken Caesar Pita
Wendy's is nothing if not tuned into popular trends. So when the all-you-can-eat buffet trend started to fade only to be replaced by the "wrap craze" of the late '90s, Wendy's stepped up to the plate. Not to be confused with the lettuce wrap craze of the early 2000s, the '90s wrap craze was all about tortillas and pitas, the latter of which Wendy's used as the vehicle for their wraps.
Enter the Wendy's Fresh Stuffed Pitas, which were marketed as "something different" for the bored lunch crowd. The most popular of these, the Chicken Caesar pita, is luckily pretty easy to make on your own and there are plenty of copycat recipes out there. Plus, Wendy's still serves a Caesar side salad, so if you're feeling lazy, you can always toss that into a pita with some chicken, right? Still, it's just not quite the same. Unfortunately, despite years of urging from fans, it doesn't look like the Chicken Caesar pita is returning anytime soon.
The old french fries
Some things just shouldn't be messed with and Wendy's fries are among them. Unfortunately, Wendy's didn't get that memo. The first change to the chain's fries came all the way back in 1990 when they, along with their main competitors, made the switch from using a combination of beef tallow and vegetable oil to pure vegetable oil for frying. If you know anything about the food crazes of the '90s, you can probably guess that this was the result of the fat-free and low fat movement.
But that wasn't the end of things for Wendy's. Just as customers were getting used to the new fries, Wendy's debuted their "Natural-Cut Fries" in 2010. These fries have the skin on and are sprinkled with sea salt — and they're a direct attempt to capitalize on the "real food" movement. Just take the tag line: "You've had fries. Now try some Real fries."
Some people love them, some people don't, but the real question is: can they still be dipped in a Frosty? Yes? Then we're good here.
Frescata sandwiches
Back in the early-to-mid 2000s, deli-style sandwiches were all the rage. Subway, Blimpie, and Quiznos were leading the pack as consumers tried to eat healthier. So in 2006, Wendy's once again embraced a food fad and introduced their own version of deli-style "artisan sandwiches" called Frescatas.
According to a press release at the time of their debut, "The deli sandwich category, which continues to expand, represents a growth opportunity and another way for us to meet our customers' needs." The bread was freshly-baked, the deli meats were marketed as high quality and they took a long time to make — at least compared to Wendy's burgers. It was this long preparation time that allegedly led to the demise of the Frescata.
Despite attempts to keep the excitement alive by adding new varieties, in 2007 — just a year later– the Frescata sandwiches were phased out and removed from the Wendy's menu.
Coffee Toffee Twisted Frosty
The Frosty. You know it, you love it. But do you remember when Wendy's branched out from their basic chocolate and vanilla Frosty by adding other flavors? The year was 2009 and the Frosty was lagging behind the Dairy Queen Blizzard and the McDonald's McFlurry when it came to frozen dessert recognition. So what better way to grab people's attention than to add other flavors to the Frosty mix? There were several different flavors to choose from, but one truly stood out among the rest — the Coffee Toffee Twisted Frosty.
It's obvious Wendy's really thought this one would last judging by the relatively high production commercials that also capitalized on everyone's love of boy bands. Just like your favorite boy bands, though, it just didn't last and was retired two years later in the summer of 2011. Despite petitions to bring it back to menus, you'll just have to add coffee and toffee to your Frosty yourself.
All things queso
Cheese is nothing new at fast food restaurants — just look at the humble but delicious cheeseburger — but 2017 could easily be considered the year of cheese, specifically queso. Shortly after Chipotle debuted a "new and improved" but still disappointing queso dip and McDonald's added cheesy loaded fries to their menu, Wendy's added three new queso-drenched items to their menu: the Bacon Queso Burger, the Bacon Queso Chicken Sandwich, and Bacon Queso Fries. If that alone sounds amazing to you, consider the items were also topped with shredded cheese.
Wendy's Chief Concept & Marketing Officer, Kurt Kane, said in a statement in 2017, "Nobody does fresh beef, chicken sandwiches and topped fries like Wendy's, so we've taken three things our customers already love and made them even better by adding queso."
Though they were always marketed as being available only for a limited time, that doesn't make it any less sad that they're gone.
Gouda Bacon Cheeseburger
It may not seem like much after talking about a burger that's covered in queso, but the Bacon Gouda Burger at Wendy's combined people's love for cheese with their love for interesting burger buns and a whole lot of delicious toppings. Not only did the Bacon Gouda Burger contain its namesake sliced Gouda cheese, it also had a Swiss Gruyere sauce, garlic aioli, bacon, red onions, tomato, and spring mix, all on a brioche bun. Did we mention it was a quarter pound of beef?
Steeped in sports-heavy marketing, the Bacon Gouda Burger was always meant to be a limited time offering. Still, when its clock ran out, customers were devastated, begging for the item to be reinstated as a permanent menu fixture. And honestly, with all the money Wendy's must have spent on the commercial with Terrell Owens and Vince Young, you'd think they would have kept it around longer.
Wild Mountain Chicken Sandwich
Speaking of spicy chicken, no list of discontinued Wendy's items would be complete without the Wild Mountain Chicken Sandwich. Yes, there was a Wild Mountain Bacon Cheeseburger as well, but it didn't quite live up to the standards of the chicken sandwich. The Wild Mountain Chicken Sandwich took the original Spicy Chicken and turned it up a notch with a spicy Southwestern sauce, Colby cheese, and bacon. If we've learned anything, it's that Wendy's customers don't like it when their spicy chicken is taken away, and that was also the case with the Wild Mountain Chicken Sandwich.
Even though Wendy's launched a new limited time offering with their Sriracha Chicken Sandwich, it was a poor substitute for many Wild Mountain Chicken fans. Despite a Facebook group demanding its return, Wendy's has given no indication the Wild Mountain Chicken Sandwich will ever be coming back. Wendy's does still have the original Spicy Chicken Sandwich though, so it may be time to learn to make your own Wild Mountain sauce to go on top.
Bacon and Blue Burger
Back in 2010, Wendy's blazed a cheesy trail by releasing the Bacon and Blue Burger topped with blue cheese (via HuffPost). Wendy's was tapping into a fancy cheese trend at the time, crafting a Wendy's burger topped with blue cheese crumbles, applewood smoked bacon, greens, and a blue cheese aioli sauce. The affair was piled atop a brioche bun. The Bacon and Blue burger was such a hit that Wendy's brought it back for a limited time in 2015.
But in the end, despite all of the seeming deliciousness, the burger was just too messy to last. According to MoneyWise, it had so many blue cheese toppings that the sandwich fell apart easily, creating a real problem for people trying to enjoy their burgers in the car. Despite Redditors who hope for it to make a comeback, the Bacon and Blue Burger remains a thing of the past.
Bacon Portabella Mushroom Melt
Wendy's released its Bacon Portabella Mushroom melt back in 2012, when it was an immediate hit (via So Good). A beef patty topped with bacon, sliced cheese, and then a layer of sauteed portobello mushrooms swimming in even more delicious melted cheese, it was a cheese lover's dream (via Narcity). But as Wendy's loves to do, it removed this burger from the chain's menu, forcing people to turn to Twitter to mourn collectively.
Then in 2018, Wendy's announced on Twitter that it had indeed heard the people's cries and would be releasing the Bacon Portabella Mushroom melt again for a limited time only. But it made it clear that the more people tweeted about this sandwich, the longer it would remain on the menu. So while this sandwich is not currently on the menu, know that you might just be able to manifest the Bacon Portabella Mushroom Melt into reality yet again.
Chicken Cordon Bleu
Wendy's Chicken Cordon Bleu was another attempt by the fast food giant to mix things up a bit. According to its 1991 commercial for the Cordon Bleu sandwich, Wendy's founder Dave Thomas said that he was inspired by his daughter to make something new. It was certainly an ambitious dish for the chain to recreate as a fast food sandwich. A classic chicken cordon bleu consists of a chicken breast that's been stuffed with ham, Swiss cheese, and seasonings. The package is then breaded and fried. The Wendy's sandwich featured boneless, breaded chicken breast, ham, and cheese. It was topped with Grey Poupon mustard.
While it's unclear why Wendy's ultimately removed the Chicken Cordon Bleu from its menu, it's deeply missed. Folks have taken to Facebook and Reddit to bemoan its demise. But there is a glimmer of hope, as some Arby's locations have a Chicken Cordon Bleu sandwich on menus, although it is lacking the Dijon mustard that graced the Wendy's sandwich.
Chicken Asiago Ranch Flatbread
Back in 2013, customers wanted something healthier from their fast food restaurants, and that forced Wendy's to rethink its offerings. Its answer? The Chicken Asiago Ranch Flatbread sandwich, which featured grilled chicken, bacon, ranch dressing, lettuce and tomato (via Wendy's). Bacon and ranch dressing don't exactly scream "health food," though. What made this chicken sandwich different was the warm flatbread, made with flax-seed, cracked wheat, oats, millet, and seeds. While the ingredients list reads like a health nut's morning oatmeal, the sandwich was savory and delicious, according to Fast Food Geek.
The healthier Chicken Asiago Ranch Flatbread sandwich was a hit and led to a spike in chicken sandwich sales for the chain, according to Nation's Restaurant News. As per Brand Eating, the flatbread was warm, delicious, and had just the right amount of chew. But Fast Food Geek found the menu items to be a bit hard to eat, largely due to the folded flatbread. Perhaps that's why it eventually disappeared from the Wendy's menu.
BLT Cobb Salad
In 2010, Wendy's rolled out what the restaurant chain deemed its series of "Garden Sensations Salads," in a clear attempt to appeal to the consumer who wanted a healthier fast food option (via Brand Eating). Among those Garden Sensations was the BLT Cobb Salad, which featured spring mix for the greens, accompanied by a chopped hard boiled egg, blue cheese crumbles, bacon, chicken, and tomatoes. Finally, it was served with avocado dressing. The BLT Cobb Salad was packed full of lean protein, making it an Atkins or keto dieter's delight.
According to Fast Food Geek, the salad was indeed delicious and super filling thanks to the fact that Wendy's did not skimp out on the toppings. Sadly, the BLT Cobb Salad was discontinued, making it all the more difficult to get a salad in a fast food setting. Thankfully, it's pretty easy to find a good Cobb salad recipe featuring many of the same ingredients.