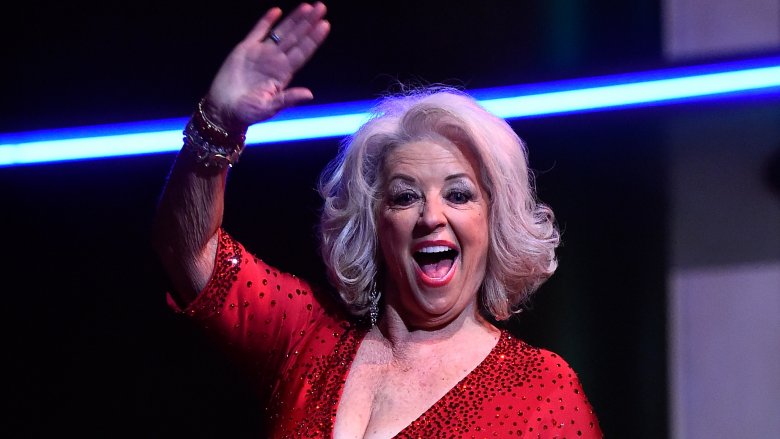 We may receive a commission on purchases made from links.
The on-screen personas of famous chefs are as varied as their personalities. Some of them are known for being warm and kind (at least on TV) while others have fiery tempers that may or may not be just for your enjoyment. It's hard to know how much of this is an act. Famous chefs might act a certain way in public — even at their own restaurants — but often that's because they have a certain image to maintain. How much of it is real, and how much of it is just a show for the cameras? It turns out that a lot of your favorite celeb chefs are actually total jerks in real life. Be glad you only know these chefs through the TV screen.
Paula Deen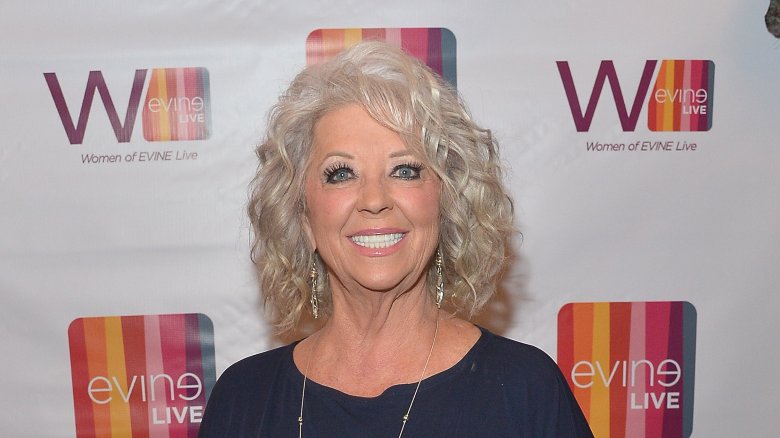 Paula Deen came under fire in 2013 after admitting to using the "N word." It's safe to say that anyone who uses racial slurs isn't very nice, but her company made things even worse by issuing a bizarre justification for Deen's use of the word. According to a statement, when Deen went around using the epithet, it was a years ago in what was a "quite different time."
According to her company, Deen's use of the slur should have been excused because when she was born, "America's South had schools that were segregated, different bathrooms, different restaurants and Americans rode in different parts of the bus." Deen claims she no longer uses the word as "things have changed…in the South." Sorry Paula Deen, but racism is racism no matter what decade it is.
Rocco Dispirito
Rocco Dispirito has made millions as a restaurateur and television personality, but the famous chef is still counting pennies. He says he was his mother's sole caretaker for years, which is admirable, but after she passed away he went to war with his two siblings over her will. His mother left him 50 percent of her estate and split the other half evenly between the other two children, but Dispirito claims the money he spent on his mother's care entitles him to a larger share.
You'd think that a man with so much money would just let his mother rest in peace, but it seems Dispirito would rather estrange his family.
Guy Fieri
According to producer David Page, who created the Food Network hit Diners, Drive-Ins, and Dives, Guy Fieri is impossible to work with. He said that as Fieri's fame grew, so did his ago. "Almost everyone who becomes a star in television develops an abnormal sense of self," he told City Pages. "In the worst-case scenario, they become surrounded by sycophants who tell them everything they want to hear."
A big ego is one thing, and not exactly unusual among famous people, but Fieri is also allegedly homophobic. Page shared a story about a time Fieri stormed out of a restaurant because he "had decided that the two men running the restaurant were life partners." Fieri reportedly told Page, "You can't send me to talk to gay people without warning! Those people weird me out!"
It sounds like Fieri needs to be reminded that he's living in the 21st century.
Gordon Ramsay
Gordon Ramsay's on-screen antics are well-known, but he can also be pretty harsh in real life — especially on social media. He's gone from berating people on television to insulting people's food posts on Twitter. It's a mark of just how famous Ramsay is that people are tagging him in their food. Sometimes it obvious the posters hope he'll say something snarky. But in other incidents, it's clear he's dashing someone's culinary dreams.
Ramsay's responses are varied. Sometimes he actually offers constructive criticism, like telling someone "This is NOT how you cook scrambled eggs." Other Twitter users get more than they ask for though, like the person who was told that his cheese egg mayo toast "looks like the inside of my grand dads [sic] colostomy bag." It's awful and hilarious at the same time.
Rachael Ray
Rachael Ray seems so sweet and cheerful on TV, but she's not always so nice when the cameras go off. She reportedly planned a trip to Italy for her 10th wedding anniversary with family and friends, and didn't invite her father. "It's disappointing," said her dad.
The celeb chef is also rumored to have quite the potty mouth, unleashing her temper when the cameras aren't rolling. She has also allegedly made disparaging remarks about other celebrities, including some racially-charged comments about Oprah.
Action Bronson
Action Bronson has built an empire with his brash behavior, but there have been times when the public has called him out on his antics. In 2012, he posted photos on Instagram of an incapacitated person his friend doused in water. The captions read "Close up of Drunk Mexican Tranny after Bes poured a Bottle of water on its head" and, "Big Body Posin wit a Drunk Mexican on Broadway #Queens." Bronson defended his actions, saying the person in the photo shouldn't have gotten drunk if they didn't want to be put on Instagram.
He later posted an apology that said, "I love Gay People, Trannies not so much." It gets worse — Bronson went on to say that he wasn't "trying to offend anybody from the Gay and Lesbian Community" and that the person in the photo "wasn't even a Transvestite." He closed his pseudo-apology by saying that he doesn't "give a f***" what people think.
Jamie Oliver
It's hard to imagine lovable Jamie Oliver ever acting like a jerk, but it happened. When Oliver spouted off about why women should breastfeed, ladies everywhere were understandably annoyed. Oliver has several children of his own, but that doesn't mean he's an expert on breastfeeding, though he went on LBC radio to tell women that it is "easy…convenient…more nutritious…[and] free."
One caller who phoned in expressed her disgust with Oliver's lecture. "We didn't know what to do with our nipples until Jamie Oliver popped his head above the parapet!" she said sarcastically.
Ina Garten
Ina Garten is basically the sweetest lady of the food scene, but it turns out that even she isn't as nice as she appears. In 2010, she turned down a 6-year-old superfan whose biggest wish was to meet his idol. The child was suffering from leukemia and asked to have a cooking session with Garten through the Make-A-Wish Foundation. She said no not just once, but twice.
Sure, Ina Garten is incredibly busy, but it seems cruel to reject a sick little boy. She eventually agreed to meet him, but not until the boy's mother wrote about the incident on a now-deleted blog. Garten's spokesperson claimed it took months for his request to come to her attention since she receives so many requests "to support charitable causes" and that it's "not possible to do them all." By the time Garten made time for the little boy, however, his parents had had enough and turned down her invite to visit her show.
Geoffrey Zakarian
Geoffrey Zakarian is a big deal. The "Chopped" star is not only a television personality but also a restaurateur. Unfortunately, the chef might have major cooking skills but his business expertise is a bit lacking. He filed for bankruptcy in 2011, after facing lawsuits from his former employees at the now-closed restaurant, Country. According to the class action lawsuit brought against Zakarian and his management firm, Zakarian failed to properly compensate his staff for overtime and falsified pay records. Definitely a jerk move, chef.
Bobby Flay
In 2014, Bobby's Flay's wife Stephanie March was rushed to the hospital. Instead of rushing to her side like any loving husband would, Flay offered to have assistants stay with her since he was busy at work. On top of that, Flay allegedly cheated on his wife of ten years with his assistant, Elyse Tirrell (though he has denied these allegations). It didn't come as too much of a surprise when March asked Flay to move out of their apartment. Flay quickly filed for divorce and cancelled March's credit cards in a move that her lawyer called "bullying through economic warfare." It's safe to say that March is better off without him.
Anthony Bourdain
Anthony Bourdain, who passed away in June 2018, was notorious for his insults. This guy threw everyone under the bus — and it was part of the reason fans loved him so much. Whether he was mocking his fellow chefs or trashing Food Network, Bourdain was not known for holding back. His profanity-laced insults ranged from mild to downright nasty. He had "naked contempt" for Emeril Lagasse who he called "Ewok-like." When it came to Alain Ducasse, Bourdain had harsher words, calling the French chef an "arrogant f***wit."
Bourdain wasn't beyond redemption, though. After frequently insulting Rachael Ray, calling her a "bobblehead" and a "freakazoid," she sent him a fruit basket and he backed off. Turned out, he might have had a heart after all.
Mario Batali
In 2010, a class action lawsuit was filed against Mario Batali and his business partner, Joe Bastianich, on behalf of the waitstaff of his restaurants. According to the lawsuit, Batali's restaurants had a policy of deducting 4 to 5 percent of wine sales from the tip pool in order to line the owners' pockets. The wait staff eventually grew fed up and demanded they receive their tips. Batali and Bastianich settled to the tune of $5.25 million.
But all that is nothing compared to the recent sexual misconduct allegations against Batali. Four women have come forward to accuse him — and Batali isn't denying the allegations. "I apologize to the people I have mistreated and hurt. Although the identities of most of the individuals mentioned in these stories have not been revealed to me, much of the behavior described does, in fact, match up with ways I have acted," he told Eater. Following the allegations, he stepped away from his businesses and vacated his spot as host for The Chew.
Batali finally formally apologized with an online statement on December 15, 2017, and he started off strong. "I have made many mistakes and I am so very sorry that I have disappointed my friends, my family, my fans and my team. My behavior was wrong and there are no excuses," he said. However, things took a turn when he wrapped up his apology with a link to his website. "ps. in case you're searching for a holiday-inspired breakfast, these Pizza Dough Cinnamon Rolls are a fan favorite," he signed off.
In May 2018, the NYPD announced they were conducting an investigation of the accusations, but that investigation was closed in January 2019 with no charges filed. According to CNN, only one of the two cases being investigated was within the statute of limitations, and the NYPD was unable to find probable cause for either of the cases.
Anne Burrell
In 2009, Eater reported Anne Burrell was being sued for discrimination. Employees, former employees, and coworkers all came forward with stories of Burrell targeting the women around her with pretty horrible treatment, calling them everything from "stupid," "dumb," and "idiot," to "slutty." Female staff and bartenders said she repeatedly commented about everything from their bodies — even if they were wearing formal uniforms — to their sex lives, to the point where some saw no choice but to quit.
One-time friend Phil Casaceli reportedly found out the hard way how difficult she was to work with, and their joint venture, Phil & Anne's Good Time Lounge, closed in 2018 amind a ton of hate. Eater reported they were only speaking through attorneys, that Burrell offered to buy him out for a dollar, and closed the restaurant without even telling him.
Burrell doesn't impress those who go to see her at appearances, either. One one-time fan wrote to Syracuse.com to let everyone know what they were in for with her, saying she was "snippy and condescending," and greeted audience questions with "a withering look."
Ree Drummond
Most celebs who get called out for racist remarks make them in their private lives, but Ree Drummond actually went on air with hers. In a Season 2 episode of her hit show, The Pioneer Woman, Drummond decided to prank her family by serving them up a tray of "Asian hot wings." Her family were disgusted by the meal, with crew members saying things like "Where are the real wings" and "I don't trust 'em."
Clearly delighted by the horrified reactions to an ethnic dish, Drummond revealed that she had actually prepared a tray of American Buffalo wings and that the Asian wings were a joke. "I'm just kidding guys," she said. "I wouldn't do that to you."
The Asian-American community was understandably offended by the incident. Making another culture's food the butt of a joke is not okay.
Michael Chiarello
When the San Francisco Chronicle investigated sexual misconduct in the restaurant industry, they used Michael Chiarello as the poster child for everything wrong in the field. They cited his long history of sexual misconduct, including a 2009 lawsuit where he was accused of groping and kissing female coworkers. That case was settled in 2010, but in 2016, there was another lawsuit filed against him. This one charged him with creating a work atmosphere that was "hostile, sexually charged, and abusive."
He was accused of using food to mimic sexual acts, making completely inappropriate comments about female guests, and according to Eater, Chiarello was well known for his wandering hands, unwanted touching, and groping both male and female staff.
According to the North Bay Business Journal, that suit was settled, too, and it's unclear whether or not any party admitted wrongdoing. Chiarello has, in the past, denied the charges repeatedly filed against him.
Joe Bastianich
Joe Bastianich isn't just one of the judges on MasterChef, he's also the business partner of Mario Batali. Batali — who has had his own issues with accusations of sexual misconduct — isn't the only one accused of some shady things, and in 2017, Eater reported that Bastianich was accused of being 100 percent compliant with creating a "boys' club" environment at their Michelin-starred restaurants. Employees accused him of turning a blind eye to some of the worst offenses, and hopping on board when it came to late-night, after-work debauchery.
Then, in 2018, The Huffington Post reported on the outrage that came after he made some racist comments while filming of MasterChef Italia. Video started circulating of Bastianich at a salon, asking women about their boyfriends, and at one point commenting, "I don't know, personally… Chinese men… have some defects sometimes, they're a little short. They're inadequate in certain situations." Even when the woman tried to stop the conversation, Bastianich didn't let it go. He apologized afterwards, but many on social media weren't buying it.
Kerry Vincent
She's been dubbed the "Dominatrix of Decorating" and the "Simon Cowell of Cake," and that pretty much says it all about the manner of Kerry Vincent of the Food Network Challenge and The Great Australian Bake Off. According to The Daily Telegraph, she's constantly trying to convince people that she's not mean… but if you have to keep trying to convince people of that, you might just be a big ol' meanie.
She says she's constructive, telling New Statesman, "There's a perception in the US that I'm mean. Rubbish. I'm not mean. Mean is personal. I, however, am honest. I don't comment on anything other than the work you put in front of me, and if that is a cake which is supposedly worth $10,000, it's up to me to say if something is short."
Vincent knows — she charges anywhere from $5,000 to $10,000 for a single cake, and that's enough to make your brain hurt. So does her disdain for some of the competitors on her show: "… as an expert in the field, you realise that some of these people are in over their heads. […] Do I have to be really nice to them?"
Martha Stewart
Martha Stewart might have a kind on-screen persona, but according to her daughter Alexis, she was anything but a loving mother.
When Alexis wrote her tell-all book "Whateverland: Learning to Live Here," she dropped some pretty crazy bombshells (via ABC News). She says her famous mother never had time to practice what she preached at home, and her childhood was filled with Halloweens hiding in the house instead of trick-or-treating, and Christmases where she was told to wrap her own gifts. Stewart's dating advice to her daughter was that she should make sure she didn't grow up to be single, and if that was looking likely, she should trap someone with a baby. "Martha was not interested in being kid-friendly," Alexis writes.
Forbes says Alexis isn't alone in feeling stressed over her mother's demands. They call her "a control freak who makes her employees cry […] and fires anyone who disagrees with her," while Business Insider says she's known for being rude to audiences, sending friends invoices for trips they take together, and her temper tantrums have been compared to those in Mommie Dearest. Mommie dearest, indeed.