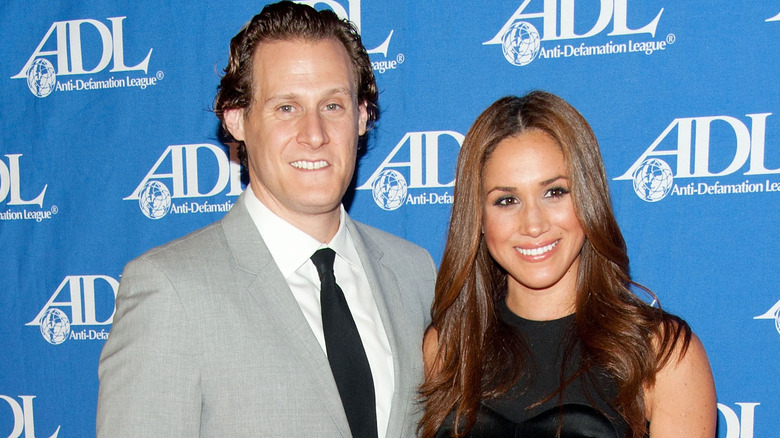 We may receive a commission on purchases made from links.
When you think of Meghan Markle, you likely think of her royal wedding with her husband Prince Harry, the Oprah Winfrey tell-all interview in March 2021, and the ongoing royal feud between the rest of the members of the royal family. People typically don't associate Markle with her life before she stepped into the spotlight. Prior to her royal wedding, the California girl worked as an actress on the American drama "Suits," did freelance jobs as a professional calligrapher, and was even featured on "Deal or No Deal" (via Good Housekeeping). However, aside from not being British, Markle has broken royal tradition in quite a few ways, including the fact that she was married between 2011 to 2013 to talent agent and producer Trevor Engelson (via Elle Australia).
Prior to meeting Prince Harry, Markle was married and divorced, which is a big no-no in the royal rulebook of traditions (via Cosmopolitan). If you are new to this piece of juicy information, allow us to break down the couple's relationship, why they split when they did, and the TV show that was almost created in spite of Markle's new relationship with a certain prince. Keep reading to learn more about Meghan Markle's first husband Trevor Engelson and why their relationship didn't last.
Before she was married to Prince Harry, Meghan Markle was married to Trevor Engelson
So, who is Trevor Engelson and how did this relationship even start? According to Elle, the producer is originally from Great Neck, New York, and was born on October 23, 1976, making him a Scorpio. Engelson attended the University of Southern California's School of Communication, and he eventually got his first job working as a production assistant. Since then, he has become a very successful Hollywood producer and talent agent. Engelson has worked on a number of different projects featuring A-list celebrities, including the rom-com "License to Wed" starring Mandy Moore and John Krasinski, "Remember Me," "All About Steve," "Deep Blue Sea," and the crime series "Snowfall" (via IMDb).
Meghan Markle's relationship with Engelson goes back further than you might think. At the time they got together, Engelson was five years older than Markle, and the two began dating in 2004. The couple was together for almost seven years before announcing their engagement in September 2011.
Trevor Engelson worked as a talent agent and Hollywood producer
Considering Meghan Markle worked as an actress and Trevor Engelson was a talent agent and produced major films and television shows in Hollywood, it seems as if this relationship was a match made in heaven … at first.
Engelson was a talent agent and started his own production company called Underground in 2001. The company, located in Beverly Hills, California, represents multiple actors, directors, and creators and has produced well-known projects featuring A-list celebrities. Prior to becoming a successful producer, Engelson interned at NBC's "The Tonight Show" as well as on films across New York City, according to his biography on Underground's official website. He is known for producing films and television shows such as "Snowfall," "Kill The Orange-Faced Bear," "Horrible Bosses," and many more.
Markle, on the other hand, was best known for her role as Rachel Zane in "Suits," and was also featured in "When Sparks Fly," CSI: Miami," "90210," and "Castle" (via IMDb). According to Insider, she landed her first small role in 2002 playing a nurse in "General Hospital," and would eventually be cast in a commercial and a few Hallmark movies. She even started her own lifestyle blog called "The Tig."
After seven years of dating, they got married in 2011
After being together for about seven years, Meghan Markle and Trevor Engelson got engaged in 2011. According to Cosmopolitan, the couple tied the knot with a casual beachfront wedding in Ocho Rios, Jamaica, in September 2011 — and yes, they were barefoot on the beach. According to the Daily Mail, the wedding ceremony lasted over a span of four days, during which the newlyweds and more than 100 guests enjoyed the festivities. Soon after the wedding celebration, the two began their new life together in a gated home reportedly above Sunset Strip in Los Angeles — but the union turned out to be short-lived.
During her marriage with Engelson, Markle was spotted with different wedding and engagement ring combinations. According to Harper's Bazaar, her first wedding ring was a princess-cut solitaire with simple diamond bands, which was very different from the ring that she would eventually wear from her now-husband Prince Harry.
Meghan's first wedding dress was entirely different than her royal wedding dress
Wondering whether or not Meghan Markle's first wedding dress to Trevor Engelson looks anything similar to her royal wedding dress with Prince Harry? Markle's 2011 wedding gown was significantly more casual; it was strapless with a V-shaped pleating cutout and featured a bejeweled belt around the waist, screaming all things mid-2000s (via Cosmopolitan).
In an interview with Glamour in March 2016 (right before she met Prince Harry), Markle opened up about what her dream wedding dress would look like. "I have the luxury of wearing beautiful pieces of clothing every day for work, so my personal style — wedding or not — is very pared-down and relaxed," she said. "Classic and simple is the name of the game, perhaps with a modern twist. I personally prefer wedding dresses that are whimsical or subtly romantic."
During her wedding ceremony to Prince Harry, Markle's dress was more in keeping with royal wedding traditions. Brides in royal weddings are expected to have sleeves on their gowns, and should typically have a modest neckline with plenty of coverage.
In 2013, Meghan Markle quietly filed for divorce
Meghan Markle and Trevor Engelson's relationship was fairly short-lived. Although they had been together for seven years before saying "I do," their marriage only lasted two years before they called it quits. In August 2013, Markle quietly filed for divorce from Engelson and the couple parted ways (via Us Weekly). Just a few months before they got married, Markle landed her role as Rachel Zane on "Suits" — and not only did her career quickly skyrocket, but drastic changes were also happening in her relationship.
Due to the new television role, Markle was required to move to Toronto to start filming, while Engelson remained in California for his own work. According to The Sun, a source revealed that the long distance was too much for the relationship to sustain, and they began having serious issues. "Despite being together for six years before getting hitched, things started to fall apart not long after the wedding," the source said. "They really battled with long distances … It was a very difficult way to start married life."
The couple split due to irreconcilable differences
It seems as though the long distance may have been a major cause of the divorce between Meghan Markle and Trevor Engelson, but it was later cited that the two split due to "irreconcilable differences" (via the Daily Mail). Between Markle's sudden rise in popularity because of "Suits," the distance between them, and their different schedules, the couple found themselves dealing with a lot of stress.
Markle's friend Ninaki Priddy revealed to the Daily Mail that although distance was the biggest difficulty in their relationship, the couple would occasionally fight, saying that she "knew they fought sometimes, but it wasn't anything huge. The only obstacle was the distance because she was living in Toronto and Trevor was based in L.A., but I thought they were maneuvering through it," per The Royal Observer.
In royal biographer Andrew Morton's book, "Meghan: A Hollywood Princess," which was released in 2018, Morton claimed that their relationship was quickly falling apart. "Whether she wanted to admit it to herself or not, Meghan, who once said she couldn't imagine life without Trevor by her side, was now building a new world for herself," he wrote. "As Toronto was becoming more her home than L.A., the dynamics in their relationship subtly altered. She was her own woman now, earning a steady income, making new friends on set and off, no longer dependent on her husband's connections."
Meghan allegedly left Trevor Engelson blindsided
Typically, when relationships start to fail, it's evident to both partners that things aren't working out — but not in this case. Five years after their divorce, more and more information about Meghan Markle's split from her first husband Trevor Engelson continued to emerge in the media. After royal biographer Andrew Morton released his book, "Meghan: A Hollywood Princess," in 2018, it was revealed that Engelson was left completely blindsided by their relationship ending (via Cosmopolitan). "Trevor went from cherishing Meghan to, as one friend observed, 'feeling like he was a piece of something stuck to the bottom of her shoe,'" Morton wrote. "A wealthy entrepreneur friend claimed the marriage ended so abruptly that Meghan sent her wedding and engagement rings back to Trevor by registered post. Another confirmed that the decision to end the marriage was made by Meghan and that it had come 'totally out of the blue.'"
According to Morton, while Markle was gaining popularity thanks to her newfound fame after being cast in "Suits," Engelson's career in Hollywood was at a standstill, and distance was getting the best of them. Even after trying to rekindle their relationship with a vacation to Vietnam together, things just didn't work out in their favor. After years apart, Morton claimed that "he [Engelson] can barely contain his anger" toward their relationship ending.
After their split, Trevor began dating Bethenny Frankel
Shortly after his split with Meghan Markle, Trevor Engelson moved on to date reality TV star Bethenny Frankel. While appearing on the "Kyle & Jackie O" radio show, Frankel revealed that she did in fact go on a date with the film producer. "I met him in Chicago and we were supposed to go out, and I ended up seeing him one time and he'd been texting me," she stated on the show. "He's a producer in L.A. He told me that he was married before. He's divorced [now]. He was married to this girl named Meghan Markle from the TV show 'Suits'"(via Entertainment Tonight).
When Markle went public with her relationship with Prince Harry in 2017, Frankel had a realization. "'I'm like, 'Holy s**t, your ex is going to be a princess!'" she claimed to have immediately texted him.
Although they went on one date together, Frankel made it clear that moving forward, their relationship was strictly business — and there is a funny reason why. "He looks a little bit like my ex, which scares me," she said on the radio show. "We bypassed the romantics and went into the business. But I don't know, there's something salacious about doing a TV project with Meghan Markle's ex."
In 2016, Meghan Markle met Prince Harry
After their split, Meghan Markle and Trevor Engelson each moved on with their new current partners, one of whom is a prince. According to Town & Country, Prince Harry and Markle were first introduced to one another through a mutual friend and went on a blind date together in July 2016. After that first date, the couple dated in secret for about four months before news spread that Prince Harry was dating an American, breaking royal tradition. In November 2017, Prince Charles announced that the couple was engaged, and they married in May 2018 (via Cosmopolitan).
One year later, Markle and Prince Harry welcomed their first child together, a baby boy named Archie Harrison Mountbatten-Windsor (via Entertainment Tonight). However, two years after the beginning of the royal rift between Prince Harry and Prince William, in January 2020, People reported that The Duke and Duchess of Sussex made the decision to leave behind their duties as working members of the royal family. In July of that year, Prince Harry and Markle moved to Montecito, California. Soon came the royal tell-all interview with Oprah Winfrey in March 2021, when the couple talked about their decision to step back from the royal family, the racism and bullying that Markle has experienced during her time in the spotlight, and how much more at peace they were in their new home in California.
In 2017, Trevor Engelson was set to work on a show allegedly about Meghan Markle and Prince Harry
Producer Trevor Engelson must not have taken his divorce from Meghan Markle easily, because four years later, news spread that he was in the process of pitching a TV show that felt a bit personal. According to Town & Country, the Fox Studios "divorce comedy" was originally based on a couple with children who would soon separate when the husband is left for a British prince and they are forced to share custody. However, Deadline reported that the show was completely fictional and not based on either Markle's or Engelson's relationship, considering the couple split back in 2013 — way before she met Prince Harry — and they don't have any children together. "Divorce is hard. Sharing custody is harder. Sharing custody with the British royal family when your wife marries a prince, in the unforgiving spotlight of London's tabloid media, is next level," read the pitch.
Although it was reported to be fictional, the news outlet claimed the show was loosely based on true events. In March 2018, the New York Post reported that Engelson officially pulled the plug on his television project. An insider revealed to The Sun that Markle's close friends spoke with the producer before the royal wedding and were able to convince him to cancel the project.
In 2018, Trevor Engelson proposed to his girlfriend Tracey Kurland
After his split from Meghan Markle, Hollywood talent agent Trevor Engelson eventually found love again. In June 2018, Us Weekly reported that after dating for three years, Engelson proposed to dietician Tracey Kurland while on a wine tour in California's Napa Valley. Before he got back in the dating game, a source told The Sun that the divorce took a major toll on Engelson. "The split with Meghan hit Trevor pretty hard. He went through a rough time during the breakup and that was only made worse when Meghan got together with Harry last year," the source revealed. "He had to re-live it all again — this time in public. It wasn't the most amicable of divorces and there were hurt feelings on both sides. Now he has bounced back and things are looking great for him."
Engelson and Kurland tied the knot in Montecito, California in May 2019, just a few days after Markle welcomed her first son, Archie, with Prince Harry, according to Us Weekly. In August 2020, Kurland and Engelson welcomed their first child together, a baby girl named Ford Grace Engelson (via Us Weekly). One year later, it was announced that the couple was expecting baby No. 2, a source revealed to Us Weekly. In November of that year, the couple welcomed daughter Sienna Lee Engleson. As of this writing, the family of four resides in Beverly Hills, California.
Meghan was brought up during Trevor's bachelor party
Years after their split, both Meghan Markle and Trevor Engelson have moved on with new partners. Markle married Prince Harry, and Engelson wed his dietician girlfriend, Tracey Kurland. However, things still seemed to be a bit tense on the Hollywood producer's end. During his bachelor party trip to Miami Beach in March 2019, a certain video of Engelson and his friends went viral for bringing up Markle in one of his friend's toasts, Cosmopolitan reported. The Daily Mail released video footage of Engelson's friend's comments. "This right here … this right here is to royalty, you know what I'm saying? Royalty won, royalty lost … but regardless, baby, we got to keep going!" the speech began. "If it wasn't for Trev, I wouldn't believe that I could marry a future princess, so now, I gotta … what princess is available now?" he continued.
This all happened just before Markle was about to give birth to her first son, Archie. Although it's never been confirmed that Markle actually saw the video, she was clearly too busy becoming a mother and dealing with royal family duties to be bothered with it.
Meghan allegedly made her ex-husband sign a pregnancy contract
In October 2018, rumors began to spread that Meghan Markle forced her ex-husband Trevor Engelson to sign a "pregnancy contract" to make sure that her needs and demands would be met if she were to ever get pregnant and have a child with him. According to the Daily Mail, a close friend revealed many details of Markle's life during her first marriage prior to Prince Harry, including the fact that she requested Engelson to pay for a personal trainer and nutritionist to be there for her and help her remain healthy throughout the potential pregnancy. In addition, Markle allegedly organized childcare arrangements in this rumored contract. "It came up at a time when they were considering having a family, at some point in the near future," the source revealed to the Daily Mail, claiming that Meghan "wanted to make sure she would be camera-ready very quickly."
The source later claimed that no lawyers were involved in signing the so-called contract, but Engelson did sign some sort of paperwork. "She says she got him to sign something, maybe just a handwritten letter that she could hang over his head" (via Cosmopolitan).
A body language expert weighed in on whether Meghan and Trevor were actually in love
After about nine years together, it seems safe to assume that Meghan Markle and Trevor Engelson loved each other at a certain point in their lives. In April 2018, Cosmopolitan reported that body language expert Blanca Cobb compared photographs of Markle and Engelson to Markle and Prince Harry in an episode of "Celebrity Couples: Decoded" throughout different stages of each of their relationships — and the results are fascinating.
Although there were times at the beginning of Markle's relationship with Engelson when there were true sparks when they were together, Cobb claims that the way she engages with Prince Harry is closer, brighter, and always features a bigger smile. "You don't get close to people you don't feel emotionally close to, particularly when it comes to your head, which is a very vulnerable part of the body," Cobb said of her and Harry's engagement announcement image.
In the end, Markle's photographs alongside Prince Harry always resulted more positively than those next to Engelson. "There isn't anything glaring that's like, 'Ah-ha! I can see why they divorced!'" Cobb said of Markle and Engelson's relationship. "But Meghan shows more engagement with Harry and seems more in tune with him. Whether it's a candid or professional shot, there's no question in my mind there's a lot of love between them."