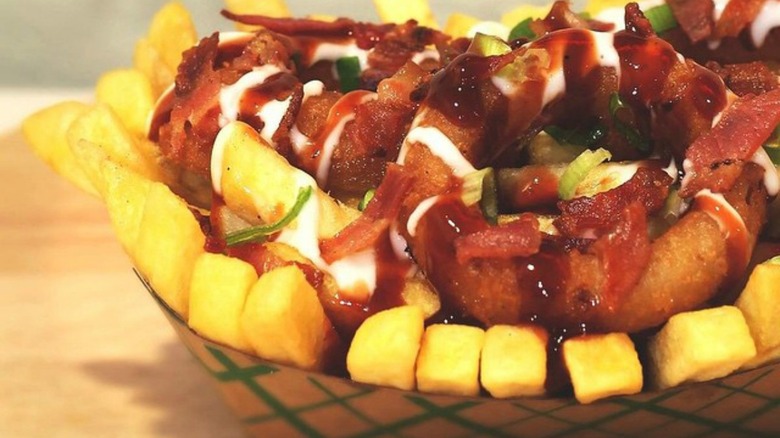 All Americans — whether they frequent fast food chains or not — are familiar with the sea of brightly colored signs advertising the same chains you see no matter what state you're in. Burger King, McDonald's, Wendy's… you know the list.
Head to Europe, and sure, you'll find McDonald's and Starbucks. You'll also find some seriously amazing fast food chains serving up food that's not like anything you'll get Stateside, and that should make America sad.
Fortunately, European chains do make the jump across the pond. British cult favorite Nando's — which actually started in South Africa — recently opened their first US locations in Chicago and DC (via USA Today). When Britain-based LEON announced they were opening their first US locations, Business Wire says the super-healthy fast food chain chose DC, too. LEON has the potential to change how America thinks of fast food, so let's talk about what else the nation is missing out on.
Ditsch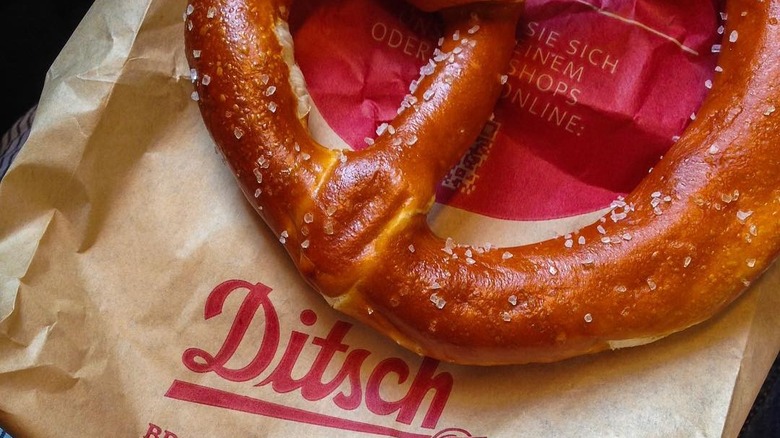 The only thing that's possibly more German than sausages are pretzels (especially when they're served with a side of mustard and a liter of beer), and that's why we want Ditsch to start opening their German bakeries in the US.
They've been making pretzels since 1919, and you can find them in Germany, Austria, France, and Switzerland. We're not just talking Auntie Anne-style pretzels here, we're talking the chewy, dark brown, shiny pretzels you think of when you think of Germany, and they're not just plain, either. Pizza pretzels, buttered pretzels, pretzels with ham, pretzels with seeds… and let's talk about their sandwiches. These aren't any regular sandwiches, these are sandwiches made with pretzel dough rolls. Yes, please!
They also do pizzas, and a series of croissants filled with things like ham and cheese, and cream cheese. There are dessert croissants, too: chocolate cream-filled ones, marzipan ones, nut and nougat ones. Oh — and one that's half-pretzel, half-croissant. Delicious? We thought so.
Nordsee
When it comes to fast fish, America has a few options: a smattering of Long John Silver's locations, or a Filet O'Fish sandwich from McD's. That's a shame, because Germany's Nordsee does fish so, so right.
They've had a lot of experience doing it, too. Nordsee was founded in 1896, built around a fleet of fishing trawlers assembled with the goal of getting fresh fish from the ocean to the table as fast as possible. The company had their own harbor by 1897, and they've continued to grow and expand across Europe.
And after more than 100 years, we're still talking about really fresh fish. Nordsee customers have a ton of choices, from fish filets and sandwiches to bagels with lox, fried calamari, salads with shrimp or flaked fish, BBQ lox wraps, and even sushi. That was only added in 2006, and before you start doubting their commitment to something as specialized as sushi, we'll add that they're the largest purveyor of sushi in Germany. That's how it's done.
Spudulike
Potatoes are a staple at fast food restaurants in the US, but they're mostly only used as fries. Fries are great, but UK-based chain Spudulike takes serving up potatoes to a whole new level.
Their entire menu is built on the idea of the baked potato (and no, you can't get fries there). There are a ton of different options when it comes to ordering your baked potato, and you can opt to have it filled and topped with things like chili con carne, cottage cheese and chives, prawn cocktail, chicken tikka, or European favorite tuna and sweet corn.
Not feeling like a whole baked potato? They also have a series of salads topped with boiled and crushed potatoes, and they're pretty delicious. There's a Greek feta salad, line-caught tuna, a chicken Caesar, and even Parma ham, all topped off with yummy potatoes. Just think of that next time you order a side of fries with anything.
Supermac's
Supermac's is like the Irish version of McDonald's… but better. They opened in Galway in 1978, and they're still overseen by the same person who first developed the idea, Pat McDonagh.
So, what do they have going for them that McD's doesn't? All their meat is Irish-sourced and 100 percent traceable, and that's a big deal. They also have a lot more than just beef, chicken, and fish burgers, you can also order full subs. Now, let's talk fries… or, more appropriately, chips. In 2017, Joe reported they were going to be doing something huge with their chips: cutting them all by hand, in-store. They're not just any ordinary chips, either, they're known for their garlic, garlic and cheese, curry and cheese, and taco options.
Customers can also pick up a full Irish breakfast on a plate or on a roll, and then, there's dessert. Got a craving for ice cream and something cakey? Supermac's chocolate muffin and ice cream dessert has you covered. They also serve a cone called a 99, which is essentially a vanilla cone with a chocolate flake in it. And, let's be clear — it's not your American soft serve, either. It's amazing.
Abrakebabra
When it comes to fast food chains, Americans typically have the option of traditional American fare or Mexican, thanks to chains like Taco Bell. They say variety is the spice of life, though, and that's why the US needs to talk about Ireland's Abrakebabra. Not only do they have a completely different sort of menu than anything US customers are used to, but they're great for lunch and they're even better after you've spent a few hours down at the pub.
They have your traditional burgers and baguettes, but you can also opt for doner kebabs, chicken shawarma, taco kebabs, and pitas (like the falafel pita pictured here). We're talking loaded fries here, too: thick-cut, giant fries forming a bowl filled with things like pulled pork, curry, beer battered onion rings, chicken tenders (with your choice of sauce), pizza toppings or and all the taco toppings you could want. Sick of fries as one of the only options for sides? Why don't you try their cocktail sausages or their hummus and pita bread?
Oh. That's right. Not in America. Sorry, America.
Poppie's Fish & Chips
When you think British fast food, you probably think of fish and chips. That's exactly why Poppie's Fish & Chips needs to make the jump into America, because America needs to have an option for authentic fish and chips.
It really started with a "Pop": Pat Newland. He started in the business when he was 11, and his first job was cutting the newspapers needed to wrap fish and chips —1950s-style. (You'll get a box today.) Some things haven't changed, though. They still use sustainable fish, caught daily and delivered to their own fishmonger.
We're not talking just fish and chips, either. We're talking calamari rings, scampi, jellied eel (for the adventurous), and fillets of mackerel, sole, plaice, and halibut. The more traditional fish and chips are done with cod or haddock, and you can get some super-traditional sides, too. There are mushy peas, pickled onions and pickled eggs, and beans, but sometimes? All you need is a box full of crunchy, flaky, fish done right.
Kochloffel
Tired of hamburgers and chicken sandwiches being some of the only options when it comes to hot sandwiches? They're staples in the US fast food market, and that's why we have no doubt Americans would love the options they'd find at German fast food chain Kochloffel.
Founded in 1961, Kochloffel grew from a small family business into a massive family business now run by the second generation. There are about 90 locations across the country, and while you can definitely get beef and chicken burgers there, you can also get some amazing seasoned chicken (grilled or breaded, and in wraps) that puts KFC to shame. Best of all? They also serve up traditional bratwurst (with spicy mustard and fresh rolls) and currywurst. What's currywurst? Sliced sausage with mild, spicy, or fruity curry sauce. If you love Oktoberfest and the idea of traditional German sausages, you'll probably agree that you need Kochloffel in your life, too.
O'Briens
Bored with Panera Bread? Tired of the same old soup and sandwich options? If you are, you'll be so jealous of Ireland's O'Briens.
Let's start with their Irish ham sandwiches. They offer a few, and if you've never had Irish ham you'll also need to know that the country is very, very serious about their ham. They're also serious about putting out fresh sandwiches and salads with some options you just can't find in America. We're talking herb and garlic mayo, cranberry relish, and Ballymaloe relish (which is a sauce made from tomatoes, sultanas, and vinegar).
They'd also be bringing a bit of an Irish breakfast with them, too, in sandwich form. A full Irish breakfast is a calorie-heavy thing that will weigh you down for the rest of the day, but O'Briens does a quick-and-easy version of it as a toastie with tomato, Ballymaloe relish, sausage, and bacon (which isn't American bacon, but a slice of ham). You can get your coffee here, too, and that makes it a one-stop shop perfect for a light, healthy, fast lunch. Win!
West Cornwall Pasty Co.
For anyone not familiar with a pasty, they're pockets of thin bread stuffed with all kinds of hot and tasty fillings. They were originally developed in Cornwall as a full, hand-held meal for the tin miners, and they've remained a British favorite.
West Cornwall Pasty Co. still makes them the traditional way, and they even still seal them by hand. They have steak and ale pies, chicken and mushroom, chicken and chorizo, even Thai curry pies and vegetarian options. Who needs a burger when you can get a pasty? They're also open for breakfast, when they serve up another British favorite: the sausage roll. Not enough? They have a bakery section, where you can pick up shortbread, brownies, peanuts, and popcorn, and how's that for a side? Finish it off with a cold, blended drink or a coffee. Whoever says British food is boring and bland has never had real British food, and given how super-traditional and super-delicious these pasties are, this is one fast food chain that really, really needs to expand. Please.
Max
More and more Americans are becoming increasingly aware of what's in their food — and what that food is doing to the planet. Sweden's Max is a burger joint that's already well ahead of the game.
All of their products are completely free of trans fats, GMOs, antibiotics, and growth hormones, and their Delifresh menu goes even farther. They offer low-carb, low-fat, low-salt, low-GI options, and they're serious about their environmental impact, too. They're the first in the world to produce climate-positive burgers, which means they have processes in place to offset 110 percent of their emissions from farm to waste products. A huge part of that offset comes from planting trees, and in 2013, they planted more than 700,000 of them.
We know what you're asking — can something so healthy really taste as good as a Big Mac? They've taken home top honors for most satisfied customers in the country for more than a consecutive decade, and that's nothing to scoff at. Take note, America, it can be done.
FEBO
Even among some of the most beautiful cities in Europe, Amsterdam is something a little different.
Well, very different. That makes it not entirely surprising that they do fast food a little different, too, thanks to Netherlands-based FEBO. FEBO is ultra-fast, because you're ordering, paying, and getting your already-ready food right from a giant wall.
We're talking about things like hot dogs, burgers, bami, sausages, croquettes, fries, and all kinds of deep-fried goodness. It started in 1960 when J.I. de Borst combined the idea of a snack bar and an automat, creating this automated wall of semi-questionable life choices. They're all over the Netherlands now, and honestly, they need to be all over the US, too. There are two reasons for that: they're absolutely ideal for grabbing a quick bite to eat after leaving the bar, and they're an introvert's dream. Don't feel up to a conversation with someone behind the counter at pretty much any other fast food chain? Just head to FEBO, and no human interaction is required. We've all had those days.
Hesburger
Swinging through a fast food joint for a burger might seem like a distinctly American thing to do, but the U.S. isn't the only country that's discovered just how delicious a burger can be — and everyone knows that it's not just about the meat, it's about the sauce, too. That's where Hesburger comes in. Founded in Finland in 1966, Hesburger's claim to fame isn't just their burgers — it's also the white cucumber mayonnaise that's made on-location and served with all their burgers. Delicious? Yes, yes it is.
Hesburger's name is a little deceiving because they also serve kebabs – and again, it's the sauce that makes them really, really good. The standard kebab sauce is a red pepper mayonnaise, and to make it clear just how much people love their sauces, they say that during each work shift, employees can plan on making more than 1,000 gallons of the stuff!
Hesburger also make their own ketchup — and every year, they mix up about 2,200,000 pounds of it, made according to their top secret recipe. Sounds pretty good, right? Unfortunately, you'll have to go to Europe to get it: Most of their locations are in Finland, Lithuania, Estonia, and Latvia, but they've also expanded to other countries like Germany and Belarus.
Chicken Cottage
Chicken Cottage is a U.K.-based fast food chain that, as the name suggests, specializes in chicken. But this isn't your usual KFC, and in addition to the standard sort of offerings, you can also opt for grilled chicken and — even better – grilled satay. Satay options include a wrap, a chicken burger meal, wings, and a combo, and it's a brilliant change from the usual.
And now, let's say you're ordering out for the family dinner from Chicken Cottage. You can definitely opt for one of their family meals, but it's how you can finish dinner – with no extra effort required — that's really delicious. You can absolutely add on a tub of ice cream that comes in flavors like bubblegum, fudge brownie, and strawberry cheesecake, or opt for a dessert of chocolate cookie dough. Should you get both? Yes, yes you should — but you'll still have to go to the UK or Ireland to do it.
Telepizza
There's one TripAdvisor review that sums up Telepizza: "Not American. Not Italian. It's Spanish."
While America definitely has no shortage of pizza places, Telepizza's menu looks both sort of familiar … and not at all familiar. The unadventurous can opt for mushroom or bacon pizza (and, it's worth noting, "bacon" means "ham"). That's definitely not the allure of Telepizza, though, and we're talking about some distinctly Spanish offerings. How about a tuna pizza? Yep, they've got it! You can also order things like La Iberica, which comes covered with Iberian ham and massive slices of tomatoes. How about a BBQ pizza with a sauce made from BBQ sauce and carbonara?
Hilariously, Telepizza also has an American pizza that … well, honestly, it's pretty aggressively American. It's got bacon, beef, a cheese they describe as "mozzarella-based," and it's drizzled in steak sauce. That's American, right? (In all fairness, if you haven't dipped your pizza in steak sauce, you haven't lived.) You can also order pasta, salads, burgers, and starters like Spiro dogs, crostinis, Camembert bites, and then there's dessert: ice cream, chocolate truffles, or Oreo cheesecake — Telepizza has you covered.
Curry 36 and Konnopke
Germany takes their currywurst very seriously, and America, we need to talk — because you need to know what it is and how you can make it. It's essentially a bratwurst that's covered in a sauce that's made from ketchup and curry powders, but it's oh so much more than that, too.
Head to Germany, and you'll find that everyone has their favorite currywurst joint. Two of the big ones are Curry 36 and Konnopke, and let's explain. Basically, Curry 36 covers the western part of Berlin, while Konnopke is in the east. You can't go wrong with either one. Additionally, Konnopke has been around since the 1930s, and continues to offer not just currywurst, but other "wursts," too — like knackerwurst, krautwurst, bockwurst, and bratwurst. Curry 36, on the other hand, is a little more straightforward — there, you're getting currywurst.
Still, we'd love to see either one of these chains make the jump into the U.S. Burgers are great and all, but how can you possibly go wrong with traditional German sausages, in a fast food form? There's good news for vegans, too: Both chains offer vegan curry sausages, too.
Yo!
It's not entirely clear from the name just what customers can expect when they walk into Yo!, but sushi-lovers might just find that it's worth the trip to their plethora of U.K. locations. (They've also expanded into Denmark, Dubai, France, Australia, and Saudi Arabia.) Basically, customers come in, grab a seat, and are served hand-crafted sushi on a kaiten conveyor belt. Want to see what you're going to eat before you actually do? You can here, and that's a good thing — there are so many different choices that a menu just doesn't do this place justice.
And if you're not a sushi fan, well, you still need to stop by. Yo! has scored some major awards for their vegan and vegetarian offerings, and one of their most popular items is their Chicken Katsu Curry. Sushi pros will find things like deep fried octopus balls, while it's also pretty perfect for someone who's just looking to dip their toes in the water, so to speak. Try the sashimi, but if it turns out you're not a fan, there's also dishes like the Kaiso Seaweed or Shiitake Mushroom Ramen.
While sitting down and sampling is the way to go, Yo! also has order-ahead and delivery services, and you know how you never, ever feel like cooking after grocery shopping? They have a ton of kiosks at various grocery stores across the country, too. America, take note.
Flunch
What the heck is Flunch? EuroCheapo says the restaurant name comes from combining the words "French" and "lunch," and so far, so good. And here's the thing: While you might imagine France is full of restaurants that only serve pastries and have delicate, wrought-iron furniture that looks like it's going to break if you sneeze while you're sitting there, that's not Flunch.
Flunch would be right at home in America, and here's the idea. It's a cafeteria-style restaurant where you can make lunch as fast or as long as you want. You go in, grab a tray, walk through the line, and select a main course and — if you like — a dessert. Then, you can either be on your way, or sit down in the dining area to partake in the unlimited vegetable buffet.
Unlimited vegetables! We can absolutely get on board with that, and there's one other thing that makes Flunch pretty brilliant. It's an unwritten rule that if you're dining alone or sitting at a table that's not full, strangers are more than welcome to sit. Want to meet new people? Go Flunch!
O'Tacos
America might have its fair share of taco joints, but there's nothing in the States quite like O'Tacos. Founded in 2007, it's now found across France and Belgium … and it's not your typical taco place.
At first, their menu looks pretty normal. You start out by choosing whatever size taco you'd like, and then, you'll pick your meat. That includes some pretty awesome choices like cordon bleu, chicken tenders, and even falafel. Then, you pick your sauce — and here's where we really start to get out of typical taco territory. You can opt for fuego, ketchup, biggie burger, curry, Algerian, BBQ, or Chili Thai, and here's the thing: That's going to go on fries, then all your fries are going to get wrapped up in your taco, too. Fries in tacos? Sure!
O'Tacos also have some pretty amazing toppings, like goat cheese, jalapeño and cheese nuggets, and a variety of cheeses. On the off chance there's not enough fries on your taco, you can order some on the side, too. Yum!
Freshly Chopped
Freshly Chopped opened in Dublin in 2012, and it was so popular that in less than a decade, they spread to more than 50 locations throughout Ireland, the U.K., and Cyprus. The idea is simple — fresh, made-to-order salads and bowls — but it's the execution that really sets them apart.
Every Freshly Chopped salad starts with the customer's choice of greens, and that's important; not all lettuce was created equal, and even the best-sounding salad can be ruined by a bed of slightly past-prime iceberg. Their proteins include the expected chicken and tuna, but you could also opt for falafel or pulled oat balls. Freshly Chopped also has a ton of healthy, mayo-free dressings (habanero relish, anyone?), and if customers are looking for something a little more substantial, they've expanded their healthy range into burritos, too. (And there's the option to cut carbs even more, and have them served in a bowl form.)
While you're there, pick up a smoothie to go along with the meal: peanut butter and frozen yogurt smoothies? Would recommend!