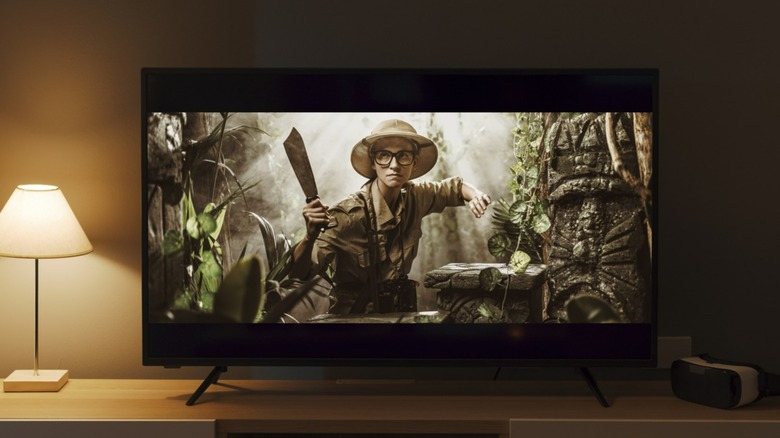 We may receive a commission on purchases made from links.
It's entirely possible that there has never been a better time to buy a 4K TV. When 4K TVs (commonly called UHD) first hit the market, there were only a few models available and they were prohibitively expensive. However, as more manufacturers have released models, and with the advent of newer technologies like HDR and mini-LED displays, the barrier to entry has dropped dramatically. Now you can get a high-quality 4K television for around $500.
However, going too cheap means you could miss out on the aforementioned HDR or other quality-of-life features. We've compiled some of the best options for 4K TVs that are budget-friendly and avoid the pitfalls of the lowest end. These TVs come with everything you would want in a 4K TV, and you won't need to get another TV for quite a long time after this purchase. These TVs are also fairly large (50-inches or larger), so they make great centerpieces for living rooms. The large size makes movies and sporting events more immersive, which is exactly what you want out of a 4K TV.
Hisense 55U6H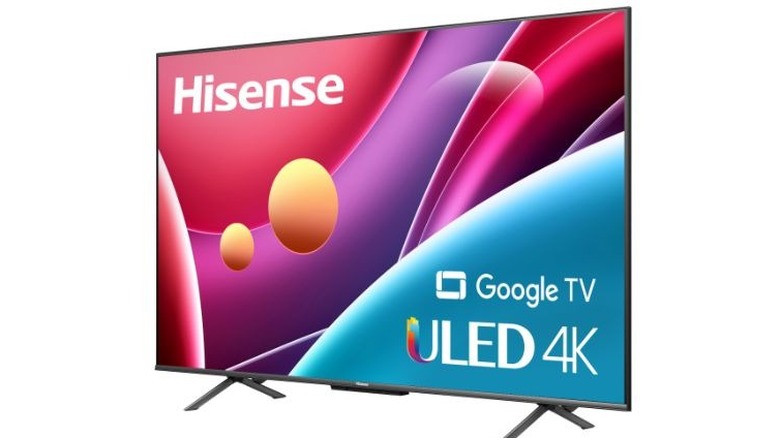 The Hisense 55U6H is a compelling option for lots of reasons. For one, its 55-inch display is an excellent option for most spaces, offering a large viewing area without being overwhelming. It is also a QLED display, which supports up to 1 billion different colors. Combined with the 48 local dimming zones on the TV and 600 nits peak brightness, this is a 4K TV that has a surprisingly good HDR experience, making it an excellent option for cinephiles on a budget.
The quantum dot technology used to accomplish this is usually found in much more expensive television sets, but the Hisense 55U6H comes in at $429, making it a compelling option for any budget. There is also a dedicated gaming mode to help improve the refresh rate while playing, making it an excellent option for gamers too. The 55U6H is powered by Google TV, which makes your favorite streaming services instantly available in a clean and simple interface.
TCL 5-Series Roku TV
QLED devices are getting cheaper every year, which means this compelling alternative to OLED is more and more readily available. The TCL 5-Series Roku TV is an excellent example of a QLED device that is affordable and checks all the right boxes. The quantum dot technology allows for a staggering amount of color to be present on screen at once, and even the SDR color accuracy is very good out of the box.
With 40 dimming zones, the 5-Series also has incredible contrast, which helps improve the overall HDR experience. All of this is balanced by the AiPQ Engine in each device, which uses machine learning to deliver the best possible viewing experience every time.
As the name implies, this device is also powered by Roku. If you already have a Roku account, then syncing with and navigating this device will be a smooth and seamless experience. All of this comes for $429, but you can opt for a slightly more expensive option that has more dimming zones and Google TV if you prefer.
Insignia F50 QLED
If you're looking for something a bit more affordable, this option from Insignia offers all the great features at a reduced price. It's a 55-inch QLED display, and the Insignia F50 QLED now retails at $350. The F50 also supports Dolby Vision, so the HDR experience is quite good for the price. The TV also supports DTS Virtual-X, which simulates a surround sound experience from your TV speakers to create a more immersive experience.
The F50 is powered by Fire TV, so no need to buy or use a streaming stick. Since it is a FireTV, it also natively supports Alexa voice commands with the included remote. The TV also supports VESA mounting, which makes it quick and convenient to hang on a wall.
The F50 originally sold for $500, so you're getting quite a deal buying it at $350 while compromising virtually nothing. That also leaves some room in your budget for a dedicated soundbar to upgrade your setup that much more.
Hisense H8G
If you're looking for an excellent (but affordable) gaming 4K TV, the Hisense H8G is a compelling option. Like the other Hisense option on this list, it's a quantum dot display that supports a huge array of colors, and it also supports Dolby Atmos and Dolby Vision, so every show and movie will look and sound great.
However, the big selling point of this 50-inch TV is the high 240-motion rate. The motion rate translates to a 120Hz refresh rate, making this a great option for gamers who want a smoother experience on a large display. Higher refresh rates, of course, are a must if you want to play at a competitive level.
HDR isn't quite as good on this TV because of the 32 dimming zones (compared to the 40 on the 55U6H). But if gaming is your main focus, this may be the better option for you, especially at a price of $450.
Vizio 50-inch M-Series 4K QLED Smart TV
For another excellent gaming option, check out the Vizio 50-inch M-Series. The M-Series comes with a QLED display and a Dolby Vision Bright Mode to make colors really pop. The M-Series also supports other popular HDR formats like HDR10+ and HLG. All of this is handled by the IQ Active Processor, which works to upscale content and deliver the best-looking experience possible.
The M-Series also has a dedicated Game Mode and an input lag of less than 10ms. That's not quite as good as a dedicated gaming monitor, but it is still excellent and more than enough for a casual gaming experience. The M-Series also supports AMD FreeSync, which helps reduce screen tearing. Combine all of this with the incredibly thin bezels, and you have an immersive experience that absorbs you no matter what you are playing or watching.
Vizio's SmartTV OS also supports AirPlay and Chromecast, and you can get the 50-inch model for just $398.
Amazon Fire TV 55-inch 4-Series 4K UHD Smart TV
If you're looking for the absolute most affordable option that is still worthwhile, then we recommend looking at the 55-inch Amazon Fire TV. This display doesn't have the quantum dot technology that's found on most of the 4K TVs on this list, but it also only costs $329 right now. It still supports HDR 10 and HLG, so this is an excellent option for someone's first 4K TV or perhaps college students.
As you would expect, the Amazon Fire TV uses Amazon's FireTV operating system. The TV also comes with a Fire TV Alexa remote, with voice support built right in. Since it does have Alexa support, the Fire TV will bake into your current smart home setup quite easily.
There are a few other quality-of-life features. For one, the Fire TV has a built-in ethernet port, which allows for a faster and more reliable internet connection. It also has a Dolby Digital Plus audio codec for improved sound and clarity.
While the TV isn't the best looking on the list, the ease of use and low price point make the Amazon Fire TV a worthwhile investment.
Samsung 55-inch Class Cyrstal 4k UHD AU8000 Series
If you're looking for the most vibrant colors at a low cost, then the Samsung 55-inch Class Crystal UHD AU8000 is a great option. This TV uses Samsung's Dynamic Crystal Color tech to deliver some truly stunning and vibrant colors. The color gamut and accuracy are even superior to the QLED options available on this list. That's great for films and TV shows, where the color will really pop. And there are several ways to adjust your settings for the best image.
The HDR experience is good too, though not quite as good as the QLED options. That's because Crystal UHD TVs have few dimming zones, so the contrast isn't as intense. Crystal UHD TVs also have higher input lag, which means they aren't the best option for gaming.
However, if you're looking for a large display with great colors, the Samsung AU8000 is a no-brainer. The display also gets very bright, so it's perfectly usable in rooms with ambient light or windows. You can get the 55-inch model for $500.
TCL 55-inch Class 6-Series 4K Mini-LED UHD QLED
If you're looking for an improvement over the TCL 5-Series, the 55-inch Class 6-Series Mini-LED QLED is the next sensible step. It improves on the 5-Series in nearly every way, and now you can get it for $300 off the retail price.
This is a 4K QLED display, so you know the colors are going to look great. What really sets this TV apart though is the mini-LED panel. Most QLED TVs this size have around 40 local dimming zones. With mini-LED, though, the 6-Series has 240 local dimming zones. That means more precise brightness, which dramatically improves the contrast. It isn't quite as good as OLED, but it's a significant step up over the standard for TVs in this price range.
Mini-LED displays are usually on much more expensive sets, but now you can get one for just $650. The 6-Series also has an impressive 240Hz refresh rate, making it a great option for gaming too.
Toshiba 65-inch Class C350 Series LED 4K UHD Smart Fire TV
If you're looking for something a bit larger than the 50-55 inch TVs listed so far, we recommend the Toshiba 65-inch C350. It's a 65-inch TV that costs less than $500. What else do we need to say? Granted, there are some caveats. Yes, you are getting a larger display, but the C350 only has a standard panel, as opposed to the QLED or mini-LED options available on this list. However, it still supports HDR so the color on the screen is still very nice (even if the contrast isn't).
The C350 runs FireTV OS, so you can expect all the Alexa support that entails. The included remote has Alexa built right in, and the display itself is nearly bezel-less for an immersive experience. You can get the 50-inch variant for $300, but you can get the significantly larger 65-inch option for just $429. If screen size is the most important thing then this is the best option for you at this price point.