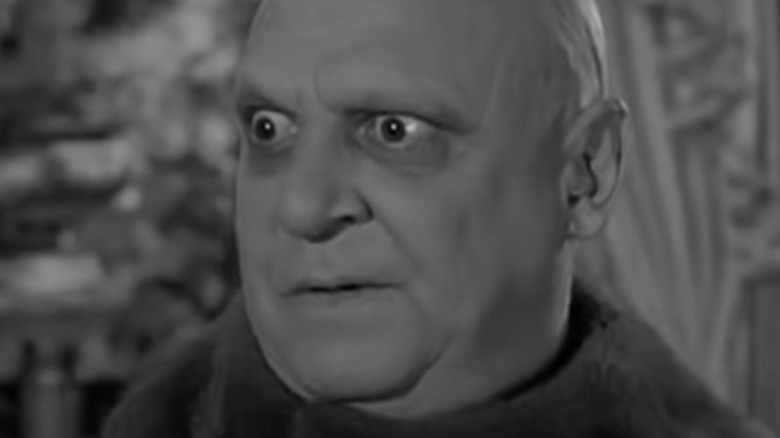 Of all the many adaptations of "The Addams Family," based on Charles Addams' New Yorker cartoons about a delightfully ghastly family of kooks and weirdos, the character who truly stands out is Uncle Fester, a monstrous vampire-meets-zombie-looking fellow: pale, hairless, and with bulging eyes, dressed in all black. He possesses an unrepentant taste for death and destruction and can turn on light bulbs with his mouth. Fester is also extremely friendly, and he adores his niece and nephew, Wednesday and Pugsley, and that warmth — along with all the other nuances and quirks — really came to define and flesh out the character thanks to the portrayal of Jackie Coogan. He co-starred as Uncle Fester in the perpetually rerun ABC sitcom version of "The Addams Family" from 1964 to 1966, playing him as the ultimate wacky uncle figure.
His work as Uncle Fester capped a long and storied career for Coogan, one of Hollywood's first stars and first child stars at that. His life took many tragic, improbable, and heartbreaking turns after those early successes and after his time on "The Addams Family," events far darker than way more soberingly serious than anything macabre that his TV family could ever enjoy or satirize. Here's a look into the saddest moments in the life of the late Jackie Coogan.
Jackie Coogan's parents stole his child star fortune
According to the New York Times, Jackie Coogan was discovered by silent film superstar and filmmaker Charlie Chaplin when he saw the child perform in a vaudeville routine with his father. Chaplin built the movie "The Kid" around Coogan, and the 1921 film made 5-year-old Coogan a sensation. By the time he was 21, Coogan had earned $2 million from films (and likely another $5 million from merchandise, per the Associated Press), but since he was a child, his mother and stepfather, lawyer Arthur Bernstein, had looked after the money, doling out only $6.25 a week to Coogan.
When he reached adulthood, Coogan asked for his trust. Not only was he denied, but he also discovered that only about $600,000 was left, his mother and stepfather having spent the rest of the money on themselves. The actor had little recourse but to sue his parents.
Coogan won the suit, according to the Library of Congress, but legal fees further ate up what little was left of his bank account, leaving the 23-year-old actor with about $126,000. However, the high profile of the suit and the egregious nature of the actions that led to it resulted in California passing the "Coogan Law," per SAG-AFTRA. While it contained many loopholes and would be subsequently amended over the years, the law gave financial protection to child actors, requiring their parents to place at least 15% of the minor's earnings in a trust accessible when the performer reaches adulthood.
He couldn't find work as an adult and was blacklisted by a powerful executive
In 1923, according to the Los Angeles Times, the top-grossing movie star, the actor who filled up the most theaters the most consistently, was Jackie Coogan, who, at the age of nine, headlined films that outgrossed those starring older and better-remembered cinema idols like Douglas Fairbanks and Rudolph Valentino. After co-starring with Charlie Chaplin in "The Kid," he acted in silent film-era hits like "Peck's Bad Boy," "Oliver Twist," and "Long Live the King." He was famous in every country that had movie theaters and it was hard for him to go out without attracting a crowd, he traveled in a private train car, and his face appeared on merchandise. But as quickly as success had come, Coogan's star fell quickly and hard. As he segued into adulthood, he aged out of the kid roles that made him famous and popular, and so Coogan was no longer offered big roles.
And there was also the matter of his parents squandering his fortune. For publicly criticizing his mother in the form of suing her for stealing the money he earned as an underage actor, MGM studio head Louis B. Mayer, a staunch champion of the virtues of motherhood, according to Boyhood Studies, blacklisted Coogan. He had difficulty finding work at any of the major Hollywood studios. Coogan appeared in just three films between 1927 and 1935, and settled into a career as a bit player in B-movies.
He was the sole person to survive a deadly car accident
Jackie Coogan's acting career barely survived into his adulthood, and during that transitory period, he was nearly killed altogether at the age of 20, due to his involvement in a harrowing car accident in May 1935. According to the United Press (via the Bend Bulletin), John L. Coogan Sr. (Jackie's father) was driving a car with four passengers back to the family's ranch along the curvy La Pasta Highway outside of San Diego.
At one point, the younger Coogan told authorities, a "road hog" came speeding around a bend from the other direction and veered into their lane, forcing the older Coogan off the road. He lost control of the vehicle and then drove over an embankment. The car plunged down a 40-foot cliff face at about 70 miles an hour, ending in a violent crash.
Four people in the car were killed on impact: Coogan Sr., screenwriter Robert Horner, Coogan Ranch foreman Charles Jones, and Coogan's friend and fellow former child star Junior Durkin. Jackie Coogan was the only survivor, and he was only briefly hospitalized, after suffering from shock and for the treatment of severe but non-life-threatening injuries to his chest.
Jackie Coogan's close friend died, and he helped in the revenge-killing of the suspected murderers
While living in San Jose, California, and briefly attending Santa Clara University in the early 1930s (from which he'd later drop out over poor grades), according to "Jackie Coogan: The World's Boy King," Jackie Coogan befriended 22-year-old Brooke Hart, son of a local wealthy department store owner. One night, according to his family, he left the store, and then never came back. Hours later, the Hart family received an anonymous call announcing that Hart had been kidnapped, and they demanded a ransom for his safe return.
According to the San Francisco Chronicle, the Hart kidnapping occurred during the midst of the case of the missing baby of aviator Charles Lindbergh, and tensions and emotions were high over that high-profile crime. That fear, and the public's demand for swift and brutal justice, led to violence. Brooke Hart didn't survive the ordeal, and he was later found murdered. San Jose police subsequently arrested two men, Thomas Thurmond and John M. Holmes, and once the community learned of their capture, a group of about 10,000 people descended on the jailhouse where they'd been detained, pulled the men out, and lynched them in a public park over the course of three hours. Coogan participated in the mob — spotted by eyewitnesses manning and doling out the ropes that would be used to issue a death by hanging to Thurmond and Holmes. He was never tried for any crime.
Jackie Coogan's first marriage didn't last very long
Jackie Coogan was one of the biggest movie stars of the 1920s, and in 1937, according to British Pathe, Coogan married Betty Grable, who, according to the Associated Press, would be one of the biggest box office draws of the 1930s and 1940s and the subject of a popular World War II pinup poster for American troops. Coogan was 23 at the time of the marriage; Grable was 21.
According to "Artie Shaw: King of the Clarinet," the marriage coincided with Coogan's realization that his money was gone, and his subsequent lawsuit to retrieve it. Coogan sold off the wedding presents he and Grable had received for cash, which irked his new wife. She also took offense to the time he drunkenly urinated on her while she was sleeping. Meanwhile, Grable had been attempting to start an affair with bandleader Artie Shaw, a close friend of the couple, and all three were photographed attending church together. Grable filed for divorce after two years of marriage and was granted one on the grounds of "extreme cruelty."
His second marriage didn't very long
Just two years after his public divorce from mega-star Betty Grable in 1939, Jackie Coogan romantically regrouped and married for the second time, to dancer and actor Flower Parry. They met in 1941, when Coogan was a patron of the nightclub where Parry, seven years his junior, was working as a scantily clad, circulating "flower girl," according to "Jackie Coogan: The World's Boy King." The couple quickly married later that year in Nevada, just months after their meeting and just a few months before the birth of their son, John Anthony Coogan, per IMDb. A little over a year after welcoming their first and only child, Parry filed for divorce, in June 1943, according to the Los Angeles Times. The divorce decree was granted by a judge when Coogan was in Europe, flying combat missions for the U.S. Army Air Force in World War II.
In 1961, according to the Valley Times, Coogan was still legally obligated to pay $100 monthly child support to Parry for the benefit of their son, who was over the age of 18 by that point. Coogan successfully petitioned a judge to lower the monthly sum to $70, on account of how he was too destitute to pay the full amount.
His third marriage didn't last very long
Upon his discharge from the U.S. Army Air Force in 1946, and returning home after the end of World War II and newly divorced (and for the second time), he met and courted a nightclub singer named Ann McCormack, according to "World War II Veterans in Hollywood." By the end of the year, McCormack agreed to become Coogan's third wife in less than a decade.
While each of his first two marriages lasted just a couple of years each, Coogan's personal partnership with McCormack endured much longer, going on for five years and producing a daughter, Joann, born in 1948. It ended in a divorce in 1951. Coogan's friend, actor Dick Winslow, said that Coogan's third failed marriage left the former child star so soured on the notion of matrimony that it festered into full-on misogyny. Winslow predicted Coogan would never marry again, only he did, and just a year later, he married a showgirl (and close friend of McCormack) named Dorothy "Dody" Lamphere, with whom he would stay for the rest of his life. However, according to "Jackie Coogan: The World's Boy King," at one point in the marriage, Lamphere quietly filed for divorce and lived apart from Coogan for a period before they reconciled and renewed their vows.
Jackie Coogan dealt with some drug-related legal problems
Marijuana possession is perfectly legal in many states in the 21st century, but in the early 1960s, it was treated by law enforcement agencies across the United States as an extremely serious crime, and if a celebrity was linked to the use of the drug, it could seriously tarnish both their image and career.
According to "Jackie Coogan: The World's Boy King," Jackie Coogan, post-childhood stardom but before his comeback vehicle with "The Addams Family," was investigated by police for suspicion of drug possession. A friend visited Coogan at his Malibu, California, home and left his car parked outside. Inside the glove compartment, investigators found a negligible amount of marijuana, prompting police to raid the home proper, where they found a trove of drugs said to be enough to be made into 200 joints. Coogan and two friends in the house at the time (a female sex worker on the premises was dismissed without being charged) were arrested and detained, while Coogan was released after making his $2,625 bail. The actor avoided jail time in a highly publicized trial that was delayed after Coogan contracted a severe case of the mumps.
Two months after Coogan evaded prison, his son with Flower Parry, John Anthony Coogan, was arrested in southern California on a charge of suspicion of immoral conduct involving two underage women. Like his father, the younger Coogan escaped jail and paid a small fine.
His troubled brother died young
Jackie Coogan wasn't the only actor in his family. His younger brother, Robert Coogan, also forged a career in the early motion picture industry. He debuted in "Skippy" in 1931, and then appeared intermittently in movies and on TV in the 1940s and 1950s, including in a few "Joe Palooka" movies.
In 1962, a year after Jackie Coogan was arrested after Malibu police discovered a large amount of marijuana in his home, Robert Coogan was detained for a similar reason. Per "Jackie Coogan: The World's Boy King," Robert operated a hobby shop in North Hollywood, where his friend, envelope-pushing comedian Lenny Bruce, was arrested for having a small bit of heroin on his person. The attending officers found a smaller amount in Robert's possession. He was charged and sentenced to pay a fine, which was likely paid for by Jackie Coogan and their mother, who largely financed Robert's life, including several failed business ventures and stints living in Europe and on a boat in Mexico.
Robert Coogan didn't act after 1962, and in 1978 he died at the age of 53.
Jackie Coogan had serious health issues late in life
Per "Jackie Coogan: The World's Boy King," Jackie Coogan may have inherited his father's tendency toward alcoholism, and his drinking ramped up considerably after the kidnapping and murder of his friend, Brooke Hart, and his role in the deaths of the two men arrested for the crimes. His life would be marked by periods of heavy alcohol consumption, some of which held major consequences. In 1959, according to "Jackie Coogan: The World's Boy King," Coogan crashed his roadster into two other vehicles — parked cars — and wound up in the hospital to be treated for multiple abrasions about the head and face. After submitting to a breath test, police ruled his blood-alcohol level to be 0.24, well above the legal limit in California at the time, and Coogan paid a large fine.
Alcoholism is among many health problems Coogan suffered. In the early 1980s, according to the Associated Press, he endured a series of strokes and then experienced kidney failure, which meant he had to undergo routine kidney dialysis for the remainder of his life. According to The Telegraph, Coogan died of cardiac arrest at Santa Monica Hospital in California in 1984. He was 69 years old.
His kids suffered tragedy, too
Over the span of his four marriages, Jackie Coogan fathered four children: John Anthony Coogan, Joann Coogan, Leslie Coogan, and Christopher Coogan, the youngest, according to the Los Angeles Times, born in 1968 during the elder Coogan's marriage to Dorothea Lamphere. Through the final years of his life, and after Coogan died, his family would continue to experience the turmoil and tragedy that characterized his living years. According to "Jackie Coogan: The World's Boy King," one of the actor's children, during their teenage years, coped with substance abuse and addiction and spent several years on and off in drug rehabilitation facilities, an expensive process and road to sobriety that Jackie Coogan advocated for and financed.
In July 1990, six years after the death of Jackie Coogan, Christopher Coogan (who was often reportedly at odds with his parents in his teenage years) died at the age of 22, according to the Orlando Sentinel. His death came immediately after sustaining injuries in a motorcycle accident that occurred in Palm Springs, California.