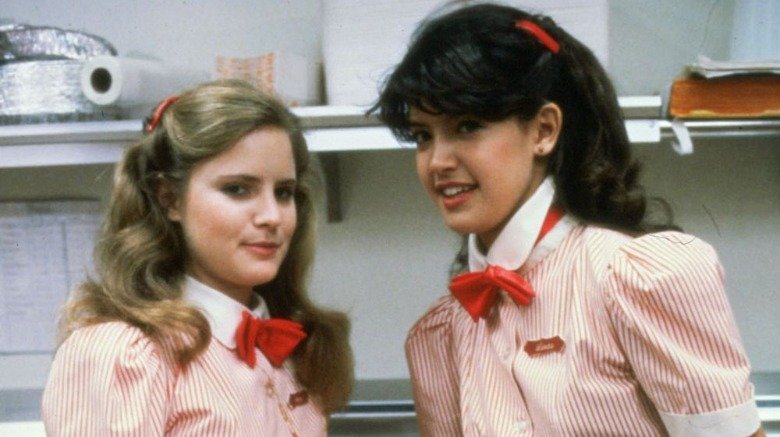 We may receive a commission on purchases made from links.
Teen comedy films are a dime a dozen—but every once in awhile, one comes along that isn't just funny and truthful, but manages to stand the test of time. Fast Times at Ridgemont High premiered in 1982, and more than three decades later, its blend of raucous comedy and poignant coming-of-age drama still rings true. You don't have to be a child of the '70s to identify with the struggles of high schoolers working at low-paying jobs, navigating romantic relationships, or dealing with teenage pregnancy.
It's not surprising that the film was based on real events—drawn from the book Cameron Crowe wrote after spending a year undercover at a California high school. Fast Times at Ridgemont High was a sleeper hit that became a cult classic, and it helped launch the careers of many young actors along the way. Let's take a look back at the cast that helped make Fast Times such a success, and find out what they're up to today.
Sean Penn – Jeff Spicoli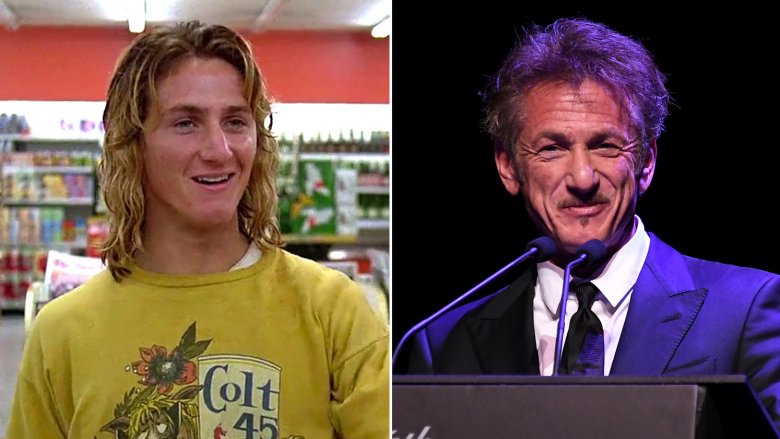 Stoner and surfer dude Jeff Spicoli (Sean Penn) spends most of his school days locked in perpetual battle with his straight-laced history teacher, Mr. Hand (Ray Walston). When he's not driving Mr. Hand to distraction with his truancy and clowning, Spicoli is busy chasing the perfect wave, planning his next stunt, or delivering some of the movie's most memorable lines.
For Sean Penn, his role as Spicoli in Fast Times at Ridgemont High and his part as a military cadet in the 1981 action drama Taps helped push him into the Hollywood mainstream. Although he's had a few flops along the way, Penn's acting career has included a number of critically acclaimed films—including the 2003 crime drama Mystic River and the 2008 biopic Milk, each of which earned him an Academy Award. Penn has also stepped behind the camera on a number of occasions; most notably, he directed the 2007 survival biodrama Into the Wild. Most recently, Penn made waves when it was revealed he'd conducted a secret face-to-face interview with Mexican drug lord Joaquin "El Chapo" Guzman just weeks before the kingpin's arrest in 2016.
Judge Reinhold – Brad Hamilton
For the popular Brad Hamilton (Judge Reinhold), senior year of high school is kind of a drag. After angering an impossible-to-please customer (you know the type), Brad's fired from his job at All-American Burger, and every new job he gets is worse than the last. His girlfriend dumps him, and the girl he likes walks in on him while he's fantasizing about her in the bathroom. Luckily for Brad, it isn't all bad—in the epilogue, we learn that he gets promoted to manager at a convenience store after stopping a robbery.
Like many of the other young cast members, Reinhold's part in Fast Times at Ridgemont High was his "big break." Since then, he's gone on to appear in dozens of films and TV shows, most notably as Billy Rosewood in the Beverly Hills Cop movie franchise and as the "close talker" in the 1994 Seinfeld episode "The Raincoats"—a guest spot which earned Reinhold an Emmy nomination. Most recently, Reinhold starred in the 2017 crime comedy Bad Grandmas alongside Florence Henderson, in what would be her final film role before her death in November 2016.
Jennifer Jason Leigh – Stacy Hamilton
For 15-year-old Stacy Hamilton (Jennifer Jason Leigh), life gets more complicated during the search for romance. After losing her virginity to a customer at the pizza parlor where she works, Stacy briefly dates the shy Mark Ratner, but the two break things off after some mixed signals. Later, she gets pregnant after a one-night-stand with another classmate, and decides to get an abortion. In the end, Stacy and Mark manage to work things out and get back together.
Although she had some roles as a child star in various TV shows and films, Jennifer Jason Leigh's part as Stacy in Fast Times helped kick off her adult acting career. She's since gone on to appear in a number of popular films and television shows, like Backdraft, The Hudsucker Proxy, Weeds, and Quentin Tarantino's The Hateful Eight—for which she received an Academy Award nomination. Most recently, Leigh starred in the 2017 horror film Amityville: The Awakening and held down a recurring role on the Showtime revival of Twin Peaks. She's also slated to co-star alongside Natalie Portman in the highly anticipated 2018 science fiction thriller Annihilation.
Robert Romanus – Mike Damone
Mike Damone (Robert Romanus) fancies himself something of a casanova and a rebel—scalping concert tickets to make money and regaling his shy friend Mark Ratner with the details of his "five-point plan" for success with the ladies. Later, Damone reveals just how immature he really is when it comes to romance, getting Mark's crush Stacy pregnant during a one-night-stand and bailing on her when she asks him to help pay for an abortion. This revelation almost leads Mark and Mike to come to blows in a locker room confrontation.
Romanus' role as Damone in Fast Times helped get him into the acting business, and that role, along with a recurring part in the TV series The Facts of Life, remains his most memorable—although he's consistently continued to act in TV shows and movies since. Romanus also owned a coffee shop in North Hollywood for a time, which has since closed down. Most recently, you can spot him in the 2016 family dramedy The Remake.
Brian Backer – Mark 'Rat' Ratner
The shy but friendly Mark "Rat" Ratner (Brian Backer) is a bit of a geek, and he initially struggles with how to approach his crush, Stacy Hamilton. After some advice from the smooth-talking Mike Damone, Mark lands a date with Stacy—but he panics and leaves before he can make his interest in her clear. Like many of the other characters in Cameron Crowe's original book, Ratner was based on a real-life person: Andy Rathbone, who went on to success as the author of the "…For Dummies" series of computer self-help books.
For actor Brian Backer, his role as Rat in Fast Times put him on the map, and he continued to act regularly in movies and television shows over the next decade. Since 1991, Backer has only appeared in a handful of roles—most recently in the 2012 film Vamps, which was also helmed by Fast Times at Ridgemont High director Amy Heckerling.
Forest Whitaker – Charles Jefferson
As Ridgemont High's only "star" player on its lackluster football team, Charles Jefferson's (Forest Whitaker) year takes a rough turn when his little brother and slacker Jeff Spicoli take his 1979 Chevrolet Camaro Z28 out for a joyride and end up wrecking it. Spicoli manages to shift the blame for the accident by parking the car in front of the school and painting it with insults—making it look like the rival team from Lincoln High was responsible. Jefferson channels his fury into prowess on the football field, leading Ridgemont to victory against the Lincoln High team.
Although he's now internationally famous, widely respected for his dedication to every role he plays, and has taken home numerous accolades—including an Academy Award for his performance in The Last King of Scotland—Forest Whitaker got his start in Fast Times at Ridgemont High, which was his first prominent role. Since then, he's appeared in dozens of films and television shows. Star Wars fans will no doubt remember him for his performance as the eccentric rebel militant Saw Gerrera in 2016's Rogue One. Up next, Whitaker is slated to play Zuri in the 2018 superhero film Black Panther.
Amanda Wyss – Lisa
She didn't play a large role in Fast Times at Ridgemont High, but you probably remember Lisa (Amanda Wyss), who continues Brad Hamilton's string of bad luck when she dumps him after he loses his job at the All-American Burger. Actress Amanda Wyss later had her own breakout role in 1984, when she co-starred in the horror classic A Nightmare on Elm Street. Throughout the '80s and '90s, Wyss appeared regularly in other movies and TV shows, including as reporter Randi McFarland in the Highlander television series. In recent years, Wyss has popped up in episodes of JAG, Dexter, and CSI: Crime Scene Investigation. Her most recent project is the horror TV movie The Sandman, which premiered on Syfy in October 2017.
Ray Walston – Mr. Hand
The no-nonsense Mr. Hand (Ray Walston) spends much of his school year contending with Jeff Spicoli and the rest of his students, whom he often berates for being "on dope." In the end, Mr. Hand gets his revenge when he shows up on Spicoli's doorstep the night of the graduation dance—forcing him to spend hours an in extended study session in order to pass his class.
Long before Fast Times at Ridgemont High, Ray Walston was a Hollywood veteran who made a name for himself with roles in the popular '60s TV series My Favorite Martian and 1973's The Sting. Walston later reprised his role as Mr. Hand in the short-lived TV Fast Times spinoff, and continued to act in movies and on TV throughout the rest of his career; Stephen King fans may remember him as Glen Bateman in the 1994 miniseries The Stand. Later that year, his lupus diagnosis forced Walston to slow down his acting career, and he only appeared in a dozen or so roles between 1994 and his death in 2001.
Vincent Schiavelli – Mr. Vargas
Along with the hard-nosed Mr. Hand, enthusiastic science teacher Mr. Vargas (Vincent Schiavelli) had the most screen time among the educators at Ridgemont High—including one particularly memorable scene in which his class visits a morgue. Like Mr. Hand, Mr. Vargas returned for the TV series based on the film. Throughout his stellar four-decade career, Vincent Schiavelli was known for his excellent character acting abilities, as well as his stature and unique facial features. Schiavelli suffered from the connective tissue disorder Marfan Syndrome, but he didn't let that slow down his work.
Along with acting, Schiavelli also had a passion for food—he wrote a number of cookbooks, appeared in a cooking show for PBS, and even won a James Beard journalism award for his food articles in the Los Angeles Times. Sadly, his career was cut short when Schiavelli passed away from lung cancer in 2005, at just 57 years old.
Phoebe Cates – Linda Barrett
For the sexually active Linda Barrett (Phoebe Cates), dealing with the ins and outs of teenage relationships is hardly mystifying—and Linda does her best to advise her more inexperienced and naïve friend, Stacy. Linda handles herself with aplomb after walking in on Brad in during a potentially-awkward situation, and comes to Stacy's aid after Mike Damone won't help pay for her abortion.
Phoebe Cates didn't set out to become an actress, but after an injury cut short her Juilliard dancing career and she spent a few years as a model, she landed her first roles in Fast Times and another 1982 film, Paradise. She continued to act in films and TV movies until 1994, when she essentially retired from acting. Cates later opened her own boutique gift shop in New York City and returned briefly to the big screen in 2001, when she appeared in the romantic dramedy The Anniversary Party—which was written and directed by her friend and former Fast Times castmate Jennifer Jason Leigh. Most recently, Cates lent her voice to the character of Kate Beringer in the 2015 Lego Dimensions video game.