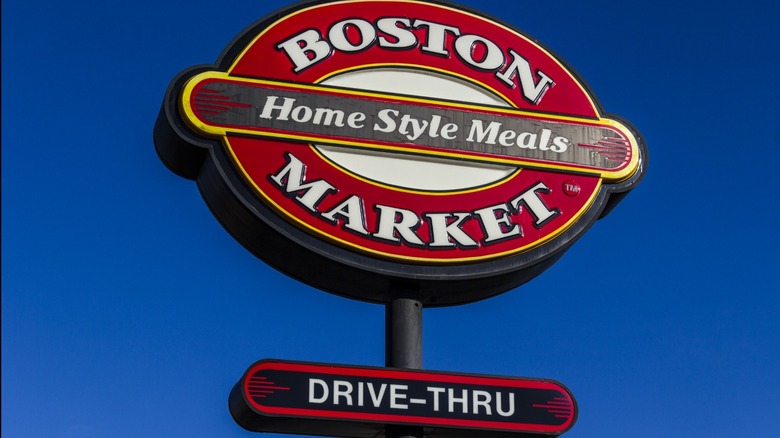 As early as next year, massive changes may be coming to the restaurant industry. Along with developments such as ghost kitchens — which we've been hearing a lot about since 2020 — all signs point to other structural transformations that alter the experience of both employees and customers. QSR magazine predicts that technology will play a larger role. Touchscreen ordering systems — already a fixture for chains such as Sheetz and Olive Garden — will become more common. LinchpinSeo thinks that mobile ordering is going to become essential for eateries that want to survive. All these changes may be taking place on the horizon.
With restaurants still reeling from the coronavirus pandemic, we're seeing more and more of these shifts already taking place — especially with businesses that are just barely hanging on. For some chains, these developments may be enough to help them stay afloat. For others, the companies might soon be shutting down forever. The year 2022 may just be your last chance to visit places like Friendly's, Steak 'n Shake, and TGI Fridays. To find out what other chain restaurants we might be saying goodbye to in 2023, read on.
Ruby Tuesday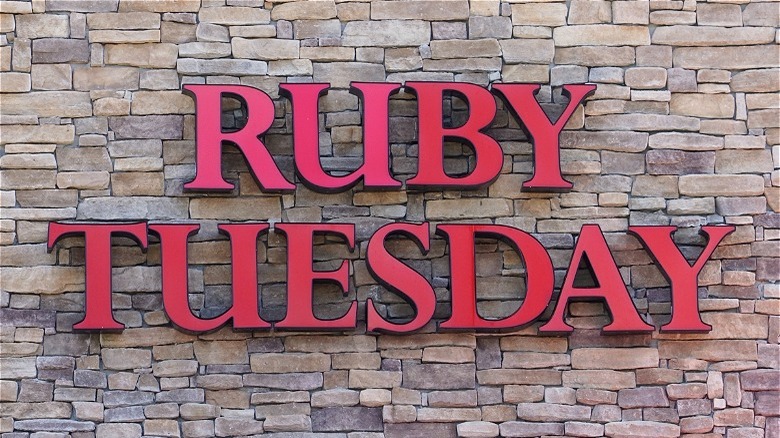 Since 1972, Ruby Tuesday restaurants have been a familiar sight in the Eastern half of the United States. The casual, sit-down chain is known for its affordable American dishes. It's a place to get a ribeye with a baked potato, a sirloin steak with mashed potatoes, or a rack of ribs with french fries. But over the years, the number of Ruby Tuesdays in the United States has been shrinking. Per Restaurant Business Online, it had over 800 locations a decade ago. But as of 2021, shortly after the chain declared bankruptcy, it had approximately 200 locations.
With Ruby Tuesday's performance in 2022, the future of this chain restaurant is not looking good. Over the past year, we've seen more and more individual locations close. According to the Milwaukee Journal Sentinel, In January, the last remaining Ruby Tuesday in Wisconsin closed for good. In February, The Middletown Press reported that another location in Connecticut would soon be replaced by a Texas Roadhouse. With COVID-19, bankruptcy, and recent closures, Restaurant Clicks predicted in 2022 that it won't be long until Ruby Tuesday is gone for good.
Boston Market
Boston Market is not having a good year. According to reports, at least three individual locations closed in 2022. Two of those locations were in New Jersey in Monmouth and Howell, and the third was in Michigan. This year's scattered closures are one sign that Boston Market is just barely hanging on across the United States.
As of October, there are roughly 300 Boston Market locations left, according to Scrape Hero. In the early 90s, there were more than 1,000 locations, so the restaurant's demise has been somewhat gradual. But things have started to look especially bad in recent years. As reported by Nation's Restaurant News, the chain closed 10% of its stores in 2019. The next year, the pandemic hit. In 2021, labor shortages put pressure on workers, leading to an employee walkout, per Insider. If this downward spiral continues, Boston Market may be a thing of the past by 2023.
Steak 'n Shake
Steak 'n Shake is trying to play it cool. The restaurant chain wants us to believe that changes implemented in early 2022 — such as replacing human servers with virtual kiosks and introducing a new menu — will save it from collapse (via QSR). But even these new developments may not be enough. Locations have been disappearing for a while. In 2022, the number of Steak 'n Shake locations has been reduced to roughly 500.
During 2022, the company has also been shaking things up by attempting to convert company-owned locations into those that are franchise-owned. If trying to pawn off its locations onto other people doesn't work out for Steak n' Shake, this could be the restaurant chain's last year. It might be the last chance to sample the menu, known for its extensive varieties of hamburgers (including dishes like the Frisco melt and garlic double cheeseburger) and milkshakes (featuring flavors such as the Snickers or Nutella).
Joe's Crab Shack
Since 1991, Joe's Crab Shack has been a standby for some American families. Each themed location provides a colorful place for parents and children to escape when they don't want to cook dinner. Patrons are served heaping portions of seafood — no matter how far from the coast a location may be. But as of 2022, the chain only has locations in around 16 states. In some of those states, there is only one location.
At least one long-time Joe's Crab Shack closed its doors for good in 2022 in Boise, Idaho, in June. To make matters worse, it appears two buildings — in Vancouver and San Antonio — that used to house Joe's Crab Shacks caught fire this year. At the Texas location, it was not the first time that the restaurant had caught fire since Joe's Crab Shack vacated it. The fact that people are trying to burn down these buildings doesn't bode well for the business or current public opinion of Joe's Crab Shack. Nonetheless, we hope the chain survives in 2023.
Noodles & Company
As another chain hit hard by COVID-19, the fast-casual chain Noodles & Company has been desperately trying to turn things around in 2022. However, it ended 2021 on a bad note, reports Restaurant Business. During the final quarter of the previous year, it reported losses of around $8 million due to the impact of coronavirus variants like omicron. Then, its pattern of failure continued; in the first quarter of 2022, it reportedly lost over $6 million.
Noodles & Company responded by raising prices. According to The Business Journals, the company also unveiled a new rebranding effort to try to save things. During some points in 2022, things looked better for the chain. After increased earnings reports in the spring, the chain's stock went up (via The Motley Fool). But even then, the chain hasn't necessarily done enough to ensure it will survive long term. Despite claims that Noodles & Company is on the mend, we're not so sure. We'll see what happens to them next year.
TGI Friday's
It may come as no surprise that TGI Friday's is on its last legs. From the chain's striped logo to outdated menu items like loaded potato skins, there's nothing about this chain that screams 2023. It's been around since the 1960s when it first gained popularity as a singles bar (via Business Insider). But try to remember the last time you heard people referring to TGI Fridays as a place for young people to meet. We can't.
TGI Friday's took a hit in 2020 when the coronavirus pandemic forced the chain to permanently close 20% of its restaurants, reports Bloomberg. But multiple additional locations have closed in 2022. One was located in Hampden Township, Pennsylvania, according to PennLive, while another was located in Dothan, Alabama (via WDHN). On a positive note, the chain has plans to greatly increase its international presence. It's even opened a few restaurants outside of the U.S. this year. But even still, TGI Friday's current number of locations is nowhere near its peak. We'll be waiting to see if they completely disappear from America by 2023's end.
Friendly's
With a history as old as Friendly's, it's a miracle that this chain restaurant is still open. The business has been around since 1935, when a pair of brothers founded the first Friendly's ice cream shop in Springfield, Massachusetts. Before long, other foods — such as burgers and fries — were added to the menu. Today, food offerings are much more extensive than you'd expect. At Friendly's, the menu features quesadillas, chicken tenders, fish and chips, hot dogs, tomato soup, and more. Despite the large variety, this restaurant isn't doing so hot.
Just two years after filing for bankruptcy due to the coronavirus, multiple locations of Friendly's closed in 2022 (via Insider), including one in Ithaca, New York, where the sign on the door thanked customers "for your patronage throughout the years," per 14850, and another in Palmer Township, Pennsylvania (via Lehigh Valley Live). If 2023 is the last year for Friendly's, we won't be happy, either.
Qdoba
In our experience, Qdoba has nothing on Chipotle, it's fast-casual Mexican food rival. There are roughly 700 existing Qdoba locations, whereas Chipotle has over 3,000 (via ScrapeHero). To make matters worse, the internet is full of negative reviews concerning Qdoba's cuisine. As one customer on Yelp wrote, "When I do order from here, it is difficult for me to finish the bowl and I regret ever stepping into Qdoba." This person was not alone in their thinking. This negative public opinion is probably part of the reason why the number of Qdobas seems to be diminishing.
During this year, at least two locations closed. One such location was in Williamsburg, Virginia, and another was in the Harrisburg, Pennsylvania, area. On Reddit, individuals took note of these changes. "Qdoba locations closing around me…I think 5 different locations near me all shutdown," said one person.
Other changes took place for the chain this year as well. One such change was Qdoba being sold by parent company Apollo to a much smaller owner (via San Diego Tribune). Qdoba's future doesn't seem too bright to us.
Buffalo Wild Wings
Unfortunately, a chain as beloved as Buffalo Wild Wings is still struggling. Customers can enjoy several rounds of wings while being surrounded by TV screens (all showing sports). Some people even think the food is good. "The wings were excellent, cooked well, and very tasty, washed down with a nice cold pint," wrote one person on Tripadvisor. Sadly, though, we might lose Buffalo Wild Wings in 2023.
All over the country, locations of this restaurant chain closed in 2022. A Hot Springs, Colorado, location closed forever in May, while ARL Now reports that another location in Ballston, Virginia, closed in July. Additional spots closed in Belleville, Illinois, and Tampa, Florida.
It doesn't help that chicken wings — the key menu item of this restaurant chain — didn't come down from their price surge until the second half of 2022 (via Fox). However, there are still over 1,000 locations of Buffalo Wild Wings in the United States (via ScrapeHero), giving some hope to the thought that it will survive 2023.
Jack in the Box
By the looks of it, Jack in the Box did not have a successful year in 2022. The chain started the year with staffing shortages, reports Nation's Restaurant News. Labor issues forced the chain to reduce its hours, leading to a drop in sales. To make up for these problems that persisted during the first half of 2022, the chain raised its prices. In August, menu prices went up by approximately 10%. This doesn't seem to have helped them much. At least two different Jack in the Box locations closed following the company-wide price increases; in September, one restaurant closed in Franklin, Tennessee, while another location shut down in Maplewood, Missouri.
We hate to think that Jack in the Box will be leaving us in 2023, but if this trend continues, it doesn't look good for the fast food chain. We may soon be saying goodbye to a versatile restaurant that offers us both tacos and burgers.
Bar Louie
Bar Louie calls itself "the original gastrobar" for a reason. The chain made a name for itself with a nightlife-inspired aesthetic, and it even has a martini in its logo. But when you look past the surface, it's still a casual restaurant chain. You can tell by the menu of fried pickles, spinach and artichoke dip, and Philadelphia cheesesteaks that it's more normal than it appears. Unfortunately, its confusing identity may be contributing to Bar Louie's downfall.
Even before the coronavirus pandemic, Bar Louie had closed dozens of restaurants and declared bankruptcy (via FSR magazine). Later in 2020, it closed even more locations after the onset of the coronavirus pandemic. By the start of 2022, Bar Louie had only around 70 locations under its belt, and staffing shortages continued to hurt them, per Nation's Restaurant News. At least three additional locations closed this year, including cities such as Merrillville, Indiana, Orlando, Florida, and Owensboro, Kentucky. With so many recent closures at the end of 2022, we don't like where things are headed for Bar Louie in 2023.
Fuddruckers
Fuddruckers locations are so rare these days that people are already speaking about the chain in the past tense. "Does anyone else miss Fuddruckers," asked one person on Reddit. "Was Fuddruckers good?" questioned another person just five months ago. As of 2022, the number of Fuddruckers locations is low. Per ScrapeHero, there are roughly 76 stores left. In January, the company closed a location in The Woodlands, Texas. In February, it closed two locations in central Florida. Although the chain also announced plans to expand this year, we've yet to see that growth.
The concept behind Fuddruckers is simply not good enough to stick around. The chain still claims to have "the world's best hamburgers," yet because it didn't get its start until 1980, it lacks the nostalgia that older hamburger chains — such as Friendly's, which was founded decades prior — still maintain. It looks like Fuddruckers will join the likes of Gino's Hamburgers (via Mental Itch) and Henry's Hamburgers and leave us soon.
Quiznos
Quiznos is a chain you may be surprised to see in this roundup, but it has fallen far from its peak in 2006. That year, there were nearly 5,000 Quiznos locations, per Restaurant Business. Interestingly enough, that was only two years after the company released its famously bizarre "Spongemonkey" commercial. The series threw shade at Subway for serving untoasted sandwiches. Today, long after the disappearance of the Spongemonhttps://account.idahostatesman.com/paywall/stop?resume=260646947key, there are less than 200 Quiznos locations worldwide (via ScrapeHero). But we don't blame Quiznos' demise on the cancellation of these advertisements; the company has been struggling for a while.
The company's downfall began as early as the 2000's Great Recession. Sure, the brand has attempted to turn things around, using store remodels (via QSR magazine) and ghost kitchens. But these changes don't seem to be doing enough. If this year is any indication, Quiznos' slow descent into nothingness may be near its end. Several locations closed their doors for good, including one in Rockville, Maryland, and one in Wichita, Kansas. Even the last remaining Quiznos in Idaho is no more, according to Idaho Statesman. In 2023, it might be time to say our goodbyes.
Marie Callender's
Marie Callender's is a small chain that began in the 1940s, in Orange County, California. When the restaruant opened, the focus was on bakery items, especially pies. Today, Marie Callender's is still known for its pies, which are brightly displayed in each location. There is a surprising variety sold there too, including lemon meringue, banana cream, key lime, and a cheesecake-inspired option called cream cheese pie. To this day, Marie Callender's has restaurants concentrated in California, as well as other parts of the southwest. Overall, the brand hasn't changed much about itself over the many decades of its existence, which could be part of the reason for its downfall today.
We can't say for sure if Marie Callender's will close in 2023, but it closed at least one location in 2022. The final outpost of the chain in the Bay Area shuttered in February after nearly 50 years in business. NBC reported that on its last day, the place sold out of pies. Unfortunately for this community and others, this closure follows a trend that's been going on at Marie Callender's for a while. The chain has declared bankruptcy twice in the past 20 years, reports Restaurant Business.