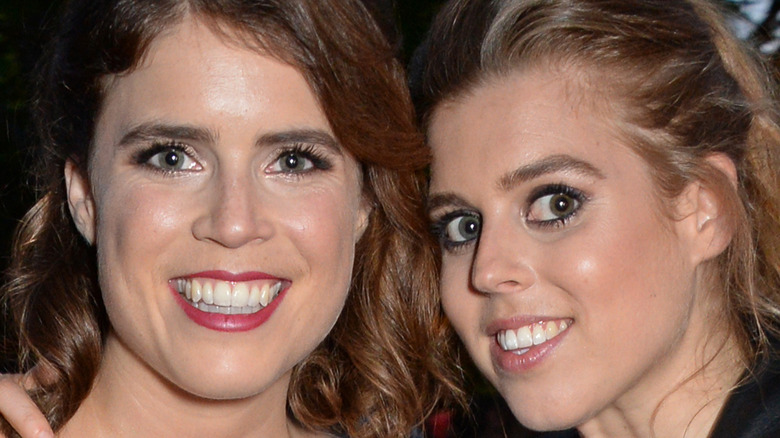 Princess Eugenie and Princess Beatrice have been swept up in royal scandals since they were very young, thanks to their parents, Prince Andrew and Sarah Ferguson. When the girls were only four and two, the couple's split became international news and caused a family rift.
The divorce became particularly scandalous when the media published compromising photos of Ferguson with one of her lovers. As one royal expert said in the "Beatrice and Eugenie: Pampered Princesses?" documentary (via the Daily Mail), the queen was reportedly so furious over how the pictures had embarrassed the royal family that the duchess had to visit Balmoral in order to apologize in person. "You have done more to bring shame on the family than could ever have been imagined," Princess Margaret observed in a handwritten note, according to the Telegraph. After that incident, she was effectively banned from the royal properties where her daughters still lived, which must have been confusing for Eugenie and Beatrice. Ferguson, who rented a nearby property after leaving Prince Andrew's residence Sunninghill Park, wasn't even allowed to join them on Christmas day. Another royal family pundit said in the aforementioned doc, "That must have been very hard to understand when they were young girls, you know, 'Why isn't Mummy allowed in the big house anymore?'"
Keep reading to find out how these royal sisters have ended up at the heart of more media storms over the years.
Beatrice left her Sony job after the infamous hack
As members of the royal family who don't carry out full-time duties, Princess Beatrice and Princess Eugenie can work regular jobs, as opposed to senior royals like Prince William. But Beatrice hadn't told the media about her position at Sony when her salary and address were leaked in the company's 2014 breach, revealing that she had been working there. The leak came from a group of hackers that called themselves the "Guardians of Peace" and insisted that the company cancel their upcoming comedy about North Korea, "The Interview." As Time reported, the hackers exposed emails, data about employees and their families, screenplays, and unreleased films. American intelligence later blamed North Korea for the leak, per The New York Times.
According to Forbes, the press soon noticed that the data referred to one particular employee, "York, Beatrice," as an "Intermed Coord, Prod," or intermediate coordinating producer. The information also included her £19,500 salary and address in Windsor. "Beatrice's job was semi-closed down by North Korea when her social security details were splashed all over the pages of American newspapers," an inside source told the Mail on Sunday, explaining that the princess had to quit after the revelations. "We have only confirmed that the princess is pursuing a career in business," a spokeswoman for the royals stated after The Telegraph inquired about her professional plans.
Beatrice dated a convict
In 2006, tabloids revealed that Princess Beatrice's boyfriend, New York playboy Paolo Liuzzo, had been convicted for assault and battery over a 2002 bar fight that killed a man. Liuzzo, who was 24 when he started seeing the 17-year-old Beatrice, was originally looking at a manslaughter charge but managed to avoid it, receiving probation rather than any jail time. Liuzzo ran into problems with the authorities again, however, when he violated his probation by going on a French ski trip where he broke his shoulder. "He was only allowed to travel through Europe for business purposes," lawyers explained to the press during the subsequent trial, per The Telegram and Gazette. "This was clearly not for business purposes."
"As any parent will know, the most important element in a relationship with your child is trust," her mother Sarah Ferguson stated at the time, per the Belfast Telegraph, insisting that she had faith in her teenage daughter. "We all have our own journeys and have to learn our way, but Beatrice is a sensible girl… with many friends including Paolo. We must trust her judgment." In the years since their relationship, Liuzzo was also charged over cocaine possession while trying to run out on an Australian casino without paying his bill, per the Daily Mail.
Charles took away their taxpayer-funded security
Princess Eugenie sparked a furious debate over which member of the royal family deserved taxpayer-funded security in 2011 after taking a pricey trip around the world.
According to the documentary "Beatrice and Eugenie: Pampered Princesses?," Eugenie had been accompanied by expensive 24-hour security on her gap year after finishing school. "She was sort of flitting from country to country as most middle-class young people do who take gap years," royal expert Richard Kay said. "But, of course, she was accompanied by police bodyguards." According to the Daily Mail, her holiday across India, America, Thailand, and South Africa added up to a security budget of more than £100,000 of taxpayers' money, despite the princess being considered low-risk.
"Prince Charles decided that as they were not likely to be very senior royals, that this was too much for the public to pay, so he stopped that," royal expert Angela Levin explained in the aforementioned doc. Their father Andrew was reportedly so furious with his brother's decision that he wrote to their mother, Queen Elizabeth, about the issue. "He said he wanted them to be considered as proper royals. He did not want the protection officers to leave them," Levin said.
Their hats drew attention at Prince William's wedding
Princess Beatrice and Princess Eugenie created one of the most memorable images from the wedding of Prince William and Kate Middleton when they were photographed wearing some rather eye-catching hats. Beatrice's beige fascinator was later auctioned off for charity and raised £81,100.01 for Unicef and Children in Crisis, as the BBC reported. "I've been amazed by the amount of attention the hat has attracted," the royal wrote on eBay, adding that it was a great fundraising opportunity. "I hope whoever wins the auction has as much fun with the hat as I have."
The princesses later said that they cried over the media's reaction to them and their widely-mocked accessories. In an interview with British Vogue, Eugenie recalled an emotional moment they shared during a garden party at Buckingham Palace. "There was a horrible article that had been written about Beatrice and she got really upset. We were just about to step out and she had a bit of a wobble and cried," she revealed. "I was looking after her. And then about an hour later, I had a wobble and started crying and Bea was there for me."
Beatrice's wedding photos had a pointed absence
When Princess Beatrice married Edoardo Mapelli Mozzi in 2020, COVID-19 wasn't the only dilemma they faced on their wedding day. Although the royal family's official Instagram congratulated the couple and stated that they celebrated with their nearest and dearest, Prince Andrew was missing from his daughter's official wedding portraits. The father of the bride was being investigated at the time by American prosecutors over his close ties to Jeffrey Epstein and Ghislaine Maxwell, as well as allegations that Virginia Giuffre had been sex trafficked to the royal when she was a teenager. These accusations led to a civil case, which was settled out of court. Andrew had also tanked his own reputation with a disastrous BBC interview in 2019.
That wasn't the only family occasion that the disgraced royal missed. As The Sun noted, Andrew also had to avoid the birth of his granddaughter, Sienna, when Beatrice and Mozzi welcomed her to the world in September 2021. He was staying in the family's Scottish estate, Balmoral, in order to evade American lawyers who were trying to serve papers on behalf of Giuffre's civil claims. A royal source stated that he definitely wasn't going to risk venturing down to London for his daughter's childbirth, adding, "It would appear the advice to him was to stay in hiding and miss the whole thing."
If you or anyone you know has been a victim of sexual assault, help is available. Visit the Rape, Abuse & Incest National Network website or contact RAINN's National Helpline at 1-800-656-HOPE (4673).
Reports of tension between them and Prince William
Princess Eugenie and Princess Beatrice have supposedly been feuding with family members over letting their father, Prince Andrew, back into public royal duties. After the scandal over his friendship with Jeffrey Epstein, the disgraced royal was stripped of titles and positions to appease the public. King Charles, Prince William, and his wife Kate have decided to uphold the queen's decision in the future, which has apparently caused a rift. "According to very good sources, Princesses Eugenie and Beatrice are seemingly struggling to remain cordial with Prince William, Katherine, and Charles," a royal expert told The Express. According to the Daily Mail, there were also reports of tension over William and Kate moving into Adelaide Cottage, a property Eugenie had her eye on.
In 2022, The Sun reported that Beatrice and Eugenie had argued on Andrew's behalf in a meeting with Charles at his Birkhall Estate in Scotland, days after their father had a similar unsuccessful meeting with his brother. "There's no chance," he reportedly told the princesses, insisting that Andrew wouldn't be getting his HRH title back anytime soon. "His family are close so it's natural Beatrice and Eugenie want to get involved. They were only looking out for their father and this latest development shows just how intense everything is getting," a palace source explained. "But there will be no return to public royal duty for Prince Andrew."
They were dragged into Prince Andrew's fraud case
Princess Beatrice and Princess Eugenie faced another public controversy around their father in 2022 when a Turkish millionaire claimed that her financial manager had swindled her into making direct payments to Prince Andrew and his daughters. According to the BBC, Nebahat Evyap Isbilen reportedly believed that she had paid £750,000 for Andrew's help with getting her a new passport after she fled her home country. But her financial manager, Selman Turk, had actually presented the money as a gift for Beatrice's wedding, rather than guaranteeing any diplomatic help. The payment has since been returned.
That wasn't the only fraudulent money that the royals received, however: court documents showed that another £900,000 was paid through a separate company to Andrew and Sarah Ferguson. And Eugenie received her own surprise payout of £25,000, as The Guardian reported, although she insisted that she thought this money was for her mother's birthday party. "I know neither Mrs. Isbilen nor Mr. Turk," Eugenie insisted in a statement published by People, recalling how she was dragged into the fraud case. "I was surprised to receive this letter, which asked me to explain two payments made to my bank account in October 2019, which I understood to be gifts from a long-standing family friend to assist with the cost of a surprise party for my mother, Sarah, Duchess of York's sixtieth birthday."
They seemed to leave Elizabeth's funeral early
Although they were involved in many of the official ceremonies following the death of Queen Elizabeth II, Princess Beatrice and Princess Eugenie caused something of a stir at the funeral in Westminster Abbey.
Royal fans watching the broadcast on September 19, 2022, expressed confusion over the princesses making an exit before the service was over. The sisters were seated on opposite sides of the aisle with their husbands when they stood up and started to make their way out of the abbey, as a picture in Hello magazine showed. "Anyone know why Eugenie and Beatrice left mid-ceremony? Sarah Ferguson almost left with them but seems to have been told not to?" one Twitter user asked. "They left their seats and held up the bearer party… even Sarah was going to get up and leave. Strange," another commented, per Hello. After the service, the princesses spotted were outside of the abbey with the rest of their family.
Following their grandmother's passing, Beatrice and Eugenie posted a heartfelt tribute on Instagram. "We, like many, thought you'd be here forever. And we all miss you terribly," they wrote. "You were our matriarch, our guide, our loving hand on our backs leading us through this world." The sisters also thanked her for their childhood memories of enjoying the countryside, adding, "Goodbye dear Grannie, it has been the honour of our lives to have been your granddaughters and we're so very proud of you."