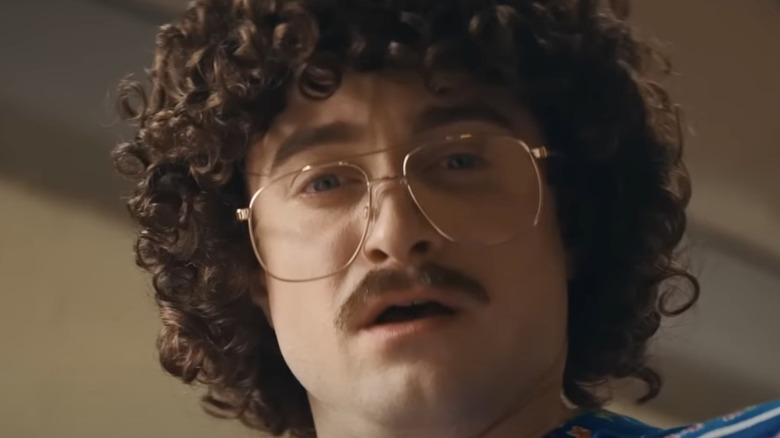 We may receive a commission on purchases made from links.
Contains spoilers for "Weird: The Al Yankovic Story"
As rock 'n' roll reached middle age in the 1980s, Hollywood took notice, churning out movies about the 20th century's greatest popular musicians. The subjects were certainly deserving — Jerry Lee Lewis, Ray Charles, James Brown, NWA, and Elvis Presley, for example, perhaps most prominently in the Johnny Cash film "Walk the Line" and the Freddie Mercury biopic "Bohemian Rhapsody" — while the movies themselves adopted a tired formula, hitting the same beats every time. Fans probably expected something different when upstart streaming service The Roku Channel announced that it would host "Weird: The Al Yankovic Story," the cinematic biography of wacky parody musician "Weird Al" Yankovic, starring "Harry Potter" actor Daniel Radcliffe (via Deadline).
It's the latest gag-filled, broadly funny project from Yankovic, and it's got his comedic fingerprints all over it — he helped write the screenplay for "Weird" alongside director Eric Appel, and he appears as a doubtful record executive. And despite being wildly, unabashedly, amusingly untrue at every turn, "Weird" is also a celebration of Yankovic and his career and catalog. The movie is loaded with subtle references to "Weird Al," some of which his most hardcore fans might not even be able to spot at first because they're so well-hidden or seamlessly delivered. Here are all the blink-and-you-miss-it details in "Weird: The Al Yankovic Story."
Polka reigns supreme in the world of Weird
Not only are most of the story beats, character arcs, and career steps in "Weird: The Al Yankovic Story" patently false, but the film also takes place in a fictional realm, as well, one that looks and feels like the real world except for one big difference — cool people, celebrities, and rebellious teenagers are all really into accordions and polka music.
Playing off of how other musical biopics depict the future star clashing with their parents over that noisy, newfangled rock 'n' roll music, Al's father (Toby Huss) in "Weird" is vehemently opposed to his son playing the accordion, which he practices in secret, in a closet. His mother (Julianne Nicholson), though, nurses Al's deep-rooted desire to play the forbidden instrument, giving him one as a gift. When he's a teenager, Al's friends encourage him to sneak out and attend a raucous "polka party" (not really a thing, per se, but also the name of a Yankovic album), where he impresses a gaggle of high schoolers with his accordion prowess, until the police show up and shut it all down. Young Yankovic is otherwise forced to read "Accordion World," apparently a very popular magazine in this universe, snuck inside a school textbook.
It's all about the name for Weird Al
After agreeing to take on the fresh-faced, raw talent that is Al Yankovic, radio DJ and mentor figure Dr. Demento (Rainn Wilson) declares his client and protégé to be in need of a stage name, because "Al Yankovic" just wasn't going to cut it, not in novelty music. And right there, on the spot, in the dressing room of a sketchy bar after Yankovic has performed and dazzled the crowd with "I Love Rocky Road," his parody of Joan Jett & the Blackhearts' "I Love Rock 'n Roll," Demento gives Al one option and one option only, giving birth to the professional life of the newly named "Weird Al" Yankovic. It's a simple trick, the addition of one descriptive word to the musician's real name, but it's one rooted in reality.
Dr. Demento tells Al that previous funny musicians "Nervous Norvus" and "Wild Man Fischer" never would have made it big without their stage names. While those sound like set-up names to frame the similar "Weird Al," they're both real guys. According to AllMusic, Jimmy Drake aka Nervous Norvus, scored a top 10-hit in 1956 with "Transfusion," a celebration of reckless driving, and per The New York Times, Fischer was a comical outsider musician and street performer in the 1960s. Both played the kind of music that would've been heard on the real Dr. Demento's radio show.
That star-studded pool party for the ages
About a half-hour into "Weird: The Al Yankovic Story," "Weird Al" Yankovic finds himself on the verge of fame, discovered by novelty song disc jockey Dr. Demento, who offers to shepherd him into the upper echelons of fame and fortune. The first stop is a pool party at his palatial mansion, and young Al is dazzled by all the big-time celebrities in attendance. The famous people, many of them played by other famous people, pop up on-screen so quickly and for such a short period of time each that it's easy for viewers to miss at least a couple while their brains process who they just spotted.
The two guys in red flower pot hots sitting on deck chairs when Al arrives are supposed to be members of Devo (who the real Yankovic would later parody with "Dare to Be Stupid"). Then he sees Elton John (Paul Riley Fox) in the outfit he wore on the cover of his "Greatest Hits" collection talking with '70s star John Denver. Other stars pop in silently, including David Bowie (Gordon Tarpley), Elvira (Lisa Margaroli), Divine (Nina West), Frank Zappa, Kate Pierson of the B-52's, Grace Jones, and Alice Cooper (Akiva Schaffer of the comedy music group The Lonely Island).
Al interacts with a few other star party guests, who get in some dialogue, including Pee-wee Herman (The Lonely Island's Jorma Taccone), Tiny Tim (Demetri Martin), Gallagher (comedian Paul F. Tompkins), Salvador Dali ("UHF" star Emo Philips), Wolfman Jack (Jack Black), and Andy Warhol (Conan O'Brien).
Many famous faces show up in Weird
Speaking of cameos, "Weird: The Al Yankovic" story boasts a lot of them. Yankovic is a modern comedy legend, and many famous fans, colleagues, and comedy big-shots show up to pay homage. In the film's very first scene, a flash-forward to Al nearly dying in a hospital, an experience that will inspire his Madonna parody "Like a Surgeon" (and also parodies "All That Jazz"), Lin-Manuel Miranda plays an exasperated and emotional ER surgeon. The Miranda appearance also has roots in Weird Al's music — in 2018, Yankovic compiled one of his signature polka medleys out of songs from Miranda's Broadway musical megahit, "Hamilton" (via Playbill).
Another cameo comes with one of the many kidnapping attempts Al faces, which comes from a tall, bearded man, whom Al violently dispatches. It's almost impossible to recognize the would-be kidnapper as Keegan-Michael Key, of "Key & Peele" fame. Key and Jordan Peele also appeared in Yankovic's 2006 "White and Nerdy" video.
Al frequently butts heads with two record executives, Ben and Tony Scotti. Those are the real names of the guys behind Yankovic's long-time label, Scotti Brothers Records, but they're portrayed by comedians: Will Forte and Yankovic himself, respectively. In the climactic Grammy Awards scene, Al waits in the audience for his category to be called out, and he's accompanied by a woman. That's the real-life Yankovic's wife, Suzanne Krajewski, portraying the pretend Yankovic's date. One more figure factors into "Weird": the movie's all-seeing, retrospective narrator. It isn't star Daniel Radcliffe or Yankovic, but evidently rather that of an un-billed Diedrich Bader, of "American Housewife," "Office Space," and "Harley Quinn" fame.
Madonna rules
"Weird: The Al Yankovic Story" is a proudly and hilariously inaccurate, over-the-top biopic about the rise and completely invented fall of "Weird Al" Yankovic, and it also functions as a not-at-all-true story of fellow emergent musical superstar Madonna. Portrayed by "Westworld" star Evan Rachel Wood, Madonna romances Yankovic for personal gain (she wants him to parody her songs to boost her own album sales), sends him on a road of boozing and self-destruction, and winds up taking over Pablo Escobar's (Arturo Castro) powerful international drug trafficking cartel after Al guns him down. Finding herself surrounded by towers of cocaine bricks and no one guarding them all of a sudden, Madonna realizes that the money she's made as a pop star pales to the fortune she could earn controlling the global illicit drug trade. Al turns down her offer to run the cartel with her, despite her persuasive argument. "Why rule the music industry when you can rule the world?" she asks, rhetorically.
This is a sly reference to the real Madonna's extreme sense of purpose and ambition. She became one of the biggest stars on the planet, and that's something she told everyone she'd do, early in her career. After performing on "American Bandstand" in 1984, host Dick Clark asked Madonna, "What are your dreams? What's left?" Her reply: "Hmm, to rule the world."
Madonna's plot in "Weird" is rooted in truth, too. Yankovic said on "The Tonight Show Starring Jimmy Fallon" that there's something called the "Yankovic bump." Yankovic told Fallon that his Nirvana parody resulted in a phone call from the band's record label thanking Yankovic for the parody, which resulted in the label selling another million units of Nirvana's "Nevermind."
There's a killer cereal scene in Weird
Every rock music biopic seems to include a psychedelic, epiphanic scene. "All That Jazz" and "Rocketman," for example, have their share of surreal music numbers. So naturally, the tongue-in-cheek, gleefully meta music biopic "Weird: The Al Yankovic Story" includes one. Not only does it set up the not-true story of how "Weird Al" Yankovic conceived one of his most popular songs, but it establishes a subtle running gag at the expense of another pop superstar.
While fretting over his estrangement from his father to Dr. Demento, Al munches on chips and guacamole, which unbeknownst to him, Dr. Demento has laced with LSD. Al goes on a trippy, druggy vision quest, during which Dr. Demento casually offers him a bowl of Cap'n Crunch, and then a bowl of Raisin Bran. Those are references to the first couplet of Yankovic's 1984 hit "Eat It": "How come you're always such a fussy young man/ Don't want no Cap'n Crunch, don't want no Raisin Bran." And each time the hallucination Demento swings a magic wand, it's accompanied by a synthesized bell noise, straight out of "Eat It." The hallucination also features some allusions to the star who originally sang "Beat It."
Weird makes many allusions to Michael Jackson
"Eat It" is a parody of Michael Jackson's 1983 single "Beat It," but in the fictionalized narrative of "Weird," "Eat It" actually came first. Yankovic is so proud of his original single and so angered by the misconception that his version came second that it sends Yankovic into a rage, with his closest allies wondering why he wouldn't want to be forever associated with the King of Pop. It's a reference to Yankovic's real-life tendency to parody Jackson's hits, backed up by many more references to Jackson throughout the film.
When Al hallucinates, he imagines himself playing guitar inside of an egg, referencing the line in "Beat It," "get yourself an egg and beat it." Another small Jackson bit: When he plays "Beat It" for record executives, he enters their office wearing tight red pants, identical to the ones Jackson wears in the video for "Thriller." And late in the movie, Al's mother points out that she's gained weight. Responding to polite denials from her husband and son, she proclaims, "I'm fat. You know it." That's the chorus from "Fat," Yankovic's parody of Jackson's "Bad," which otherwise doesn't make an appearance in "Weird: The Al Yankovic Story." That is, unless we count how actor Julianne Nicholson, as Betty Yankovic, wears weight-simulating prosthetics much like the ones Yankovic wears in the "Fat" video.
Al's stage crisis is a copy of Jim Morrison's
The "lowest moment" and "buckling under the pressures of fame" moment kicks in about two-thirds of the way through almost every other musician biopic. But because this is a parody musician's musician biopic parody, this moment sends up not only the trope itself but one of its most memorable executions. Al can't cope with fame, its trappings, and his personal demons any longer, and while on stage one night, he stops performing his usual fare of funny songs and starts ranting and raving about how he can't let his father push him around. While his band breaks into some generic psychedelic music, he drinks whiskey from the bottle while clad only in leather pants, then asks the crowd, "You wanna see it? Do you want me to show it to you? I'm gonna whip it out!"
This is very clearly based on a similar on-stage meltdown scene from Oliver Stone's 1991 movie "The Doors," in which a drunk, shirtless Jim Morrison (Val Kilmer) rambles and wanders around, antagonizing the audience and promising to expose himself despite the threat of arrest. Morrison really did that, and he was arrested in 1969 in Miami's Dade County for lewd behavior — the same place where Al's breakdown and apprehension occur in "Weird." The big difference is that Morrison dropped his pants; Al just produces his accordion.
Take that, Prince
It's a cruel law of cinema — because "Weird Al" Yankovic obtains his long-stated goal in "Weird: The Al Yankovic Story," he must die, immediately. The film concludes at the 1985 Grammy Awards — although the generic stage decorations and bespoke trophies suggest filmmakers didn't secure the rights to use official Grammy imagery — where Diana Ross (Trenyce) and Hulk Hogan (James Preston Rogers) present the final, and thus most important category: "Perhaps Not Technically the Best But Arguably the Most Famous Accordion Player in an Extremely Specific Genre of Music." That is exactly what young Al said he wanted to be, early in the film, before he found fame and fortune.
"Weird Al" Yankovic wins of course, to the livid chagrin of the other nominee, an unnamed figure but almost certainly meant to be Prince, what with the towering hairdo and frilly shirt. When Weird Al defeats him, he angrily leaves the auditorium. This is probably an allusion to the history between Yankovic and the late Prince. According to People (via Billboard), Yankovic came up with parodies of "Let's Go Crazy," "1999," "Kiss," and "When Doves Cry," and ran them all past Prince for his approval. "He always said no," Yankovic admitted.
Weird Al sends up his own parodies
"Weird Al" Yankovic's parodies, original songs, and movies are all represented in "Weird: The Al Yankovic Story" by way of discretely placed easter eggs. When Madonna and Al lay in bed after making love for the first time, the camera catches a hanging mirror adorned with the quote, "If money can't buy happiness, I guess I'll have to rent it." It's attributed to "Weird Al" Yankovic, and that's accurate — it's from his 1986 original "This Is the Life."
Later on, after drug lord Pablo Escobar kidnaps Madonna as a way to lure Al to Colombia to perform at his birthday party, Al stalks and battles through the jungle, likely an allusion to the "Indiana Jones" intro and the "Rambo"-inspired sequence from Yankovic's movie, "UHF." When Al meets Escobar, the latter gushes that he obtained every "Weird Al" Yankovic from the Columbia House Record Club. In 1999, Yankovic recorded a new song called "Albuquerque," source of the line, "One fateful night, Zelda said to me, she said, 'Sweetie pumpkin? Do you wanna join the Columbia Record Club?' I said, 'Whoa, hold on now, baby, I'm just not ready for that kind of a commitment!'"
And finally, in "Weird," Al is assassinated at the 1985 Grammy Awards, and when Madonna visits the grave of her former lover, for about half a second the camera catches Al's tombstone, which reveals that in 1985 the "Eat It" singer didn't so much die, but rather he "Ate it."