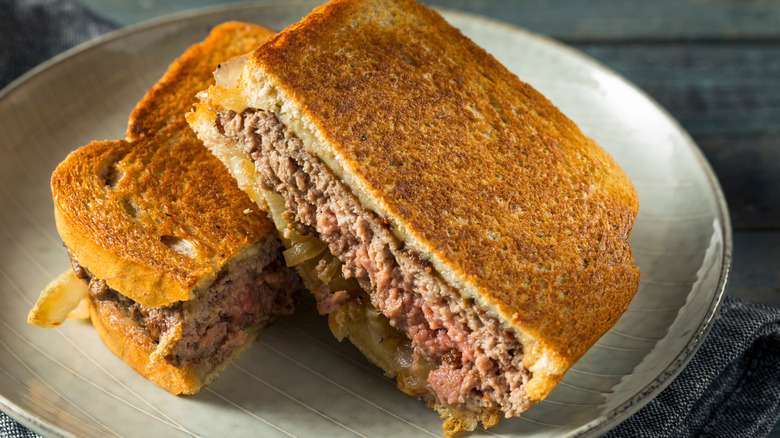 When it comes to classic American diner fare, few dishes embody handheld comfort food better than the patty melt. Patty melts typically comprise a grilled burger patty, toasted rye bread, caramelized onions, and melted Swiss cheese (via Burger Beast). Simple yet delicious, patty melts are loaded with flavor. The toasted rye has enough structural integrity to handle the burger's juiciness, while the caramelized onions add a touch of delicacy and subtle sweetness. The nuttiness of the Swiss compliments the grilled beef and the caraway seeds in the rye add hints of citrus and anise that cut through all the richness. There's no doubt that, for a modest sandwich with only a few ingredients, the patty melt packs an irresistible punch.
Like many other popular foods, the patty melt has seemingly endless variations that depend on the region and a cook's unique proclivities. In some cases, the Swiss might get swapped out for cheddar, pepper jack, or another tasty cheese. Different spreads and condiments often enter the mix, lending their distinct flavors. While the quality of the rye also fluctuates, there's no doubt that the best patty melts are made with fresh, local bread. But even the use of rye is subject to change, often replaced with sourdough or Texas toast.
To help you fully appreciate the surprisingly complex and delicious world of patty melts, we've taken the time to put some of the very best in the spotlight. These are some of the best patty melts in America.
Cassell's Hamburgers – Los Angeles
Chef and Momofuku founder David Chang has said that Cassell's Hamburgers is one of the best restaurants in the world (via Eater). It all comes down to the patty melt. According to Chang, Cassell's Hamburgers cooks the cheese for its patty melts in a unique way on a special griddle. He doesn't explain the process much further than that, so it looks like this technique will remain a mystery for now. The good news is that you can swing by Cassell's to try the patty melt for yourself to try and crack the culinary code that renders it so unbelievably delicious.
As expected, Cassell's menu mainly focuses on burgers, offering them in different sizes that range from a quarter-pound all the way up to 11 ounces. The patty melt comes in these two sizes as well, which is another thing that makes Cassell's exceptional. How many other restaurants can you find an 11-ounce patty melt? It's a tall order even for the hungriest among us, but rest assured that you're bound to clean your plate.
The patty melt at Cassell's comes with grilled onions, your choice of cheese, and a side of pickles along with a mustard-mayo sauce. The bread holds everything together and the burger is consistently cooked to perfection. Skillfully assembled and tasty in every way, the patty melt at Cassell's Hamburgers is a top-tier choice for any food lover.
Bell Book & Candle – New York City
Awarded the bold distinction of NYC's best patty melt by Grub Street, it's clear that Bell Book & Candle is a special place. In an act of brilliance, the restaurant custom orders rectangular loaves of rye and forms its patties into squares — that way you get beef with every single bite. This may seem like a small detail, but anyone who's experienced a profound sense of loss after taking a bready, meatless bite of a patty melt due to the mismatch between beef and rye will surely celebrate this stroke of genius.
The impressive details about Bell Book & Candle's food don't stop there. The spot's kitchen grows the cucumbers for its pickles on the rooftop of the restaurant — which inspired the charmingly weird "rooftop pickles" on the restaurant's menu. Another nice touch: the cheese on this patty melt is sharp cheddar, which gives the burger extra bite. Simple, yet mindfully constructed and perfectly executed, the patty melt at Bell Book & Candle is so good that it will inspire cravings and daydreams long after your last bite.
Four Rivers Smokehouse – Florida
What started as a humble fundraiser cookout to support local schools and charities has grown into a highly respected, award-winning barbecue institution with several locations scattered across the Sunshine State (via Four Rivers Smokehouse). At Four Rivers, you'll find popular, beloved southern barbecue staples like smoked brisket, pulled pork, and jalapeno cornbread. But you'll also find some surprisingly creative twists on the menu that beautifully fuse regional cuisines to astounding effect.
Case in point: the Four Rivers Smokehouse burnt ends melt. Some patty melt purists may scoff at the idea of smoked barbecue swapped out for the classic burger patty, claiming that the result doesn't technically qualify as a patty melt. But we'd rather not concern ourselves with linguistic limitations and just appreciate this melt for the delicious miracle that it is.
The burnt ends melt comes with a barbecue-glazed pile of shredded smoked brisket, pulled pork, provolone cheese, cheddar, and caramelized onions on grilled sourdough. Blending the buttery, cheesy indulgence of a classic diner-style patty melt with the tangy richness and smoky flavors of southern barbecue, the burnt ends melt captures the best of both worlds in every bite. Patty melt lovers everywhere would be wise to flock down to Florida for a taste of this cuisine-bending triumph.
The Vortex – Atlanta
Since opening its doors in 1992, The Vortex has rightfully earned a spot among the other cultural and culinary landmarks of Atlanta. Well-known for its darkly psychedelic aesthetic and cred as one of the city's foremost burger joints, The Vortex conjures up some of the most wildly decadent bar grub around (via Lonely Planet). From a fried chimichanga with pulled pork and macaroni and cheese to a "hell's fury" burger topped with habanero relish and atomic death sauce, The Vortex prides itself on standing apart from the pack with big, bold flavors and exciting menu options. But it's The Vortex's patty melt that keeps us coming back for more (okay, maybe some of its great beers, too).
The Vortex's patty melt offers everything we want from this kind of sandwich: perfectly toasted marble rye, a juicy half-pound burger patty, grilled onions, pickles, and a zesty burger sauce. The combination of melted Swiss and cheddar cheese also strikes a nice balance in this patty melt, providing a deeper range of contrasting flavors through the selection of these two distinctly different cheeses. All things considered, this outrageously tasty patty melt is just one of the many reasons you should swing by The Vortex and let its inescapable and mesmerizingly delicious power pull you in.
BRU Burger Bar – various locations
BRU Burger Bar first opened in 2011 and now has several locations spread across Indiana, Ohio, and Kentucky (via BRU Burger Bar). With nearly 20 different burgers full of inventive ingredients and packed between freshly-baked buns, there's no shortage of options at BRU. In short, BRU serves up some of the tastiest burgers around.
The patty melt at BRU comes with American cheese, caramelized onions, and fontana sauce on sourdough. The addition of American cheese is a nice touch that adds an extra layer of creaminess, while the fontana sauce lends a zesty pop that shines through all the richness.
The sourdough bread is perfectly toasted, which may seem like a minor detail, but good toasted bread is essential for any great patty melt. Overtoasting the bread can harden it to an unpleasant point of no return, while undertoasting can cause the entire melt to fatally collapse into itself like a dying star. BRU gets it just right, striking a balance that makes the bread toasty and keeps the patty melt intact.
DMK Burger Bar – Chicago
For a burger joint that opened up in 2009, DMK Burger Bar has really hit the ground running. Amassing attention from the likes of "Diners, Drive-Ins and Dives" for the high quality of its mouth-watering burgers, DMK Burger Bar currently has only three locations: two in Chicago and one in the Windy City's eastern outskirts in Oak Brook.
The menu at DMK Burger Bar features 13 signature burgers that include creative offerings like a bison burger with goat cheese and a blueberry barbecue glaze, as well as a grilled salmon burger with ginger, scallions, Asian slaw, and a red Thai curry sauce. But one of the major highlights on the menu is the patty melt, which comes loaded with grilled grass-fed beef, gouda, bacon, grilled onions, and remoulade on griddled rye bread.
The addition of bacon is something you don't often see on too many patty melts, but that smokiness pairs perfectly with the patty melt's gouda cheese. A healthy spread of remoulade is another unconventional yet tasty twist that amps up the flavor even further. All things considered, DMK's patty melt hits all the right marks and even goes the extra mile with a few creative additions that make it exceptionally tasty.
Goodfriend Beer & Burger House – Dallas
Based in Dallas, the owners of Goodfriend Beer & Burger House prefer that you not refer to it as a gastropub (via Dallas Observer). Feeling that the term comes off a little pretentious, they would rather the joint just be called what it really is: a neighborhood bar. That level of honorable modesty stands in stark contrast to the restaurant's extraordinary food, which features everything from crispy chicken wings to classic burgers to a fajita-style cheesesteak. But it's Goodfriend's six-ounce patty melt that is the real star of the show here.
Served on toasted brioche and topped with caramelized onions, the patty melt at Goodfriend stands out for its unique choice of serrano pimento cheese, which adds a deliciously creamy texture along with a little extra kick of heat from the diced serrano chili peppers. Because pimento cheese is so spreadable, it covers every inch of the bread on this patty melt, giving it some much-welcomed extra cheesiness. The patty melt at Goodfriend is the perfect example of a well-executed twist on a classic sandwich.
Lebowski's Grill at Highland Lanes – Austin
Fans of the legendary Coen brothers film are sure to dig the nods on the menu to the famous dark comedy at Lebowski's Grill. Yes, it's also located inside a bowling alley. And yes, the robed Dude himself might just be found sipping White Russians around the lanes from time to time. Okay, that last part isn't true at all. But with a name like Lebowski's Grill, such a scenario doesn't seem outside the realm of possibility.
The patty melt at Lebowski's Grill comes with pepper jack cheese, grilled onions, and a garlic pepper spread on Texas toast. The pepper jack melts well and has much extra flavor from the chopped peppers. The garlic pepper spread adds a pleasant dose of pungency that pairs nicely with the toasted bread and grilled beef. The Texas toast is fortified enough to efficiently hold it all together. All of these unique ingredients add up to a patty melt that's sure to leave you in a deliciously oblivious stupor and wondering what day it is — much like the Creedence-loving stoner the grill is named after.
Little Goat Diner – Chicago
Established in 2012, Little Goat Diner offers a refreshingly eclectic menu that swivels between classic American diner fare and eastern influences like Korean cuisine. Featuring everything from tonkatsu pork cutlet sandwiches to Korean chicken tacos, Little Goat Diner also offers more traditional diner fare like biscuits and gravy, handspun milkshakes, and of course, the beloved patty melt.
One notable strength of the patty melt at Little Goat Diner is the quality of the rye bread, which is baked in-house. The freshness of the bread allows for a striking contrast in density and texture. After it comes off the griddle, the buttered and toasted side is extra crispy, while the other maintains a lovely airiness. This leads to a more multi-textural bite that alternates between buttery brittleness and a cushion-like freshness. The top-notch bread and grilled beef combined with the special sauce, pickles, caramelized onions, and perfectly gooey American cheese makes for a drool-worthy patty melt.
Bad Daddy's Burger Bar – various locations
Open since 2007, Bad Daddy's Burger Bar has some of the tastiest pub grub around. Bad Daddy's boasts an impressive menu with tons of signature burgers, sandwiches, salads, and sides. Highlights include the bad ass burger with double beef patties, fried bacon, and homemade American cheese, as well as the buttermilk fried chicken sandwich with spicy honey sauce and jalapeno ranch. But the crown jewel of the menu is Nick's patty melt, which comes on toasted rye with grilled onions, Swiss cheese, mayo, and Dijon.
Simple as it is, there are a few things about this patty melt that make it truly special, like the onions. While some restaurants only dollop a tiny spoonful onto their patty melts, that meager offering isn't Bad Daddy's style. Bad Daddy's lays the onions on thick and we dig that big time. The grilled onions are stopped a little short of full caramelization, which gives them a little more body and texture, adding bite to the patty melt.
Another focal point is the use of Dijon, a common sandwich ingredient that isn't typically used on patty melts. Dijon adds a smooth, complex tang to the melt that works on every level — especially when it mixes with the melted Swiss. Clearly, Bad Daddy's has some unquestionable authority when it comes to making delicious food.
Southside Kitchen & Pub – Nashville
Located in the hot chicken capital of Nashville, Southside Kitchen & Pub has an extensive list of whiskeys, cocktails, beers, and pub grub. Southside's eclectic menu offers a wide variety of classic pub fare like beer-battered fish and chips, Buffalo chicken wraps, and club sandwiches. Tasty twists abound on the menu like the honey habanero glaze on its fried chicken sandwich or the chipotle ranch dipping sauce for the fried pickles. Yet it's Southside's patty melt that outshines everything else, especially given that it comes with a few special touches.
First, let's talk about the patty melt's bread, which is locally-baked sourdough. Delicate on the inside yet delightfully crunchy on the outside, this sourdough has a subtle tanginess that rounds out the overall flavor profile of the patty melt. The caramelized onions are delicate and sweet and the melted gouda adds a rich, nutty, and smokey layer, as well as a creamy texture. A little spread of mayo on the inside keeps everything moist and deliciously bonded. At the end of the day, there's no doubt that the patty melt at Southside is one of the best in the business.
Culver's
When it comes to fast food burgers, a great patty melt is hard to come by, but leave it to Culver's to deliver the goods. Culver's actually offers two patty melts on its menu. First up is the Wisconsin Swiss melt with grilled red onions, Swiss cheese, and buttered rye. You can also order a simpler melt on toasted sourdough with cheddar cheese.
Those wondering how a fast food joint made its way onto this list should know that Culver's is at the top of its game. All of its burgers are fresh and never frozen, and also made with a customized blend of three different cuts of beef (via Culver's). The burgers are then pressed to the grill to brown the patties and concentrate their beefy flavor. Culver's also features plenty of sweet treats like milkshakes and mixers to wash that cheesy patty melt down with.
You'd be hard-pressed to find a better patty melt that you can conveniently snag at a drive-thru. The bread is toasted just right, the smashed beef patty has a light crust from the grill, and the red onions add a touch of sweetness that provides a nice contrast to the patty melt's salty savoriness. Culver's nails it, proving that with good quality ingredients and proper training in the kitchen, patty melts can be successful on fast-food menus, too.