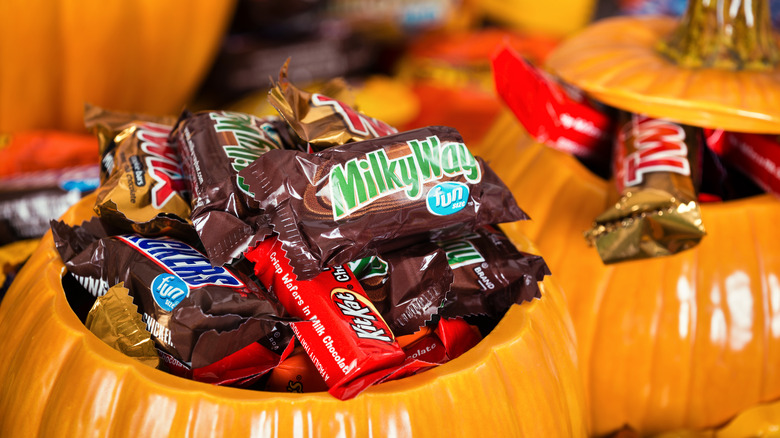 We may receive a commission on purchases made from links.
Is it candy season or cavity season? (We're kidding, of course.) Halloween is like the inaugural start of the sugar season. Just nosh on that for a second. Beginning in late September-early October, Halloween candy overflows on grocery store shelves. It's during these weeks that bags of fun-sized favorites like Reese's cups, Twix, and Hershey bars make their annual return. While these classics will never go out of style, that doesn't mean there isn't room for some sweet innovation.
In general, kids aren't too hard to please when it comes to what's dropped in their trick-or-treat bag. The proof is in the pudding cup. Statista reports that in 2021, U.S. consumers spent over $3 billion on Halloween candy alone. But kids are getting harder to impress nowadays, and seem to be searching for the next big "it" thing. That's why we've pulled together the following list of newer Halloween treats to impress your ghoulish trick-or-treaters and have them howling for more.
Kit Kat Witch's Brew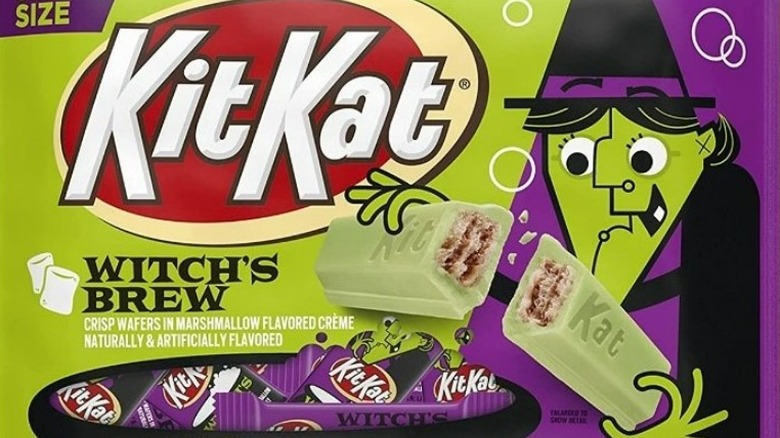 According to the CBC, every second, around 650 Kit Kat bars are devoured worldwide. We think it's safe to say that these innocent-looking chocolate-covered wafers have cast quite a mighty spell. (It must be the jingle.) There's something about that sweet, smooth chocolate combined with the light, crispy cookie that makes you happy there are four per package.
If you think the normal Kit Kat is mesmerizing, just wait until you try their spellbinding Witch's Brew. Instead of your humdrum milk chocolate, this crunchy wafer is coated with a ghastly lime-green marshmallow crème. But there has to be a catch, right? You can't have a little sweet without a little sour, after all. Well, lucky for you, Kit Kat is forgoing any mischievous flavor-related sorcery this year. So you can rest assured that your neon-green cookie wafer will taste sweet and delicious, and not like, oh, one of Bertie Bott's Every Flavor Beans. (Because a grass-flavored Kit Kat bar probably wouldn't go over too well, would it?)
Kit Kat Breaking Bones
This is where the Kit Kat jingle gets a little too literal. Because let's face it. No one wants to think of breaking bones when they're snapping a Kit Kat bar in half. All kidding aside, this is the second freaky-flavor offering from Kit Kat on this "break-out candy" list, so it's only natural that we dug up more information. What we ultimately discovered is a devious little marketing trick. Kit Kat's Breaking Bones is, unfortunately, not a spooktacularly new flavor invented specifically for All Hallow's Eve (you can't have a treat without a trick, right?)
Kit Kat's Breaking Bones is just a rebranded version of its white crème (also called white chocolate) cookie creation. But that's okay. You have to give the company credit for knowing that this is a popular and versatile flavor. In the spirit of the holiday, Kit Kat even released orange-colored cookie bars, which were given Halloween status by simply adding some dye to the white crème. We're not complaining about any of this, though, because most (but not all) Kit Kat bars are delicious. We also doubt that trick-or-treaters would complain if they found out this flavor-related information, either.
M&M Cookies & Screeem
Hershey's debuted its Cookies & Cream candy bar back in 1994 (via Hersheyland), and yet it took the candy maker over 20 years to even consider thinking about turning the popular flavor into an easily consumable everyday treat (via Best Products.) The joke's on us, though, because Hershey's has declared M&M Cookies & Screeem only suitable as a spooky seasonal release, and they don't come around every Halloween. (That's a mean trick, guys.)
These Halloween-themed tidbits aren't your typical M&M colors. That would be too boring. Instead, M&M Cookies & Screeem come in a mixed bag of black, white, and orange. It's very Tim Burton-esque. The "melt in your mouth, not in your hand" confections — which also seems like a tricky slogan, because you really can't eat a handful of these without some food dye getting on your hands — are filled with a smooth white cream, and then encompassed with a devilishly sinful dark chocolate shell. It's a nice change up to everyone's moan-worthy, autumnal classic flavor, pumpkin spice. (M&M's apparently didn't have much success with this particular flavor.)
Reese's Franken Cups
According to this candy map on Candy Store, Reese's wins the coveted first place spot for most popular Halloween candy. But does that really surprise you? It shouldn't, because this particular puck-shaped chocolate and peanut butter-filled treat has been around for nearly a century, writes Hersheyland. It's the perfect pairing of flavors and is pretty hard to mess up. (What should surprise you is that candy corn is still in the top 10.)
It should be no surprise to you that Reese's would debut a shock-worthy new product on candy's biggest holiday. Once you tear open the wrapper of a Reese's Franken Cup, the bright green cream might give you a shock (not literally). The entire treat is constructed to resemble something akin to Frankenstein's monster. You know, green skin, dark hair, golden interior like it's been zapped by electricity and could possibly come alive at any moment? But don't worry. Reese's didn't mess with perfection. The visual is to just give you a bit of a jolt. Once you take a bite of a Franken Cup, you'll see that it's still the same old Reese's, dolled up in a super festive Halloween costume.
Hyde and EEK! Boutique Gummy Eyeballs
If you're a person who gets squeamish around gore, then you'll probably want to pass on this bag of gummy eyeballs. Brought to you by the Target brand Hyde and EEK! Boutique, each bag of bloodshot baby-blue oculars contains enough creepy that'll leave you wondering "jeepers creepers, where'd Target get all of those peepers?"
Each Hyde and EEK! Boutique bag is filled with 7 ounces of strawberry-flavored eyeballs. (Because strawberry seems like the natural choice.) Thankfully, they're not filled with red candy jelly. That would take disturbing and gross to a whole new level. That being said, if you really want to give people the heebie-jeebies (and you happen to be throwing a Halloween monster bash), then it's time to unleash your inner walking dead with a little foodie fun. Just take your gory gummies and freeze them in an ice cube mold. Drop them in your blood-red party punch and watch as they make eye contact with your guests. Hopefully, party-goers will see that it's just a joke.
Snickers Peanut Brownie Squares
Snickers has the power to alter not only your attitude, but apparently your physical form, too. After all, if you're hangry, grab a Snickers, right? (We wonder if this transformative candy would help the "Werewolf of London"?) While Snickers' newest release may not seem like a gutsy move, one bite will make you think otherwise. It's not that this newest creation is cursed or anything. It's just not what you'd expect. Oh, and it's really, really good.
Snickers Peanut Brownie Squares are a fusion of a Snickers bar and a dense, fudge brownie. Need we say more? This is probably the best kind of trick you could get in your candy bag this spooktacular holiday season. Why? Because you think you're getting a Snickers bar. But instead, you're actually getting a chocolate-covered brownie. It's a monstrosity of a candy bar. Snickers Peanut Squares are masquerading as a typical candy bar, but inside, it's nothing that you'd expect. One bite of this unassuming chocolaty morsel will leave you howling for more.
Hershey's Vampire Kisses
These are way better than any kiss you saw in the "Twilight" saga. For one thing, these are chocolate, and as Jacques Torres (Mr. Chocolate himself) told The New York Times when he opened Chocolate Haven, "everybody loves chocolate." (This statement is not up for debate.) Hershey's is synonymous with its trademark kisses (via Hersheysland), and nowadays, there seems to be a kiss for every occasion.
Hershey's strawberry-filled Vampire Kisses are the most recent in a long, distinguished line of tasty, edible affections. While the milk chocolate kiss is probably the most synonymous with childhood, and is still considered to be the OG granddaddy of the chocolate kiss world, the Hershey's company website currently boasts almost 20 different flavors for sale (both core and seasonal combined). When it comes to Halloween, you'd think that the Hershey's Kiss would rank higher than lucky number seven, but at least it's in the top 10 (via Candy Store). Maybe the brand just went too far with a milk chocolate kiss that oozes strawberry crème. Remember that nothing says "romantic" like your beau trying to act out "Twilight" and saying, "I vant to give you a kiss!" then handing you one of these bad boys.
Haribo Sour Vampire Bats
No trick-or-treat bag is complete without a single-serve pack of Haribo gummy bears. If you've ever had a doubt about exactly how popular these chewy candies really are, BusinessWire reports that the golden bear candy mascot placed third most popular in the non-chocolate category. (In case you were wondering, Skittles claimed first, followed by Tootsie Rolls.) Haribo has been producing its nostalgic, smile-inducing gummy candy for over 100 years, per the company's website. The brand currently has at least 24 core gummy varieties on the market.
That's why this Halloween, the gummy candy titan unleashed its newest frightfully fang-tastic candy addition. Haribo's Sour Vampire Bats look like normal gummies, but pack quite a bite. Other than the packaging, you wouldn't be able to tell that they're not just sweet, but also sour. Unfortunately, these gummies are also only here for the Halloween season. So you'd better grab a bag before they fly off the shelves
Stuffed Puffs Monster Marsh
Russel Stover and Peeps don't have anything on these sinfully delicious sugar pillows of doom. Stuffed Puffs isn't a complete noob in the candy world — they've managed to stay afloat in candy land for about a decade, according to Candy Industry. That being said, in 10 short years, Stuffed Puffs has managed to carve a name for themselves by creating a line of marshmallow treats that are filled with all sorts of epic flavors. The candy offering has basically reinvented s'mores.
This all Hallows Eve, Stuffed Puffs has unleashed the biggest, baddest marshmallow to wreak havoc this Halloween season — the Monster Marsh. While it sounds like this creepy confection should be towering sky-high like the Stay Puft Marshmallow Man, unfortunately, it's not. (But how cool would that be?) This marshmallow is still not for the faint of heart, and is covered with black, green, and orange-colored sprinkles. On top of that, the actual marshmallow is a disturbing ghoulish green. If that's not freakish enough for you, Stuffed Puffs Monster Marsh is filled with a rich chocolate crème that's reminiscent of chocolate frosting. Halloween — and s'mores — will never be the same.
Twix Ghoulish Green
Nothing is more appetizing than biting into a delicious Twix caramel cookie and seeing green. (Then again, how many foods are there where this could apply?) If you're a fan of phalange-inspired sweet treats, then look no further than Twix Ghoulish Green. This Halloween, the chocolate-covered caramel cookie classic is being reinvented to fit a spookier persona.
Twix Ghoulish Green looks like the normal shortbread cookie bar, but once you bite into this decadent chocolate and caramel confection, you'll be shocked to see that the cookie doesn't look that appetizing (unless you're a kid). Looks can be deceiving. Lucky for you, this ghoulish treat still tastes the same. And just like a typical Twix bar — and because sharing is caring (you can also call it quality control) — you'll get not just one, but two of these otherworldly demonic cookie fingers. While it's not related to any special marketing sorcery — or is it? — the company is definitely doing something right because its sales have increased by over 50% this year (via Bloomberg).
Skittles Shriekers
From the brand that continually entices you to "taste the rainbow" — because who doesn't want to taste that?— comes a candy that will make you think twice before slamming back another handful. Skittles Shriekers are the ultimate candy trick in a bag. It's pure evil genius. Unlike other sour sweets on the market which are sometimes coated with a sweet and sour sugar mixture — think of Sour Patch Kids — these bite-sized rainbow dots from the netherworld aren't wearing a disguise. You read right. They look exactly like their happy-go-lucky cousins.
If you think that you can't be taken down by a little sour surprise, just wait. There's more. (You should be expecting this, since there's an image of Death screaming on the Skittles bag.) What makes Skittles Shriekers so diabolically evil is that it's not just a bag filled with sour candy. That would be too easy. This is literally a mixed bag. So with each handful you pour into the palm of your hand, comes a Halloween surprise. Skittles Shriekers come in frightfully delicious limited edition flavors, like spine-tingling tangerine, rattled raspberry, citrus scream, shocking lime, and ghoulish green apple. They all sound delicious but are sure to shock your taste buds.
Ghost Dots
These little ghastly gum drops won't make you go "boo" when you see them in your trick-or-treat bag. Brought to you by the Tootsie Roll Company, Dots have been around since 1945 and are considered to be the No.1 selling gum drop brand in the U.S. (via Tootsie).
Ghost Dots are almost like their cheerier rainbow-colored gumdrop cousins when it comes to one thing: flavor. But you can't have a treat without a trick, right? With regular, everyday Dots, you know what flavor you're biting into. But Ghost Dots have one trick up their invisible sleeves: they're all the same "color" (or lack thereof). Ghost Dots look like they'll glow in the dark if you hold them under a bright light long enough. (They probably would under UV black light, though.) Because they all look the same, you don't actually know which fruity flavor you'll nosh down on. And lucky for you, that's where the tricks end — sort of. Ghost Dots will continue their ghoulish rampage, getting stuck in your teeth, pulling out fillings, and terrorizing dentists for Halloweens to come.
Brach's Mellowcreme Caramel Apple
Brought to you by the makers of one of Autumn's most popular and controversial treats — that would be candy corn, if you were wondering (via USA Today) — Brach's Caramel Apple is a limited edition release flavor and features little apple-shaped hard candies with semi-hard caramel bottoms. Each piece is supposed to give a flavor-filled nod to a crisp red or a tart green apple that's been coated with this sweet, salty, and buttery confection.
The real caramel apple has only been around since the 1950s, notes ice cream parlor, Pete & Belle's. This winning combination of healthy and not-so-healthy was created by a genius employee at Kraft Foods who had access to more than his fair share of leftover Halloween caramels. (Can you say "mad scientist"?)
Another noteworthy point to bring up is that, unlike its caramel apple lollipop competition, Brach's Caramel Apple candies aren't suckers. So you can just pop one in your mouth and invite the spirit of Autumn without worrying about walking around with a stick hanging out of your face.