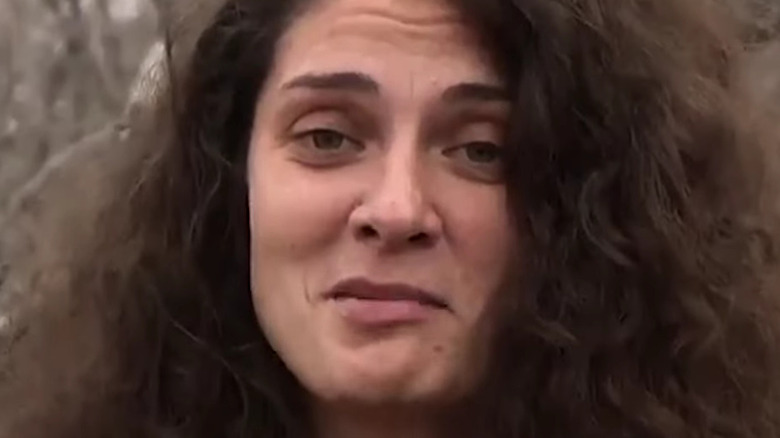 Fans of the Discovery Channel extreme survival show "Naked and Afraid" were crushed when one former contestant died tragically young in 2022. As TMZ reported, Melanie Rauscher was only 35 years old when she was found dead at the Arizona house where she had been dog-sitting. She was surrounded by cans of dust cleaner and the Yavapai County Medical Examiner determined that she had accidentally given herself difluoroethane toxicity by inhaling compressed air from the cleaning products.
Her "Naked and Afraid" teammate Jeremy McCaa wrote a heartfelt tribute on his Facebook profile, recalling how he and Rauscher had an instant connection. "She was my swamp wife, a best friend, a strong woman, an amazing person and I'll always cherish our moments together," he added, insisting that they became part of each other's family. "You're gone too soon and taken from us too early. You'll always be my Mel."
Keep reading to find out more disturbing and tragic stories behind the high-risk adventures on "Naked and Afraid."
Molly Jansen almost died multiple times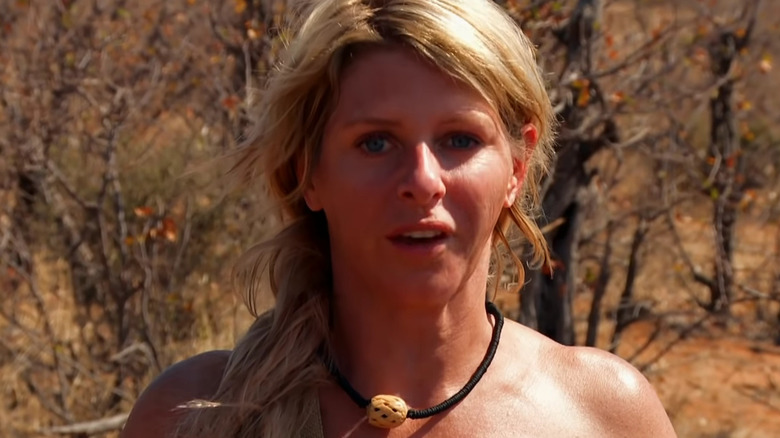 Molly Jansen had a particularly dangerous adventure in the wild during her time on "Naked and Afraid," as she and her survivalist teammate Matt Wright told the The Denver Post. "She was literally battling for her life," he explained, describing how intense their episode had been. "We had moments where somebody's life was literally holding on by a thread and had to be saved on the spot." Their African adventure led them to the natural habitats of lions, elephants, and crocodiles. "There's lots of very, very close encounters with venomous snakes and large animals and predators," Wright said.
As well as the encounters with deadly animals, Jansen had a terrifying moment when she was trying to eat a cooked warthog prepared by her team and choked, as the Colorado Daily reported. Her survivalist teammate had to perform the Heimlich maneuver as the show's producers prepared to intervene, but she was luckily fine. She also expressed frustration with online commentators calling the show fake. "I have to tell you, it was as real as it comes," Jansen insisted. "They didn't live it day in and day out like I did." The contestant had to prepare her teenage daughters for what they would see on the show as well. "I've had some pretty sensitive conversations with my daughters about how these traumatizing events are going to be portrayed," she added.
A producer was bitten by a pit viper
"Naked and Afraid" isn't just dangerous for the contestants: producer Steve Rankin had to be rushed to the hospital in 2013 after encountering a venomous Fer-de-Lance snake in Costa Rica and the bite left him with a rotting foot.
As he explained on the follow-up show "Naked After Dark," Rankin had been scouting out possible locations for the show at the time. While his team was hiking through the middle of a remote jungle, he leaped over a huge fallen tree, not realizing one of the deadliest vipers in the world was on the other side. "It was quite a sharp pain, it was like being stabbed," he recalled. "But then the real pain started in the time afterward when the venom started to spread up my leg."
TMZ reported that the producer was carried through the Costa Rica jungle for two miles by his crew before a helicopter was able to rush him to a nearby hospital. But that wasn't the end of his bad luck. Doctors figured out that the gory injury was actually decaying after his leg swelled up to the size of a football player's, as he told the audience of "Naked After Dark," and in the end, he needed five surgeries. "After the first surgery when they opened my foot up … the doctors said, 'Well it's good news, we've saved your foot.' And I said, 'I wasn't even aware I was going to lose it,'" Rankin added.
Manu Toigo almost died from dengue fever
As TMZ reported, one contestant had a terrifying brush with death after contracting dengue fever on "Naked and Afraid." After Manu Toigo was bitten by a mosquito in Panama, the contestant flew home to the United States where she gradually started developing worrying symptoms. Toigo had severe headaches, fever, nosebleeds, and was bleeding from her gums when she was rushed to a Los Angeles hospital. Doctors eventually diagnosed the dangerously weak survival expert with a severe form of dengue fever, which threatened to cause irreversible internal hemorrhaging. Luckily, they caught it in time and saved her life.
In a follow-up video for the show, Toigo revealed that she had been doing physical therapy to recover from her illness. "I had such muscle atrophy and I'm also dealing with nerve damage throughout the body," she told fans, admitting that the process of regaining her strength would take a while. "That is the difficult part about this, it really becomes debilitating," the survivalist added. "I can't be a champion all my life." Despite her dramatic near-death encounter, Toigo insisted that she didn't regret going on "Naked and Afraid" and pushing through a dangerous situation. "Hell no … most epic experience I could ever have done," she stated, per TMZ.
Honora Bowen faked a near-death experience
Honora Bowen became one of the most divisive "Naked and Afraid" contestants after she fell out with her partner, Matt, in the Brazilian wilderness. She later compared "Naked and Afraid" to a Nazi experiment and admitted that she had faked a blackout to leave the show. "At the time it was really my only choice," she wrote on her website, explaining that it had been necessary for her health. "The main reason I wanted to tap out was because I started to lose control of my bladder," Bowen insisted, adding that her metabolism was too high. "My muscles were so cramped that it would sometimes take me an hour to move from laying position to sitting or standing."
According to Bowen, her blood sugar had been very low so the medics believed her act. "I pretended to be basically catatonic," she recalled. "Honestly, it was pretty close to that point anyways." The contestant added that she did feel bad for one of the emergency team, who was scared by the experience. Although "Naked and Afraid" seemed to show her leaving the hospital after a few hours, Bowen wrote that she actually stayed overnight on an IV drip and had probably lost 18 pounds during the survival scenario. "So there you have it. I spent the next several days in a hotel, waiting for my partner to get out, eating cookies and doing diary cameras, feeling kind of guilty and incredibly relieved," she concluded.
The show took advantage of the death of Honora Bowen's father
According to Honora Bowen, she went through psychological suffering as well as physical struggles on "Naked and Afraid." Producers invented a story involving a magnifying glass and the contestant's late father, which she later called "a very emotionally unnerving act that actually affected me very deeply, as my father's death was so recent and I was still deeply mourning."
While facing the elements in Brazil, the contestants were allowed to bring a fire starter as one of their survival items and producers asked them to choose between a flint and a magnifying glass. "I said that my father had recommended a magnifying glass right before he passed away," Bowen later wrote on her website. "The producers loved this concept, as well as the potential storyline that they could then follow." For the rest of her time on the show, the survivalist was asked to talk about her father on camera in every interview.
"I was asked pointed and personal questions," she recalled. "I was also told to repeat my words every time I referred to the magnifying glass as 'the magnifying glass,' and told to repeat and call it 'my dad's magnifying glass.'" Although she initially went along with the act, Bowen grew increasingly uncomfortable with exploiting her dad's death for "Naked and Afraid."
Samantha Ohl had stage two hypothermia
"Naked and Afraid" contestant Samantha Ohl demonstrated the real danger of surviving in a Croatian mountain forest for 21 days in 2017 when she developed stage two hypothermia and had to be hospitalized. As she shared on the "Outdoor Podcast Channel," Ohl had tried to keep warm at night by putting hot rocks into the single burlap bag that the show allowed them to have, rather than sharing body warmth by sleeping next to her partner, Adam. But a heavy rainstorm on a particularly cold night proved to be too much for her body, as Yahoo! Entertainment reported. One of the show's medics had to intervene since her extremities had become entirely numb and it was possible that her organs were shutting down.
They decided that an ambulance had to drive Ohl to the hospital, where local doctors prevented any long-term consequences. The contestant was still proud of her time on the show, as she stated after her hospital stay. "My kids will see, you know, Mom did it," the contestant explained. "My body couldn't handle the last part." Although she had been "looking forward to high-fiving Adam" at the finish line after successfully completing the challenge, Ohl didn't have any regrets. "I thank you for being there and watching out for me," she added.
The show lied about one contestant's illness
"Naked and Afraid" has often been accused of faking its extreme situations over the years, like when the Daily Mail reported that unwell contestants were given an IV drip. And one contestant has since come forward to say that the show doesn't always tell the truth about how their survivalists get ill in the first place.
Phaedra Brothers appeared in the 2014 episode "Himalayan Hell." Their trip had an inauspicious start when they had to relocate last minute after the "Naked and Afraid" crew found out that a tiger had killed 13 people at their original Northern India shoot location. "None of the things I had been studying for the last two weeks even applied to the new location," Brothers later told Channel Guide magazine. "Both of us were blind going into it." The food she'd packed was also lost, so one of the crew members offered to make her a chicken curry.
"I woke up sick, sick, sick. Just vomiting and diarrhea," Brothers recalled, claiming that the meal had given her terrible food poisoning. Not only did she have to begin while dehydrated, but the show's narration later blamed it on her drinking unclean water. Although medical tests showed an intestinal parasite, the on-set medic declared that she had dysentery and "Naked and Afraid" producers threatened to delete online comments saying otherwise. "I think they thought it would be a better, more dramatic story, but it wasn't the truth," Brothers added.
E.J. Snyder was serious injured
One of the worst injuries in the show's history took place on "Naked and Afraid XL" when a tree branch broke under military veteran E.J. Snyder in a Louisiana swamp and the subsequent fall sliced open his scrotum. "Worst case scenario is an infection, a loss of genitalia," one member of the medical team told the cameras, per iHeart, warning that Snyder could face severe consequences if he didn't receive urgent treatment. "And if he becomes septic, it could be fatal."
Snyder was remarkably unfazed by the time he met fellow survivalists Max and Gary, however, as Yahoo! Entertainment reported. "I also almost chopped my balls off yesterday," he told the other contestants, showing off his eight stitches. The gory injury also won him the respect of the other contestants right away. "The guy's out here and he's busted his balls wide open and he stayed out here," Gary stated. "I mean, this is the type of man he is, this is the type of survivalist he is. And I am honored and privileged to be out here with E.J."
"Thx everyone for the concern," Snyder tweeted after the episode aired, reassuring fans that his "cannon balls are fine and better than ever."