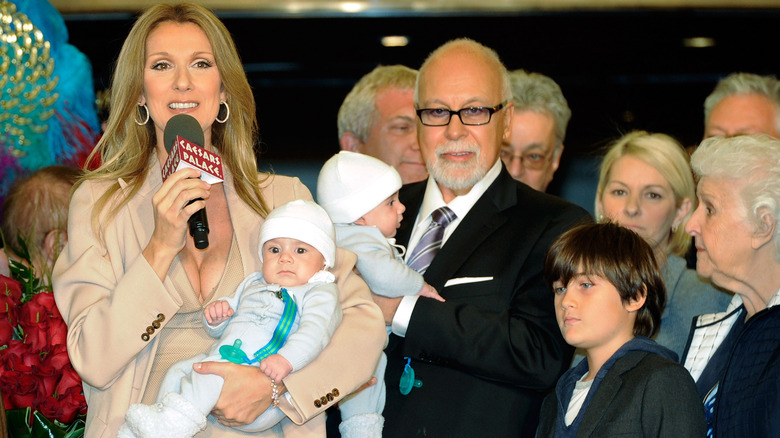 Celine Dion is one of the most iconic singers of our time and is known for her powerhouse voice. Whether you actively listen to Queen Celine, she will always be recognized for some of her most iconic hits that have been streamed millions of times, including "It's All Coming Back to Me Now," "Because You Loved Me," and "Titanic" classic, "My Heart Will Go On" (via Spotify). The French-Canadian singer has been in the spotlight for most of her life, and while many know her by large audience and massive fanbase, some don't immediately think of the fact that she is an incredible mom!
Dion and her late husband René Angélil share three children: René-Charles, Eddy, and Nelson — and they have grown up so much over the years (via Us Weekly). Although Dion doesn't often post pictures of her kids, she occasionally shares sweet moments online of her and her family celebrating the holidays over the years, some of their passions, and what they are up to today! Keep scrolling to find out everything you need to know about these three boys!
Her eldest son, René-Charles, was born in 2001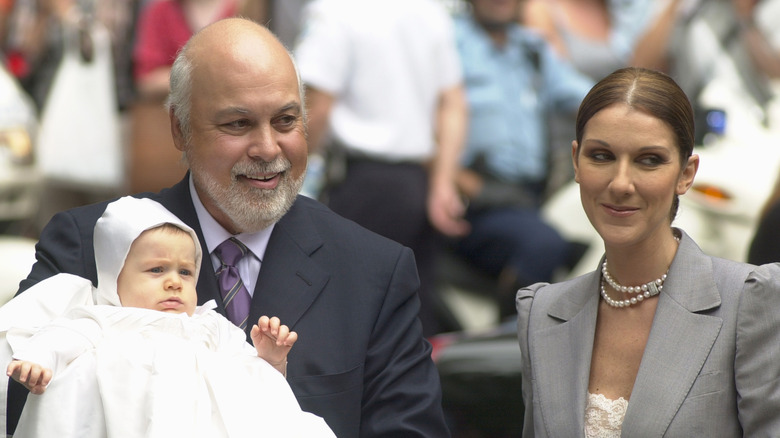 After going through a highly publicized fertility treatment, Celine Dion and her late husband, René Angélil, welcomed their first child together: a baby boy! The pop star's son, René-Charles Angelil, was born in West Palm Beach, Florida, weighing 6 pounds, 8 ounces, and was in perfect health (via ABC News). Dion had been undergoing different fertility treatments in New York leading up to her pregnancy and was able to conceive through in-vitro fertilization.
In an interview with James Corden on his "Carpool Karaoke" segment of "The Late Late Show," Dion revealed the surreal experience of witnessing her son's birth get announced on television to the entire world just moments after he was born (via YouTube). "I'm delivering my first child, I don't even have him in my arms yet," Dion explained to Corden. "I look to the left, and there's a TV there, and the doctor is announcing, live on television, a beautiful, healthy boy, 7 pounds 8 ounces. I'm saying to myself, 'My baby is on television, and I didn't even hold him yet.' So I turned it off. I turned off the TV." (via Yahoo!). Although celebrities live in the spotlight, this feels a bit too much!
Celine Dion welcomed all of her children through fertility treatments
Like many women, Celine Dion had difficulty conceiving her first child with her late husband. For Dion to become pregnant with her first son, René-Charles, she went through one round of IVF to conceive and was successful (via Today). René-Charles was helped conceived by Dr. Zev Rosenworks, director of the Ronald O. Perelman and Claudia Cohen Center for Reproductive Medicine at New York-Presbyterian Hospital/Weill Cornell Center Medical Center after having her embryos frozen, according to People.
However, years later, while in her 40s, the process became even more difficult. Unfortunately, before her twin boys, Eddy and Nelson, were born, Dion had a miscarriage and experienced six rounds of IVF before finally becoming pregnant. In an interview with Oprah, Dion sat down to discuss her fertility struggles before having her twins years later and the countless failed attempts at getting pregnant the second time around. "We didn't want to feel like we were playing yo-yo. 'I'm pregnant. I'm not pregnant. I'm pregnant. I'm not pregnant,'" Celine told Oprah. "So, we didn't want to do this thing. But we did [have] a miscarriage. We tried four times to have a child. We're still trying. We're on the fifth try. And I tell you, if five is my lucky number, this fifth try has got to come in." Little did she know, it would eventually work!
René-Charles is following in his mom's footsteps
Like mother, like son! Celine Dion's son René-Charles has a passion for music just as much as his mother does! In an interview with Montreal Gazette in 2018, René-Charles, whose stage name is Big Tip, revealed that he kept his love for making music on SoundCloud a secret from his mom until after his songs reached the No. 1 and No. 2 spots on the Canadian SoundCloud R&B charts. "I just felt like keeping it on the low. But she loved it," he said. "She was just kind of stunned at first because she'd never heard anything from me. It was kind of a weird conversation: 'Ma, I'm No. 1 and No. 2 on the charts right now.' She was like: 'Why didn't you tell me first?' But she's very supportive of my passion for this," he said.
Since he started making music, he released hip hop EP "Casino" in 2021, three singles, "Never Stop," "The Apple," and "The Kid," and even touched on the loss of his father in his song "Catwalks" (via Yahoo!).
Dion is proud of her son for following in her footsteps! "I'm so proud of my son. My love for him is so strong, and it touches me deeply that one of his passions is also one of mine," she wrote on her Instagram Story featuring a link to his latest EP (via People).
Celine wished her son a very special 21st birthday
In January 2022, Celine Dion wished her eldest son René-Charles a very special happy 21st birthday. In the sweet Instagram post, Dion shared a throwback photo cradling her son as a newborn in the hospital room he was born in, with her late husband René Angélil holding the two of them close (via People). "René-Charles, 21 years of dreams have already passed. We gave you life … Thank you very much for giving us the wonderful gift of becoming your parents," she captioned the post. "Since that day, I've been thriving as I watch you grow. Your intelligence, your generosity, your courage, and your great sensitivity never cease to move me." Can we just say she's always had such a special way with words?
Throughout the rest of her heartfelt post, Dion continued to encourage her son to go after his dream in life and know that he is loved by his family always. "We guided you from our dreams, by holding your hand. Keep exploring and above all, listen to your heart knowing that you are always carried by our love, so that now your own dreams can come true," she continued. "Happy Birthday René-Charles! Have fun my darling … We adore you!" she ended the post signing the message with love from her, René-Charles' twin brothers, and his late father.
Celine was open about her difficulty getting pregnant
Celine Dion was very open to her fans and the public about her and her husband René Angelil's difficulty conceiving. Like many women who struggle with getting pregnant, Dion has undergone multiple IVF treatments and has continuously shared her experience, no matter how difficult. "I've always been an open book. My way for me to deal with my own situation is that I take one step at a time," she told ABC News in 2010. "It's something very beautiful when you want to conceive and when you want to be parents again, when you want to be bless again. And for me to share this is about also bonding with other women that are going through the same thing."
After multiple doctor appointments, taking medications, shots, and the emotional distress it takes on a person's body and mental health, Dion was not ready to give up her dream of having another baby. "It's priceless. So you know what? We had a miscarriage. We tried three more times. It did not work. … We are trying again for the fifth try. It's aboard right now. All aboard," Dion said. At this time, she was hopeful of growing her family, and her goal was to continue trying. "It would be extraordinary to try and make this love of the family grow more. But — I have — I have to try," she continued.
Celine Dion welcomed her miracle twin boys in 2010
In October 2010, Celine Dion and husband René Angélil welcomed their miracle babies: fraternal twin boys Eddy and Nelson! After struggling to conceive through IVF, Dion welcomed the newest additions to their family via C-ection in West Palm Beach, Florida. "We tried five times before I got pregnant. On the sixth try, it worked out. We were blessed twice," she told Hello! Canada, per the Daily Mail.
While speaking with People, Dion's rep shared the sweet meaning behind the boys' names. Dion named her son Eddy after producer Eddy Marnay, who worked with the "My Heart Will Go On" singer throughout her first five records. "He was like a father to her," Dion's rep said. "Eddy is a major influence in both Céline and René's lives." As for her son Nelson, he was named after Nelson Mandela! Nelson and Dion met in 2008 at the beginning of her world tour in South Africa, leaving an everlasting impact on the singer. "René said that in just the few minutes they were able to spend with him, they were impressed by the human being he is," says the rep. These men were such an inspiration to both Dion and Angélil, and their goal is for their kids to grow up and be inspired by them, too. "Céline and René want their children to be inspired by their names, because they were so inspired by these men," the rep continued.
Celine Dion's husband René Angélil passed away in 2016
After a long battle with throat cancer, Celine Dion's husband, René Angélil, passed away in January 2016, breaking the family's hearts. Dion and Angélil met when she was just 12 years old, and the couple eventually began dating in 1987. Throughout Dion's career, Angélil worked as her manager and mentor, and they later tied the knot in 1994, according to People. Angélil was first diagnosed with cancer back in 1999. In 2014, Dion put her Las Vegas residency on hold to take care of her husband after his second cancer diagnosis and undergoing surgery to remove a cancerous tumor in his throat in December 2013 (via ET Online). Unfortunately, cancer later returned in 2014.
At Angélil's funeral, Dion and her three boys gathered with friends, family, and fans worldwide to mourn their father's loss. The singer's eldest son René-Charles gave an emotional eulogy to the crowd, bringing tears to many (via YouTube). "You left me now with enough good memories of you to share with my younger brothers," he said of his twin brothers. "As they grow older, without you being around, I'll make sure to pass on what I've learned from you. You are a tough act to follow, but with your help, everything's gonna be fine. Dad, I promise you here that we're all going to live up to your standards" (via People).
Soon after her husband's passing, Celine Dion accepted the Icon Award from her eldest son
Just one month after losing her husband, René Angélil, to cancer, Celine Dion was awarded the Icon Award at the 2016 Billboard Music Awards. Dion was presented the award on stage by her eldest son René-Charles. In an interview with People, the "I'm Alive" singer talked about the bittersweet feeling of having her son there with her during such a monumental moment. "They said, 'To present the award, here's your son' and [it] cut my heart to pieces. [It] really did," Dion said backstage after receiving the award. "Honestly, my husband got me here 30-something years later. I accepted that award for him. I sang that song for him," she continued. "My son came to represent him, his brothers and me, and love is stronger than show business."
While accepting the award, she held her son's hand tightly as she thanked her fans and three children for getting her through and dedicated the award to her late husband. Right before her speech, Dion performed a rendition of Queen's "The Show Must Go On," which just so happened to be one of Angélil's favorite songs. In her speech, Dion honored her husband for all he had done for her throughout her career and dedicated the special award to him. "René, this one's for you," she said through the tears. "The show must go on" (via People).
After the loss of their dad, the family learned how to cope together
One year after the passing of their father, René Angélil, Celine Dion and her three boys learned to cope with their new reality together as a family. Losing a parent is incredibly difficult, and the most important thing is being there for one another. Dion opened up to Extra about how her sons are handling the loss of their father and how the family leaned on one another for support during such a difficult time. "To be honest, they're remarkable. They are helping me, I am helping them — it's mutual," she said.
Dion continued to discuss how proud she is of her boys for how well they handled his illness over the last few years before his death. "They cope with the loss of their dad very well," she said, especially acknowledging her eldest son René-Charles. "I said to him, 'I never want you to feel the pressure of being the man of the house, you have your own dreams and he is always with you in your heart and I am here for you.'" No matter how difficult times have gotten, Dion is incredibly proud to be a mom to three amazing kids. "What makes me most proud is to be a mother," she continued. "I have three magnificent kids, that through them, I see my husband and I have the strength today to keep dressing up," she said.
In 2017, Celine and her twin boys had the most iconic Halloween costume
When it comes to holidays, Celine Dion does not play around. Whether decorating for Christmas or dressing up for Halloween, you know it will always be good! In October 2017, she went completely all out for her and her boys' Halloween costume (via People). Dion shared the ultimate family Halloween Instagram photo of her dressed as Maleficent while kneeling alongside twins Eddy and Nelson, who were also dressed in scary costumes. "Happy Halloween! / Joyeuse Halloween! — Team Céline," she wrote in the post. Now, this picture deserves a frame!
In 2017, the boys seemed to love dressing up as different characters! Dion shared on Instagram her birthday message for the twins' 7th birthday, and in the photo, they were dressed as the musical icon Michael Jackson wearing some of his most famous looks and even posing as the pop icon. Naturally, Dion sported his iconic fedora hugging her two boys close. "Can't believe you are already 7 years old … Time flies! Happy birthday, my loves! I'm so proud of all of my boys! Mom xx," she wrote. You can feel all the love in this post!
Celine Dion wished the twins a happy 10th birthday in this sweet way
For her twins Eddy and Nelson's 10th birthday in October 2020, Celine Dion shared a sweet photo to her Instagram page that absolutely melted our hearts! In the post, she shared a slide of photos of her boys as babies wearing matching blue fleece jackets with beanies. The next slide continued with side-by-side comparison photos of what they looked like then to now laying in a pile of leaves (via Good Morning America). In her caption, Dion wished her boys a very happy 10th birthday, while also mentioning that their late father is always with them and watching over them. "Nelson and Eddy, you have been bringing so much joy, love and laughter into our lives every single day for the past 10 years," she wrote. "You make me, your big brother and your Dad, who is for sure watching over you, so very proud. Happy birthday my beautiful boys! We love you so very much… — Mom, RC and Dad xx…" As difficult as it is to celebrate a holiday or birthday without a loved one, this sweet message she sent to her boys was very touching!
Celine doesn't share photos of her boys on Instagram often
Taking a look at Celine Dion's Instagram page, her profile is filled with plenty of posts about her music, videos, and throwback photos of special events back in the day. Although she tends to keep her sons out of the spotlight on her page, which has over 5.1 million followers, every now and then we get a cute photo of her and her boys! In October 2020, Dion shared this post with her twin boys Eddy and Nelson dressed in purple hoodies with "spirit" written across their white beanie hats, with Dion in a matching purple headband and her hair in braids. "Today we're going purple in solidarity with @glaad #SpiritDay! I encourage all of you to join us and take a stand against anti-LGBTQ bullying," she wrote in the post. We love to see her include her sons in her continuous activism!
Every holiday season, Dion also typically shares a group photo of her and her sons. Whether they are celebrating Christmas or Mother's Day together, the "It's All Coming Back to Me Now" singer always blesses our timelines with a sweet family moment. In her Christmas post back in December 2020, the singer shared this photo sitting under the tree in matching pajamas with her boys. "May this holiday season bring all of you the gifts of love, peace, good health, and the promise of brighter days in the New Year ahead!" she wrote to her fans.
In 2022, Celine Dion dropped this rare photo of her and her boys
Celine Dion rarely posts photos of her and her boys, so whenever she does, it's always a sweet moment to see how much they have grown! For Mother's Day in May 2022, the "My Heart Will Go On" singer shared a rare photo of herself celebrating with her three boys eating cake, discussed the joys of motherhood, and how her thoughts are with all of the mothers that are across the world (via Cosmopolitan). "This Mother's Day, I feel very fortunate to be able to be with my children, and I think about mothers in Ukraine and around the world who have lost their children…and for those mothers who constantly worry about how to keep their children safe…and for those mothers who devote every ounce of their energy just to provide their children with the bare necessities of life," she wrote in her post. "These mothers truly are the courageous ones, and I dedicate this Mother's Day to all of them. We pray that they will find peace and comfort for their families."
Last year, Dion shared a similar post on Instagram for Mother's Day, featuring her sons and their three dogs sitting on a big fluffy picnic blanket. Although she doesn't post often with her family, we love getting a glimpse of how they celebrate the holidays each year!
Celine Dion loves being a mom to her three boys
Over the years, Celine Dion has proven to her massive fanbase that she is the ultimate mom! No matter how much of a star she has become over the course of her career, being a mom will always be her greatest joy and blessing, especially after struggling with fertility challenges. Back in 2010 before the birth of her twin boys, Dion spoke on the blessing it is to have become a mom after undergoing IVF. "I think we are very blessed to have the opportunity and a blessing to be a mother," she told ABC News. "I think when you are — when you have a child, it's like there's another heart that grows inside of you. You have this like a second heart."
No matter how hard Dion has worked to become an incredibly successful singer, her biggest reward in life is becoming a mother. In an interview with Daily Mail in November 2013, Dion opened up about how that being a mom is, and forever will be, her biggest achievement. "I've worked hard for nearly 30 years and I feel like only now is it paying off in terms of happiness," she said. But the only reward that would mean anything to me is my children. There's nothing that can top being a mother." Yup, our hearts definitely melted after this one!