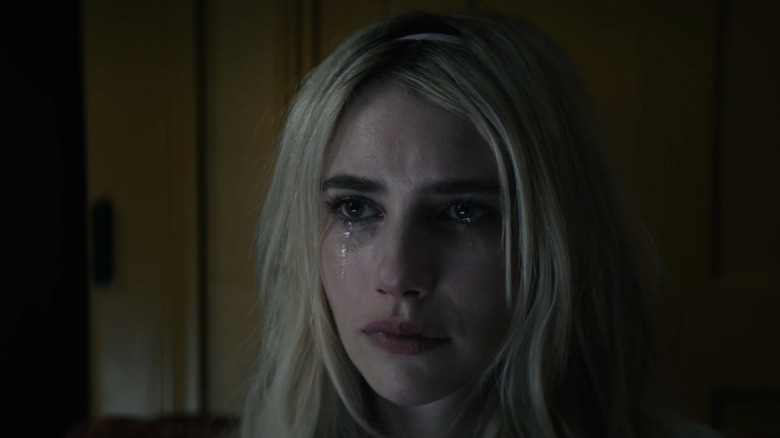 Your mileage may vary, but we think 2022 has been a rock-solid year for horror fans. From blockbusters like Jordan Peele's "Nope" and "Scream" to more niche titles like "We're All Going to the World's Fair" and "You Won't Be Alone," there's been plenty of choice for those of us who prefer our movies scary-side up. Sadly, not every movie is destined for the acclaim and financial success enjoyed by its peers. Sometimes their share of the box office is devoured by a much larger film, they suffer from poor (or no) marketing, or word of mouth turns people away. There are countless reasons why a movie might misfire, and frankly, sometimes success is a miracle.
It's also important to note that just because a movie doesn't find financial or critical success on release, that doesn't mean it's an objectively bad one. Some of today's most beloved horror classics were bombs in their day. We're taking a look at horror movies released in 2022 that weren't exactly smash hits — a variety of titles that either fell short at the box office, were poorly received by critics, or a combination of the two. Our intention isn't to insult these movies or the many people involved in their creation, but to try and figure out where they stumbled along the way. Who knows? One of these films might just be your unexpected new favorite.
Crimes of the Future
Despite a production budget of approximately $27 million and acclaim at its premiere at Cannes, David Cronenberg's "Crimes of the Future" only raked in $4 million at the worldwide box office. While it's unlikely that even Cronenberg expected the movie to be the blockbuster of the year, it's a disappointing financial result for the director's long-awaited return to the genre.
"Crimes" follows performance artist Saul Tenser (Viggo Mortensen) and his partner, Caprice (Léa Seydoux), as they navigate a near-future world where humanity has conquered pain and disease. Saul's body is host to strange new organs, which the pair surgically remove in erotic, disturbingly intimate performances for the public. As similar mutations manifest in the populace, including a young boy who can digest plastics, a governmental agency steps in to control humanity's new trajectory.
The Canadian auteur has always had his finger on (and ahead of) the pulse of societal concerns about technology, sexuality, and identity, but his films don't often land at the box office. The broader critical response suggests his return to the body horror genre mostly hit the mark, but that's a hard sell for those who aren't already into it. We'd love to live in a world where "surgery is the new sex" could have been a phrase from the No. 1 film at the box office, but we'll settle for it being a great film anyway.
The Invitation
If you're horror freaks like us, you've probably found yourself slowly recovering from the cultural exhaustion over vampires that "Twilight" inadvertently brought on. Between "Jakob's Wife," "A Girl Walks Home Alone at Night," and AMC's upcoming series adaptation of "Interview with the Vampire," there are plenty of interesting recent takes on the vampire to sink your teeth into. Unfortunately, Sony's "The Invitation" joins "Morbius" in the studio's 2022 slate of forgettable vampire movies.
"The Invitation" stars Nathalie Emmanuel as Evie, a young woman who unexpectedly discovers her relation to an affluent English family after her mother passes away. Accepting an invitation to an extravagant wedding at their estate, Evie discovers her new-found family has acquired some unconventional tastes. Despite solid lead performances from Emmanuel and Thomas Doherty (HBO's "Gossip Girl"), the film was criticized for its predictable, sluggish storytelling, a lack of effective scares, and its failure to deliver on attempts to freshen up the premise with modern allegorical elements.
To give some credit to "The Invitation," it fared better at the box office than others on this list. However, $26 million worldwide on a $10 million budget still falls short of the kind of success a major studio like Sony expects, especially once marketing costs are accounted for. It also didn't do well with critics. Over at Rotten Tomatoes, only 26 percent of critic reviews were favorable.
Umma
Casting two-time Golden Globe winner and "Killing Eve" star Sandra Oh wasn't quite enough of a draw for audiences in the case of "Umma," the debut feature from writer-director Iris K. Shim. Oh plays Korean-American mother Amanda, whose abusive upbringing at the hands of her late mother reverberates well into her adult life. Her worst fear is repeating that cycle with her daughter, Chris (Fivel Stewart), a fear that begins to manifest when her mother's belongings and remains are shipped over from her home country.
"Umma" struggled to find its footing on opening weekend at the domestic box office, falling just short of $1 million. Even with a limited international release, the film never quite captured a significant audience. "Umma" left its theatrical run with only $2.2 million worldwide to date.
On the critical side, "Umma" didn't fare too well either, with the average critical approval rating on Rotten Tomatoes sitting at 33 percent. Reviewers praised the film's narrative intentions but remarked that its potential was undercut by a focus on formulaic jump-scares rather than a satisfying exploration of its characters and themes.
Firestarter
"Firestarter" is the second feature adaptation of the classic Stephen King novel, following Mark L. Lester's 1984 original. Although both versions stray from the source material, they follow the same general premise: a super-powered father and daughter flee a government agency responsible for their miraculous abilities. This time around, Zac Efron stars as telekinetic dad Andy McGee, who must protect his pyrokinetic daughter, Charlie (Ryan Kiera Armstrong), from the clutches of the DSI.
Like "Halloween Kills," "Firestarter" was released simultaneously in theaters and on NBC's streaming service, Peacock. That complicates tracking its performance in a traditional sense, but with an estimated $12 million production budget, it certainly wouldn't have hit theatrical targets with only $14 million at the worldwide box office. It also received a shockingly poor critical response, with reviewers noting its underwhelming special effects, flat performances, and issues with editing and pacing that raise questions about whether it was meddled with in post-production.
Ultimately, it seems like "Firestarter" was doomed to be roasted. King's novels are infamously difficult to translate to the screen due to their narrative structure and length. This one in particular calls for plenty of SFX, so the spectacle of its climax was held back by the relatively meager budget. It also didn't have the runtime to effectively develop its characters, leaving audiences with little to connect with. After two lackluster attempts at adapting "Firestarter," it's worth considering whether there's simply better King material to work with.
Texas Chainsaw Massacre
This ninth installment in the long-running slasher franchise picks up nearly 50 years after Tobe Hooper's 1974 classic. A group of young city slickers arrives in the town of Harlow, Texas, with plans of flipping dilapidated properties and gentrifying the area. A misunderstanding with the town's remaining resident results in the elderly woman's accidental death, inviting both the vengeance of Leatherface and the return of Sally Hardesty, who survived the killer in the original film.
The film's messy production, including the replacement of original directors Ryan and Andy Tohill soon after shooting began, cast doubt on its destiny, especially with the revelation that it would be bypassing theaters and heading straight to Netflix. To the streaming giant's credit, the movie eventually came together, and their own figures suggest "Texas Chainsaw Massacre" performed better than expected in terms of viewership in its first few weeks.
In terms of what viewers thought about the movie, the story's a little different. Over at Rotten Tomatoes, 31 percent of cited critics reviewed "Massacre" favorably, while the audience score fell below that at just 26 percent. Although it received praise from some for its generous helpings of violence and goofy entertainment value, critics also noted its ham-fisted attempts at social commentary and lack of memorable characters. As the Transformers franchise has proven, bad reviews aren't always a barrier to sequels, so we'll see if Leatherface will rev up for another go-around.
Abandoned
Did you know that there was a horror movie this year starring Emma Roberts, John Gallagher Jr., and Michael Shannon? We sure didn't. And judging from the box office figures, we're not alone in this one going right over our heads. Spencer Squire's directorial feature debut, "Abandoned," certainly boasts a talented cast and the solid bones for a tale of maternal anxieties. Unfortunately, it failed to make an impact in terms of ticket sales or critical reception.
Sara (Roberts) and Alex (Gallagher) are a young couple who have packed up their lives, baby in tow, to start anew on a rural property. Despite hopes that the change of scenery will help soothe Sara's postpartum depression, strange and frightening things begin to happen in their new home, signaling the echoes of its violent past.
In June, "Abandoned" disappeared from the box office as quickly as it appeared, scraping together less than $100,000 during its limited theatrical run. It may have recouped some of those losses when it hit streaming services after just one week in cinemas, but the 20-percent critical approval and 38-percent audience scores over at Rotten Tomatoes cast a long shadow over the maternal-supernatural chiller. With criticisms leveled at its undercooked characters and derivative frights, we hope Squire takes another swing at directing — just with a stronger screenplay next time.
Studio 666
"Studio 666," the horror-comedy starring rock legends the Foo Fighters and friends, joins "Tenacious D in The Pick of Destiny" in a special section of movie heaven reserved for those that went all-in on their goofy fun knowing they'd probably bomb, but asked, "Who cares?" That plucky B-movie spirit isn't without merit, but it didn't carry "Studio 666" to the heights typically enjoyed by its head-banging leads.
In a film described by frontman Dave Grohl as "Scooby Doo meets Spinal Tap meets The Evil Dead," the Foo Fighters move into an eerie mansion to record their latest album. Grohl is possessed by a demonic entity while exploring the house, leaving his band to find a way to save themselves and his soul from the clutches of evil. It's knowingly silly, full of cameos, and appropriately gory, considering director BJ McDonnell previously helmed the third "Hatchet" film.
For as much fun as its cast and crew clearly had making it, "Studio 666" didn't make much of a splash on its debut weekend. With a $1.5 million opening, it quickly ducked out of cinemas with just $3 million worldwide. Over at Rotten Tomatoes, there's a remarkably interesting disparity between critics and audiences — 56 percent for the former, but a distinctly fresh 80-percent audience score. That's not too surprising for a film that knows exactly who its niche audience is.
They/Them
With a truly impressive screenwriting career that includes the Bond films "Skyfall" and "Spectre," Ridley Scott's "Gladiator," and the spectacular but short-lived horror television series "Penny Dreadful," John Logan stepped into the director's chair for the queer slasher film "They/Them." Kevin Bacon stars as the leader of a conversion camp whose teen campers and staff find themselves the targets of a masked killer. The Peacock Original bypassed theaters and made its debut on the streaming service in August, receiving a mixed-to-negative response from many critics and viewers.
Bacon is joined by Carrie Preston and Anna Chlumsky as the counselors of Whistler Camp, a facility known for "converting" LGBTQIA+ teens at the request of their parents. The confronting atmosphere and methods of "treatment" are bad enough for the young campers, but things turn deadly with the arrival of a mystery killer. Despite Logan's best efforts to address queer identity and the controversial practices of conversion therapy, critics struggled with the film's tonal balance and surprising lack of depth (although, others praised its young cast).
"They/Them" is a rare misstep for a filmmaker who has enjoyed far more hits than misses. With a 33-percent critic rating and 20-percent audience score at Rotten Tomatoes, "They/Them" seemed to miss the mark for many viewers, many of whom seemed open to the film's intentions on paper. Hopefully, Logan won't be dissuaded from directing a sophomore feature.
Men
Four years after his sci-fi horror feature, "Annihilation," writer-director Alex Garland took a sharp turn from the realms of science fiction for "Men." Starring Jessie Buckley and Rory Kinnear in (multiple) lead roles, Garland's folk-horror feature received a mixed-to-positive response from critics. General audiences, however, didn't seem to care much for it.
The film follows the recently widowed Harper (Buckley), who rents a country cottage after the sudden death of her abusive husband. The peaceful solitude of the countryside is ripped apart by strange and terrifying encounters with the men of the local village, all played by Kinnear through costuming and digital effects. Garland's narrative approach to themes of gendered violence is a mixed bag in the eyes of some critics, but it did receive praise for Buckley and Kinnear's performances as well as its outlandish and unsettling visual direction.
Official production budget figures aren't readily available for "Men," but with only $11 million at the worldwide box office, it's unlikely to have turned a pure profit. The director's most recent successful feature was 2014's "Ex Machina," which landed a much more respectable $35 million from a $15 million budget. Where the film blatantly failed to connect was with general audiences. CinemaScore, a firm that assigns a film a letter grade based on cinema audience polling, returned a painful D+. At Rotten Tomatoes, the audience score sits at 39 percent, contrasting with the 69 percent critic approval rating.
Dashcam
Rob Savage's "Host" was arguably the definitive horror movie of the early COVID-19 pandemic. Its story of a Zoom call séance gone wrong was simply but timely, and the no-frills computer screen method of shooting was absurdly effective at delivering clever scares. It's no surprise that it was a hit with critics on release. Understandably, it's a tough act to follow, but Savage went for it, resulting in the incredibly divisive "Dashcam."
"Dashcam" carries over the computer screen aesthetic, playing out as the streaming live feed of an inflammatory musician who flees the United States for London at the height of the COVID-19 pandemic. Giant Drag frontwoman Annie Hardy leads as a fictionalized version of herself tracking down a former bandmate and agitating the public until she finds herself hunted by strange entities.
It's a film made with the knowledge that it's likely to rub many the wrong way, and there's a sense of glee in the meta-layer of its lead casting that reminds one of Lars Von Trier's delight in provocation. For those reasons, it's perhaps inevitable that the film ultimately received incredibly mixed reviews from critics and general audiences alike. With a 48-percent approval rating on Rotten Tomatoes (and a 37-percent audience score), reviewers praised the film's technical production and relentless thrills, but many found its protagonist irritating to the point that it sabotaged its other merits. "Dashcam" may well find a cult following through VOD, but perhaps the team should resist stunt casting for their next feature.