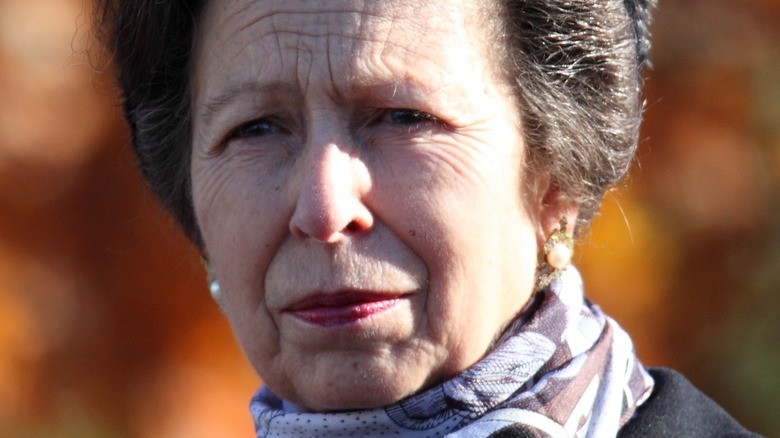 We may receive a commission on purchases made from links.
Britain's royal family isn't exactly known for its drama-free romances. Whether it be Prince Charles' tumultuous marriage to Princess Diana, Prince Andrew's headline-making divorce from Sarah Ferguson, or Prince Harry's rule-defying union with Meghan Markle, the royals sure know how to stir up the tabloids with their private lives. However, it's not just the men in the family who have been known to court controversy. As it turns out, Queen Elizabeth II's only daughter, Princess Anne, has also had her share of scandalous romances.
While she's known as the hardest working royal and has really shown up to support her mother in times of need, Princess Anne previously gave the queen and her father, Prince Philip, some grief with her love life. As royal commentator Penny Junor once told the Mirror, the princess always believed she should be allowed to do what her male counterparts did and that included dating whomever she liked, without the pressure to settle down and start a family. "There is no doubt she was a gutsy, spirited young woman. I'm sure she was exactly what the Duke wanted … as a son," Junor said.
It was that hutzpah that repeatedly landed the princess in the press as she was linked to a number of different partners before (and during) her first marriage to Mark Phillips. In the end, the couple broke with tradition and divorced after nearly two decades together, but it wasn't just gossip of infidelity that got the better of them. Here's the real reason Princess Anne got divorced.
Princess Anne's family rejected her first love
A couple of years before Princess Anne said "I do" to equestrian Mark Phillips, the young royal was reportedly smitten with another professional rider. According to the 2021 documentary "Princess Anne: The 7 Loves of Her Life" (via Express), the princess first found love with Richard Meade, a three-time Olympic gold medal-winning equestrian, when she was 20 years old. They reportedly hit it off thanks to their shared love of horses and built a strong bond based on their passion for riding. Indeed, Anne began competing professionally when she was just 11 years old and went on to become an accomplished equestrian, winning gold at the 1971 European Eventing Championships, per Biography. Her athletic aspirations even took her to the 1976 Olympics, where Meade was also competing.
Unfortunately, despite their connection, Princess Anne's family (most notably dad Prince Philip) reportedly wasn't supportive of the match due to the pair's age difference. As reported by Express, she was 12 years Meade's junior. According to the documentary, Anne's father apparently encouraged Meade to walk away, even though, as the film put it, "Richard seemed to be the favorite for the Princess's hand." They weren't instantly dissuaded from seeing one another, but as the narrator explained, "She seemed to have listened to her father and after less than two years the pair parted ways."
While it couldn't have been easy to give up her young love, according to royal journalist Angela Levin, Anne took it in stride. "She wasn't spiteful, she wasn't bitter," Levin said.
She and Mark Phillips bonded over horses
Princess Anne's love life and passion for horses have always been deeply intertwined. In fact, she was 18 when she met her future husband, army captain Mark Phillips, at a 1968 horse-riding event held in Mexico City, Mexico, per People. While it's unclear what the event was (the Chicago Tribune called it "a party for horse lovers"), it likely coincided with the 1968 Summer Olympics, which were held in Mexico City and in which he competed.
According to Town & Country, Captain Phillips came from a British military family and had no royal connections, but it seems his equestrian aspirations were enough to draw Anne to him. While rising through the military ranks, Phillips simultaneously pursued an equestrian career that took him to the 1968, 1972, and 1988 Olympics. According to the official Olympics website, he won the team gold medal in 1972 and team silver medal in 1988. He and Anne were even teammates at the 1971 European championships, per Britannica, but despite their shared passion, they didn't pursue a relationship right away.
At the time, Anne was tied to a number of other romantic partners, including, as reported by the Mirror, former Cavalry officer (and later Prince Harry's godfather) Gerald Ward, polo player Sandy Harper, and Andrew Parker Bowles.
Royal obligation pushed her away from Andrew Parker Bowles
Before Princess Anne settled down, she was notably linked to Andrew Parker Bowles. Yes, the same Andrew Parker Bowles who would go on to marry (and divorce) future Duchess Camilla. Sally Bedell Smith, author of "Prince Charles: The Passions and Paradoxes of an Improbable Life," explained their relationship timeline to Elle, saying Anne and Bowles' families had known each other for a long time and that the couple shared their first date at the 1970 Royal Ascot. Anne, who was 20 at the time, reportedly had a brief fling with Bowles, who was 11 years her senior. However, age wasn't the problem — rather, it was religion that reportedly got in the way.
According to the documentary "The Real Princess Anne" (via Express), Anne was linked to Bowles and Richard Meade at the same time, although she never confirmed either relationship. That may have been for the best, as her union with Bowles was doomed from the start. That's because, according to The Act of Settlement of 1701 (which was overturned in 2013), only Protestants could succeed to the throne, and Bowles was a Catholic. As the documentary explained, "He and Anne were often seen together, but he was a Roman Catholic and for a royal that effectively put marriage out of the question."
But there were no hard feelings, and the pair remained lifelong friends. In fact, they were spotted together at the 2021 Royal Ascot, and Anne even named Bowles godfather to her daughter, Zara Tindall.
Inside Princess Anne and Mark Phillips' marriage
After plenty of public speculation surrounding whether Princess Anne would settle down with Richard Meade or Andrew Parker Bowles, the princess went ahead and tied the knot with Mark Phillips. The pair announced their engagement in May 1973 and married at Westminster Abbey on November 14 of that same year, per People.
As the outlet reported, the 23-year-old princess wore a high-necked wedding dress and the very same tiara that mother Queen Elizabeth had donned when she tied the knot with Prince Philip nearly three decades earlier. The nuptials were, perhaps unsurprisingly, a huge affair as, according to People, the streets were packed with onlookers while an extra 500 million viewers were said to have watched the wedding on TV. However, perhaps the most memorable part was the wedding cake, which Hello! reports was a five-tier gateau made of brandy-soaked fruit that weighed an estimated 145 pounds and, at 5 feet and 6 inches, was the same height as the princess herself.
Princess Anne and her new husband soon started a family, welcoming son Peter Phillips in 1977 and daughter Zara Phillips Tindall four years later, per Brides. Zara actually followed in her mom and dad's equestrian footsteps and competed at the London 2012 Olympics, winning silver as part of the eventing team. Unfortunately, the couple's marriage proved to be anything but a fairytale.
Their daughter's birth marked a turning point
Looking back at Princess Anne and Mark Phillips' marriage, cracks may have been visible from the beginning. According to Brides, when the princess was asked at her engagement announcement if she was sure her marriage could stand strong under public scrutiny, she quipped, "Can? It's got to, hasn't it?" Unfortunately, it couldn't. Per Express, the birth of their second child, daughter Zara Tindall, in 1981 marked a turning point. The outlet reports that's when the married pair started to spend much less time together while seemingly moving in opposite directions. While Phillips put all his efforts into equestrian-themed business ventures, like opening a riding center in Scotland, Anne made royal duties a priority. They reportedly traveled separately for the most part and when they did travel together, they're said to have slept in different rooms.
Jump to the spring of 1989, and People was reporting that the couple's marriage had actually begun to crumble 10 years into their nuptials. According to the outlet, Anne and Phillips only stayed together after that for their kids. Indeed, Phillips' own father was quoted as saying, "What Mark and Anne have is not what I would think of as married life, but it is up to them how they lead their lives." All the while, they were also plagued by rumors of infidelity, which they denied.
In the end, Princess Anne and Captain Phillips announced they would separate (but not divorce) in September 1989, per People.
Her first husband fathered a child out of wedlock
Through their many years of marriage, Princess Anne and Mark Phillips were plagued by countless rumors of infidelity, on both sides. According to the Chicago Tribune (via Harper's Bazaar), Phillips had a number of alleged affairs and was linked to, per People, TV journalist Angela Rippon, former Miss India Pamella Bordes, and Toronto public relations consultant Kathy Birks, who actually won a libel suit against a British tabloid that had reported on their rumored affair. Phillips denied all accusations — however, there was one extramarital transgression he couldn't explain away, and it turned out to be the final straw in his marriage to Princess Anne.
As Express reported, it was 1991 when Heather Tonkin, a New Zealand art teacher, claimed she had given birth to Phillips' child, a daughter named Felicity, in 1985. Explaining why she was coming forward, Tonkin noted, "My ambition is to get Mark's public acceptance of her and to be able to enter his name on her birth certificate." While he initially denied her claims, a paternity test soon revealed otherwise, and he was forced to pay a reported £350,000 (about $415,000) settlement.
Captain Phillips and Princess Anne had initially agreed not to divorce, but his lovechild with Tonkin changed that. "This is all the excuse she needed to get Mark out of [their home at] Gatcombe," an insider alleged to People at the time (via Express). The couple's divorce was finalized in 1992, per Town & Country.
Was Princess Anne unfaithful?
Mark Phillips wasn't the only one accused of being unfaithful. According to rumors, Princess Anne may also have sought love outside of her marriage on numerous occasions. For one, People reported in 1989 that Commander Timothy Laurence, the Queen's Equerry, had been writing her letters, which some claimed were of a romantic nature. Indeed, one of Laurence's pals alleged that Laurence and Anne shared a physical attraction to one another, as well as a special bond. "Tim has filled a loneliness in her life and given her a shoulder to cry on when she needed someone to tell her troubles to," the insider added. "… He cares for her in the way her husband does not."
That's not all. Princess Anne was also linked to actor Anthony Andrews and Detective Sergeant Peter Cross, the latter of whom worked for a short time as her bodyguard in 1979, per Express. According to reports, Anne and Cross had an alleged affair despite both being married, and Cross actually opened up about their supposed indiscretion in 1984 when he sold details of their relationship for £600,000 (about $711,000) to News of the World, per Bustle. Cross claimed to the tabloid (via People) that he and Anne were "extremely close friends" who had shared a "special relationship."
In 2002, it was revealed in the documentary "The Real Princess Anne" that, once his superiors found out about the alleged affair, Cross lost his job as the princess' bodyguard (via Express).
The road to Princess Anne's divorce was a long one
When Princess Anne and Captain Mark Phillips initially separated in 1989, they didn't plan to divorce, but that changed when it was confirmed that Phillips had fathered a lovechild. After 18 years of marriage, the couple's divorce was finalized in April 1992. As Buckingham Palace confirmed, per UPI, a judge granted Anne's divorce filing request from earlier that month in less than five minutes. It was reportedly a mutual decision, and the exes agreed that their two children would live with Anne, but that their dad could see them anytime.
Anne and Phillips' divorce came just one month after Prince Andrew and Sarah Ferguson announced their separation and right as rumors were intensifying that Prince Charles' marriage to Princess Diana was falling apart. Even so, that didn't stop Anne from moving on with her life: She married Vice Admiral Sir Timothy Laurence (yes, the man who allegedly wrote her secret love letters) on December 12, 1992. The ceremony took place at Crathie Kirk in Scotland, per Hello!, and was only attended by 30 guests.
It was the first time the princess didn't share an equestrian passion with her partner. As Laurence confessed in the 2020 documentary "Anne: The Princess Royal at 70" (via Tatler), "Sadly, I've never been bitten by the horse bug." He also quipped that his wife liked a man in uniform, saying, "It's quite amusing that she married first an army officer and then a naval officer, so there must be something about the military that attracts her."
How Queen Elizabeth felt about her daughter's love life
Queen Elizabeth watched three of her four kids — Prince Charles, Prince Andrew, and Princess Anne — get divorced, and a 2022 royal biography titled "Queen of Our Times: The Life of Queen Elizabeth II" claimed that it pained her. According to the book's author, Robert Hardman, while "outwardly stoical, as ever, the Queen was finding the divorce talks deeply upsetting." Indeed, one palace staffer told him that "it distressed her much more than she let on." However, despite the family turmoil, Queen Elizabeth never paused in her duties, and her former press secretary, Charles Anson, praised her for remaining calm through the separations. She was reportedly "never short; never irritable; completely steady."
However, in the years that followed and before her tragic death, it seems the queen came to terms with her kids' love lives. In February 2022, she publicly stated that Camilla Parker Bowles was to be called Queen Consort when Prince Charles became king, per BBC News. And in May 2022, she bestowed a real honor on Princess Anne's second husband, as he was the only non-royal allowed to join her on the Buckingham Palace balcony to watch Trooping the Colour during her Platinum Jubilee celebrations, as reported by Gloucestershire Live. It was an especially poignant decision, as royals like Prince Andrew, Prince Harry, and even Princess Anne's children were not invited to appear on the balcony alongside the monarch.