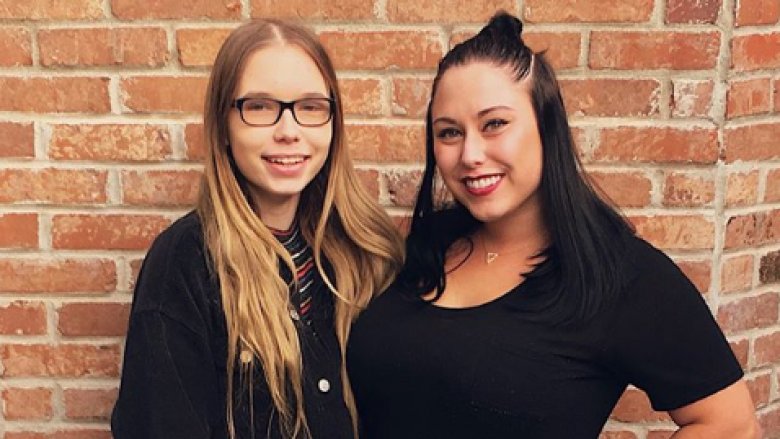 Even if you don't like Eminem's music, there's a good chance you know a lot about the man behind the music, Marshall Mathers. After all, he is one of the biggest-names in rap and one of the most recognizable celebrities in the world. Eminem's been telling the world his story for decades, and people have listened. Over the years, fans have even grown to know about Eminem's family through his music. We've heard about his volatile relationship with his ex-wife, Kim Scott/Mathers. We've also learned about his biological daughter, Hailie Scott Mathers.
Whether you first heard about her in "Just the Two of Us" on 1997's Slim Shady EP, in the re-titled track, "97 Bonnie & Clyde," on 1999's Slim Shady LP, or in one of the many subsequent songs in which Eminem rapped about his daughter, you have an idea who Hailie is. Yet, while plenty is known and shared about Hailie, little is known about Eminem's two other daughters, Whitney and Alaina. It's even possible that you're just now learning that Eminem had two other daughters.
Well, it's true. There are three of them. Though Alaina Marie Mathers, 25, and Whitney Scott Mathers, 16, don't get as much attention as Hailie in Eminem's music, they aren't totally absent from it either. Still, the details of their lives aren't readily available, and there's a good reason for that. In fact, there are several good reasons why we don't hear a lot about them.
It's kind of a long story
While even casual fans know Hailie through Eminem's music, Alaina and Whitney are only known to a more exclusive group. One possible reason for this is that their stories are more complex. Alaina (born Amanda) is the daughter of Kim's twin sister, Dawn Scott. Due to Dawn's struggles with drugs, Eminem and Kim took Alaina in. "My niece has been a part of my life ever since she was born," the rapper said in a 2004 Rolling Stone interview. "Me and Kim pretty much had her, she'd live with us wherever we was at."
After adopting Alaina in 2002, Eminem introduced fans to her in the 2004 song "Mockingbird," writing, "Lainie — Uncle's crazy, ain't he? Yeah, but he loves you, girl, and you better know it." Later in the song, Eminem would claim her as his daughter by stating, "It's almost like you're sisters now. Wow, guess you pretty much are, and Daddy's still here. Lainie, I'm talking to you too. Daddy's still here."
Fans may not have known it back then, but Eminem also cared for another little girl in those years. Whitney Scott was born to Kim in 2002 when she was with Eric Hartter. With Hartter out of the picture and Kim in and out of jail, Eminem raised Whitney too. Through his music, Eminem would introduce the youngest in the Mathers family as Hailie's "little sister" in 2005's "When I'm Gone" and by name for the first time in 2009's "Déjà Vu."
Hailie is his muse
While Eminem certainly loves and adores all three of his girls equally, we can't expect him to talk about Whitney or Alaina as much as he does Hailie. After all, Eminem began using Hailie in his lyrics very early on, before he ever adopted Alaina and before Whitney was even born. But Hailie's connection to Eminem's music goes deeper than that. After Eminem's first album, Infinite, flopped and he was fired from his cooking job, his fear of failing Hailie spurred him to new heights. "She has been my main source of drive and motivation," he said in a 2002 interview (via MTV). "I talk about her a lot … the truth is she's all I got in this world. If everything ended tomorrow, she's all that I have."
From that early stage, amidst the rapper's venomous, sadistic, and often hateful personas, there was always the loving father. This caring side of Eminem came through in his music and kept him from ever straying too far to the dark side. In many ways, Hailie became a usable device in his music — the light and love of his life. For his dedicated fans, Eminem could evoke very specific images and emotions through nothing more than Hailie's name. Years later, he would simply tack Alaina and Whitney onto Hailie's function in his songs, combining them all into a three-headed metaphor.
Eminem learned from his mistakes
From the very beginning of his success, Eminem made Hailie a constant presence in his music. While her influence undoubtedly helped him thrive, there have been many drawbacks to sharing her with the public, drawbacks that might make him think twice before doing the same with his two newer daughters, Alaina and Whitney. In his 2017 song "Castle," Eminem apologizes to Hailie by rapping, "I said your name but always tried to hide your face. This game is crazy. I wanted to claim my love for you but damn. I never knew it'd be like this. If I did, I wouldn't have done it. You ain't asked for none of this s—. Now you're being punished?"
In another 2017 song, "In Your Head," he claims he didn't mean to make Hailie "80 percent of what [he] rapped about." While, at this point in his career, it was too late for Hailie, those feelings and regrets give us a glimpse into why Eminem may choose not to include his other daughters as much. The rapper is so insistent that he keep his superstardom at bay in his children's lives that, when Hailie was named homecoming queen in 2013, he watched quietly from a different room "because he didn't want to cause a scene," according to another parent.
Other rappers dissed Hailie
Though it might seem like a stretch to suggest that Ja Rule had an impact on how Eminem goes about his work, it is plausible that the 2002 diss track "Loose Change" helped shape how much Eminem would involve Whitney and Alaina in his music moving forward. After all, this was the same year that Eminem adopted Alaina, and hearing Ja Rule publicly insult his daughter, Hailie, didn't go over lightly. In addition to a couple other diss tracks he made in response, Eminem addressed the feud and the Hailie insult in "Like Toy Soldiers" by rapping, "I heard him say Hailie's name on a song and I just lost it."
Sadly, Ja Rule isn't the only rapper to diss Hailie in a song. In 2013, the rap trio Hotstylz rapped about Hailie in their Eminem diss track "Rap Fraud," stating, "I see Hailie with kneepads is the c**ch clean? And she the prom queen. The king was fat, so congrats. I think your daughter just became a rat." When asked about their decision to insult a young girl, Hotstylz told Rolling Stone that they "don't think that's below the belt because we were basically mimicking him and that's something he would do himself." It's true. Indirectly, Eminem put his Hailie in the line of fire by including her in his music. Maybe he shrugged it all off, but it's possible that Eminem decided to shelter Whitney or Alaina from any similar cheap shots.
Eminem is a recluse
Despite being one of the most famous rappers and recognizable stars on the planet, Eminem is an intensely private person. He's considered a recluse, and those close to him have expressed concern for how he is forced to live his life. Friend and collaborator Skylar Grey said, "I feel sorry for Em. It's kind of sad. I see a lot of isolation." She added, "I think he is scared to go out the front door 'cos somebody is always waiting for him. Everybody wants something from him… Seeing him so isolated behind a lot of protectors, I feel bad for him."
Eminem is most private, however, when it comes to his kids. In 2011, when Eminem sat down with Rolling Stone to discuss his return to superstardom after the release of Recovery, he stated that, while he no longer dwells on the downsides of fame, there are negatives. He can't "take [his] kids to the haunted house," for instance. But Eminem doesn't even like speaking about his kids in interviews all. In that Rolling Stone piece, Eminem made it clear up front that he "preferred not to discuss his family." When describing his 2007 overdose, he said that some details "I have to leave out because they have to do with my kids." It's really no wonder we know so little about the children.
A life of fame has consequences
Perhaps no one knows better than Eminem the consequences that a high-profile life can have on a person. He's been sued by several people that he's rapped about, including his mother. His ex-wife attempted suicide after watching him perform a song about abusing her, and his best friend, DeShaun Dupree Holton, was shot, killed, and allegedly robbed in 2006. Eminem's fame has created a ripple effect and touched nearly everyone in his life.
Aside from the suicide attempt, Eminem's ex-wife and sometimes-target in his music, Kim, has experienced firsthand the challenges of living in the public eye. "[People think] just because we have money, that it makes us happy," she said in a radio interview (via Daily Mail). "Yeah, I can pay bills. Yeah, I can get my kids whatever they ask for and it's great to see them happy. But you lose friends, you lose family, you have no one you can trust you can speak to." Eminem, too, shares these feelings. "I have trust issues," he told Rolling Stone. "With women, friends, whatever. You always wonder what their real motives are."
Since both parents of Whitney and Alaina speak openly of the complexities and dangers of fame, it only makes sense they would grow up being sheltered from it. Not only would their privacy be protected by their parents, but they themselves would likely be more wary of having a public persona.
The girls live different lives from Hailie
Aside from being caught in the public eye from a very young age, Hailie is more visible than her sisters because she now chooses to be. Currently, she is striving to become a social media influencer, so being seen and heard, particularly online, is important to her. Still, even Hailie is not very accessible. According to the Daily Mail, she "shunned" social media until 2016 when she set up an Instagram account. As soon as she signed up, Hailie was overwhelmed with offers to work with major brands. "People have been reaching out through [Instagram], as I don't have any [management]," she said in the interview.
According to a Daily Mail source, "Hailie wanted to test the water by sharing some of her life on Instagram but is not yet ready to fully put herself out there." This is probably why she still keeps her Twitter account private.
Alaina's Twitter account isn't private, and it's been active since 2009, but she seems to be less interested in promoting herself than just using the account as an emotional sounding board. Besides, Alaina can hide in plain sight a little easier than Hailie since Eminem didn't make her a spectacle. Whitney is able to keep a low-key profile online as well, but that's likely more to do with her young age than any personal choices.
The girls don't live with Eminem
One of the main reasons the world doesn't hear about Eminem's daughters as much as we might think we should is because they don't live with the star. Even if they did live together, it's unlikely that Eminem's privacy rules would allow them to be seen and heard much. Yet, Eminem, Kim, and Hailie do live close to each other. Alaina, now a 25-year old college graduate, likely lives on her own (though she hasn't made the whereabouts of her residence public), and Whitney, at just 16-years old, lives with Kim. The distance from dad, however small, keeps a bit of a wall up in front of Alaina and Whitney.
The girls don't hide away though. In June of 2018, when Eminem performed at the Governor's Ball in New York City, Whitney, Hailie, and her boyfriend, Evan McClintock, were spotted in NYC to see the show. The visit didn't make a whole lot of noise because the girls just shopped, watched their dad perform to a sold-out crowd, and then went home. Being well-behaved does wonders for keeping the tabloids silent, especially since the world just isn't interested in non-controversial celebrity children. In the past, Eminem's and Kim's tumultuous relationship made them near-constant headlines, so Hailie's name popped up here and there. These days, the family works like a well-oiled machine. "He's been real supportive," Kim said of the rapper. "We're really close. We're just trying to raise our kids together and make it as normal for them as possible."
He makes no distinctions
With the exception of the odd interview from Eminem's more talkative past, everything we learned about Hailie was through his music. Though the rapper mentions each of his daughters by name in his songs, he rarely gets into the specifics. He doesn't even rap about Hailie as a adult very often, with the exception of the odd passing remark. While he still reflects back on Hailie's childhood, as he does in "Castle," Eminem seems to actively avoid making distinctions between the girls. Sure, he may look at a specific moment in time when neither Whitney nor Alaina were present, but he mostly remains pretty fair a balanced. A true parent.
After all, if he began explaining who Whitney's father is or if he got into the finer details of her childhood, it would single her out as other, as something different from Hailie. The same goes for Alaina, who's biological mother died of a drug overdose in 2015. Not only would dredging up his girls' pasts give the public access to private information, but it would create a distance between his daughters, making Thanksgiving pretty awkward around the Mathers' house.